You can't build a cutting-edge skyscraper with a hammer and a box of nails. Modern construction projects call for modern tools designed for the job. And the same is true for your content strategy.
You can't deliver the content-driven experiences that your audience expects using tools designed for a different era. But because technology and content marketing evolves fast, you might still be using methods from a bygone era without even realizing it. And if you're an enterprise marketer, chances are even higher that you're being held back by misaligned goals and knowledge silos that make it difficult to adapt.
The following helps marketers and content strategists identify which content tactics to kick to the curb and create a modern content strategy that makes the best use of emerging technology.

Taking Stock: Finding the Weak Spots in Your Content Strategy
As technology and marketing practices have evolved, there's no doubt your content strategy has, too. However, it's just as likely that your company hit its stride somewhere along the way, finding tactics and tools that worked and sticking with them well past their expiration date.
Meanwhile, the information your audience wants has shifted, in large part, because technology keeps providing new ways for them to access content. You need a content strategy that takes advantage of emerging technology, just like your audience does. Otherwise, you risk losing potential customers.
Keep reading to find out which era best describes your content strategy and how to give it new life with modern methods designed for today's market.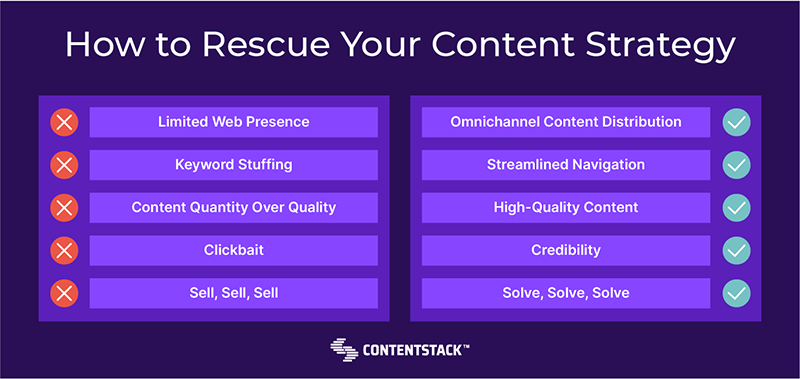 The Age of the Internet
The Approach: You have a website with necessary information about your company, and maybe even a blog that you occasionally update with general information, but you're not active on other digital platforms.
Why It Needs an Update: In the early days of digital marketing, having a descriptive web page or a blog provided a new way for customers to learn about you. But today, an effective content marketing landscape requires much more than just being present, and your target audience — no matter who that is today — expects more.
New content formats (video), platforms (such as the IoT?), and advanced content management and distribution tools allow modern content marketers to share content more widely and personalize it for each customer. To be competitive, you need to use them.
The SEO Years
The Approach: You became an early student of all things SEO, so your focus is on the number of times your keywords need to appear in each piece of content to make it rank well on Google.
Why SEO Needs an Update: Search engine algorithms, led by giants like Google, are continuously updated. They can now spot, and often lower the ranking of content that stuffs keywords without adding value. The new best practice is to create high-quality, long-form content that naturally uses relevant keywords instead of stuffing them where they don't belong. And if you want to get modern, optimize your content for the coming onslaught of voice searches.

The Growth Spurt
The Approach: In an era of deep content saturation, you're trying to maximize SEO results by doubling down on content creation — using different keyword variations, of course.
Why It Needs an Update: Like keyword stuffing, the top search engines have learned to spot duplicate and low-quality content, which gets penalized in search rankings. Today, search engines place more emphasis on page quality and relevance, which makes it easier for people to find the information they want. Modern best practices emphasize high-quality content on well-designed web pages that are easy for visitors to navigate. Considering that more than 90% of unique website visitors are using mobile devices, today, a well-designed website is a mobile-ready website.


The Dawn of Clickbait and the Race to Go Viral
The Approach: You studied how to write headlines that get more clicks and pored over viral content to decode how the magic happens, in hopes that you'll crack the formula that will draw massive traffic to your digital platforms.
Why It Needs an Update: The conditions that cause a piece of content to go viral are mostly unpredictable, and the effects can be short-lived once people grow weary of over-the-top headlines. Even if you hit the holy grail, that's no guarantee that you'll attract your target audience or that people will sustain their engagement. Trying to force it only diverts your energy away from creating consistently credible content that will keep people coming back in the long term.

The "Buy Me" Generation
The Approach: You have embraced digital platforms as a sales opportunity, and you consistently include a call-to-action encouraging people to make a purchase.
Why It Needs an Update: While digital engagement is crucial, no one enjoys solicitations to buy things all the time. Great content focuses on the customer, not on the brand. Your content strategy should align with the sales cycle, which includes different tactics for engaging people at the top and the bottom of the funnel. Content marketing excels at the top of the funnel, where you can cultivate a digital following by positioning your company as a valuable and credible source of information that helps them solve their problems. Once they trust you, they are more likely to become a paying customer.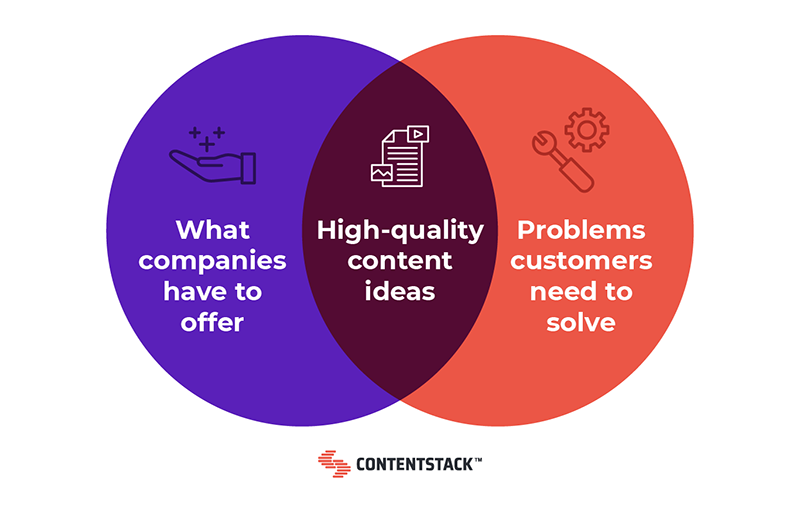 The Eternal Optimist
If your content strategy includes any or even several of these ideas — there's no need to panic. The following sections help you create a forward-looking content strategy that's as modern as your audience is.
Forward Momentum: How to Modernize Your Content Strategy
Updating your content strategy isn't rocket science. It begins the same way that processes have begun for a very long time — by documenting it. Gartner's research shows that nearly two-thirds of the most successful marketing leaders have a documented content strategy versus only 14% of the least successful. The following steps help shake off old habits and propel your content forward with a well-documented content strategy built for the future.

Clarify the Goals of Your Content Strategy
Why It Matters: As a content marketer, you can only create compelling content if you know what your company needs your content to achieve, and the answer isn't always obvious.
How to Do It: Talk with internal stakeholders to learn about their priorities. Are your company's goals focused on launching on a new product? Are you trying to attract new customers? Or do you want to reduce the churn rate of existing customers? Once you're clear on the overall direction that your sales and leadership teams want to go, you can develop a content strategy to help them deliver.
Update the Personas that Guide Your Content Strategy
Why It Matters: If the tactics around your content strategy need to be updated, the buyer personas that underpin your content probably need an update, too.
How to Do It: This is another opportunity to consult with your colleagues to ask some key questions. Who is your target audience? Are the people you want to reach today the same ones you tried to reach five years ago, or even last year? Consumers' buying habits change all the time, which means that your customer demographics may have changed as well.
Make sure you know who your target customers are, and update your buyer personas as a guide to help you create content that will resonate with them. And remember, there's nothing outdated about having more than one audience — you need to create content that speaks to your highest priority target customers.
Conduct a Content Audit
Why It Matters: You have invested a lot of energy into creating content, so you can't afford to let it all go. However, holding on to irrelevant or inaccurate material hurts your marketing effort's effectiveness in the long run.
How to Do It: Take inventory of your content, including the topics you cover, which personas they speak to, what type of content it is, and how well it performs. Identify which pieces still align with your goals and personas, emphasize your best-performing content, then look for opportunities to update older material with new statistics, a timely twist, or combine pieces to create something new. Take note of any gaps you see between where you've been with your content and where you want to go.
While revisiting and removing old content might seem counterintuitive to developing a new content strategy, editing and auditing are essential to the content lifecycle management process.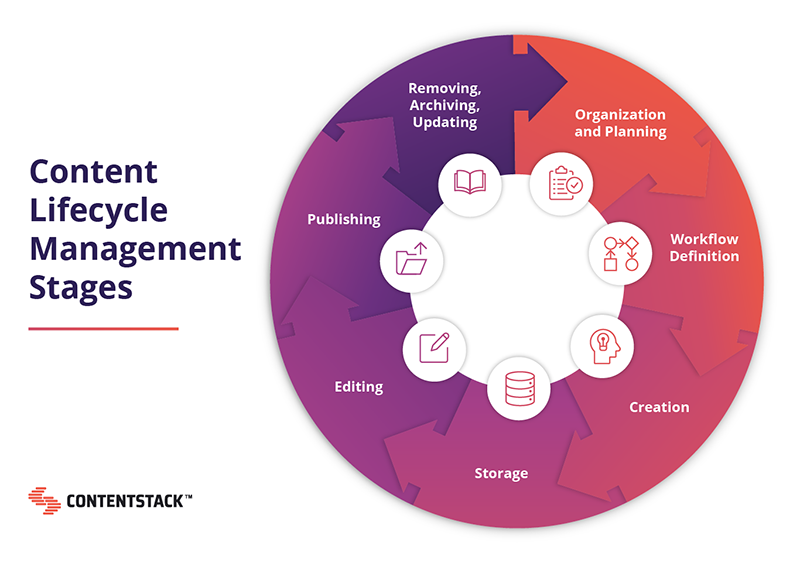 Identify New Content Ideas
Why It Matters: Even though you can reuse some of your old content, the chances are high that you have gaps to fill, not just in the substance of your content, but in the type of content.
How to Do It: Brainstorm new ways of delivering content that solves problems for your target audience. Creative options include visual assets like infographics and video, long-form content like case studies and ebooks, or even a series of email campaigns to follow up with people who purchase specific products. Unlike the early days of the internet, modern consumers trust a variety of different content types.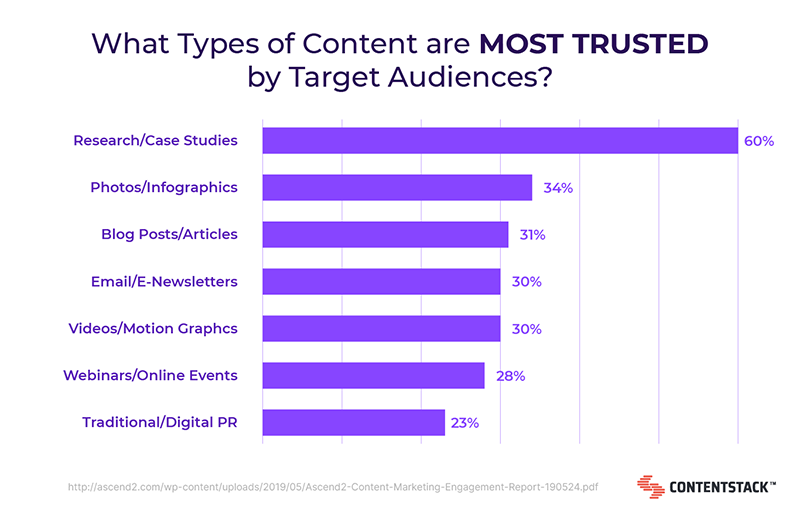 Website and application analytics, social media listening, SEO research, and even a chat with your customer service and sales teams can inform which topics you should cover using your new content types.

Develop an Omnichannel Content Creation and Distribution Plan
Why It Matters: Today's customers expect to have a seamless experience no matter where they engage with your brand. An omnichannel distribution plan allows you to reach your target audience wherever they prefer to be, increasing the chances of meaningful engagement.
How to Do It: As part of your persona research, you should learn where your target audience spends their digital time. Using this information, you'll be able to create tailored content for each audience on each channel. Sound kind of impossible to manage? Maybe manually, but not with the right (aka modern) content management solution.
A headless content management system (CMS) like Contentstack eliminates the need to recreate content by separating content creation and storage from how the content is published. Application programming interface (API) technology is then used to locate the right content module, run it through whatever personalization and optimization platforms you've integrated (such as CRM, translation, A/B testing, etc.), and then distribute it to your chosen channels. For example, a social media channel, IoT device, website page, and so on.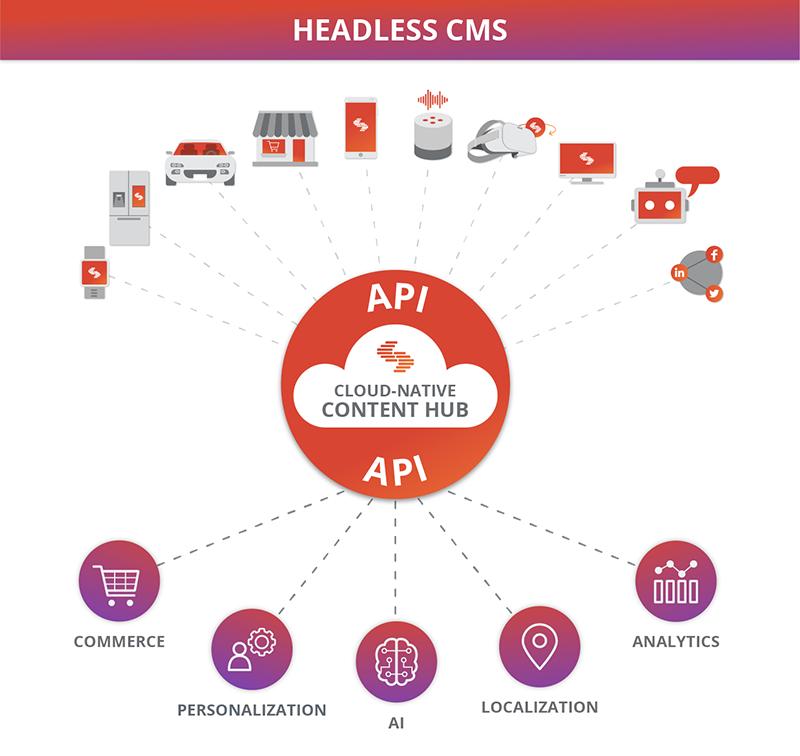 Your CMS is your primary tool for everything, from creating to optimizing and distributing your content. As you modernize your content strategy to include new content for new audiences across new channels, invest in a CMS that can help you do the heavy lifting — no more hammers and nails.

Keep Learning
To dive deeper into modernizing your content strategy, check out our "Modern Content Marketing in Practice" webinar series. Part one helps you figure out how to make content marketing work in your organization. Part two gives guidance for getting your content operations in order. And part three demonstrates ways to measure the success of the customer experiences you've created with your new content marketing strategy.