Games are more than just a way to pass the time — they are reshaping the way many people interact with friends, consume media, and even view the world. Gaming has been one of the most popular outlets for keeping people sane during this time of self-isolation due to COVID-19. Verizon reported that since the coronavirus outbreak gaming usage has gone up by 75%.
With more than 2 billion gamers around the world, gaming is a fast-growing, high-revenue industry. But, there is a critical piece of the market that many developers and marketers aren't paying enough attention to — the engaged players who make the industry so successful.
Here's why these loyal players are so important and what you can do to build engagement in your gaming communities and channel that engagement into new revenue.

Why Loyal Gamers and Communities Matter
What makes the gaming industry so successful? It's not only new gaming technology and a widening customer base — it's the existing players and the affinity they have to the games they love.
Leveraging those connections by fostering a community makes it easier for video game publishers to keep consumers happy, save on marketing and advertising, and see exactly where the future of gaming is going to stay ahead of their peers.
Happy Players Spread Customer Satisfaction
Snoop Dogg went on a widely publicized Instagram rant calling out EA as well as Bill Gates and Microsoft when servers went down last month. Snoop was not a happy customer. And his irritation was certainly shared by many other gamers.
Sometimes, things go wrong. Your server crashes, an update doesn't go as planned, or a new feature takes longer than predicted to roll out. While having an active community of customers means facing complaints when you drop the ball, it also gives you an opportunity to remedy the situation.
When these challenges arise, a community gives you a direct channel to keep your customers updated on progress. Perhaps even more importantly, it also gives your most engaged players an outlet where they can discuss what's going right and answer questions on your behalf to defuse any tension over the situation.
Engagement Shrinks Marketing Costs
By now, most businesses know acquiring a new customer usually costs more than retaining an existing one. It's also important to note that selling a new product or game to an existing customer has a 60 to 70% success rate. But selling to a new customer might only pan out 5 to 20% of the time.
So after spending all that marketing money and effort to win a player over, it makes little sense to let that customer lose interest. Build a community to engage players and cut your marketing costs drastically.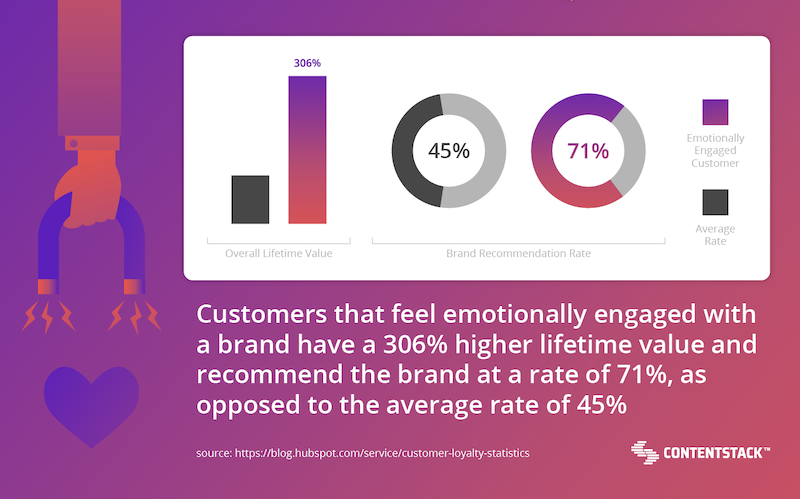 An Active Gaming Community Can Keep You Ahead of the Curve
A strong community helps you understand how players engage in your games and what's happening in the industry, today and in the future. For example, many modern gamers yearn for the freedom to start a game while riding an Uber home, switch to playing it on their Apple TV at home, and then finish a session on their tablet while lying in bed.
Developers and marketers who stayed engaged with their loyal community of players were better able to respond to this demand for omnichannel play.
Communities Boost Affordable Word-of-Mouth Advertising
There is a reason that so many brands invest in influencer marketing — word-of-mouth advertising is one of the most effective and affordable ways to reach an audience.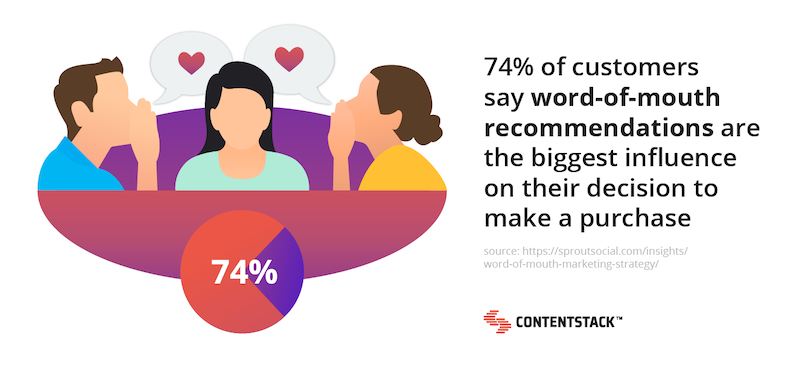 A strong community does word-of-mouth advertising for you. When players exchange information on their favorite levels, engage in a friendly competition over who has the best skin (the appearance of the player's avatar), or talk about their experience with your newest release, it keeps your game and new offerings top of mind without any ad spend at all.
Here's How to Effectively Build an Engaged Gaming Community
The following strategies help ensure you're in the right place, with the right content, and bringing the right value to the table to build and foster a passionate community around your game.
Make Sure You Are on The Right Platforms
Where should your community be built? It depends on where your audience hangs out. Social media sites like Facebook are the most obvious place to start, but pay attention to less obvious places such as Reddit, Twitch, Fandom, and even Quora.
Research where your audience is most active before you launch your community. Otherwise, you risk spending hundreds of hours trying to build a community on Facebook only to find out your ideal audience is most active on Discord.
Promote Community-Created Content
Show your community you appreciate them and their dedication by promoting the content they create, such as videos, drawings, and other fan art. No Man's Sky, for example, shared art from their community in a recent development update.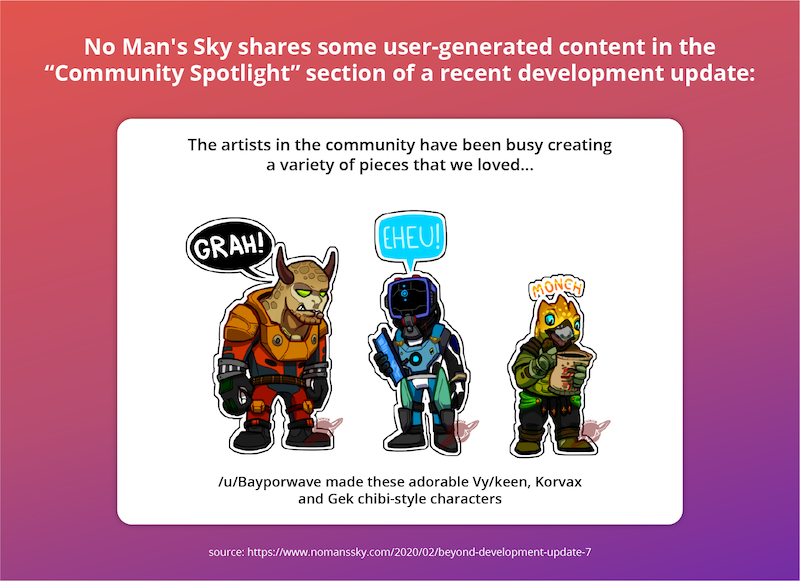 Share Your Own Content
Whether your game is a mobile matching game or an MMOG, it has a unique creation story — which can drive interest and increase engagement in your brand. Create a blog to share brand content, announce new releases, and share your brand's story.
Even a weekly update from the dev team can be valuable for a game that has a dedicated community. The community wants to hear from you, and drawing them to your site allows you to engage them further with more news about releases, other products, etc.
Always Offer Value, Not Just Pitches
Don't treat your community of players as a means to an end — they are so much more. When you offer value, you show your loyal gamers that you respect them as people and don't just see them as dollar signs.

Ways to add value include running fun contests, sharing sneak peeks and other exclusive content, and hosting giveaways that encourage your audience to engage with your brand, all while showing that you value their thoughts and participation.
Keep Up with Engaging Gaming Content With Headless CMS
You may have noticed by now that the key to building gaming community engagement is relevant, valuable content that reaches them wherever they digitally interact with your brand.
The typical way to share game brand content is to spin up a small new "microsite" for each new game. To highlight new features, add a new video of gameplay, or update some marketing copy; the marketing team has to go to the microsite developer so they can create, test, and finally launch the updates. As the games and the microsites add up, so do these manual tasks that slow down marketing and take developers away from important game-related tasks.
However, with a headless content management system (CMS), game and marketing content is created and managed separately from its presentation formatting for different channels and platforms. This separation allows game marketers the freedom to create and publish content on their own while developers can keep chugging away on game creation.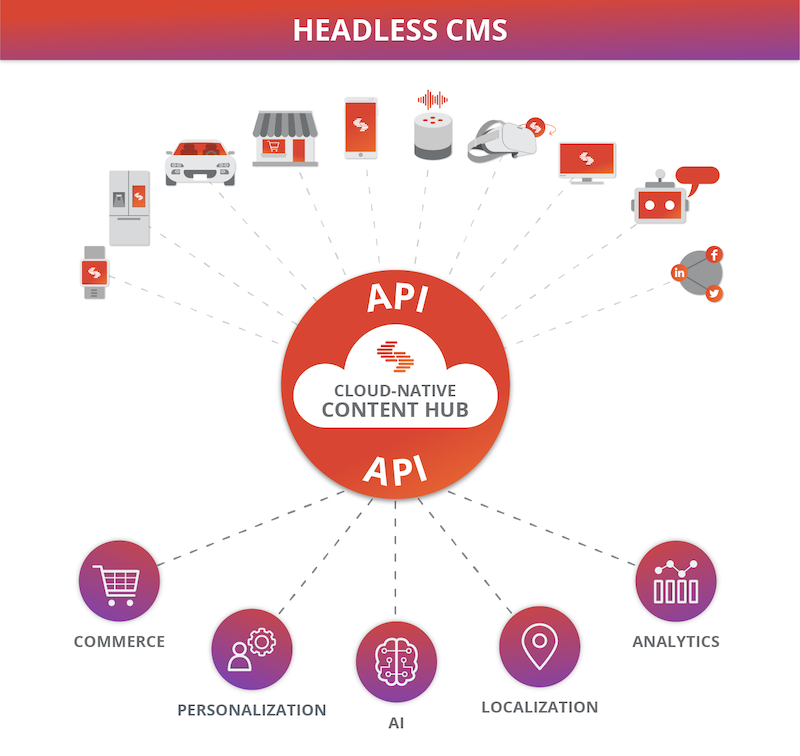 When you make the switch to headless CMS to create, store, and distribute your gaming and marketing content, everyone at your company will finally be empowered to do the jobs they love in the most effective ways. Using a headless CMS lets gaming companies release new content in minutes — without any technical support.
Fostering strong gaming community engagement means more connected and satisfied players, more affordable and effective marketing and advertising, and insight into the future of the gaming industry that will keep you ahead of the competition.
To reap all these benefits, video game publishers must figure out where their ideal audience hangs out and invest in a headless CMS to continually provide and celebrate engaging, relevant content on different platforms.
Learn how much you could save with a switch to a more effective CMS or take Contentstack for a test drive today, no obligation required.