Back to Blogs
From Pong to Call of Duty: The Globalization and Localization of Video Games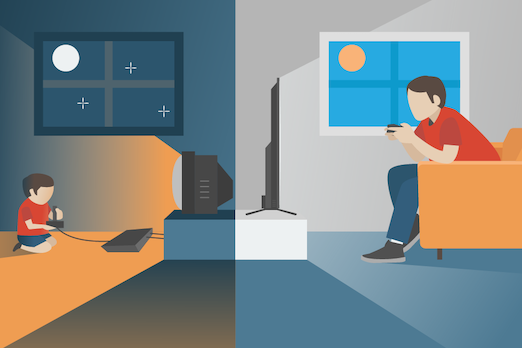 In 1947, physicists Thomas T. Goldsmith Jr. and Estle Ray Mann developed what many consider to be the very first interactive gaming device, called a "cathode-ray tube amusement device."
The pair were inspired by radar displays to create a device that allowed players to simulate firing missiles at fixed targets. The invention was patented in 1948 but never manufactured. At the time, the pair could not have known how massive the gaming industry would grow.
In 2018, the gaming industry generated an estimated $119.6 billion in revenue. By 2022, experts estimate it will generate as much as $196 billion in revenue. Gaming may even soon be part of the Olympic games.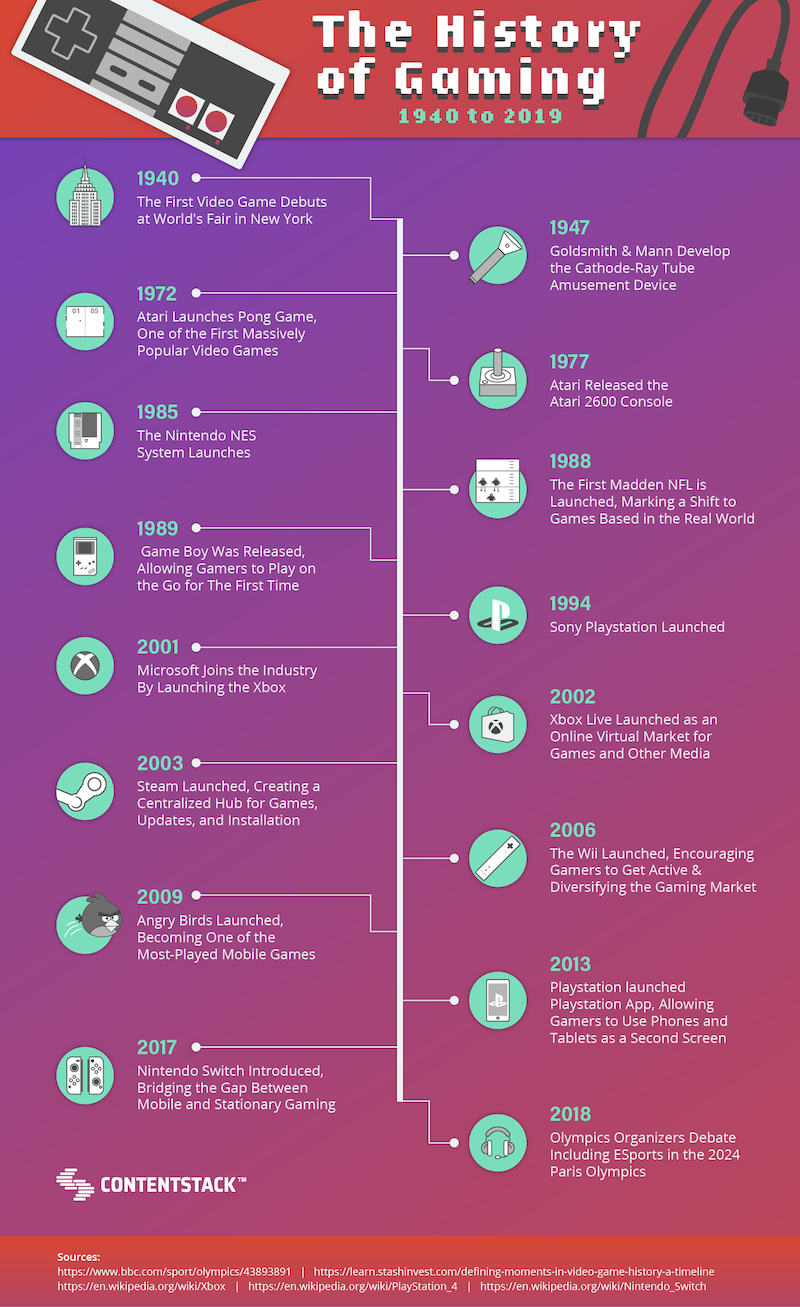 For many years, the gaming industry was fractured, with different companies developing games for play in their own country, or a few other countries.
Today, games are increasingly produced and enjoyed by a growing population all over the globe. This globalization of the gaming industry has important implications for companies, gamers, and developers.
Current Gaming Industry Statistics
Before we dive into the future of gaming and how globalization is helping craft this billion-dollar industry, let's take a more in-depth look at the current state of the gaming industry.
Which Countries Are the Biggest Gamers?
According to a study by Newzoo in 2016, China was the world's largest gaming market, with a marginal lead over the United States.
At that time, the Chinese gaming market value was approximately $24.4 billion, compared to the U.S.'s $23.6 billion industry. Japan, South Korea, Germany, and the U.K. were the next largest markets.
Today, China, the United States, and Japan remain the top three largest markets; but their revenue has grown drastically.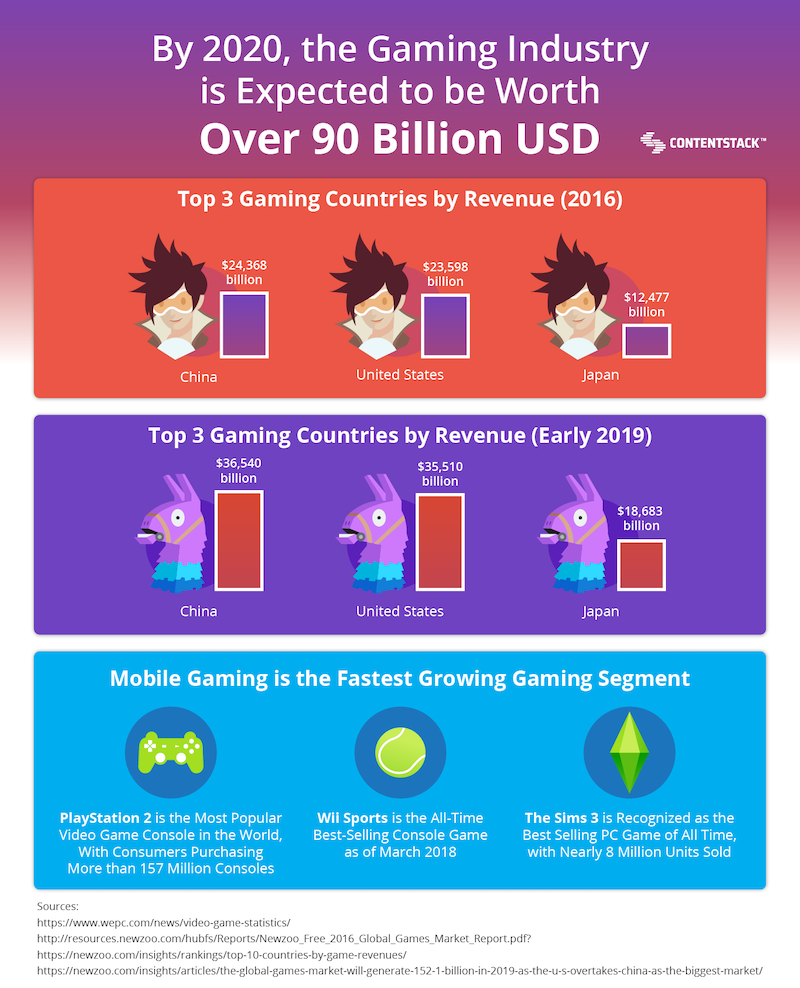 A more recent study indicates that by the end of 2019, the U.S. will eclipse China as the world's largest gaming market, with an estimated revenue of $36.9 billion.
Globalization And The Gaming Industry
In the beginning, gaming occurred on non-internet connected devices such as Pong on the Atari and a variety of games for the original Nintendo console. Game creation targeted a small niche market, often designed for those close to the developers' physical location.
Back then, game producers would have to create distinct, separate versions of their games for every country where they wanted to sell them. This process was costly and time-consuming, often leading to delays in production.
Today, however, everything has changed. Game creation today takes a global launch approach, with producers releasing games in different languages to audiences all over the world at the same time.
What Is Driving Video Gaming Globalization?
So, what is driving this shift in the gaming industry? For starters, the growth of the industry has made it far more profitable. Companies no longer need to release a game to one country to understand whether it will be successful.
With an estimated 2.2 billion gamers in the world, there is now a massive gaming market. The growth partially comes from mobile gaming, which allows anyone with a phone or tablet to play games and has helped decrease the stigmatization of gaming. Computers led the way for growth with LAN parties becoming quite popular with PCs and consoles. Growth also came from a consensus that there are many cognitive benefits of gaming.

Other factors, including the rise in technology and online communities, are helping drive the increase in video gaming globalization.
Online Video Gaming Communities
Online video gamers are building thriving online communities where they play, share tips, and discuss the games they love. Due to globalization, the world is incredibly connected; a gamer in the United States can play Call of Duty with a friend in Japan at the push of a button.
Gaming subreddits, messaging boards, and forums like Twitch are making it easier than ever for people to connect with other people around the globe. And while some gamer communities receive criticism for being toxic, they can also be very empowering by allowing previously isolated people to build relationships with others from all over the world.
The Rise of the Internet
Online video gaming communities have come into existence thanks in part to the creation of the internet.
However, the internet has also changed the face of video gaming—you no longer need to buy a Nintendo console and spend hundreds of dollars on games to get started. The rise of mobile and PC gaming and digital distribution via the internet has made the industry far more accessible.
Furthermore, the internet has also increased revenue far beyond video games and console sales. Today, microtransactions, in-game currency, upgrades, merchandise, accessories, clothing, competitions, live streaming, and sponsorships have increased gaming revenue far past the one-time purchase. Additionally, now, video gamers can serve as a steady stream of income.
Cloud Technology
The cloud's impact extends to ecommerce, app development, and even education. It allows businesses across industries to expand and increase their efficiency—and their revenue.
In the gaming industry, the cloud has powered the spread and globalization of video gaming by democratizing the industry and making it far more accessible. Cloud gaming allows players to enjoy their favorite titles from any internet-connected device. Because the servers power all the heavy processing, gamers no longer need expensive hardware to play.
Why Globalization and Localization Is Necessary
In the space of just a few years, gaming went from a nerdy pastime to a multibillion-dollar industry. This rise in popularity has resulted in a massive shift in the way video games are developed, produced, and distributed.
Companies can't expect to replicate their success in Western markets with a "rinse and repeat" of existing strategies for new geographies. Different aspects of the game have to be tailored for local playing conditions as though the game was built from the ground up for that market.
Globalization requires localization. The internet allows people to build communities through gaming forums and groups, exposing far larger populations to a wider variety of video games. Companies that want to access (and profit) from the fast-growing gaming consumer base need to be prepared to provide instruction, support, and moderation teams in multiple languages.
The Future of Video Gaming Globalization
Each year, gaming becomes more accessible and more global. From the rise of mobile games to the rise of virtual reality and the increased use of artificial intelligence in games, the industry expects to see increasing growth in the coming years.
Developers and video gaming companies who want to stay relevant in the coming years need to be prepared for a much more diverse consumer base and consider localizing their video game content as well as providing support and moderation in multiple languages.