Back to Blogs
Digital Transformation Starts with Content Management Infrastructure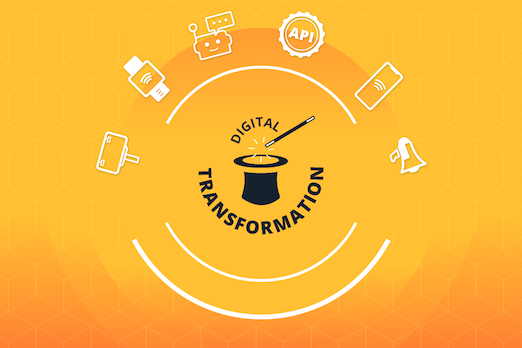 Today, almost without realizing it, consumers expect quick, personalized service exactly when and where they choose to engage with a company.
And, again, almost instinctively, they'll readily click or tap their way to a similar competitor if they aren't getting the kind of service they want.
It's nothing malicious. it's only natural. Widespread connectivity and technological advancements have transformed human behavior and inspired a remarkable shift that puts consumers at the very top of the business food chain.
Now it is businesses who will have transform to keep from being eaten alive by high expectations, strange new business models, and digital-native companies that threaten to encroach on their market share.
The pursuit of digital transformation is huge—both in scope and in popularity. However, there is still the promise of success for the enterprise that is armed with knowledge about the current state of digital transformation, an understanding of how content management infrastructure powers change, and our tips on how to harness it to drive business evolution into this century and beyond.
What Is Digital Transformation?
Digital transformation isn't something you can buy in a box, despite what some effective marketing messaging may lead you to believe.
Instead, it is a shift in how organizations think about and deploy people, processes, and of course technology to impact overall business performance.
Digital transformation is part IT project, part business strategy. It's knocking down silos, updating disparate legacy structures, and embedding current business philosophies alongside fast-paced development models to keep up with new revenue opportunities and changing consumer expectations.
Why does digital transformation matter? We think George Westerman, a principal research scientist from MIT's Sloan Initiative on the Digital Economy, said it best:
"Customer expectations are far exceeding what you can really do. That means a fundamental rethinking about what we do with technology in organizations."
While 65 percent of businesses either have or plan to put a digital transformation program in place, The following explains why there is still space for your organization to make an impact through digital transformation.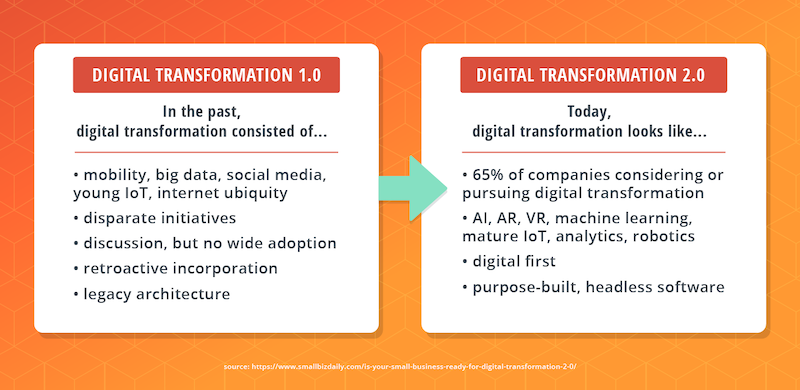 Image Source
There Is Still Plenty of Opportunity for the Digitally-Transformed Enterprise
"IT organizations are at a crossroads—with one foot in the new digital world of cloud, big data analytics, social media, mobile, and the Internet of Things and another foot in the past; constrained by legacy technologies and skill sets."
We couldn't agree more with Mark Peacock, IT Transformation Practice Leader and Principal at The Hackett Group. IT organizations today, unfortunately, find themselves torn between meeting the demands of modern enterprise and the reality of their underpowered capabilities.
Oxford Economics found that only 16 percent of companies have the leadership skills and updated processes it takes to succeed at significant digital transformation. Over 80 percent of businesses that take on digital transformation end up failing to meet their goals.
However, for those 16 percent of businesses that can be considered "disruptors" when it comes to digital transformation, the return on investment is excellent.
Image Source
There is plenty of space—and reward—for those organizations that get digital transformation right. The time is now to update your content management infrastructure to do so.
Content Management Infrastructure is at the Center of Digital Transformation
Mobile apps. Voice-activated speakers. AI-enabled chatbots. In-store kiosks. Digital transformation has given businesses plenty of creative ways to get in front of relevant audiences. However, these capabilities are accessible to pretty much anyone who wants to use them—including your competitors.
Today, content experiences that convert are still the key differentiator. Content is so much more than the words on your website. It's the fuel that ignites brand awareness, the driving force behind consumer engagement and conversions, and the catalyst for agility and innovation. Content creates the experience that the omnichannel consumer won't soon forget—or forget to tell their peers about—for better or for worse.
And the content management infrastructure that allows you to deliver content experiences seamlessly and with personalization is the lifeblood of a successful digital transformation.
But if most enterprise-level companies already have what they consider a robust content infrastructure in place in the form of a traditional content management system (CMS), why are the majority still struggling with digital transformation?
It's because they're missing a vital ingredient. They're missing the shift. Instead of shifting to technology that supports their modern business and technology mindset, many organizations try to retrofit a traditional CMS that was built to serve all-in-one content and layout to a single website.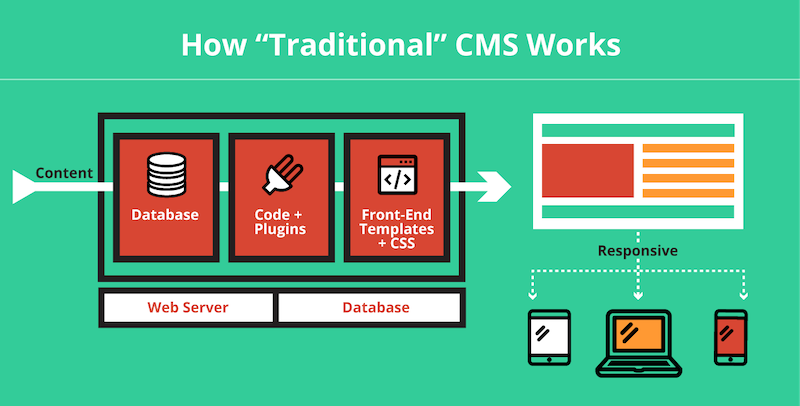 In the age of digital transformation where experiences go well beyond websites, non-native add-ons and plugins aren't going to cut it. Instead, modern enterprises reach for the latest in the rich history of content management systems: Headless CMS.
A headless CMS integrates content management tools via Application Programming Interface (API). By separating content from how it's eventually going to be displayed on a smartwatch in a marketing email, or wherever; headless ensures content is ready to publish to any device or channel at any time.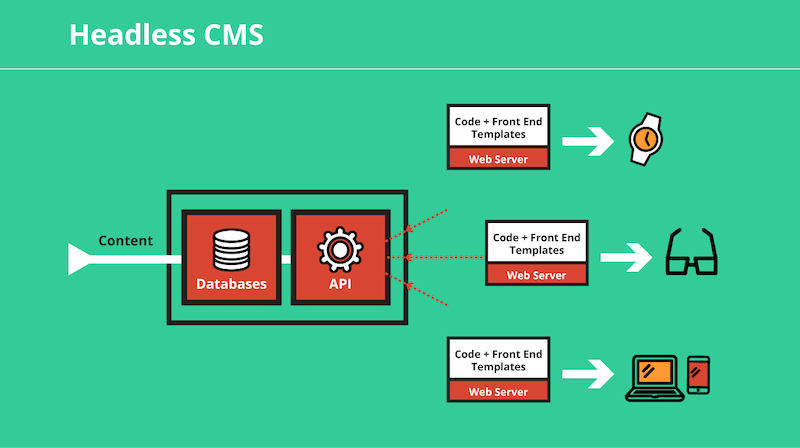 With an API-first approach, content becomes a highly-accessible service. A front-end engineer is free to create the best visual interface and use an API to call content whether that's via a website, mobile device, software platform, automobile, VR headset, a voice-activated device, Jumbotron, or whatever tomorrow's technology may be!
And because headless content is modular and decoupled from functionality, any piece of content can be personalized, optimized, or otherwise updated without affecting other content modules or breaking the way it's displayed. Not only does this mean IT and marketing teams can both work on the same content delivery project at the same time, but it also future-proofs content and empowers it to scale infinitely.
Digital transformation is all about finding ways to connect consumers with the critical functionality and information that defines your brand—exactly when and where they want it. It's important that the solutions organizations adopt are agile, configurable, and easily integrate to keep up with innovation and shifting consumer expectations.
How to Bring Your Content Management Infrastructure into This Century
Content is the heart of consumer engagement, no matter how different that engagement looks with each passing decade. Serving that content with cutting-edge content management infrastructure is where digital transformation begins.
Contentstack, a pioneer in digital transformation and the shift toward headless CMS, is a powerful solution for enterprise organizations who are looking to attract and win over today's hard-to-please omnichannel consumers.
Our platform offers no-training-required content management tools as well as unique, turn-key integrations that empower marketers and content creators to work with best-in-class tools and implement game-changing personalization and optimization.
Out-of-the-box enterprise-level IT features mean your implementation team gets all the availability, security, scalability, and tooling they need without any of the hassles they don't.
Now all you have to do to bring your content management infrastructure into this century is to create your Contentstack proof of concept today for free. No obligation. No hassle. Just ROI.