When it comes to digital transformation, no one gets to say, "That's not my job."
Even if you don't sell technology or rely on big data daily, there's very little in the modern workplace that isn't somehow powered by or connected to technology — from marketing to IT, going digital affects every aspect of how an organization works.
Here's what digital transformation means for enterprise organizations, its ups and downs, and how the right kind of technology can get various departments on board to achieve success.
What Does Digital Transformation Mean?
The truth is that digital transformation has more to do with transformation than technology, and it has very little to do with what a company does or sells.
Digital transformation is an organization-wide reimagining of how people, processes, and technology are utilized to impact overall business performance. It's part IT project, part business strategy, and part cultural re-engineering. At its heart, digital transformation is about how you do that thing you do—and using technology to help you do it better.
So why does digital transformation matter? We'll defer to George Westerman, a principal research scientist from MIT's Sloan Initiative on the Digital Economy: "Customer expectations are far exceeding what you can really do. That means a fundamental rethinking about what we do with technology in organizations."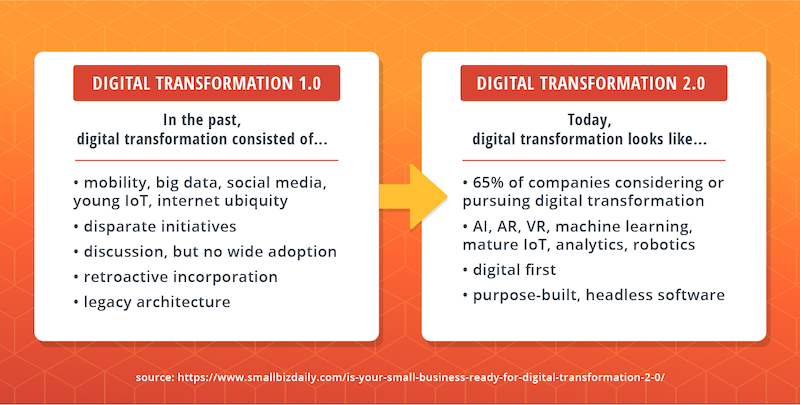 Digital Transformation: The Good News and The Bad
The good news is that done well, digital transformation can propel businesses to stardom.
Advances in data analytics are giving companies new insights that open up business opportunities and innovations in artificial intelligence and machine learning are helping automate repetitive tasks so that humans can focus on the deeper stuff. Organizations that go digital score better on employee engagement, they earn more revenue, and they adapt more quickly to market changes.
According to Oxford Economics, 16 percent of businesses that have the leadership skills and updated processes it takes to succeed at "disrupting" when it comes to digital transformation experience an excellent return on investment.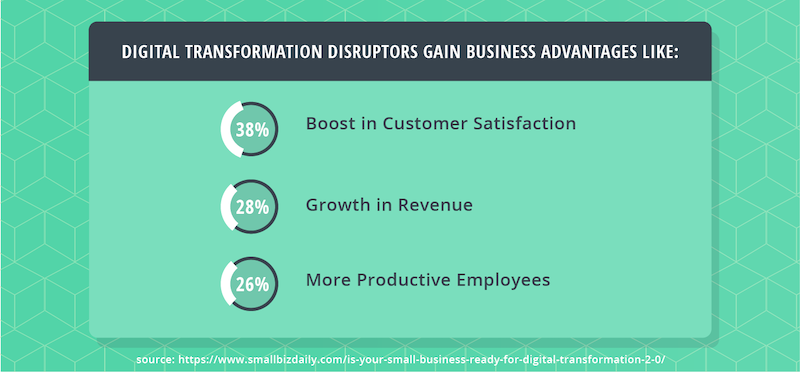 The bad news? According to research by McKinsey, two-thirds of digital transformation efforts fail.
Whether that's a result of the cost or complexity of technology or the struggle to get organizational buy-in, for some, it can be reason enough to quit before they even start.
Still, over 60 percent of businesses either already have or plan to have a digital transformation program in place eventually. Which is encouraging, because we believe there is a way to get it right—it just requires the right team members to come together around the right technology.
Who Does What to Support Digital Transformation?
Digital transformation is often seen as an IT task where they're asked to identify, procure, and manage the best-fit technology to drive the business forward—with no input from anyone else.
However, in reality, digital transformation is equally (if not more so) a function of improved workflow, process, policy, and operations across the organization.
Several teams across your organization should play leading roles in your digital transformation.
The Marketing Team
Is marketing the last department that comes to mind when you imagine digital transformation?
Then it's time to think again because modern marketers have one of the best views of what's happening with customers—and therefore great insight into what form your digital transformation should take.
From web analytics to personalized Facebook ads to mobile-focused campaigns, marketers see it all—where customers hang out, how they engage, and when they disengage. In most companies, marketing is the team most consistently engaged with the best data on consumer experience. Who better to exercise leadership when it comes to digital transformation?
So what might digital transformation look like from a marketing standpoint?
Say, for example, a marketing team observes that their customer base increasingly values personalized, relevant, and perfectly-timed content—across various channels and devices, no less. It won't take long for them to realize that kind of effort is going to be practically impossible to scale with the traditional content management system (CMS) their business is using.
They need a CMS that ensures they're able to create content once then publish it to any device or channel at any time—whether it goes to a smartwatch, a marketing email, or to technologies we haven't imagined yet. Also, they need to be able to do it with more autonomy than ever before. When both your competitors and your consumers are online, there isn't time to submit an IT ticket and wait for a new content environment to be spun up or, worse, making minor copy changes to published content.

So how does this marketing team go about getting their hands on such a tool?
Enter IT.
The IT Team
No doubt, IT is the go-to place for selecting the right technology to meet your organization's business objectives. However, they can't diagnose business problems—at least not alone. Just like a costume designer can't rewrite a script, your IT team needs input from the rest of the company—such as marketing—to develop the right systems.
In a healthy, digitally-transformed business, there are systems in place that enable the marketing team from the above example reach across departmental lines to connect with IT for help sourcing and installing a new content management solution.
After learning about marketing's desires, a good IT team incorporates them with a solution that's also equipped to handle their enterprise-level uptime and security needs. Bonus points if it can give them the freedom to develop in their preferred environments, so they're always able to keep up with the latest tech!
With a solution in place that meets requirements and needs—it's rinse and repeat, and you've got yourself a recipe for continuous digital transformation, right? Well, yes, but there's one more team to get involved for maximum impact.
The Management Team
Wipro Digital found that one out of every five senior execs has major doubts in their own DX efforts—some even going as far as calling them a complete waste of time!
Whether a founder, a company president, or a CEO—leaders must buy into how digital transformation supports the organization's business objectives. That doesn't mean transformation has to be management's idea, but they do need to support it with gusto. After all, if they don't care, why should anybody else?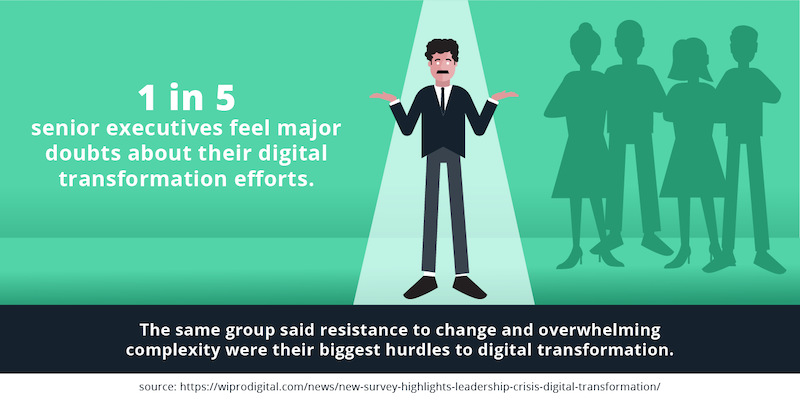 Headless CMS Makes Everyone's Job Easier When it Comes to Digital Transformation
Headless CMS integrates content management tools via Application Programming Interface (API) so that content is kept completely separated from how it's eventually going to be displayed. This modular, decoupled functionality means any piece of content can be personalized, optimized, or otherwise updated without affecting other content modules. Not only does this mean IT and marketing teams can both work on the same content delivery projects at the same time, but it also future-proofs content and empowers it to scale infinitely.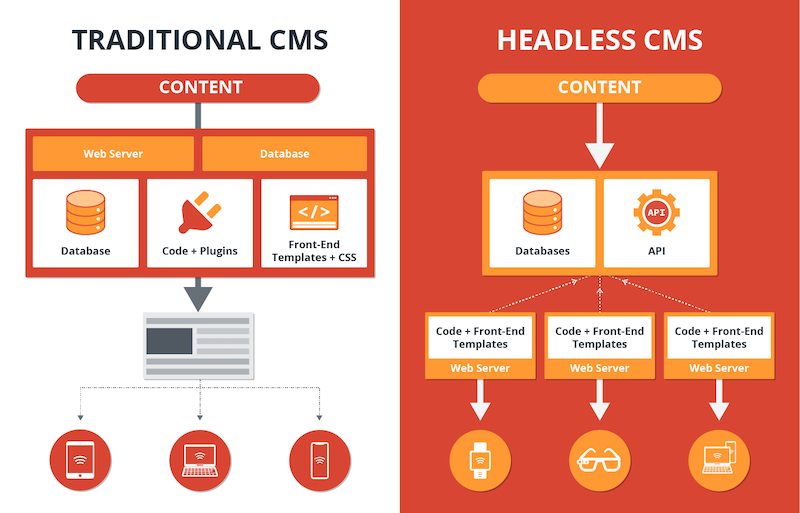 Because it allows IT, marketing, and business users to work together so successfully, a headless CMS is a key piece of technology that businesses can adopt to achieve their digital transformation objectives.
See for yourself how Contentstack's headless CMS combines enterprise-ready content management solutions, white-glove service, and unsurpassed user experience to support your digital transformation by building a completely free proof of concept today.