Back to Blogs
Digital Experience Examples that Feel Like They're From the Future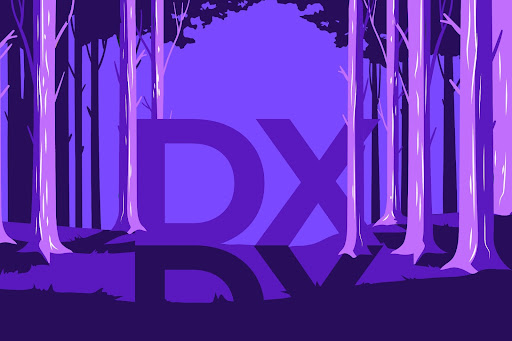 When it comes to the digital experience, it can be easy to lose sight of the forest when you're focused on the trees.
To help you see the bigger picture, we put together a few cutting-edge digital experience examples as well as some advice on how you can create them in your own organization.
What Digital Customer Experience Means and Why it Matters
The digital customer experience encompasses the interactions consumers have with your brand on digital channels and devices throughout the customer journey.
Effective digital experiences provide customers with relevant recommendations and convenient access to your products or services, support staff, and any brand information they may need.
Organizations that use modern channels and devices to create digital experiences are able to access and use consumer data to create personalized, omnichannel interactions. According to MuleSoft's ​​2021 Connectivity Benchmark Report, businesses that invest in creating personalized digital experiences that flow seamlessly across channels enjoy higher customer engagement, better ROI, and improved business innovation and transformation.
See it in Action: 4 Digital Experience Examples
Fewer than 20% of businesses report having built a seamless digital experience. If you're looking for ways to make your digital experience more cohesive and ready for whatever customer experience trends the future holds, here are a few examples to inspire you.
1. Casper: A New Take on the Chatbot
Many modern companies use artificial intelligence (AI) to support personalized, omnichannel digital experiences. But the direct-to-consumer (DTC) mattress brand Casper is using AI in a simple yet effective way to digitally connect with consumers.
Casper created a chatbot named Insomnobot3000. People can text the chatbot, for free, between 11 p.m. and 5 a.m. Casper's goal with Insomnobot3000 was " … to make a bot that made 3 a.m. a little less lonely," according to Casper's former Head of Communications Lindsay Kaplan.
The chatbot represents a new, creative channel where consumers can connect with the organization. It's also possible the chatbot will be able to gather data that will be useful in creating personalized marketing and messaging.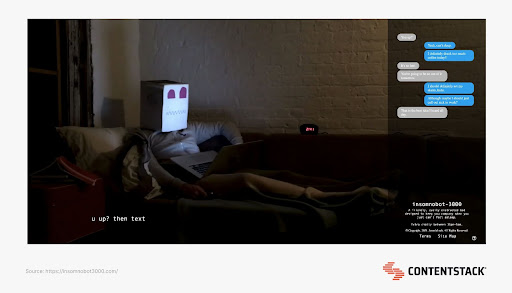 2. JetBlue: A True Omnichannel Digital Experience
JetBlue's "A Better Wingman" campaign involved what most participants thought was simply an interactive digital billboard on a New York City street. However, it also hid a real, in-person flight attendant behind the scenes who was able to immediately respond to consumer questions and feedback — and hand out free flights and other gifts from the airline.
This experience received several awards and generated brand recognition for JetBlue with more than 15 million earned media impressions.
3. Miami HEAT: Personalization Powers the In-Person Experience
The Miami HEAT took winning to the next level when they decided to upgrade their digital experience with a switch to a headless platform (more about that here) for their mobile application.
Even before COVID-19, teams were struggling against TV and digital media to bring fans to in-person events, which are a critical revenue stream for both teams and arenas.
The HEAT needed a personalized experience that helped immerse fans in the game day scene. Considering mobile-device penetration was then near 100% for in-person sporting event attendees, a mobile app improvement was a clear choice.
The HEAT's tech team integrated tools that delivered an innovative mobile experience. At the same time, their marketing pros were finally able to gather the data they needed to create the highly personalized content that powered these experiences.
One example of the success of The HEAT's new platform and app was a personalized marketing campaign: "We launched a targeted messaging campaign that informed our season ticket members about an exclusive retail offer once they scanned into the arena," said the HEAT's Executive Vice President of Business Strategy Matthew Jafarian. "That resulted in an almost 100% influenced app open rate and a spike in sales for our [retail] group."
4. Apple: A Personalizable Self-Service Experience
Self-service may seem like the opposite of providing a thoughtful consumer experience. However, when done right, self-service can be another helpful channel through which consumers interact with your brand. Apple is an example of a company that provides a pleasing self-service experience that users can personalize.
The main Apple Support website page showcases their self-help portal – a value-adding channel and a key element of their omnichannel, digital experience. Not only is it helpful for consumers, but this portal is also a helpful channel for the Apple team, who can save time and resources by weeding out issues that might not need their personalized attention.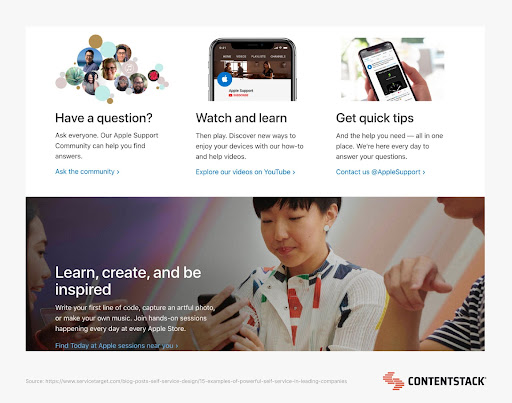 How to Become a Powerful Digital Experience Example
In our own a recent survey of tech, marketing, and business leaders, we uncovered that more than half of the digital experience capabilities built by businesses never actually get used!
The biggest roadblock to digital experience execution? The cost of implementation. In addition, the majority of respondents also believed their current digital-experience investments would become obsolete in just a few years due to a lack of integration across technologies.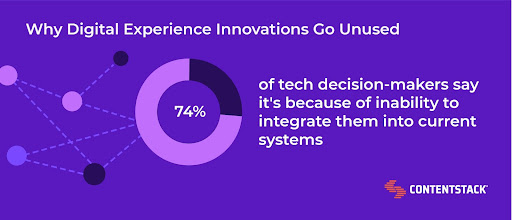 Building modern digital experiences upon a monolithic, legacy software platform is difficult. To avoid the endless and sticky tangle of add-ons, organizations should build their digital experiences upon a modular, modern software platform that can shift as easily as experience trends do. You need a MACH system.
"MACH" is an acronym for software that is made of multiple microservices (M), connected using APIs (A), hosted in and delivered via the cloud (C), and built using headless (H) architecture that separates back-end logic from front-end presentation layers. MACH makes integration simple and implementation much more affordable.
Integration is simpler within a MACH platform because each piece of functionality is a self-contained microservice. The whole system works together via API (application programming interface). This structure eliminates the need for expensive re-platforming projects, but that's just one way in which implementing MACH is more affordable than going monolithic. MACH platforms are hosted by their vendors and delivered via the cloud, so they pay for maintenance and hosting, not you. Payment for MACH solutions is often subscription-based, so you can pay for your platform in small installments instead of laying out the full amount upfront for a piece of technology that may become outdated in just a few years.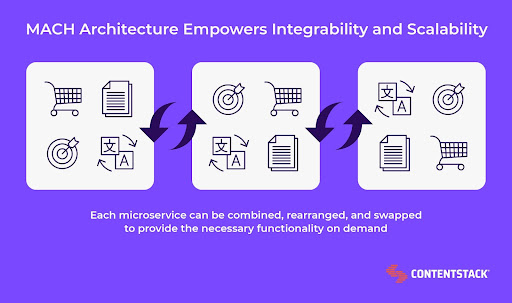 Organizations that work with APIs create 27% of their revenue from those APIs and all the related implementations they bring to life. When you build your digital experiences on API-connected MACH solutions, you'll be prepared to simply shift, affordably scale and become a powerful digital experience example.
To learn more about the ROI of the digital experience, you can read our free ebook Going Beyond ROI with Return on Experience. To learn more about the MACH concept, start with Leaning Away from Legacy Tools: Modernize Your Tech Stack with MACH then read 6 Ways to Identify Modern Enterprise Software to make sure you're picking the best tech for creating modern digital experiences. And finally, if you want to see some MACH software in action for free, we invite you to sign up for a personalized demo of Contentstack today.