Whether you're launching a brand new product or releasing a small but critical update, you're proud of what your company has done, and you want to share it with the world. However, you've also got a long to-do list that doesn't include dropping everything to spend a week creating and distributing hundreds of different press releases, emails, and other content.
We get it. Innovation is vital to staying competitive and showing consumers that you're listening to their needs, but it never feels like there's enough time to shout about it from the rooftops. So what if you could make the time? Enter automated publishing.
Keep reading to find out how, after developing an announcement game plan, you can use automation to create and distribute that announcement seamlessly, without switching from system to system, tweaking the same content over and over again, required.
Plan Your Product Launch, Release, or Update Announcement
Determining which announcements are right for which audiences, choosing the best distribution platforms, developing content, planning publishing — here are some of the most important behind-the-scenes tasks to pull off a successful brand announcement.
Step 1: Determine How Important Your Announcement Is
We know, we know — they're all important. But, you have to look at your announcement from your users' eyes. Remember that they're likely bombarded by notifications and emails and tweets every day, the same way you are. Now, ask yourself again, how important is this announcement?
A bunch of standard maintenance fixes? Maybe announce those when you release the next version. Got a significant update, but it only affects a subset of users? Roll out messaging to those people specifically. Entering into an exciting partnership or releasing a new product that will blow the doors of the industry? Now it's time to go all out with well-crafted content distributed across multiple channels!
Step 2: Choose The Best Channels
Even if you have the most exciting product launch, release, or update announcement — you should still choose your channels wisely to make the most of your time and consumer attention. How you choose depends entirely on the type of announcement, where your audience is, and other aspects of your organization that only you'll know. But, here's a quick breakdown of popular options that should help you get started:
Email
Use email if it's big news, and you want the recipient to interact with it. Maybe you want them to click through to read a full blog post. Perhaps it's an interview with an important new hire. Maybe it's a guidebook that shows them through the redesign you just launched. Whatever you do, there's no excuse not to personalize emails in this day and age!
In-App Announcement
Maybe this is a pop-up or an official notification. Whichever you choose, remember that this kind of announcement is easily overlooked by eyes that typically scan over the "red dot" and the pop-ups to get to what they want. Save this method for app-specific content or use it as a supplement for other channels.
Social Media
Today, social media is primarily casual and conversational, so this is where you can get the most creative with your announcement. You can outright make your announcement, you can drop a link to a more extended version of your announcement (such as a blog or website page), or you can even tease your audience a little—like Slack did when they released their new logo in 2019: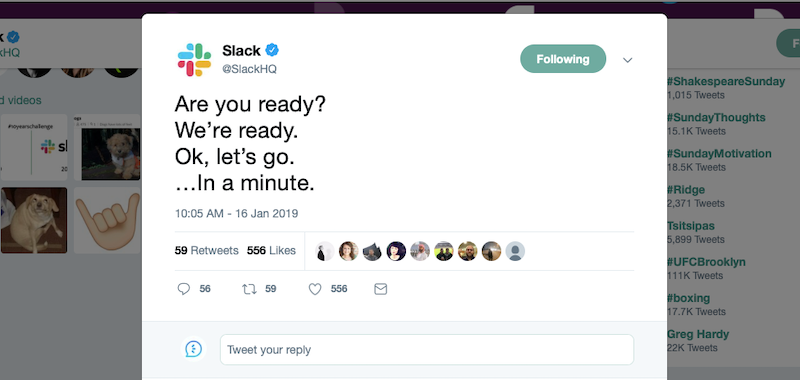 Remember to always put yourself in the viewers' shoes. If you would consider an announcement "clutter" and scroll past it — don't post it.
Blog
Do you have a huge announcement that you're proud to make? Then your blog is the perfect medium. Here, you can go into as much detail as you like, include quotes from your team, insert relevant graphics, and do whatever else you want to drive home the news. Blogs are great because they centralize all your announcement details in one easy-to-share link — but don't forget how much time it can take to create genuinely engaging content.
Press Release
Press releases are a great way to get your announcement in front of a lot of important readers. They aren't as annoying (or expensive to place) as ads and may capture more attention than their longer, more evergreen counterpart — the blog. Since press releases aren't necessarily known for being highly creative or personal, make sure your writing is engaging, hits all the high points succinctly, and is formatted correctly for each publication to which you send it.
Step 3: Content Development Planning
Once you know how you're going to spread the word about your product launch, release, or update, it's time to start planning what you're going to create.
We're talking content types: Infographics, videos, photos, long-form articles, notifications, social media posts, etc. You may also consider collecting user-generated content and generating early "buzz" by releasing certain news or products to trusted industry sources before the general public.
With your content types and distribution channels decided, the final step to pulling off a big announcement is carefully planning your rollout. You'll want to develop a detailed calendar where you can lay out everything that needs to be published, who will handle each step of the publishing process, and when each of those steps should be completed.
Sound like a lot of work? It is. There are many moving parts when it comes to making big brand announcements. And the larger the audience or the more important the announcement, the more difficult it becomes to pull off each of these steps in a reasonable amount of time and without a single hitch. But with automated publishing, your team can nail it every time — no external agency, no wasted salary, and no lost sanity required.
Seamlessly Execute Your Announcement with Automated Publishing
Today, there's no doubt that content is a strategic business asset, and there's so much content that it has to be well-managed. Add to that the fact that most content must pass through several departments — creative, design, legal, etc. — before it can go live, and you've got a process that can become very bogged down very quickly.
But despite the challenges of omnichannel content distribution, statistics prove time and time again that the rewards are worth the work.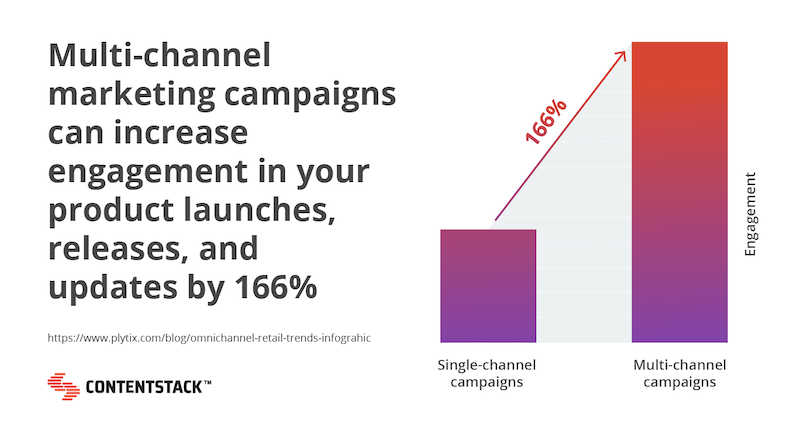 But what if that work didn't have to be quite so time-consuming and mind-numbing? Imagine the creative ideas your marketing team could be coming up with if they weren't stuck manually optimizing content for different channels and audiences.
And imagine the impressive customer experiences your team could be building if their daily to-do lists weren't clogged with minor content updates. The thing is, you don't have to imagine these things. Here's how to automate every step of a product launch, release, or update announcement.
Automate Content Creation, Optimization, and Publishing
If nothing else, there is at least one piece of software you must adopt if you want to orchestrate the creation, optimization, and distribution of major brand announcements with ease: a headless content management system.
A headless content management system (CMS) separates content creation from how it's designed and distributed. This separation means that content editors can create, optimize, and even publish content while, at the same time, development and design teams can work to produce the best formatting and delivery method for the content — no matter the device or channel!
And since the content isn't attached to design and code, it's easy to find via search, run through different applications that will optimize it for specific audiences, and distribute it to a new channel to take full advantage of its value.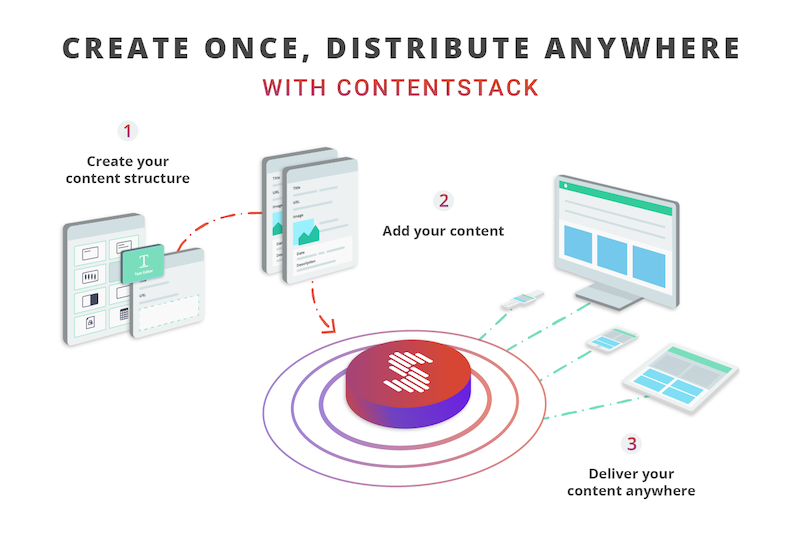 We suggest you look out for a headless CMS platform that prioritizes the needs of marketing users. For example, with Contentstack, you can enjoy top-of-the-line content management features like:
Automated and bulk publishing that allows you to schedule time-sensitive content ahead of time for entirely hands-free updates of multiple pages at once.
Versioning and rollback so you can quickly compare content and asset revisions and restore previous versions any time you need.
Approval workflows that map to your business processes, so no one misses a step when it comes to publishing content.
Access controls that ensure content is always accurate and secure.
Digital asset management that enables handling all your media files in one place.
Industry-leading integrations that mean you can connect your content to various personalization platforms, localization apps, customer databases, and other tools so you can easily optimize content for multiple outlets.
See for yourself how computer software company Weaveworks publishes content 75% faster, deploys branded websites 75% quicker, and enjoys a 50% boost in productivity with Contentstack headless CMS. Read more.
Automating Social Sharing
While creating the various versions of social media messages is really the bulk of the work when it comes to making your announcement across various channels, remembering the ideal word counts, timeframes, formats, and other best practices for each channel isn't exactly a walk in the park.
There are about a million and one platforms out there for automating, managing, and optimizing your social media shares. We don't think you can go wrong with tried-and-true tools like Hootsuite and Buffer, but if you want to compare even more options, check out this list from "the world's top social marketing talent" Jeff Bullas.
Automating Email Marketing
Email is another one of those categories where marketers are lucky to have plenty of options when it comes to automation. These days, email automation isn't just about having a drag-and-drop builder and a scheduler that enables you to send your emails in the future. Most of the big players are entire email marketing engines that allow users to set rules that launch sophisticated campaigns that deliver unique content based on the actions a recipient takes. Some great options to check out include GetResponse, ConvertKit, and Drip, which specifically focus on ecommerce brands.
What Will Automated Publishing Do For Your Business?
When your company does something awesome, of course you want to let the whole world know about it. But it's never that simple. Determining whether each announcement will be of interest to your audience, choosing the right distribution channels, planning, and developing the content take time. There are enough steps in making a brand announcement to take up your entire day and pull you away from other critical marketing tasks.
Save yourself and your business some time and sanity by using cutting-edge automated publishing technology to create, optimize, and publish content; share it on social media, and deploy it ineffective email marketing campaigns.
Which automated publishing tools will you adopt today to orchestrate effortless product launch, release, and update announcements?