It's difficult to even consider marketing today without immediately thinking about all the technological elements that go into it. Marketing and technology have become such an iconic duo that a portmanteau has cropped up to rival the likes of J-Rod, Bennifer, and Brangelina—martech.
Martech represents the intersection of marketing and technology in what's become a highly-digitized business world. It encompasses any digital platform, tool, channel, or device that has an impact on marketing operations. Virtually anyone involved with a digital marketing tool such as a customer relationship management (CRM) platform, a content management system (CMS), or website analytics software could be considered a martech expert.
Despite its prevalence, the martech market isn't saturated just yet. Companies that specialize in marketing technology have exploded in numbers since 2011, when long-time martech writer and chair of the MarTech Conference Scott Brinker first compiled a list of 150 companies martech businesses. In 2017, that list had grown to include nearly 5,000 companies.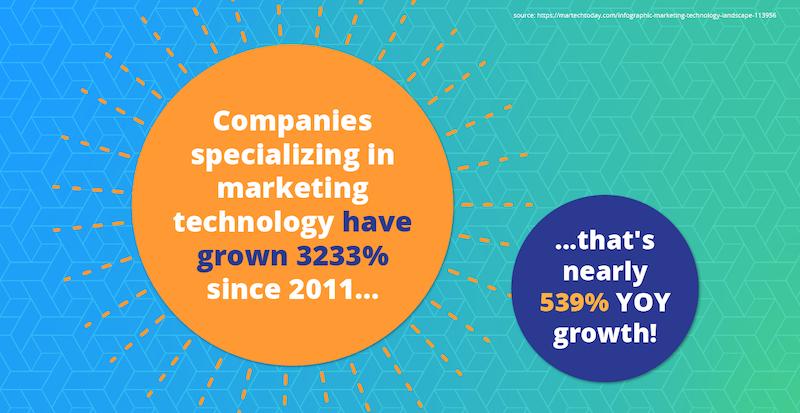 Image Source
It's safe to say that martech will only continue to evolve and influence marketing. What implication does that have for enterprise companies and marketing departments that need to keep up?
Why the Lines Between Marketing and IT Are Blurring
It's pretty easy to understand why the majority of marketing departments embrace martech. Thanks to new digital capabilities, marketers can understand their audiences better with data gathering and analysis tools, automate what used to be time-consuming tasks, and reach consumers anywhere in the digital world with precise and personalized messaging.
However, the massive switch to digitalization also puts more strain on enterprise organizations and their marketing capabilities. Today, consumers expect to be able to access whatever information, products, and services they want on any channel and at any time.
Modern enterprise marketing must keep up by consistently developing new ways to deliver delight and improve upon the consumer experience. Martech is the bridge that connects marketing to IT, the one department with the technological buying, building, and implementation prowess it takes to keep always-on consumers happy.
For enterprise organizations to develop technology-first marketing that delivers on consumer expectations, they must let the lines between what is technically IT and what is technically marketing continue to blur and eventually fade away.
How to Develop a Technology-Driven Marketing Strategy
Once marketing and IT can set aside their different personalities and realize that the blurring of their departments empowers them to achieve business goals, the following strategies will help them collaborate to extract business-boosting lead data, deliver personalized content, shorten the sales cycle, and provide the consistent marketing experience consumers crave across channels.
Soup Up Your Inbound and Outbound Marketing Efforts with Lead Data
By implementing certain marketing technology, IT can enable marketing to learn more about the leads they're driving to their platforms with inbound marketing.
Plenty of martech tools enable marketers to gather data from visitors like general and on-site browsing history, location, an IP address that connects them with a specific company, and perhaps even some contact information. Automated messaging and dynamic forms can further engage visitors to gauge interest and collect even more of that all-important data.
Whereas outbound marketing used to feel like throwing money into the abyss and hoping some leads came out of it, smart advertising purchasing tools give marketers the power to target (and retarget) more specific audiences for warmer leads.
Incorporating martech to collect and analyze lead data doesn't just make your business smarter—it gives you time to use that data to create impressive inbound and outbound campaigns instead of spending days manually putting together customer profiles.
Customize Your Content to Hit the Mark Every Time
Enriching lead profiles empowers you to personalize the experience you deliver. And that may be more valuable than you ever imagined.
Harris Interactive found that nearly three-quarters of consumers are fed up with irrelevant marketing content. However, consumers continue to reward personalized marketing. Approximately 35 percent of Amazon sales are the result of recommendations based on personal data. Netflix's custom-tailored video feed saves the company $1 billion every year in retention alone.
Customized content is vital, but today's most prevalent content management systems sure don't make it easy to achieve.
With a traditional content management system (CMS) like WordPress, Sitecore, or Drupal; creating and managing content is easy. Personalizing that content for unique users, displays, and channels? Not so much.
A headless CMS like Contentstack also makes it easy to create and manage your content. But because it stores that content in an accessible container instead of trapping it in a predetermined workflow, it's also user-friendly for marketers who want to integrate tools that personalize and optimize content for specific display methods, channels and of course users.
The variety of Contentstack configurations that marketing and IT can take advantage of is practically endless. Some great use cases include dynamic websites that serve hyper-personalized content based on campaign responses, applications that provide offers based on real-time user behavior and location, and virtual or augmented reality solutions that enable hospitality firms to deliver an immersive experience no matter where in the world the viewer is.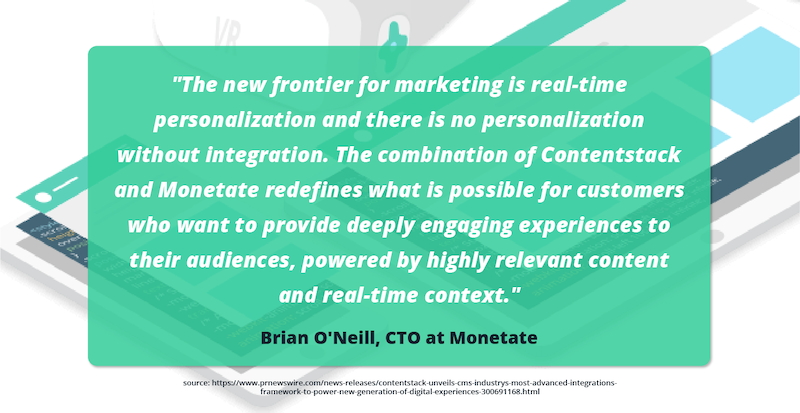 Image Source
Empower Leads to Skip Stages of the Funnel as They Please
It turns out, martech isn't just getting marketing and IT in the same room but enabling a closer relationship with sales, as well.
Technology enables consumers to skip through the sales and marketing funnel and go right to requesting a demo or initiating a purchase without having to engage in a long cycle with sales or a business rep, which is great because consumers are short on time but long on content. They've already got more emails and blogs and reviews than they could ever actually read—why not let them cut to the chase and save your team some effort while you're at it?
Marketing and IT can come together to enable ecommerce automation that serves relevant, in-the-moment offers to close the sale. Another use case is automated chatbots, which allows consumers to set up demos or get their pre-purchase questions answered without the email threads and missed phone calls of old.
To make the most of consumer attention in the few sections you have it, try self-serve marketing automation.
Upgrade Your Website Technology to Provide Omnichannel Marketing Experiences
If one of the main reasons marketing and IT are cozying up is to improve the consumer experience, it only makes sense to go all in on website technology that enables you to deliver a consistent experience on every platform your customers use.
Contentstack is built with that specific goal in mind. Our headless CMS enables marketing teams to distribute content directly to a variety of channels and devices using the most optimal technology for each endpoint. Unlike a traditional CMS, our headless CMS leverages APIs to push content directly to channels and devices without breaking or requiring any new technology. On the content side, our easy-to-use drag-and-drop builder allows marketers to create content models for each channel while smart Experience Extensions help optimize the content itself, so it's a perfect fit for any channel to which you choose to publish it.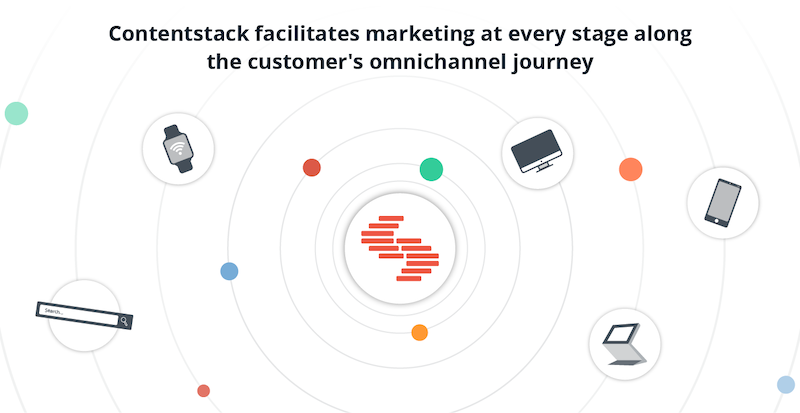 Don't let your marketing consistency suffer when a headless CMS can provide the perfect omnichannel marketing experiences your consumers have come to crave.
Blurry Lines Between Marketing and IT Are Great—as Long as You're Ready to Take Advantage
Martech provides a bridge where marketing and IT teams can meet to develop a technology-driving marketing strategy that squeezes more value out of lead data, automates content personalization, helps sales close deals faster, and does it all while delivering the consistent omnichannel experience consumers have come to expect.
If you're ready to bring IT and marketing together to achieve business goals, Contentstack's headless CMS is the best way to optimize, personalize, and deliver content that converts no matter if consumers are accessing it from an in-store kiosk, an app, a smart billboard, a search engine results page, or any other channel or device.
At Contentstack, we promise to deliver amazing experiences with no-training-required content management tools for marketing along with enterprise-level security, scalability, and rich tooling for IT teams.
We stand behind our reliability and your ROI 100 percent. All you have to do is schedule a demo or create a proof of concept today for free.