Back to Blogs
Beyond Text Searching: a Marketer's Guide to Voice and Visual Search Optimization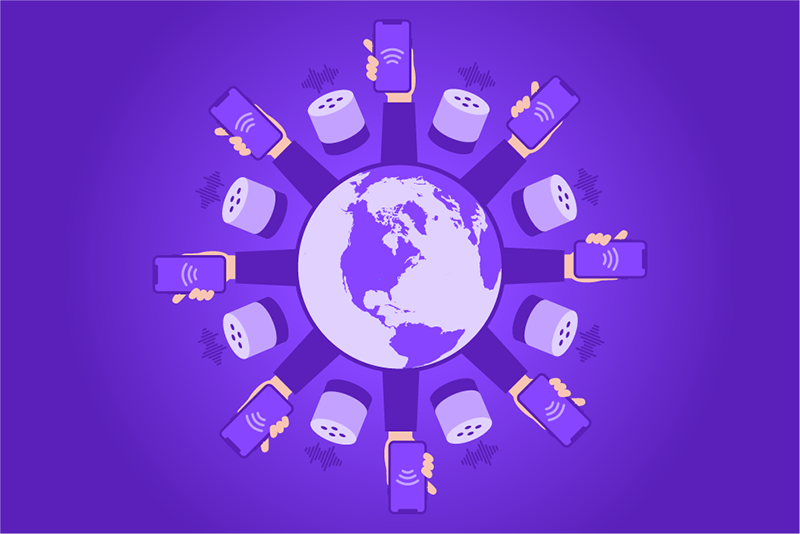 In the mid-1960s, Star Trek's Captain James T. Kirk summoned the on-board computer on the USS Enterprise in the same way we casually ask Amazon's Alexa or Apple's Siri to play music for us today. Voice search and its cousin visual search are rapidly gaining ground as technology catches up with things we used to watch on television.
In 2019 alone, an estimated 3.25 billion digital voice assistants were being used in devices worldwide. Forecasts suggest that by 2023 the number of digital voice assistants will grow to eight billion — similar to the earth's population at the same time.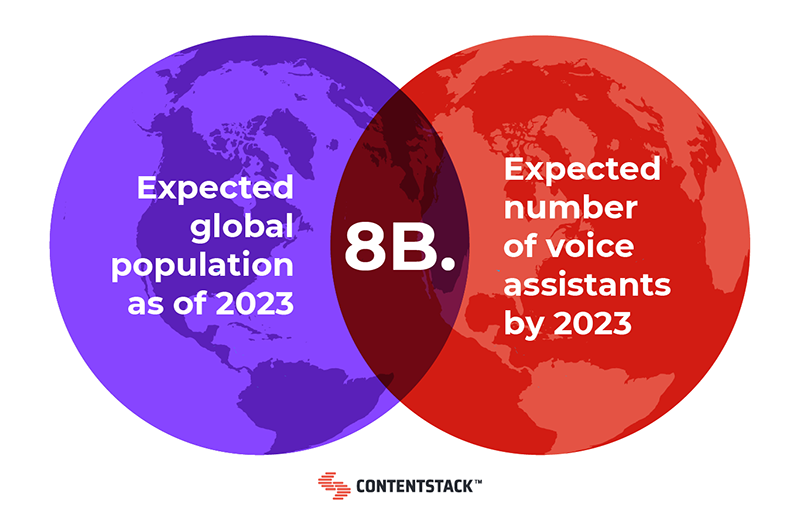 Artificial intelligence and machine learning have brought yesterday's sci-fi to today's fingertips. As smartphones get smarter and more digital assistants move into our homes, customers are interacting with content in new ways. Instead of looking at a map, we can ask Siri for directions. Visual search capabilities turn every moment into an opportunity for brands as consumers point their smart devices at objects to learn more about them.
Like Captain Kirk's voice queries, end users don't see the algorithms that go to work locating the information for which we ask. However, marketers need to know about the back-end processes that make their content easy to find, no matter how someone is searching for it.
This guide helps marketers understand the latest search methods and how to adapt your content to capture traffic from increasing voice and visual searches.
The Evolution of Content Searching: How We Got to "OK Google" and Why it Matters
In the early days of internet content, tools like WebCrawler ushered in text-based searches. Yahoo! Directory soon followed, along with search engines like AltaVista, MSN Search, and Google. These search engines have long relied on keywords to find content that matched our wants.
But with the advent of artificial intelligence (AI) that's smart enough to deliver content based on human requests and questions, hands-free voice search came on the scene.
Instead of using a few short keywords, voice searching is more like a dialogue. With voice search, people ask longer questions as if they're speaking with another person. For example, when we want directions, we say, "Hey Siri, get directions to the nearest gas station." When we want the weather forecast, we ask, "Alexa, what is the temperature outside?" If you plug those words into a search engine, you'll generate quite different results than if you type a more concentrated query like "St. Louis weather" or "gas stations in Albuquerque," even when you're after the same information.
Speed and hands-free capability top the list of reasons why people like voice searching, but ease and accuracy follow closely behind. Voice searching is also a powerful accessibility tool for users who can't use text-based search methods.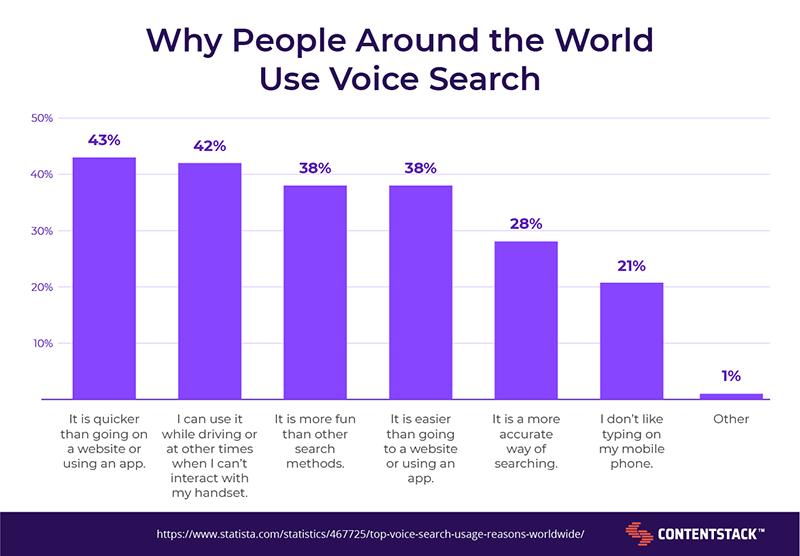 Then there's the newest frontier — visual searching. With a visual search, the image itself is the search query. For example, if you see something you're curious about — like a beautiful sofa — and you want to know more about it, you can snap a pic, upload it to a visual search engine, and look for matches. For a furniture retailer with a catalog full of high-quality sofa pictures, visual searching can shorten the sales journey by reducing the steps a customer takes from wanting something to finding and buying it.
Voice and visual search optimization help you differentiate your brand and create more engaging experiences for the growing number of customers poised to take advantage of this technology. By employing voice and visual search optimization tactics, you can now get a step ahead of your competition. Let's look at how you can achieve that.
The Nuts and Bolts of Voice and Visual Search Optimization
Tech-forward marketers can follow these tips to adapt their content for voice and visual search.
Write How You Speak
The best way to optimize for voice searches is by writing how your customers speak.
Blending conversational phrases seamlessly into your content helps ensure that voice-enabled search engines find your material. When used alongside your regular keywords, your content will offer the added context that will help elevate your relevance in search results.
The key is to consider this from your customer's point of view. What kinds of questions would they ask if they're searching for something that your company can provide? What are the answers to those questions? If you sell running shoes, your natural keywords might include stability, motion control, or neutral support. In a voice search, your customers might ask, "What are the best running shoes for people with bad knees?"
If you want to bring more precision to writing for voice queries, try readability tools like the Flesh-Kincaid reading test (which is conveniently embedded in some word processing programs) to match your writing level to that of your target audience, thereby increasing the probability that your content matches their style.*
Look Local
If your business has any local component, a great way to level-up your performance on voice searches is to focus some energy on optimizing your content for local searches.
Research shows that in 2019, almost a third of online consumers in the United States used the internet to search for local businesses daily. And nearly 60% used voice search specifically to look for information on companies in their area.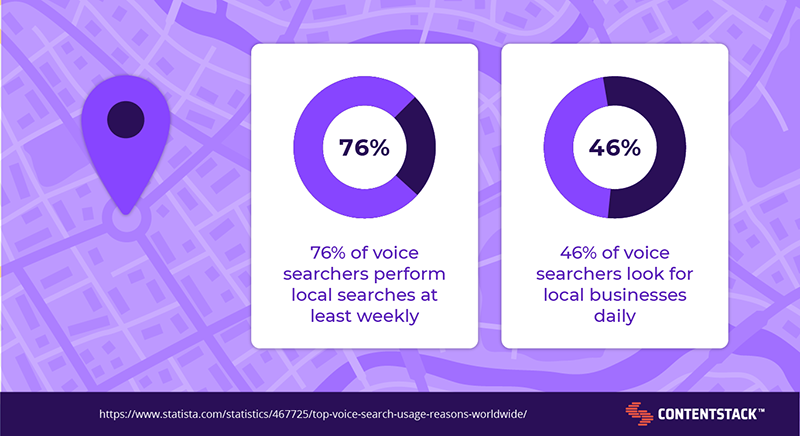 Incorporate High-Quality, Optimized Images for Visual Searchers
Visual searches help people searching for something quick, or that isn't easy to describe using text. The first thing to consider with visual searching is whether your company would benefit from the effort. Some service-focused industries may not generate the same ROI from the visual search that product retailers would. The simplest way to measure this is by asking: "Can I photograph what we offer?"
If the answer is yes, you can improve your discoverability by incorporating your products' images into your content.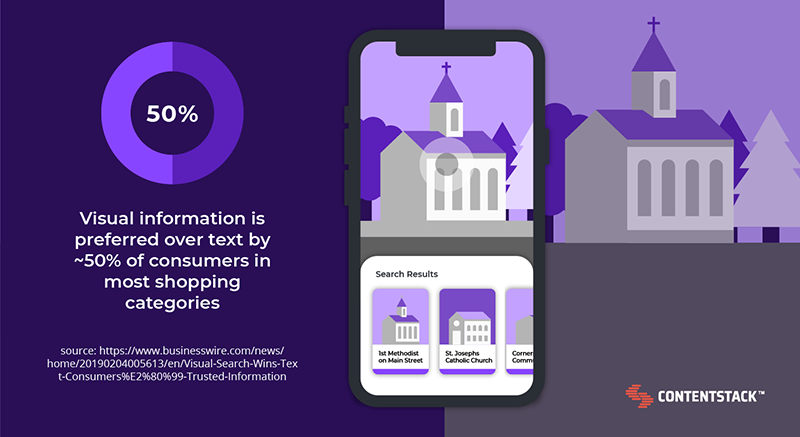 In visual searching, AI and machine learning algorithms identify the objects in an image and try to match those with images of similar objects. Quality matters, both for the image itself and the surrounding text. High-resolution photos will make it easier for search engines (the most popular ones are Google, Bing, and Pinterest) to process your image and match it with a search. Search engines prioritize results from high-quality sites, which are those with fresh and original content — including pictures. Stock photos won't perform nearly as well as original images.
Remember that quality still shouldn't come at the cost of usability. Don't use large photo files. Use a well-known image format, such as .png or .jpeg, and compress your photos to ensure they load quickly.
In addition to the image itself, search engines make excellent use of the related metadata, such as captions, image titles, alternate text descriptions (also called alt tags), and URL paths. Customize these, and be sure to use relevant keywords that accurately describe your images, to help improve accuracy. Lastly, your images should align with the surrounding content on your web pages and be placed as close as possible to the most relevant content.
The More Things Change, the More SEO Best Practices Stay the Same
The trend toward voice and visual searching emphasizes some standard best practices in search optimization, including prioritizing website speed and mobile usability. Voice searches tend to use more words than text-based searches, which means your content may get longer and take more effort to load. Likewise, visual searches are heavier on bandwidth. Don't disappoint potential customers by making them wait.
It's also important to remember that voice and visual searching are increasing in popularity precisely because of our growing reliance on mobile devices. While optimizing for mobile devices used to be an afterthought, it is increasingly worthwhile to design your content with a mobile-first approach. After all, over 90% of websites report more unique visitors from mobile devices than from desktops. And Google says, "Mobile-friendly sites show up higher in search results."
And of course, the most effective SEO tool of all is offering straight-up amazing content designed for humans, not for search engines.
The Final Element of Your Content Optimization Strategy: The Right Content Management System
The process of voice and visual search optimization is infinitely easier with a content management system (CMS) that makes creating, optimizing, and delivering voice- and search-friendly content a breeze.
Headless CMS streamlines voice and visual search optimization by storing all of your content assets in highly-accessible modules. So instead of the exhausting process of rewriting, redesigning, and relaunching content every time you want to publish it to a new channel or audience — marketers enjoy a single source of reusable content which can be run through various translation integrations, SEO plugins, and more before being published anytime, anywhere.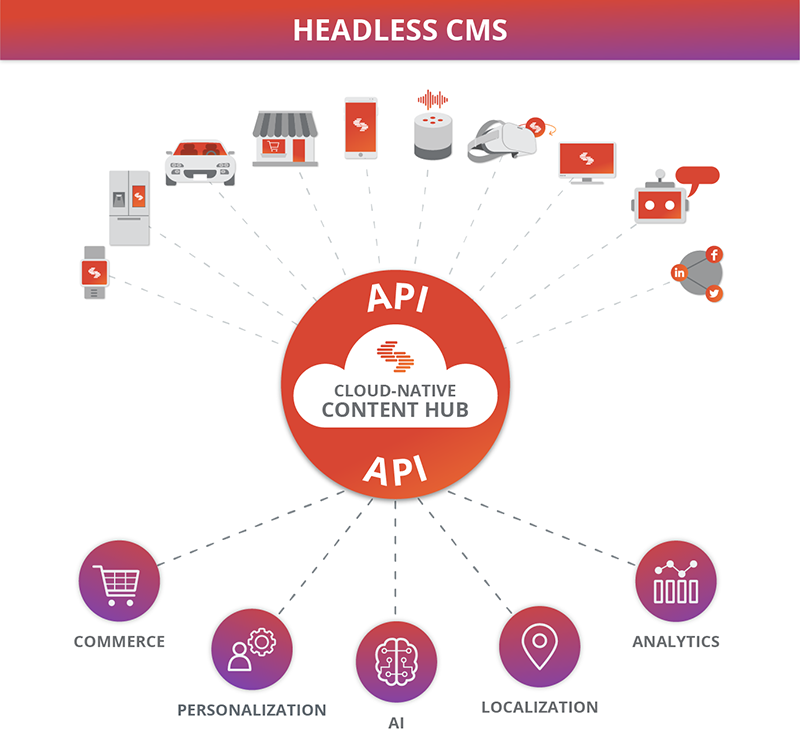 To keep learning about the new digital technology and trends that are reshaping business and how to adapt your strategy to keep up, enjoy complimentary access to Forrester's report: "Digitize Your Business Strategy."