Back to Blogs
The 11 Best Content Management Systems of 2021: Options for Small, Midmarket, and Enterprise Businesses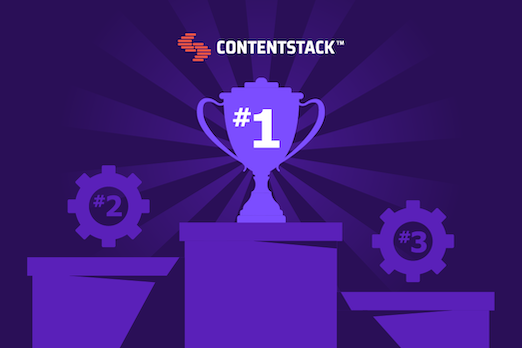 Today, every business is a publisher. Well, every successful business is a publisher. Consider the following:
Website publishers push six new websites live every second.
Bloggers published approximately 116 posts per second.
And so on.
Is your business prepared to cut through this noise? Success as a modern business isn't about beating every other organization that's publishing on the internet. No, success today is about leveraging the right content to reach the right audience on the right channels. This is why you must choose the right tools to execute a robust content marketing strategy. And it all starts with a content management system.
Why Do You Need a Content Management System?
Almost every company today needs to create, publish, manage, and now optimize a variety of content they serve to their audience. Many of them — almost 65% — use a content management system (CMS) to do so. Why? Well, there are several reasons.
A CMS, especially an enterprise-grade CMS (more on that later), should come with structure and features such as meta descriptions, optimized URL structures, and more that will boost your search engine presence and direct valuable traffic to your websites.
Additionally, a modern content management system can help integrate your content with business intelligence applications so you can make informed content marketing decisions that move the needle. This insight is important when you consider that more than half of the data that companies collect is "dark" — meaning it's never actually analyzed in a way that contributes to business intelligence.
A content management system will enable your team to create the governance and workflows that streamline collaboration so you can get your best content created and served in no time.
Getting great content to market has never been more critical than in the age of COVID-19. It has forced consumers to do everything from working to shopping to learning how to perform their own services — digital salons, anyone? — via the internet. That's why ecommerce has experienced almost 30% growth in 2020. This growth is despite projections that ecommerce would decline by over 16%, and the retail market would decrease by 3%.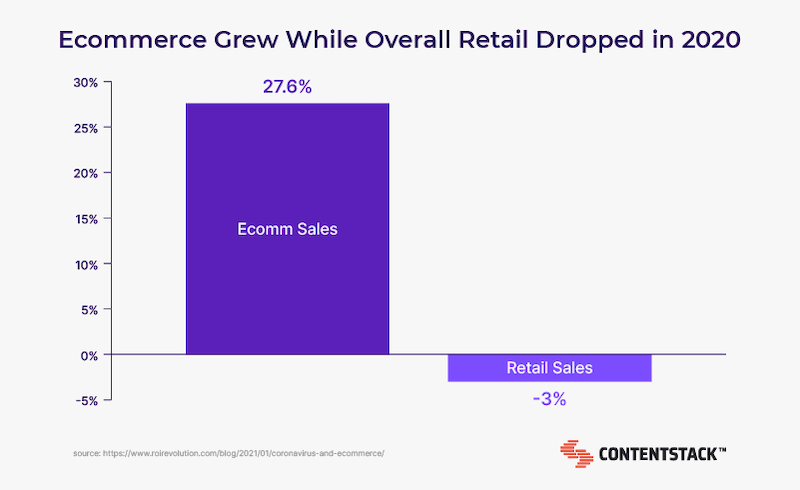 To reach consumers interested in your product or services, your business needs to invest in the right content management system. The rest of this article is devoted to helping you make that choice.
Factors to Consider When Choosing the Best CMS for You
There is no one-size-fits-all content management system. Different CMS options will work better in different situations. For example, a multi-million dollar ecommerce business running dozens of marketing campaigns across various digital channels will need technical integrations, features that enable omnichannel delivery, and other characteristics that an individual blogger isn't going to need.
There are several criteria that businesses need to consider when shopping for a CMS, such as:
Size and scalability: When choosing a CMS, the platform's size and scalability should align with your organization's size and scalability. If you're looking to grow your business with more new members, more capabilities, and more sales, your CMS has to be readily scalable to keep serving you through all your ups (and any downs).
Extensibility: Extensibility goes hand-in-hand with scalability. If you're consistently scaling, you want a CMS that lets you easily add, update, and even remove extensions. Of course, if you're happy with a more stagnant CMS, you won't need to prioritize extensibility as much.
Omnichannel capabilities: In this day and age, it's vital to serve content optimized for the channels your target consumers visit. Even if a CMS needs integrations to do this, it should at least mention omnichannel content management as a priority.
Content management features: What's a CMS without the features for content management, such as tagging, search, and workflows? Each CMS has its unique blend of features — make sure the one you're looking at has the features you need.
Ease of use: The absolute best content management system in the world isn't worth anything if the people who need it the most can't use it effectively. Consider the ease of use of a CMS to ensure your team will use it.
Security and controls: As more of our lives take place online, security becomes more critical. Every time you add a new integration or user to your CMS, your risk of a security breach goes up. It's essential to be aware of these facts and how seriously a piece of CMS software takes security and access controls when making your choice.
Cost: Of course, how much you're willing to spend is an important thing to remember when shopping for any business software. But beyond the sticker price, make sure there are no ongoing costs that you're uncomfortable with (for example, many legacy CMSs love to charge per user, charge for software upgrades, and so on).
Customer support: When a large percentage of your business success is riding on your content management system, you want to know you can get in touch with your vendor if anything happens to go wrong. Try contacting a CMS provider several times with different requests before signing any contracts to make sure they're as responsive and helpful as you need.
2021's Best Content Management Systems for Small, Midmarket, and Enterprise Businesses
Next up, our recommendations for the best content management systems of 2021 for several key business types.
The Best CMS Platform for Personal Projects
People running personal projects — such as travel or cooking blogs — will want a CMS with all the ease of use and content management features but won't need the flexibility that often requires development resources.
Our Pick: Squarespace
Squarespace is a visual website builder and hosting platform all in one, which means users have just enough flexibility to make their website look a certain way but don't have to hire developers or interact with code to get their site up and running.
Other CMSs for Personal Projects
Wix is like Squarespace in that it offers pre-built templates and a drag-and-drop builder for creating website pages. With a free option (that features ads), Wix is ideal for the person who is just getting started with publishing for personal projects.
The Best CMS for Small Businesses
Like personal projects, small businesses want ease of use and affordability — but they also want security, access to customer support, and content management features that enable collaboration within a small marketing team.
Our Pick: WordPress
WordPress is an open-source content management system initially built to be a blog publishing platform. This focus on blogs means that while it falls short in things that bigger businesses prioritize — such as access control, superior security, scalability, etc. — it works for individuals because it's affordable and easy to use.
And because WordPress is open-source, entire agencies have been created around developing various templates and plugins that make the platform highly customizable for small businesses.
Other CMSs for Small Businesses
Unlike the other options we've mentioned so far, Amplience is a headless CMS. The next section dives deeper into headless CMSs. Generally, a headless CMS offers more scalability, extensibility, omnichannel capabilities, and security than a legacy CMS.
For the small business that's willing to pay a little more for increased functionality, Amplience can help with digital asset management, product information management, and of course, content management.
The Best CMS for Midmarket and Enterprise Businesses
Midmarket and enterprise-level businesses have more complex requirements for their digital entities.
A midmarket services agency might want to create an interactive content experience for its website — while an ecommerce enterprise will need to deliver personalized shopping experiences at each digital touchpoint in the purchasing journey.
These requirements call for a headless content management system that goes beyond simple templates and drag-and-drop functionality. A headless CMS delivers extensibility, powerful omnichannel capabilities, robust content management features, and cutting-edge security — and provides it all at scale.
Our Pick: Contentstack
Contentstack is a pioneer when it comes to headless CMS software. As such, Contentstack offers the speed and agility that modern midmarket and enterprise businesses in ecommerce and beyond demand — without sacrificing any of the security and control, support, or content management features upon which busy marketing departments rely.
And thanks to cutting-edge extensibility combined with award-winning ease of use, Contentstack is uniquely positioned to help you accelerate content personalization, optimization, and publishing across today's and tomorrow's digital devices and channels.
Other CMS Options for Midmarket and Enterprise
While Contentful is another popular CMS that provides standard headless content management features for large businesses, it simply doesn't stack up compared to Contenstack in a head-to-head(less) showdown. From content management features to scalability to ease of doing business with, Contentstack consistently outranks Contentful on G2 — a recognized business software review resource.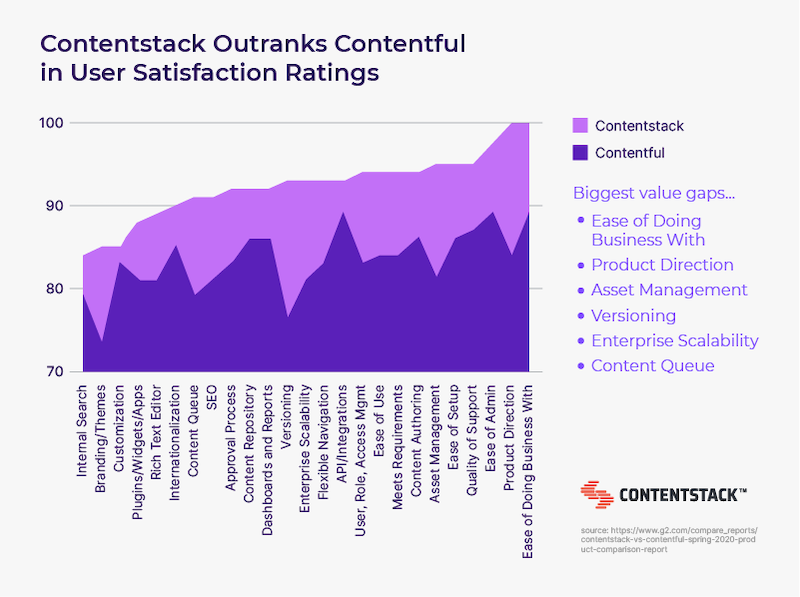 ButterCMS is one of the few headless CMSs with a pre-made package explicitly created for blogging. This focus on blogging functionality before anything else means Butter is probably best left to businesses centered around their blogs.
Sitecore is an "experience platform" with a complex suite of services built on Microsoft's NET Core platform. They're currently rebranding their content management service — known as "Sitecore Content Hub" — like a headless CMS to position their system alongside true headless CMSs. On top of all this, to use Sitecore successfully, your business will have to hire developers or contract out an agency that has specific (and expensive!) Sitecore training. For these reasons, Contentstack beats Sitecore in every category on G2 — achieving 4.7/5 stars compared to Sitecore's 3.9/5 stars, which are based on real user reviews.
Core DNA bills itself as an "all-in-one SaaS digital platform" that aims to provide a single tool from which businesses don't just manage marketing content but also their internal intranet and events. Due to this lack of focus on critical headless CMS features, it's not surprising that reviewers note the high cost, the outsized effort required to re-platform, and a lack of desired integration points among Core dna's downsides.
Kentico Kontent is Kentico's recent development in their "move from pure headless CMS to Content as a Service." While this shift might sound nice from a product branding perspective, we wonder what it means for users who want to rely on Kentico as a headless content management system.
Prismic's tech-focused blog section and a developer-focused pricing tier show a headless CMS that's built by and for people with an IT background. While it appears to be a viable option for IT-led projects, it may not be ideal for marketing- and content-focused users.
With all the options laid out in front of you, let's dive deeper into our reason behind naming Contentstack the number-one pick for midmarket and enterprise businesses in 2021.
Why Contentstack Headless CMS is the Best Choice for Midmarket and Enterprise Organizations
The features that make Contentstack a leader in the headless CMS industry are the same features that make it the best option for content management for midmarket and enterprise businesses.
So what features set apart a headless CMS? A headless content management system is built on a modular architecture that decouples the process of content creation, management, and publishing from the design and development of the platforms upon which it's displayed.

This decoupling enables marketing teams to keep publishing perfectly-optimized content to every platform, design teams to keep creating engaging consumer-facing content displays, and IT teams to keep focusing on cutting-edge technology updates — all without waiting or blocking each other or worrying about anything breaking.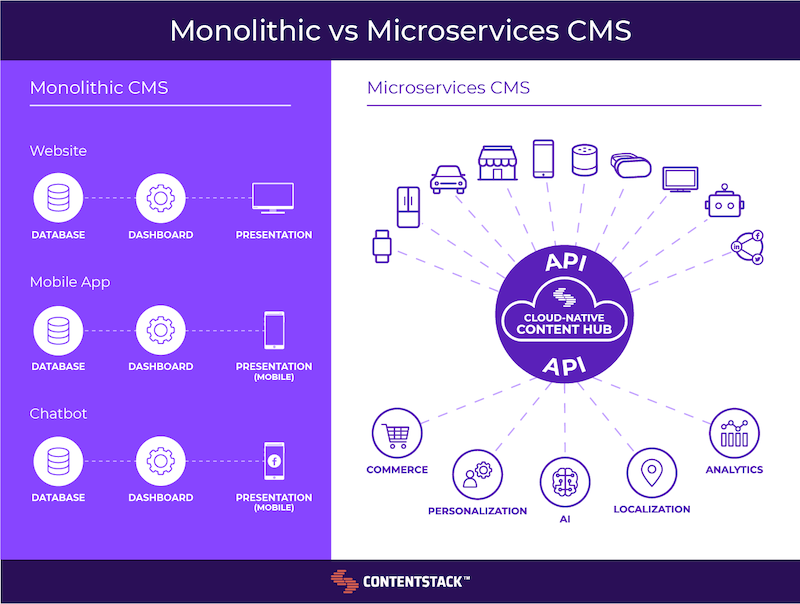 What makes all of this possible? With modern headless CMS platforms such as Contenstack, it all comes down to a unique blend of technology features known as MACH.
MACH is a term for modern technologies built using microservices, supported by application programming interfaces (APIs), cloud-native, and headless from the ground up. This unique combination makes MACH technology modular, pluggable, scalable, and easy to update so that it can support even the most quickly-evolved digital experience at your midmarket or enterprise organization.
Compare this to traditional, monolithic content management systems of old in which content management features and content presentation functionality are coupled together. This approach means that your carefully-crafted content is permanently defined by how it's designed and displayed. And this makes it impossible to create content once, optimize it over and over again, and publish it infinitely to the channels consumers crave both now and into the future. In other words, all the things you can do with modern, MACH-powered headless CMSs — such as Contentstack.
Test the Best CMS for Midmarket and Enterprise for Free Today
Contentstack provides a variety of clear advantages over other CMS options for midmarket and enterprise businesses, including:

Increased speed and agility native only to SaaS-based headless solutions
Limitless scale as your business grows and changes
Stability and security akin to legacy software
Prioritization of content optimization for the omnichannel delivery consumers crave
Industry-leading content management features and controls that empower marketers to work without expensive engineering resources
Cloud-first architecture and pricing that never forces you to choose between savings and customer experience
Prime onboarding and customer support free for every customer
Want to see for yourself how Contentstack can help your midmarket or enterprise organization create world-class content experiences? Developers can dive in headfirst by signing up for a free, all-access trial today. And marketers can get started now with a free, full-featured demo from Contentstack's helpful support staff.