Back to Blogs
Automated Content Management: How Technology Can Make Life Easier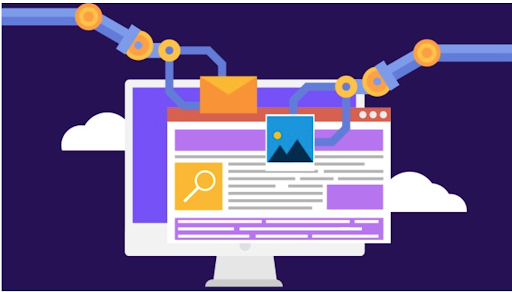 What Is Content Automation?
Content automation is a digital marketing strategy that replaces human intervention in the content lifecycle with an automated alternative, saving time and money and freeing up resources. Sounds vital, right? In content marketing there are many opportunities to program or automate repetitive processes, allowing marketing agents to focus on more important tasks such as strategy and planning.
Here are some examples of tasks a content marketing automation platform can perform:
Publishing blog posts and distributing content on social media sites

Tracking and monitoring user behavior and engagement

Proofreading content for grammar and spelling mistakes

Creating and sending automated emails to a targeted audience, based on behavior and triggers

Translating text into other languages and natural language processing (NLP)

Writing content that does not need human intervention
What Is Automated Content Management and How Does It Work?
Automated content management is the human element required to set up and manage automated content. Before any automation can occur there needs to be a well-planned strategy that defines the goals and the method of achieving those goals.
There are a wide range of content automation tools available, so step one is for the executive marketing team to agree which tools are necessary and which tools will justify themselves in time and money saved in the long run.
Once the tools are in place, users need to be thoroughly trained to ensure that your organization can reach the full potential of the automation tools. Once the training is complete, the creative work, the fun stuff, begins. Creating written, video or audio content to push out to the audience, in a way that keeps them engaged and results in conversions, is at the core of marketing. Using automation, content can be personalized to a degree that would never be possible if an individual had to carry out the work, but it takes a human to design the process and set up the triggers and options that will keep on delighting your customers.
What a human can do when managing content automation:
Identify the optimal tools to use for the organization.

Establish goals and a timeframe for measuring success of the tools.

Train the individuals or teams who use the automation tools.

Map out the touchpoints of the customer journey.

Create the assets the automation tools will publish.

Analyze reports generated by the automation tools and make data-driven business decisions.

Push the automation tools to do more and achieve more.
The Benefits of Automated Content Management
The benefits of automated content management are multiple and can be clearly measured:
Save Time
Content automation is the answer to those repetitive but time-consuming tasks. Rather than asking your team to laboriously set up individual email newsletters, publish individual social media posts and search for qualified leads, item by item, they can focus on what they do best: creating dynamic content. Leave the machines to the automation and the humans to high-level thinking that will grow the business.
Save Money
With saving on time comes a saving of money — and less need to have an ever-expanding team. Now the business can employ the right people to manage the tools but will save on a wide team of employees doing the time-consuming tasks. Time will be saved, productivity will increase and as a result the organization will save money.
Boost Creativity
Relieve your team from the mind-numbing boredom of repetitive tasks and ask them to bring creative ideas to the table. This will inspire and empower workers to engage and will boost creative energy and morale. This can help reduce turnover and the associated costs of replacing staff.
Improve Workflow
When the individuals in the team know their roles and responsibilities and are free of mundane and time-consuming tasks they can work faster and more efficiently. Ideas can flow, the process of marketing campaign creation can speed up and client relationships can flourish.
Nurture Leads
Never miss an opportunity again with automated tools that can score new customers and send out handy reminders and timely communications.
Automation tools can curate, manage and nurture high volumes of potential leads before they even hit the inboxes of the sales team. No more sifting through a mountain of emails or paperwork; sales teams can focus on the cream of the crop, presented to them clutter-free.
How to Get Started With Automated Content Management
The first step is to identify the task that best suits automation. It should be a task that is time-consuming, possible to automate and will bring faster and cheaper results. Once you identify the task and goals, you will need to map out a workflow and create any assets that are required. It is key that the results of the automation are measurable so the programs can be constantly updated, monitored and improved upon.
Examples of Automated Content Marketing Tools
Vendors in the content automation space have two basic business models. The first is to create simple tools with a single functionality, such as Grammarly for editing and proofreading written work. Another popular choice among vendors provides entire platforms where users are able customize every aspect of their website, such as Marketo, which also includes marketing automation, email marketing, lead management and revenue attribution. Hubspot, a customer relationship management (CRM) platform, has all the tools and integrations required for marketing, sales, content management and customer service.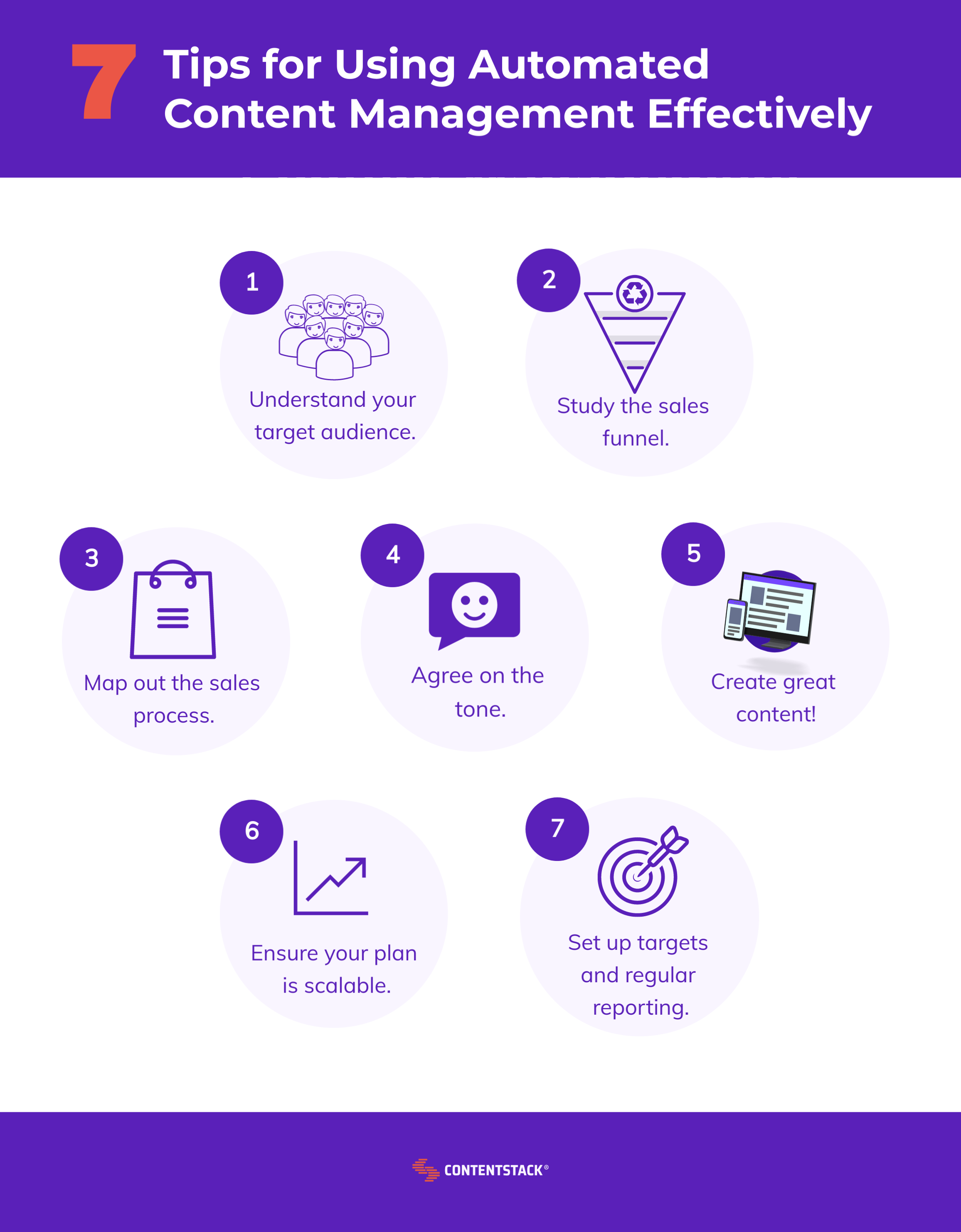 The Future of Automated Content Management
Artificial Intelligence (AI) is taking the world by storm and the potential it brings is evolving all the time. The combination of automated content management and artificial intelligence is a great tool for giving workers back the time they need to perform more complex tasks that still require a human brain. Here are some examples of ways automation can make life easier:
Machine learning: A machine automatically learns new things without being programmed.
Interaction between AI tools: A voice-activated smart speaker to control household appliances is one example.
Automated content creation: AI can now create content from scratch, such as writing articles, reports and transcriptions.
Natural language processing and generation: A machine reads or speaks in a human language.
On-the-spot SEO improvements: AI enabled CMSes are able to identify real-time SEO improvements
Content gap identification: AI can spot gaps in content and alert the business to fill the gap
Customer service automations: Chatbots are already commonplace, but they are advancing to the point where they can provide around-the-clock support without routing back to human agents.
Conclusion
When automation is used intelligently it can engage and retain customers and lead them down the funnel with almost no human assistance. The savings in time and human resources are undisputed and the real win comes from being able to do more with less. With automation, the blue-sky thinking can really take flight.
Get started with automated content management and AI with Contentstack. Your organization can push boundaries by adopting a composable CMS that's built to integrate with AI-enabled content management tools.
Contentstack is an agile CMS that's part of the MACH revolution. It's microservices-based, API-connected, cloud-native, and is built on headless architecture from the ground up. Contact us today to schedule a demo.