Back to Blogs
Your Company Can't Embrace Agile Marketing Until You Have an Agile CMS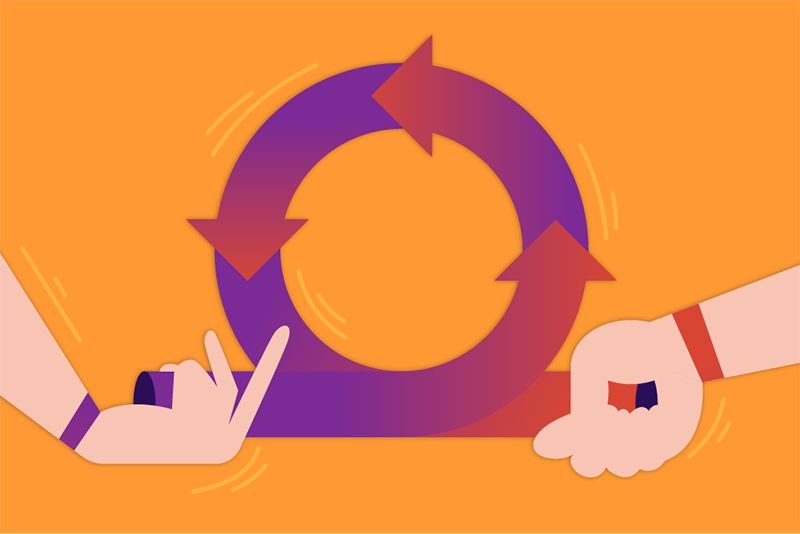 With an ever-growing number of digital marketing channels, more consumers using connected devices, and new competitors launching products and services into the global market — businesses can no longer afford to use inefficient, legacy, siloed marketing platforms.
Slow and steady will not win the race when it comes to capturing customers today. You need agile marketing!
This article explains what agile marketing looks like, why you need to care, and how to make it happen in your organization with some of the most modern and marketer-friendly business technology available today.
What is Agile Marketing?
You might have heard the term "agile" a great deal lately, but it's more than the latest marketing buzzword. What began in the world of software development as a way for developers to quickly move from idea to execution, rollout, and revision has become a secret weapon applicable in business areas such as marketing.
In traditional marketing, first, a project is proposed. Next, a rigid timeline is imposed, and the outcome, which is inevitably late due to the unforeseen hiccups that always happen during a project, is a finished campaign or content that probably lost relevancy during the time it took to create it. It's an arduous process that often yields disappointing results.
That's why marketing is going agile. With an agile marketing methodology, multi-faceted teams (think copywriters, designers, paid advertising specialists, etc.) collaborate on smaller projects over shorter intervals called "sprints." Instead of launching a finished and static project, it's more important to launch something quickly that can be measured and improved upon over time.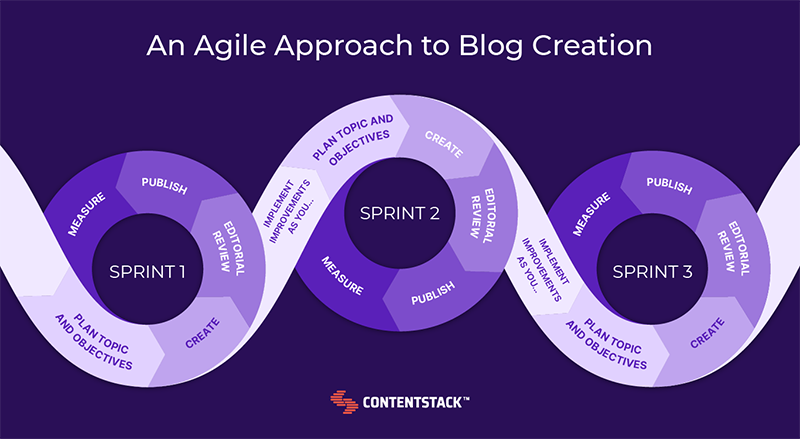 Agile marketing isn't rigid, and it is more important than ever in today's changing business atmosphere.
Why Does Agile Marketing Matter Today?
The term "Internet of Things" describes a web of "smart devices" (smartphones, wearables, smart speakers, etc.) that are connected to the internet. Before 2020 is over, more than 30 billion IoT devices will be online. By 2030, the average person is expected to own at least 15 different connected devices.
Fifteen years ago, consumers used an average of just two touchpoints when making a purchase. Today's shoppers use almost six touchpoints on average. Across all these touchpoints, research shows that 63% of consumers are annoyed by generic messaging. It's no surprise that 80% of customers say they're more likely to do business with a company that offers personalized experiences. And, more than half are fine with providing their personal information to power these custom experiences.
Traditional marketing has tried and failed to keep up with these modern demands. Modern marketing needs the agility to provide highly-customized experiences across all the channels where your customers shop for your brand.
How to Implement an Agile Marketing Plan
Now that we've covered the ins and outs of agile marketing and why the modern marketing organization should care, let's dive into what it takes to implement an agile marketing plan.
Gain Executive Buy-In
Because an agile marketing plan is always evolving, success depends on unwavering executive support even when things don't go according to traditional plans. To gain executive buy-in, carefully and regularly communicate about your plans and goals. Maybe even host agile training to help facilitate cultural shifts.
Create an Agile Roadmap
With buy-in won, you can finally put some of your marketing plans down on paper. Of course, a hard-and-fast schedule goes against the agile mindset, but you can still define milestones for your most important goals — such as launch dates. The agile methodology encourages projects to be broken into at least biweekly increments to motivate forward motion, testing, iteration, and team-wide check-ins.
Communicate High-Level Objectives
Communicate about high-level conceptual, strategic, and business objectives to keep your team in the loop and your executives bought-in. Breaking these objectives down into short, actionable tasks can help inform what you work on in each sprint.

Gather Tools and Training Resources
Small marketing teams can often implement agile marketing methods using little more than a whiteboard and a few post-it notes to design a workable visual project management "system." But the right tools, including the agile content management system, can take an agile marketing program to the next level and all but guarantee success.
Run a Pilot Project
When you're ready to launch into your first agile marketing campaign, we recommend starting with a small pilot project to help your team develop a solid comprehension of agile marketing practices. Expect the first agile marketing pilot project that you run to be a little bumpy — especially if you still haven't transitioned away from traditional, monolithic content management tools that don't enable collaboration or continuous updates.
Scale When Ready
Focusing on working out the obstacles you uncovered in your pilot project, begin scaling up to bigger and better agile marketing projects. Demonstrating agile's effectiveness at increasing efficiency and improving marketing results will go a long way toward building trust across the organization.
Now, let's learn more about the technology platform which has proven to be especially helpful for building new agile marketing campaigns.
Build Your New Agile Marketing Program on Agile CMS
To create an agile marketing team that moves with flexibility and speed, you need an agile content management system (CMS) that can do the same.
The problem is that with the traditional, monolithic CMS platforms (like WordPress and Drupal) that are still all too common, the frontend presentation layer is tied to the backend layer where content is created and managed. This coupling of content and format means that content must be developed, designed, and delivered in the specific format of the CMS. Often, the default delivery channel is either a static website or web-based application. A traditional CMS is not agile enough for organizations that need to develop and deliver marketing messaging for various audiences and channels.
A headless CMS separates content creation and management in the backend from the frontend where the content is formatted and distributed. Application programming interface (API) technology makes it possible to deliver content stored in the backend repository to any device or channel. This API-first approach makes headless architecture ideal for agile brands that need to deliver personalized experiences across different consumer touchpoints.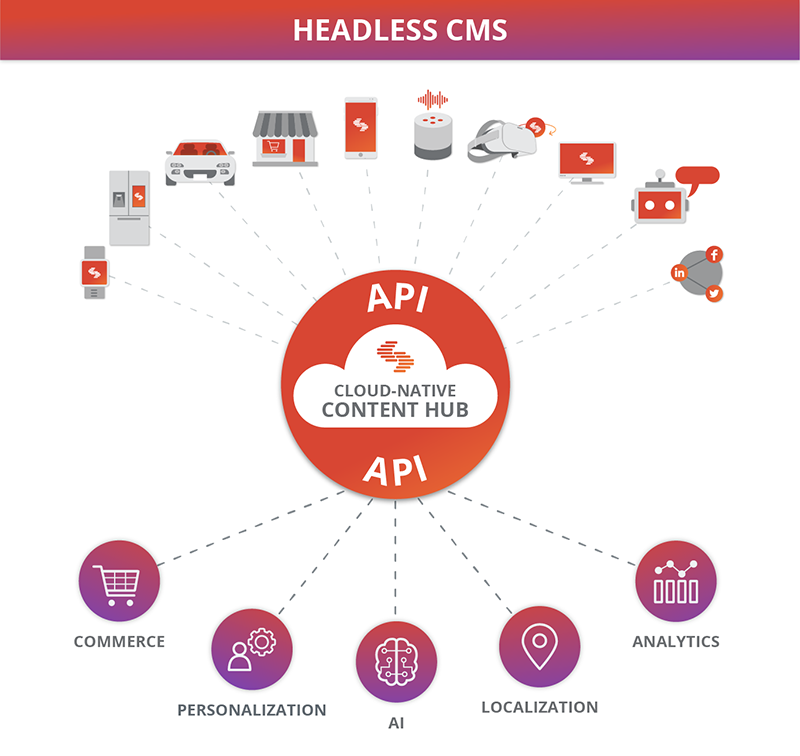 An agile CMS also means less downtime because design, development, and content creation can all happen in the same platform, simultaneously, and with full autonomy.
And thanks to the modularity of an API-first headless CMS, content can be created just once, optimized using any variety of integrations (think personalization, translation, A/B testing), and used (and re-used) for different channels and consumer segments.
Embrace Agile CMS Today and Embrace an Agile Marketing Future
As the saying goes, the only thing that remains constant is change. Perhaps now more than ever, the business environment feels like it's changing quickly. The good news is that with the right agile CMS to power your agile marketing campaigns, you'll be better equipped to produce remarkable experiences as fast as possible while successfully meeting ever-changing customer needs and challenges.
Contentstack is proud to be recognized as a leading agile headless CMS in Forrester's new report, "Now Tech: Agile Content Management Systems." We're pleased to offer you a free, 30-day test drive of our headless CMS to determine if Contentstack is a good fit for your agile marketing program.
If you want to keep learning how to make agile content marketing work for you, you can watch our free webinar "Modern Content Marketing in Practice: How to Make Content Marketing Work for You."