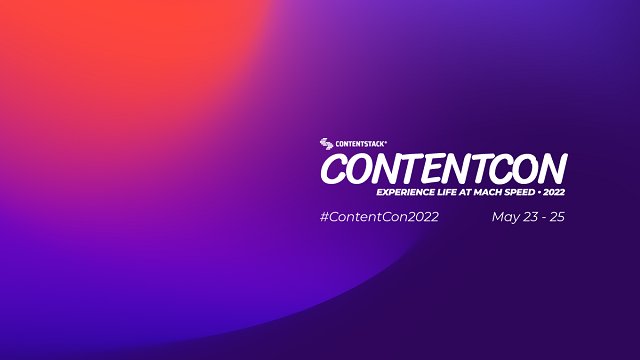 There's nothing like the high energy of an in-person event where people make connections, trade insights and ruminate on innovation together.
And dancing. Lots of dancing.
That's how we would describe the atmosphere at our first-ever ContentCon customer conference in Austin this week.
We heard from our CEO Neha Sampat on key trends shaping the industry and our evolution from a digital experience services company in the early days of the cloud to the CXP category leader. We also heard from customer speakers like Zach Crittendon, software architect at Levi Strauss & Co, Jon Richards, head of Digital at Golfbreaks, and Edvardas Paskevicius and Óskar Völundarson from Icelandair about their successful composable journeys and lessons learned.
6 Key Takeaways From ContentCon
We could share a lot of takeaways from our two-day event, but we settled on our top six.
1: Lead With Technology, But Put Your People First
While technology is a great tool to help organizations execute creative campaigns and projects, innovation is driven by your people. Danielle Diliberti leaned on her learnings from implementing Contentstack as CTO at The St. James to build Sommsation from the ground up. Her journey reminds us that technology allows us to rethink the norms of what our people do and enables them to set the bar higher and achieve those aspirations.
2: Work Through Digital Transformation in Phases
Digital transformation is just that — a transformation. It takes energy and resources across departments. Levi's Crittendon emphasized the importance of small phases to accomplish the journey. Start with the homepage, move to a small headless site and only then roll out to major markets, for example.
3: Adopting MACH Can Be Complex. Tap Into the Support!
Bob Howland, Chief Digital Officer of Dawn Foods, said in his session: "It takes a village to successfully implement MACH, and you'll need everyone on the bus." We feel a sense of responsibility for that bus. That's why we were proud to unveil Connect without Compromise™ — including Automation Hub, Marketplace and Blueprints — at ContentCon. Worry-free adoption of MACH architecture starts here.
4: Complex Doesn't Mean Long Turnaround Times
In fact, speed is one of the main reasons to move to MACH. We brought together Catalyst partners Algolia, BigCommerce and Cloudinary for a live demo of a PoC we built in four weeks to show that it's not as challenging as you think. We implemented all of our solutions, including content, search, commerce and digital asset management — and walked away with a working swag store attendees ordered from.
5: Composable Helps You Achieve Business Goals
Golfbreaks shared that moving to MACH led to a 67% increase in organic traffic and a 35% increase in site conversion. Richards elaborated on speed, too. Golfbreaks now publishes content 90% quicker and reduced development time by 80%. Where does all this extra time go? Innovation. Crittendon said personalization on the homepage, improved pre-production for the branches and enhanced preview services are what's next for Levi's.
6: The Unimaginable Is Possible
Icelandair moved from content turbulence to "smooth sailing," including streamlined translations for 12 languages across 15 locales. Dawn Foods moved from manual, pen-and-paper ordering to a robust, self-service e-commerce infrastructure. Levi's previously took 20+ weeks to launch new pages with siloed content and commerce. Now they can launch in days, including shoppable editorial. Yes, there is life way beyond the status quo.
Our CEO Neha Sampat said it best: We are "super motivated to continue the journey of challenging the status quo and empowering the community to build the best digital experiences on the market." We'll take everything we learned to spur innovation, influence our product and customer success teams and better serve our customers.
Our first ContentCon was one to remember, and we hope you'll join us May 8-10, 2023 for the next one!