It helps you attract and connect with your ideal audience. It delivers your carefully-crafted value propositions. It sets your organization apart, builds trust, instills your company culture, and inspires consumers to take action with your brand. And, let's not forget, the algorithms that power search engines still rely almost exclusively on content when it comes to deciding where you show up in relation to your competition in search results.

And, according to Forrester Wave's Web Content Management Systems report, the content management system (CMS) market was still growing as of Q4 of 2018.
Content is certainly still king, yet many organizations are still searching for the best way to manage and optimize it.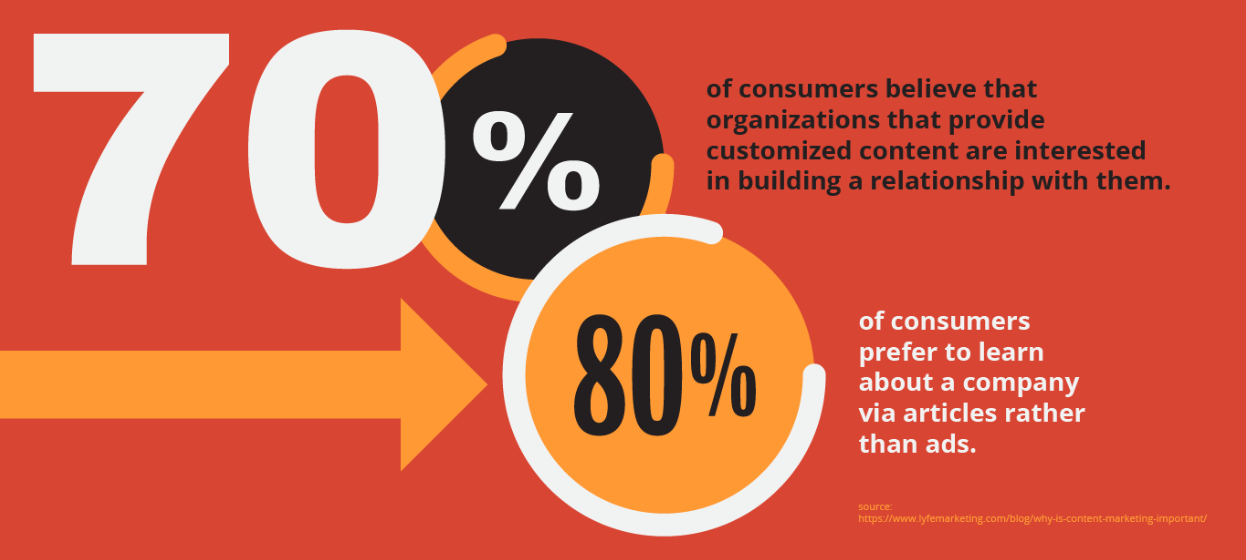 Source
If you're still planning key marketing campaigns around your CMS' capabilities, waiting on IT to help you make website updates, receiving notifications that your platform is soon to be retired, or avoiding breaking into new channels because it's double or triple your workload—your CMS isn't working for you, you're working for it.
In this piece, we'll help you figure out if you are indeed working for an outdated CMS and what to do to prepare your organization for the rapidly-evolving future of content.
How to Tell if Your CMS Isn't Ready for the Future
With all the tasks the modern marketer is responsible for, it's all too easy to become complacent when it comes to your CMS. If your current CMS falls into any of the following categories, it's not ready for the future and neither will your company be if you continue to depend on it. But don't be discouraged, next up we'll discuss where the future of content management is going and what you can do to keep up.
Your CMS is Outdated if You Have to Plan Around It
CMS platforms are like any other software—they're often purpose-built and become cumbersome over time, despite efforts to keep up with modernization.
If the CMS you're using was built or bought around the same time you realized you needed it; chances are it's out of date and holding back your marketing team from their full potential.
To determine if you are indeed planning key content around your CMS' capabilities, look ahead at your marketing goals and think about the campaigns it's going to take to get you to them. Can your current CMS truly facilitate everything you need to do? Or do you find yourself dialing back your plans so they fit into what your CMS can handle? If it's the latter, it's time to move on.
If You Need to Get IT Involved, It's Time to Switch
Modern CMS tools are built to empower marketers and editors to make important content changes without technical intervention. Not only is it demoralizing to have to constantly ask another department to help you use your own tools, but it results in costly downtime as both teams are distracted from doing what they do best.
If your CMS makes it so that you're dependent on another person or department to do your job, it's high time to upgrade to a system that's easier for the intended users to, well, use!
An Underpowered CMS Leaves Administrators Dissatisfied
Too often, the person calling the shots about a content management system isn't the same person who's using it day in and day out. To avoid that scenario when it comes to gauging the usefulness of your CMS, we recommend going straight to the source.
Here are some questions to ask marketers, editors, and other CMS administrators at your company to find out what their experience is like and help determine if your CMS is fit for the future: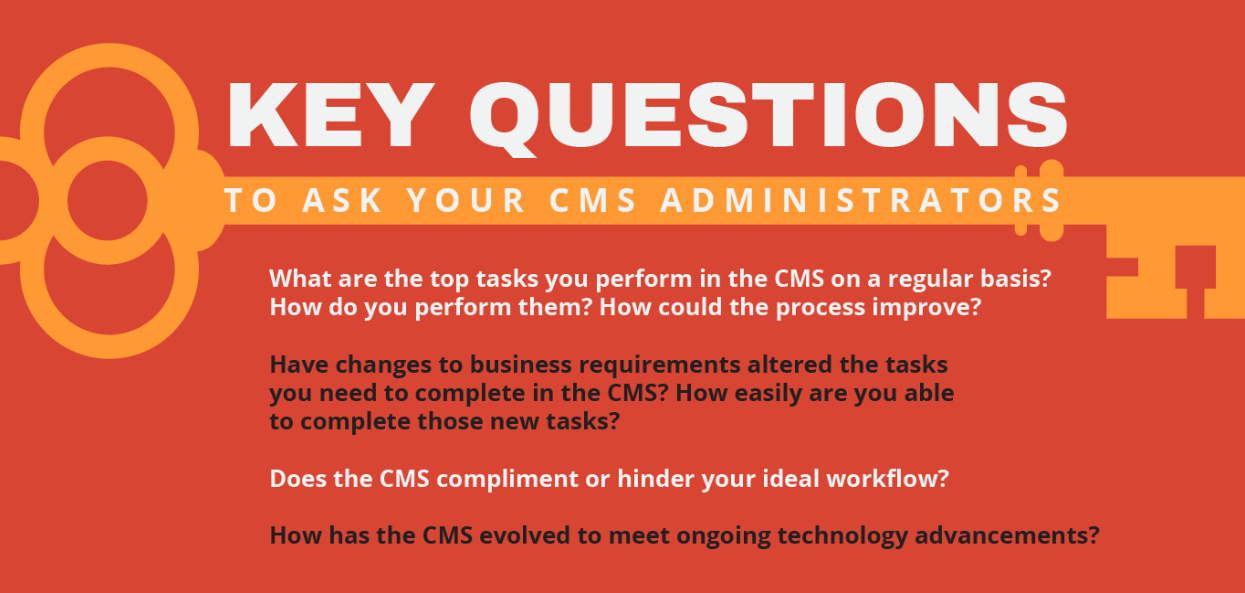 These questions will quickly uncover where there are gaps in your current CMS and whether or not they're worth addressing or if it's simply time to move on.
Your CMS is Way Too Old if It's No Longer Being Supported
We understand that a re-platforming project is a lot to take on, but if the vendor is no longer supporting your CMS, upgrading needs to become a priority.
This concern here isn't just for the sake of usability, though that's certainly important. Once a platform is no longer making security updates and releases, you'll become highly vulnerable to an attack. If you've received an end-of-life notice for your CMS, it's time to start preparing for the future immediately.
An Outdated CMS Will Keep You From Going Multichannel
If your content is sitting in a CMS that wasn't built to optimize and distribute it to modern devices and mediums, that carefully-cultivated asset is sadly going to waste.
Unfortunately, when it comes to omnichannel capabilities, many CMS platforms that were built even a few years ago are outdated! The majority of CMS platforms that enterprises are using today were built with a single channel in mind—the web. Yet, thanks to the rapid growth of distribution channels, content is being consumed way beyond the web on watches, mobile apps, voice assistants, connected home devices, and even jumbotrons!
If your CMS wasn't built to keep up with this level of distribution, your content could quickly become trapped in the past.
Fortunately, there is a solution that empowers organizations to remain competitive and create, personalize, and distribute high-quality content on the wide variety of outlets and devices that make up today's omnichannel environment. Fortunately, there is a headless CMS.
Why Headless CMS is the Future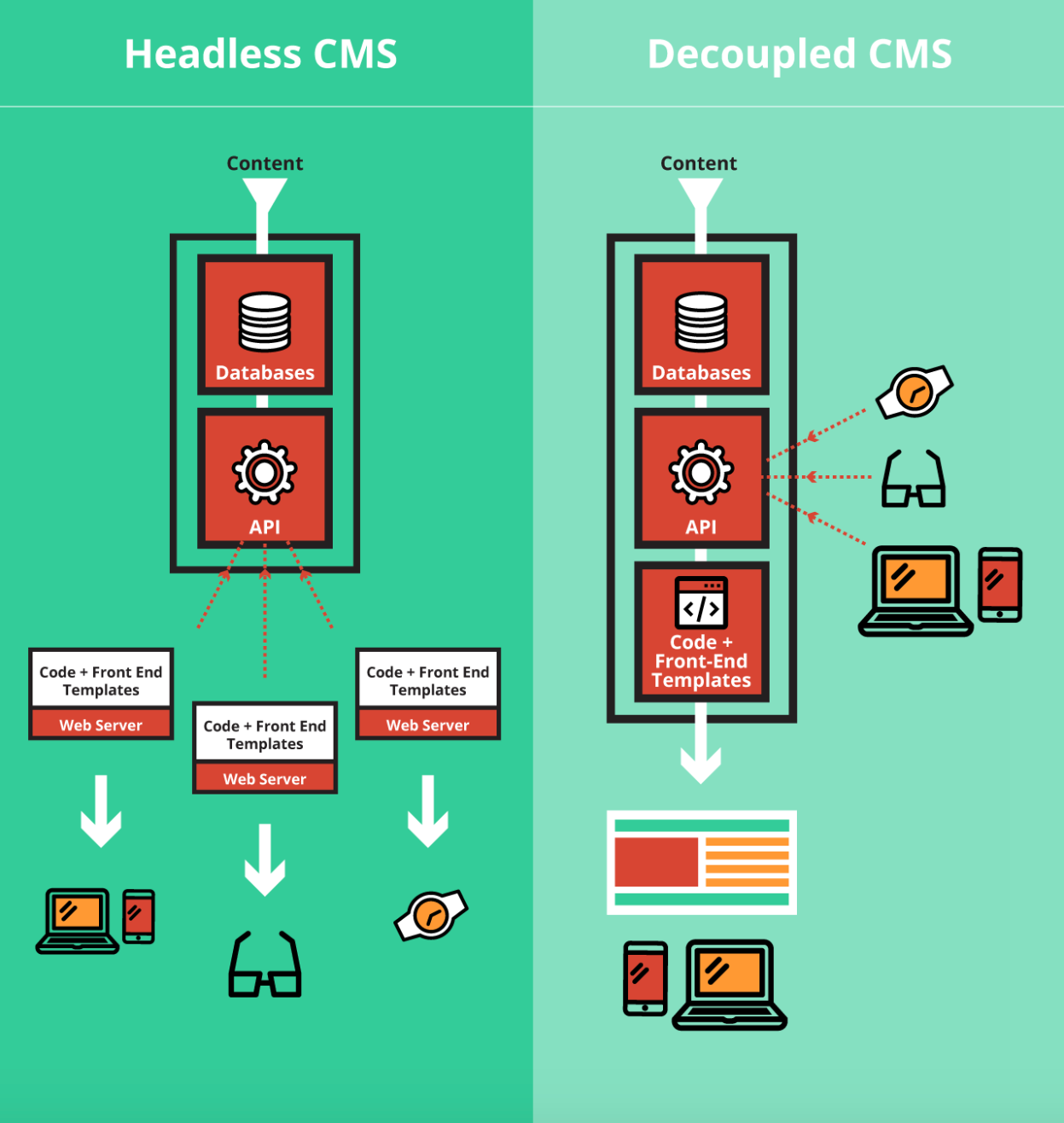 Before we dive into why headless is the future of content and content management, let's quickly review what exactly it means when we say "headless."
With a traditional CMS like WordPress or Drupal, users create and edit content with a WYSIWYG or HTML editor. Content is saved to a built-in database and displayed according to a built-in front-end delivery system (the "head"). The content and its formatting are inextricably intertwined.
However, a headless CMS has no built-in front-end system (again, the "head") that determines how the content will be displayed. A front-end developer will instead choose the best interface for the job and use an API to call up the content.
By using a headless CMS that separates the content from its container, content managers can quickly optimize and serve consistent content experiences everywhere from websites to apps, kiosks, chatbots, smartwatches, connected home devices, voice assistants, and much more.
Let's explore how headless CMS empowers enterprise organizations to compete in today's digitally-transformed marketplace with future-proofing, personalizing, omnichannel optimization, and more.
Go Headless to Future-Proof Content and Tech
One of the key features of a headless CMS is that it decouples content from how that content is going to be displayed to end users. Marketers create content inside independent, fluid "modules." That means you can create a single campaign for a smartwatch today and quickly roll it out on a jumbotron tomorrow. With headless CMS, you can quickly update and optimize content for whichever display channel you want to push it to next—without developer support.
And, when IT does need to get involved to make sure your front-end systems are up to date, they can easily switch between technologies without breaking your CMS, losing your content, or interrupting your in-progress campaigns. This flexibility helps future-proof both your content and in a way that a traditional CMS just can't.
Personalize Every Piece of Content with Headless CMS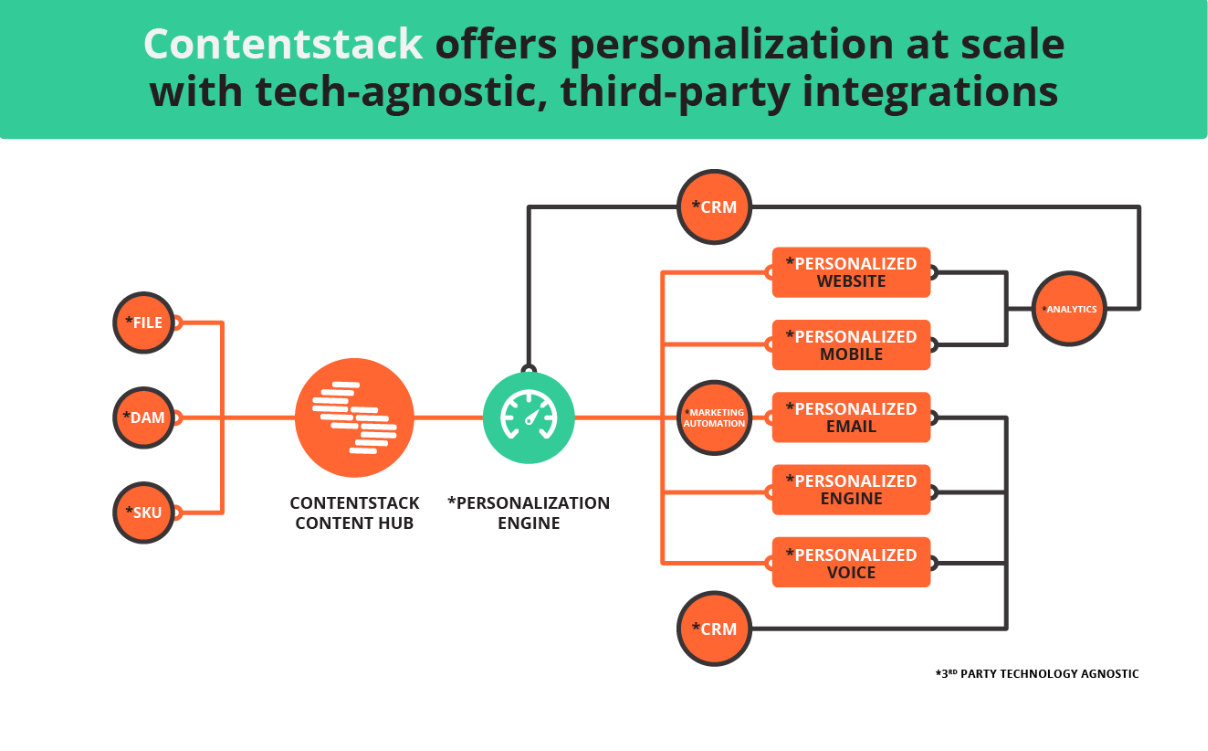 Over half of digital leaders say accessing customer data is a major challenge when it comes to personalization efforts.
With a traditional CMS, the only way to "personalize" content is to come up with 5, 10, or more versions of it—and that's before figuring out how to segment and distribute it. But when you use a headless CMS with native integrations like CRM, DAM, and marketing automation; it's easy to gather consumer data from your single source of truth, use it to personalize content right inside the editor, and segment delivery for optimal results.
When the Miami HEAT went looking for a way to deliver interactive, engaging, and personalized content to their fans—they knew headless CMS was the way to go. More specifically, they knew Contentstack was the way to go because of our record of enabling innovative digital experiences, enterprise-ready features, white-glove customer support, and advanced technology that allowed us to integrate with their legacy systems while still introducing revolutionary personalization for fans.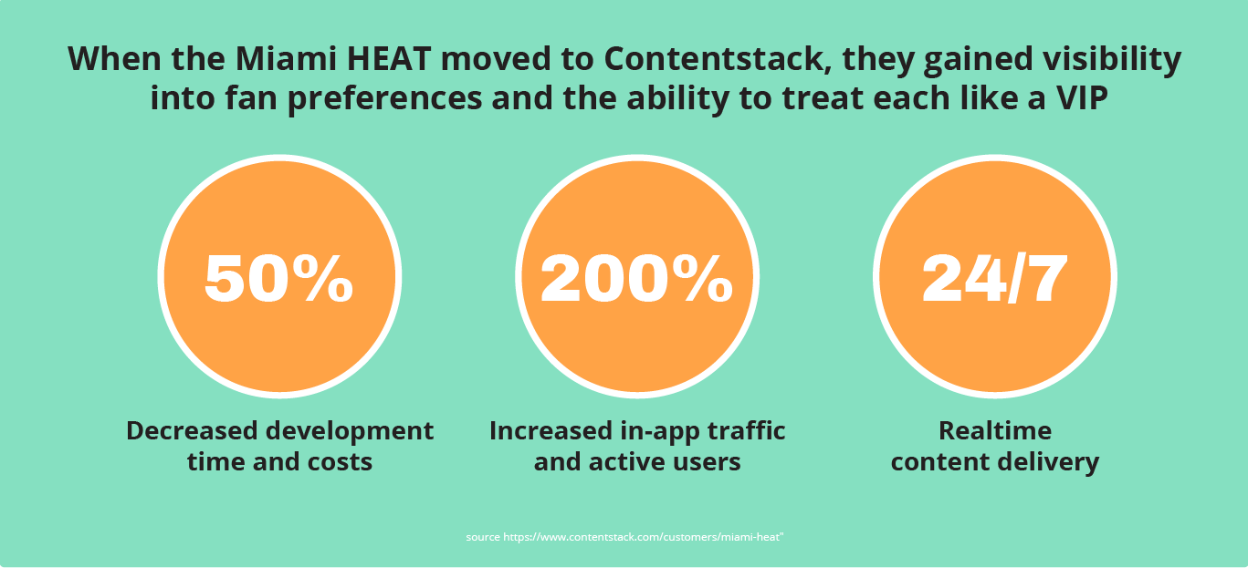 In addition to smashing Ticketmaster arena records with over 16,000 mobile scans per game and winning Clio, Webby, and other awards; HEAT's integration of Contentstack on their mobile platform drove it to reach the second-highest retail sales out of all their digital channels.
"...moving to Contentstack was a very welcome transition for our content team," said Matthew Jafarian, VP of digital strategy and innovation at Miami HEAT. "The best part was that the new platform is customizable to meet all of our content team's needs, without requiring highly complex development. [With Contentstack,] internal adoption shot up by over 30 percent, while our developer costs and time were cut in half."
Headless CMS Flexes to Fit Your Needs
In a 2018 study on the state of the digital experience, digital leaders reported that "ease of integration among front-end components" was the most important characteristic when it came to selecting tools to elevate their organizations' digital maturity.
By definition, a headless CMS has no built-in front-end system, so technology teams have full flexibility to integrate whatever front-end components are the best fit for the situation.
Headless CMS plays nice with multiple frameworks like React, Angular, Ember, and so on; so it's always ready to adapt to whatever application, device, or marketing touchpoint is in your future. In addition, this flexibility has the added benefit of widening the talent pool from which you can hire.
Headless CMS is the Only Way to Go Omnichannel
The growing number of marketing channels and touchpoints has created a complex web of content outlets. Aside from your organization's website, you may also have several microsites, one live app and another in development, a voice-assistant integration, and more at any given time.
If you're already taking advantage of multiple channels, you're just wasting time duplicating content if it isn't all organized into a single source of truth from which you can optimize and distribute it. Going headless empowers you to develop integrated, seamless, and personalized brand experiences whether a lead is interacting via desktop computer, mobile device, inside a brick-and-mortar store, a marketplace like Amazon, or pretty much anywhere else.
Without a headless CMS, marketing consistency is, unfortunately, one of the first things to suffer. Even minor inconsistencies in messaging and design from platform to platform can shatter that trustworthy, professional image you've carefully cultivated. With your competition just a click away—consistent omnichannel marketing is the future of engagement.
Choose Contentstack for the Future of Your Enterprise
It's time to say goodbye to planning around outdated capabilities, waiting on IT just to make simple content updates, risking serious security breaches, and shying away from multichannel optimization. It's time to say goodbye to traditional CMS.
The future of enterprise content lies in headless CMS—where marketers and other content management roles have the power to future-proof, personalize, optimize, and distribute content at the speed of technical innovation.
At Contentstack, we pioneered the concept of headless CMS—that's how much we care about delivering the best digital experiences. We handle all the needs of enterprise business users and developers to improve content management in legacy and modern channels; integrate tons of marketing, ecommerce, and analytics tools; and do it all with the availability, security, and scalability that your IT stack requires.
Step out of the past and prepare for the future of CMS with Contentstack. We guarantee our reliability and your ROI. Test drive Contentstack and build out a (free!) proof-of-concept today.