How to nail your enterprise marketing strategy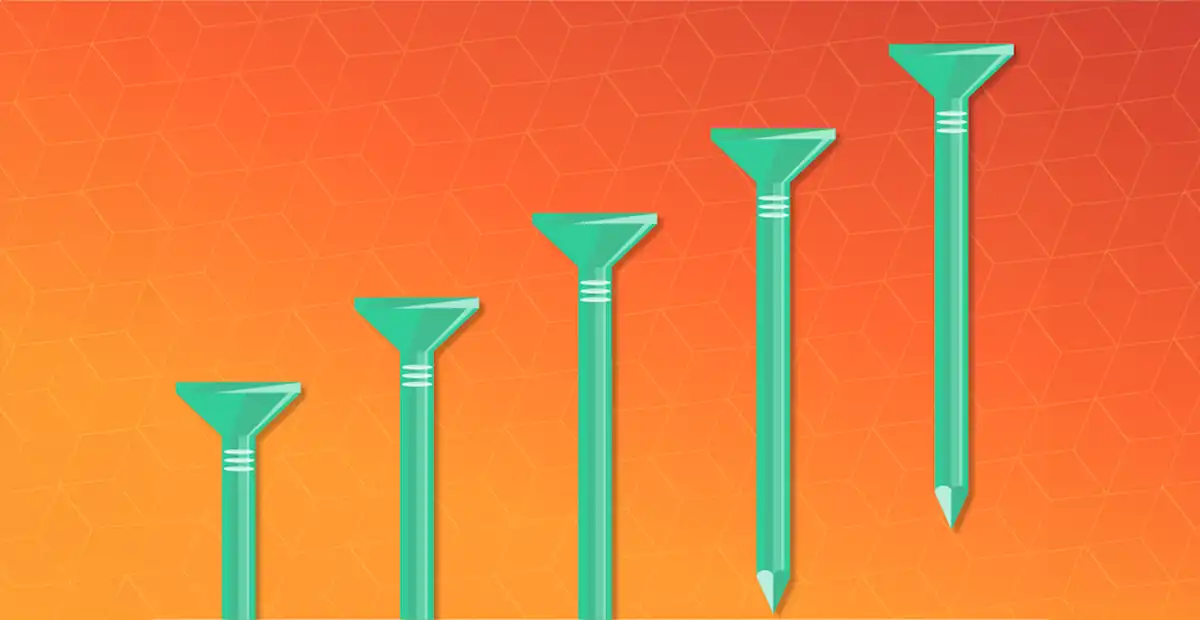 When it comes to creating effective marketing—company size matters.
Or, does it?
In smaller organizations where marketing teams don't have a great depth of experience or breadth of resources to dedicate to their campaigns, one might expect a laissez-faire approach to marketing.
But in enterprise marketing organizations where the resources are plenty; the experience deep; and professionals from IT, product, sales, marketing, and even the executive suite collaborate regularly—surely the campaigns aren't just intentional, they're sophisticated.
Think again.
Content Marketing Institute found that enterprise marketers lag behind "average" marketers when it comes to the sophistication of their campaigns. When compared with marketers at smaller organizations, enterprise marketers are less likely to go all in on content marketing, more likely to lack clear success metrics, less likely to create content that's relevant to their audience, and worse.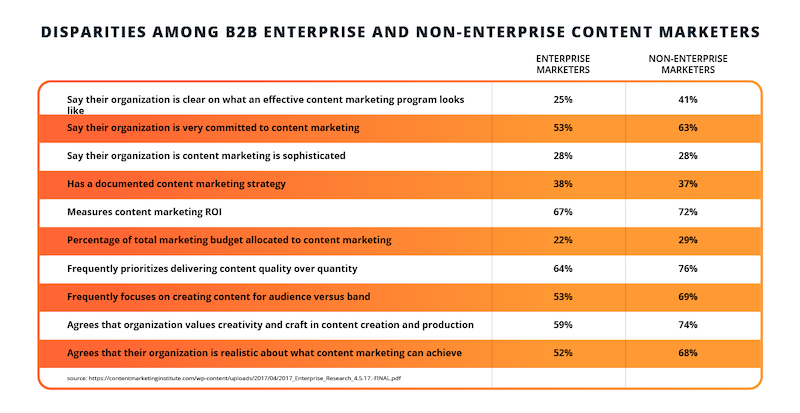 With such rampant disparities in content marketing, it's safe to deduce that this breakdown spreads well past content into many other marketing disciplines. But why is it happening? Unfortunately, with all the resources, stability, gravity, and experience enterprise marketing organizations enjoy comes baggage like misaligned departmental goals, executive politics, and dreaded knowledge silos that grind efficiency and effectiveness to a standstill.
If this sounds anything like your enterprise marketing organization, you're not alone. In the next section, we'll introduce you to tactics ranging from low to high tech that will empower you to break away from the low-performing enterprise pack and nail your enterprise marketing strategy.
Nail your enterprise marketing strategy with these 5 tactics
The primary goal for most enterprise-level marketing organizations is to create and utilize a variety of powerful marketing strategies to fuel sustainable business growth. Try out one or all five of these tactics to nail your growth objectives.
Give 'em some marketing to talk about
Consumers discuss specific brands up to 90 times each week. And while 75 percent of Americans don't accept advertisements as truth, 70 percent report trusting random consumer opinions and 90 percent trust opinions from friends and family. Word-of-mouth (WOM) marketing still works.
The popular workplace communication tool Slack, which boasts 8 million daily active users, attributes 90 percent of its one hundred million organic traffic hits per month to WOM marketing.
But Slack didn't achieve that level of growth, and neither will your enterprise, by sitting back and just letting the good news spread on its own.
Andy Sernovitz, former CEO of the Word of Mouth Marketing Association and author of Word of Mouth Marketing, outlines these five steps to help marketers systematize and optimize their word-of-mouth marketing efforts:
Identify the talkers Whether you have millions or tens of happy customers, friends, and fans; the best way to focus your WOM marketing efforts and improve your results is by identifying the people who share your messaging or products most effectively. While you'll have to determine the strategy that best fits your organization, a great place to start is by using social media listening tools and asking new leads where they heard about your company.

Give 'em something interesting to talk about Probably the most crucial element of WOM marketing is what people are saying. This step is all about giving your most remarkable talkers something remarkable to talk about. This is your opportunity to show off your expertise and deliver personal, exceptional experiences. In website and application design, practitioners often strive to surprise and delight end consumers with creative, thoughtful design elements. There is no reason your enterprise marketing organization can't do the same when it comes to creating shareable experiences.

Make it easy to spread the word You've got talkers, and you've given them something awesome to talk about—now is the time to make sure spreading the word is as easy as possible. Internally, you can make your message easy to share by developing a consistent, concise branding platform that's so unique and easy to remember it rolls right off the tongue. Tactically, there are plenty of pieces of technology you can add to your website and at different intervals along the marketing funnel to make it easy for consumers to share your brand via social media, email, and more.

Join the conversation More than ever, consumers crave transparency and communication from even the biggest brands. So once the conversation is going on social media or an industry forum, jump in! Your participation doesn't just give you the opportunity to address any dissatisfaction and reinforce your brand's message; it also gives you insight into what consumers are talking about so you can proactively address these topics in future marketing.

Track and act You're in the swing of things—delighting, interacting with, and learning from consumers. Ideally, all of these efforts are boosting revenue and encouraging consumers to recommend new customers to your business. Now is the time to track your success. While social media listening software and interviews will again be great tools, you may also want to find software that helps identify leads that come from WOM marketing sources and begin tracking their retention rates, lifetime value, and other success metrics.
Look inward for an opportunity to personalize inbound marketing
It's no surprise that HubSpot implements inbound marketing—a phrase the company's co-founder coined in 2005—to attract leads with relevant content, keep these leads on their branded platforms with various engagement tactics, and continue to delight customers and visitors long after they've clicked away.
If it works for HubSpot, whose revenue exceeded $144 million in Q1 of 2019, it can work for your enterprise business.
HubSpot keeps its inbound flow relatively simple. They publish loads of content (blogs, webinars, free tools, etc.) that is search engine optimized and super relevant to the audience they want to attract. Once a consumer follows the content to one of HubSpot's platforms, they keep the engagement going by serving related content, inviting them to sign up for more content, and launching automated conversations. HubSpot continues to stay top of mind with effective email marketing, retargeting, updates on upcoming webinars, and more.
However, it doesn't end there. Generic content is so over. For this tactic to hit home, you need to deliver content that's optimized for the experience and personalized to the consumer. Contentstack makes that possible by enabling marketers to build modular, data-rich, platform-agnostic content.
Take over lead scoring to generate more growth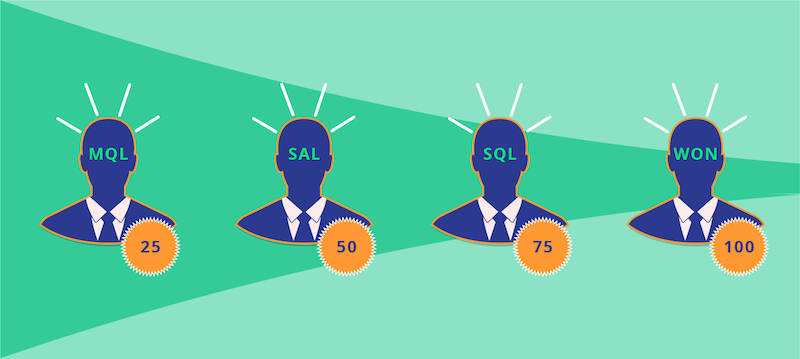 Lead scoring is the practice of ranking a prospect on the likelihood that they'll become a client or customer. For a long time, sales and marketing teams have battled over who should be responsible for this important task. Sales teams often feel that the leads marketing shares aren't far enough along in the funnel while marketing teams think sales just isn't working their leads hard enough.
But today, a lot of the consumer's journey is taking place on marketing's turf. Leads are using marketing messaging to learn about and compare brands well before they're ready to interact with sales. That means it's time for enterprise marketing teams to kick it into high gear and add lead scoring (and handoff) to their nurture campaigns.
We recommend looking for smart lead scoring software that allows you to automate the handoff to sales Be sure that it lets you set rules for how leads become sales qualified: such as requesting a demo, opening a particular set of emails, working for a specific type of company, and whatever other metrics indicate that a lead is hot and ready for sales to step in.
Tap into trust with user-generated content
As we've already established, consumers are much more ready to trust peer-to-peer reviews than they are to rely on messaging straight out of your enterprise marketing department. User-generated content and influencer marketing are two unique strategies that allow you to tap into the power of WOM marketing and spread your message beyond your usual sphere of influence.
In an age when consumers are well aware of the amount of automation in their daily lives, sometimes they just want to be able to relate with a brand on a human level. So it's no surprise that 64 percent of consumers will actively seek out reviews before making a purchase and 35 percent are less likely to make a purchase at all if they never find any reviews about it.
User-generated content (UGC) like reviews, photos, videos, and blogs are a powerful—and typically affordable—way for businesses to tap into the consumer instinct to trust other humans.
Influencer marketing is a subset of UGC that beat out organic and paid search as well as email for the fastest growing digital customer-acquisition channel. Additionally, the influencer matchmaking platform Tomoson found that businesses make $6.50 for every dollar spent on influencer marketing. While influencer marketing may conjure up images of Nikes and luxury jewelry worn by Instagram "celebrities," there is still a place for brands that are less focused on ecommerce or high turnover. For example, a credit card company could partner with a popular travel blogger to unveil their new airline points program, or a financial services startup may work with a fashion influencer to create content about how easy it is to invest in their future using the company's tools.
The secret to effective influencer marketing is partnering with people who have the kind of audience you'd like to tap into and working together to create valuable, authentic content consumers will love.
Reach omnichannel consumers better with headless CMS
To remain relevant in an omnichannel environment, your enterprise marketing strategy needs to be able to deliver personalized experiences whether a consumer is interacting with your brand via your website, smartwatch application, in-store kiosk, Facebook chatbot, connected home device, or all of them at once!
Without a veritable army of content creators and marketers rewriting and re-optimizing content day and night, omnichannel marketing is impossible to keep up with—manually.
A headless content management system (CMS) eliminates the need to recreate content by storing all your content separately from the technology that determines how it's displayed. With it, marketers have a single source of truth from which they can easily optimize content and quickly publish it to a variety of channels and devices.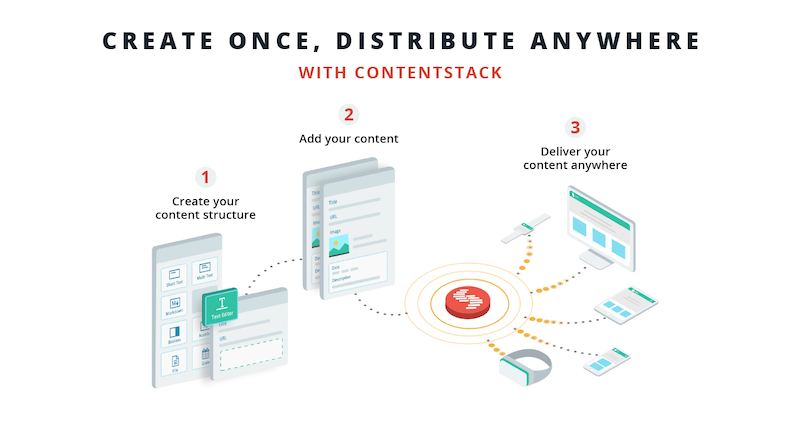 Contentstack's headless CMS goes above and beyond to give marketers all the tools they need to personalize and optimize content for consumers at every stage of the marketing funnel. Experience Extensions allow users to integrate with third-party services to receive live SEO recommendations, run sentiment analysis, translate content to another language on the fly, and incorporate pretty much any other content enhancements you can imagine.
Bring your enterprise marketing strategy up to par
Having all the resources and experience money and size can buy isn't the only way to nail your enterprise marketing strategy. In fact, for many enterprise-level marketing organizations, it's actually getting in the way.
Will you go back to your roots and try a new yet low-tech tactic like systematic word-of-mouth marketing or a user-generated content campaign? Or, perhaps you're ready to add some new technology to your workflow to empower better lead scoring, make your valuable content even more effective with personalized inbound marketing, or hone the omnichannel marketing messaging that today's consumers crave.
If you're serious about getting your enterprise marketing up to par, it's time to partner with the pioneers of a platform that simplifies integrating personalization tools. Contentstack was built to meet the needs of enterprise business users and IT departments alike—and we guarantee you'll see a return on your investment.
Find out how much you can save with our ROI calculator, schedule a no-strings-attached walkthrough, or sign up for free today and build out the proof of concept you've been waiting for to nail your enterprise marketing strategy.
Related Articles
Here are other CMS articles we think you'll find useful.