Back to Blogs
Words of wisdom for bridging the gap between monolith and composable
Apr 12, 2023 |
4 min. read |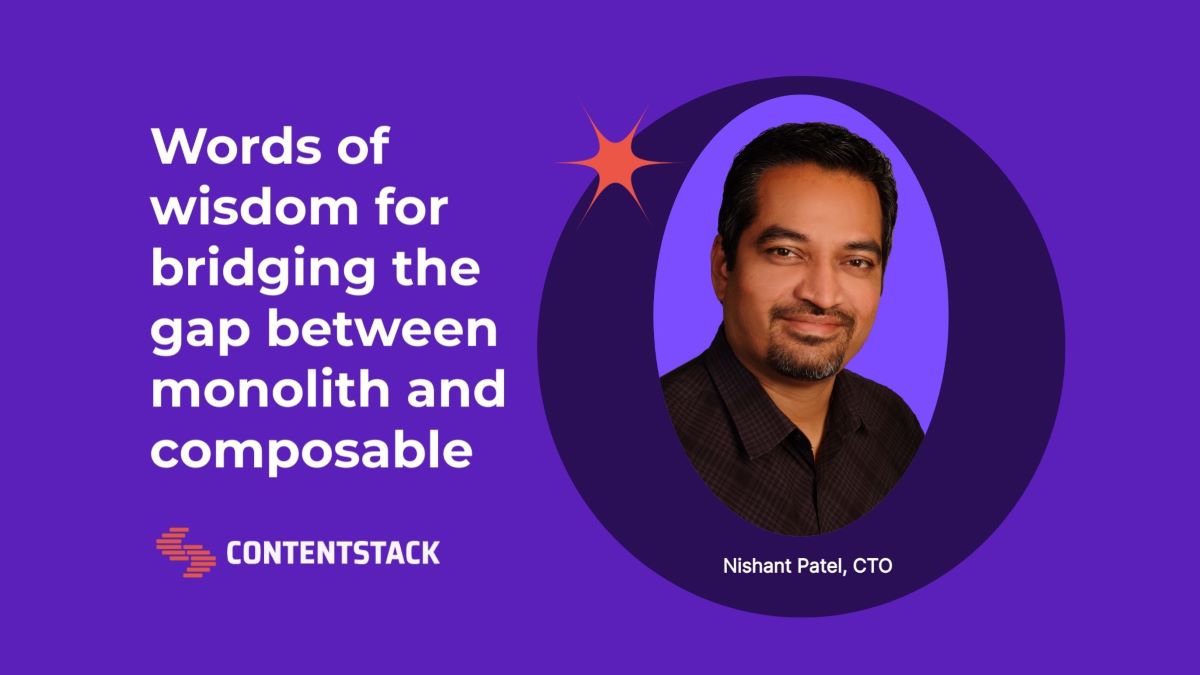 We always celebrate when an organization decides to forego their old architecture and go composable. But that's when the real work begins.
It's a significant undertaking to ease off your former environment — you've built an ecosystem of applications, interdependencies, and company expectations into it. The team at Brad's Deals, a website that curates daily deals for customers, learned that quickly into their transition. Even now, both monolith and composable are running together as they progress towards a fully composable architecture.
Keith Mazanec, head of engineering, joined our "People Changing Enterprises" podcast to talk about what they've learned in the process about the tech, the team, and the overall transition.
Running systems through both monolith and composable simultaneously isn't unique to Brad's Deals. I've seen many customers choose that implementation strategy and can provide some guidance around the best way forward.
Get everyone on the same page when it comes to success.
Gather your team and all the right leaders in the room and level set expectations, roles and goals. What apps and capabilities need to be built into the architecture? How do you get there, step-by-step, while still getting the organization and your customers what they need?
I recommend focusing on your problem areas, particularly where you are not moving fast enough. It could be security, a marketing system, an e-commerce platform or a sales process. When you're first transitioning off your old system, you don't want to break what is already working. Hone in on your biggest pain points first and determine what a successful outcome looks like.
When Keith got his team together, they decided that the overarching goal would be one unified platform where all their content lived together. Digging a little deeper, they brainstormed a more specific success indicator: They wanted their editorial teams to be able to spend less time on rote data entry and more time on the curation and recommendation of great deals. Like this one, your success benchmarks should be meaningful and measurable.
Don't let the transition go too long — the right pacing is everything.
Running monolith and composable together isn't a natural capability built into either technology. Keith described their in-progress system as "a whole sort of duct tape and bubblegum integration between our legacy publishing system and marketing automation system."
That works for a while, but don't let it go too long. Some organizations make the mistake of extending the project too far down the road. In doing so, they postpone the benefits.
Breaking down the transition into phases will help you pace the project while gaining encouraging results along the way. Each phase should achieve a goal that is meaningful while still being realistic and should take one quarter at most.
This one-quarter timeline includes vendor selection, so I recommend starting with easier, more flexible vendors. Don't get sidetracked by starting with the larger vendors that want to talk legal for a few months.
At this point, knowing your original, ideal end state comes in handy. "We knew we needed to shift to a new CMS in order to support this new content," Keith said. "Then we set off to do that bit by bit, carving off different pieces of the ecosystem, saying, 'Okay this quarter it's gonna be this process' — merchandising activity, for example — and we prioritized our time around that."
Give your team agile principles to work with.
If your organization doesn't already live by an agile methodology framework like Scrum, this is a great opportunity to try it out. Scrum helps teams meet complex, changing requirements while delivering successful outcomes for customers. There are three main principles:
Transparency: Everyone must share the same expectations of the project and visibility. Frequently reviewing progress and sprints together as a team achieves transparency.

Inspection: Quality control needs to be part of the process. The team should regularly evaluate what is happening and how it is being accomplished.

Adaptation: When the inevitable roadblock or deviation happens, the team must quickly get back on track. At the end of every phase, how will the plan be adjusted to stay close to the original timetable?
Use the first phase of the composable transition as your "on-ramp" to work with these principles. With each completed phase, the team will be able to practice and perfect until everyone is working in unison.
Take this opportunity to reassess vendors.
Keith and the Brad's Deals team realized they had too many applications in their stack. So, they decided to sunset the applications they weren't using and use Automation Hub in Contentstack to create bridges between monolith and composable instead.
I love this mindset. If you're already in the environment and changing things, why not re-evaluate your inventory? With the accessibility and availability of tools nowadays, organizations often don't realize how many they have. The average enterprise has 364 applications, but how many are they actually getting value from?
As you progress through phases, take a look inside the apps you're using and the vendors you pay. Figure out if you are maximizing their potential, or if there is another way to achieve that same capability without the app or vendor.
Choosing to take on the transition from monolith to composable isn't a small task, but it's a worthwhile one. And, with these lessons and constraints learned from Keith and other Contentstack customer journeys, you're already set up in the best possible position to succeed.
Learn more
Watch this episode of "Contentstack LIVE" to learn strategies for adopting the right composable technologies from Pete Larsen, vice president of technical services organization at Contentstack.