Back to Blogs
Thriving in complexity: organization, process, clarity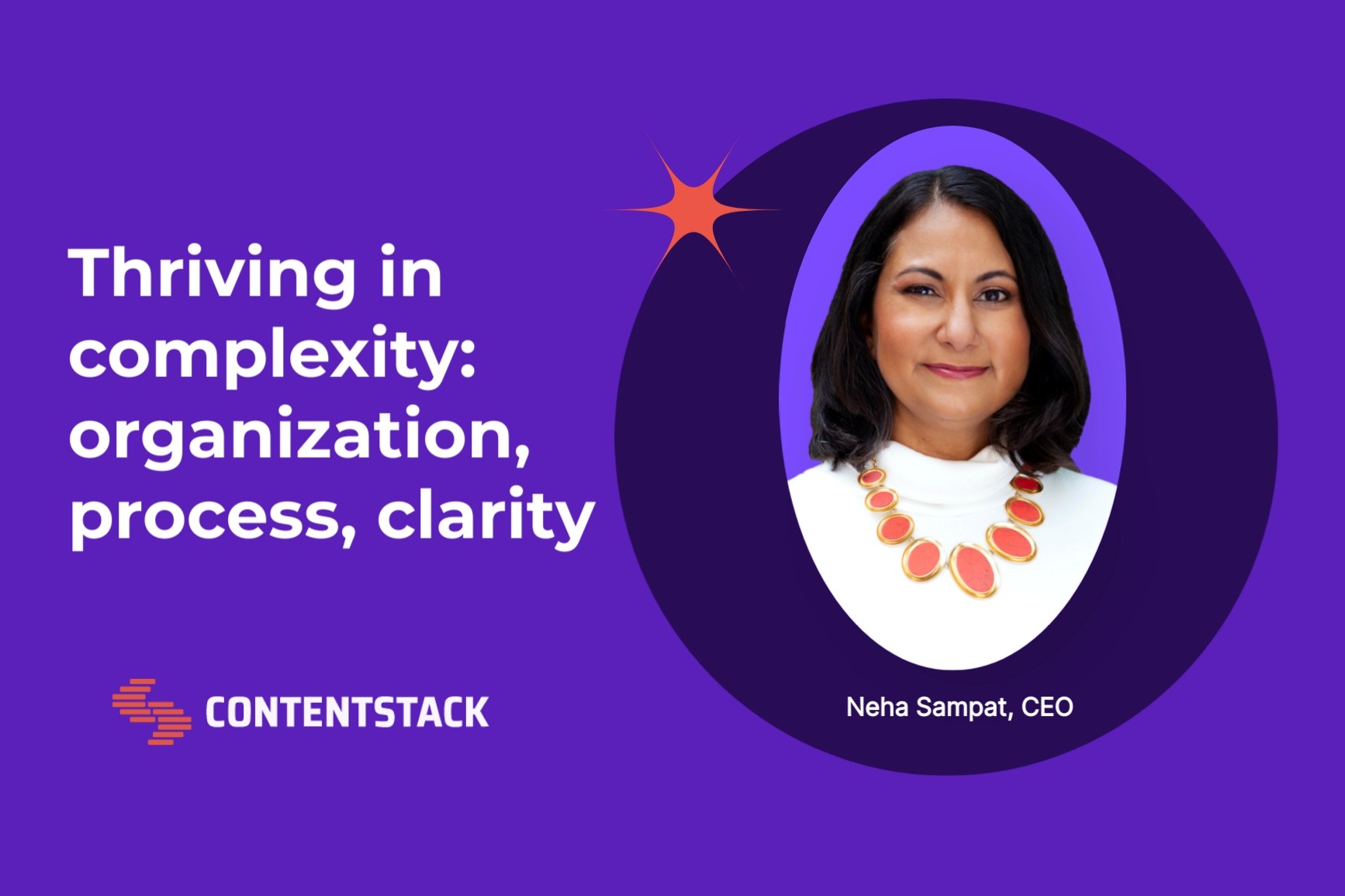 I've worn out the repeat button on this video. It features Duke women's basketball coach Kara Lawson being straight with her team: "If you have a meaningful pursuit in life, it will never be easy. What happens is you handle hard better."
As Lawson explains, waiting for things to get easier means you're never conquering the next challenge. You're just waiting for a shift outside of yourself to happen. And that may never happen. The shift has to come from within.
In a lot of ways, thriving in complexity is a mindset shift. I've worked hard at that myself by building resilience, learning from rejection and purposefully celebrating big and small wins. But I also know that leaders can help their people and partners thrive in the "hard." They don't have to go at it alone.
Complexity is a given for growing companies. We see it every day as we scale, innovate and support partners through change. For example, a recent survey we conducted showed less than half of retailers believe they can effectively manage their digital operations over the next 12 months. That's proof that complexity can be overwhelming, but it doesn't have to be.
I agree with what the Icelandair content team — Hallur Þór Halldórsson (digital product manager), Edvardas Paskevicius (content manager), and Óskar Völundarson (UX copywriter) — said on our "People Changing Enterprises" podcast. "We love processes, organization and clarity."
Helping people thrive in complexity requires those three things. I'll detail them below.
Organize teams to give people authority
At Contentstack, we use the RACI methodology to get clarity on roles and responsibilities. At the onset of big, collaborative projects, the leads outline who is Responsible, Accountable, Consulted and Informed. Everyone signs off on that document so there is no question down the line who has the authority to make decisions.
What I love about the methodology is that job titles don't come into play — a junior person can have more authority than a senior one depending on the specific initiative.
One thing Icelandair did to establish authority was create a Content Center of Excellence. Before that, Hallur described it as "a bit chaotic." He explained: "There were a lot of good people contributing even though they weren't brought up within content…. We also relied on a lot of third parties that didn't always see eye to eye."
In other words, lots of complexity.
The Center of Excellence moved Icelandair from chaos to organized by building authority. As a unit, they developed expertise and made changes to easily recognize it across the organization.
One move they made was to update titles from Content Manager to to UX Writer. "It gave us more leeway into actually working on the copy we got, not just receiving content and making it 'live.' We had the authority to say this needs to be better and we can improve it," shared Hallur.
Build processes that simplify complexity
When you're swimming in a sea of complexity, the waters can seem rough. Processes can help calm them. If the next step or the point of contact for tasks are clearly defined, people don't have to guess. Guessing leaves room for error.
Icelandair largely focused on minimizing the possibility of error. Not in a way that stifled scalability or innovation, but instead in a way that removed doubt.
For example, the content team made certain fields mandatory and limited access to specific areas of the CMS so web management didn't run wild. Using Contentstack also gave them a level of freedom knowing, as Edvardas explained, that "when things break or hiccups come up — like issues with third-party integrations — we know we can always roll it back easily."
We help build structures and processes outside our organization to help customers take on the challenge of moving from legacy CMS systems to composable ones. This includes our Community, where users interact with each other and our experts to share experiences, answer questions and offer inspiration. It also includes being one of the founding members of the MACH Alliance, an industry-wide organization that helps enterprises shift from tech stack to suites to meet — and even anticipate — consumer demand.
Clarify desired outcomes
We use #OneTeamOneDream as a rallying cry at Contentstack for a specific reason: It unifies people around a common goal. For us, that goal is to make Contentstack indispensable in helping enterprises tell stories and connect with customers.
Explicitly communicating a desired outcome is critical when working with people and teams with different perspectives across the globe. When it works, that difference is a plus; the perspectives help illuminate diverse ideas tied to achieving an outcome. The organization moves from us vs. them mentality to every team for the greater goal. That minimizes complexity.
When it doesn't work and teams keep strictly to their perspectives, they can become blockers to the end goal and complexity spreads.
Icelandair's content team became outcome oriented — shifting to a customer-first content lens — instead of department oriented. As Hallur said, "It became about what the customer needs to hear instead of just what the company wants to stay."
That outcome serves as a lighthouse in the sea of complexity.
Coach Lawson said it best: "Hard will not go away." It's tough for me to even think back to a day over the last decade as an entrepreneur when I didn't experience one or several complex challenges. But processes, organization and clarity help. I know Icelandair would say the same.