Back to Blogs
The beauty of a composable digital experience platform: It can be whatever you need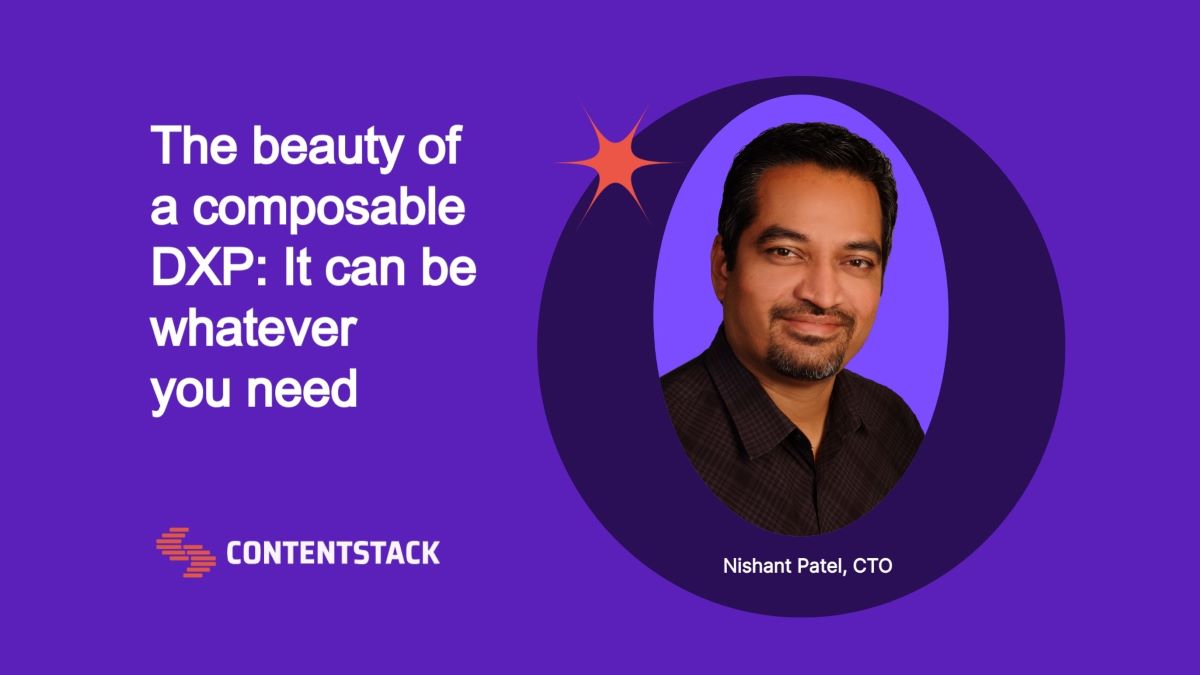 Have you ever tried designing a website from a template?
It can be challenging. First, there are so many options to scroll through (that all somehow look the same) your head will spin. When you do pick a template, you have to build it the way you want, meaning a lot of customization. When that doesn't work — because inevitably, you always hit the end of what the template can offer — you have to puzzle your way through custom code.
That can become a tangled web very quickly.
Imagine that process for an established enterprise like Sephora or even a fast-growing start-up. Think about the manual process of integrating each tool needed for e-commerce or inventory management. You think you are "done" building, but wait — the market is evolving and you need to start selling on a new-ish platform like TikTok or BeReal.
A traditional legacy CMS environment is tricky: Change one thing and you risk the entire machine stalling.
The beauty of composable architecture is that your website can become whatever you want, whenever you need it — easily. Jurre van Ruth, digital strategy consultant at PostNL, came on our podcast, "People Changing Enterprises," to discuss how the company took that concept to heart and made their composable DXP work for them.
But to make it work for your company like PostNL did, we need to level-set definitions and expectations. There's a lot of confusion in the market about composable architectures — like what is a "composable DXP" in the first place — that I want to clear up.
What is a composable DXP?
I like how van Ruth said it in the podcast: "We see [composable] as an ecosystem of technologies that aim to create and offer a consistent digital experience for all our customer segments across all digital touchpoints." I specifically love the word "ecosystem" he uses.
CMSWire describes a composable DXP as providing "integrated, consistent solutions that are modular and tailored to microservices and yet connect the gaps of digital experience. This is a unified and seamless approach that eliminates siloed user experiences and all-in-one solutions."
To further flesh out that picture, I often describe composable architecture as a Lego tower: Each block is a tech tool and they each function together to make up one, larger tower, aka the customer's digital experience.
However, unlike a sculpture — or legacy enterprise suites — you can more easily change the look and function of the entire tower by swapping out each block within.
For example, if your next marketing goal is to target potential consumers with more personalized advertising and content, those tools are easier to plug into a composable environment than traditional suites. Creative teams get to pursue the digital experience platform of their dreams, and there is much less frustration, less custom code and fewer heavy integration requirements for IT to handle on the back end.
Then where does headless — AKA a headless CMS like Contentstack — come in? It's simply a cornerstone block in your Lego tower. For a marketing environment, the headless CMS acts as a foundation. Every tool — like e-commerce, automated translation, or SEO tools — can integrate into it to make content the central hub of your ecosystem.
Moving beyond one-size-fits-all
Every enterprise is different, which means that the capabilities they need will also be different. However, when it comes to traditional legacy martech systems, it tends to be one-size-fits-all.
The problem is that one size actually doesn't fit all, and those environments are slow and difficult to change. It takes extreme customization via code, contacting multiple vendors for help, and a lot of inter-dependencies that aren't always caught until something breaks.
One of the best benefits of composable is that integration is much easier and more natural with APIs inherent to a composable environment. Like clicking a Lego into place, that tool is now part of the environment. For PostNL, they invested in tools for headless content and digital experience analytics, which were easily plugged into their composable environment.
An e-commerce enterprise can integrate all the tools they require, whether it's an online storefront platform, a product catalog with elements like descriptions or visual assets, or any personalization tools it might need. But, for example, a hospitality service will need a different set of tools, and they can have them inside a composable environment.
Enterprises are no longer satisfied with a one-size-fits-all approach. The beauty of composable architectures is that, in a market that changes like the wind, organizations' digital experiences can also evolve just as easily.