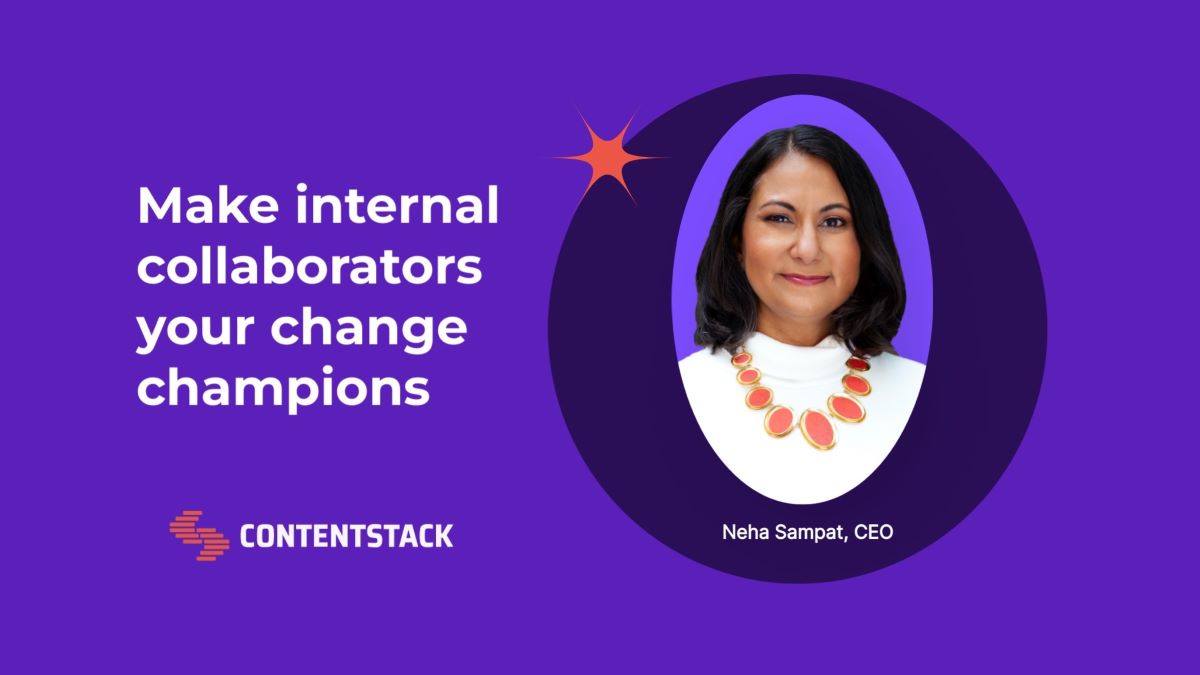 Controversial opinion: Our product alone won't solve all our customers' problems. How many times have you been in an organization where a tech product is purchased and then sits gathering dust? Some reports show that more than one-third of enterprise product purchases go unused.
Change involves more than a purchase. It involved internal buy-in and mindset and behavior shifts. And all of that requires empathy for your collaborators.
While you should evaluate a tool based on whether or not it meets the needs of your end consumers, I'd like to offer an equally important perspective. Ask yourself: Does the tool not only meet but supersede the expectations of all the people using it internally?
In a recent episode of "People Changing Enterprises," Levi Strauss & Co.'s Software Architect Zach Crittendon talked about the company's transition to composable technology. He currently has over 100 internal collaborators in the Contentstack platform. His job is both to put the tech in place and make sure that marketers never have to call him for help.
That last part is an example of true change.
Make your internal collaborators your biggest technology — and change — champions with these tips:
Focus on how the tool solves their challenges
Set aside the deck that shows why you purchased the product from an end-customer perspective. Instead, focus on the benefits to your collaborators. It could be ease of use or time saved vs. what they're currently using.
Will it automate mundane processes machines can handle better? For example, if you have 10 regional websites, show how marketers won't have to make the same edits 10 different times. If you're moving to a headless system, show how quickly you can translate creative to multiple channels.
Stick to the top three to five benefits that line up with your collaborator's biggest pain points and communicate that to your internal stakeholders — at a meeting, through a video or in another creative way. You'll probably have to communicate the benefits more than once to move toward buy-in, but benefits before training, always. The first time your collaborators hear about the tool shouldn't be when they receive an invite for the training session.
Talent sets organizations apart; tools are there to minimize error, enhance the talent and unlock their potential. As Zach acknowledged, Levi's outstanding digital customer experiences come from the "creative geniuses that we have within our company, whether that's our copywriters, our creative designers or our marketing teams."
Examine resistance to change
Steve Schlafman writes about conscious change. He says: "When we set out to change anything — ourselves, our families, our communities, our organizations — we often focus on a vision, a goal, and a plan, but we fail to account for the often invisible and internal inhibitor of change: resistance."
Resistance is a natural human reaction when people are asked to shift away from familiar ways of doing things. However, when we examine the reasons for the resistance, we can better address any concerns or issues that may be causing it.
I've experienced resistance in hundreds of shapes and sizes, both as an employee and a founder. There was the time early in my career they layered someone above me and I felt diminished. When my new boss showed me how she would catapult my development, that fear turned to trust. Recently, we brought in new HR software to support our next stage of scale. Imagine the pressure and resistance when dealing with employee benefits and payroll.
When they were initially examining Levi's internal content management business process, they found that one of the biggest delays was in using full Photoshop PDF mockups during the review process. They built a robust preview capability as a result.
Guess what Zach was met with when he said they wouldn't have to use PDFs anymore? A "look of horror." The creatives resisted because they saw it as one of the most important things they did — showing their work in its optimal state. So, Zach made the transition optional. The creatives kept doing previews manually for a few months but slowly realized that the change benefited everyone since the work could be experienced in its actual environment.
If you, as the driver of change, did a good job of understanding what your internal collaborators are doing and why, then the change will eventually happen — even if it's at the pace of those most affected by it.
Envision life on the 'other side'
I don't mean to get bleak, but I love those thought experiments where you ask people to write their obituaries. It forces the question: What's the legacy I want to leave or the accomplishments I want to be known for?
It also helps you set aside any current pain points and imagine a better state. Here's the thing: a better state is likely possible if you can imagine it. It takes people on both sides of the equation to achieve that better state — those with the vision and know-how and those willing to take a leap of faith and chip away at the obstacles.
Enterprise change doesn't happen in a vacuum. It needs a groundswell, and activating your internal collaborators is the only way to achieve that groundswell. Show that you empathize with their unique position, paint the picture of that better state, and then embark on that journey together.