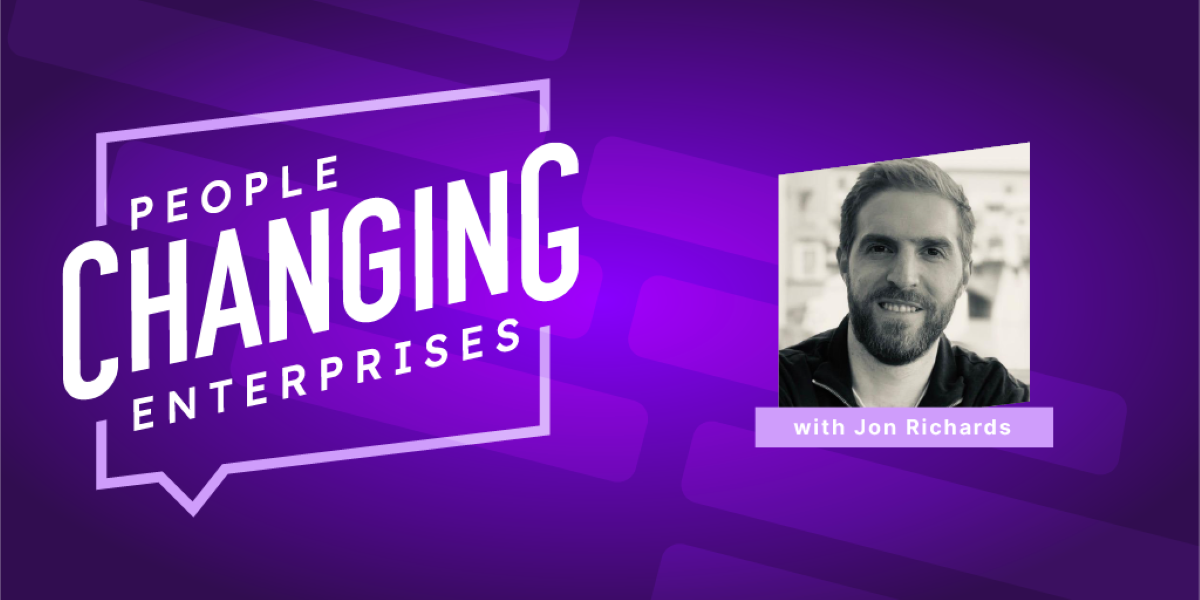 When a business is driven by highly personal customer service, like booking bucket list trips to the world's best golf courses, it's a challenge to introduce digital innovation while retaining the special touch that sets the company apart. Jon Richards, head of digital at Golfbreaks, has built an in-house Digital Center of Excellence to do just that.
Jon recently spoke with us about how to unlock the power of in-house expertise, empower teams across the business, and the advice he has for other leaders that are moving companies into the future.
Get comfortable with discomfort
Shaking up the status quo often means confronting strong opinions and ruffling some feathers within the organization, especially in companies that have had many years of success.
'When I was challenging what we were doing and how we were doing things, I found it really uncomfortable to begin with," Jon said. "The more I did it, the more I came round to the thinking that I'm here to make this team work the best they can and deliver the best products they can. So if I need to ask some difficult questions, and have some uncomfortable conversations, so be it.
"Don't be afraid. Put yourself in uncomfortable situations, and then they soon become comfortable," he advised.
Unify new and proven strategies
Taking a critical look at how a business operates will uncover areas for improvement as well as show that there are very good reasons for certain legacy ways of working. Part of an effective transformation is blending new, data-driven tactics with the established people-driven processes that are central to the business.
A major competitive advantage of Golfbreaks is the personal, thoughtful service from sales and customer service agents. Key to this is empowering agents to make decisions on an individual basis, such as noticing a client's flight was delayed and calling the hotel to arrange a free round of drinks. This human touch makes a big difference in a traveler's experience and creates a lot of loyal customers.
At the same time, digital can provide convenience to customers at a scale not possible with 1:1 agent interactions. During the pandemic lockdowns, Golfbreaks was able to quickly spin up a self-service application that customers could use to process refunds online. This freed up the sales team to devote more time to working with clients to rebook trips when travel opened back up and, overall, retain 80% of the business in that period.
Data can also be used to quickly validate new strategies and shed light on the business impact of human behavior. For example, Golfbreaks introduced a feature that allowed customers to use the website to set up a date and time for a call-back and sent a reminder to sales agents 15 minutes before the scheduled time. The data showed that if agents called too early, right when they got the reminder, it negatively impacted conversions by 30%. By passing that statistic along to the sales team, and disabling the 15 minute notification, the business got a quick and significant win.
Leverage legacy knowledge
Discussion around digital transformation tends to focus on how to help people learn and develop new skills, but just as important is figuring out how to better harness the knowledge that's already there.
Golfbreaks has dozens of employees that have been with the company for over 10 years and know their customers, their suppliers and the market inside and out. This gold mine of expertise is what enabled a major part of the company's transformation strategy: moving away from external agencies and building up an in-house Digital Center of Excellence.
"For an agency, it's really difficult to come in and understand the complexities of the business and the systems and in 12 to 18 months deliver a really compelling digital experience," Jon said. "We have huge internal knowledge that we weren't really utilizing for these digital projects."
Making the most of in-house expertise means adopting a more collaborative way of working. A Digital Center of Excellence can put processes in place that encourage people to share insights.
At Golfbreaks, this included bringing stakeholders from marketing, sales, account management, product teams and customer service into the scoping phase of the new website, as well as getting regular input from different departments to help prioritize investment, improve new features and minimize the risk of spending time on projects that experts know wouldn't work well in the market. A monthly stakeholder meeting is used to communicate progress, get teams thinking about digital in new ways and collect feedback.
"Everyone is very clear on what the business is trying to achieve and there's a lot of great collaboration," Jon said. "At any level of the organization, people can have a voice and put forward their ideas."
Invest in the next generation
Along with tapping into the expertise already in the company, great ideas can come from bringing in a fresh pair of eyes that can look at the business from new angles.
"One thing that's been really important to the business, for many years, is investing in young people," Jon said. "We work with universities across the UK to support student work placement programs."
These programs are a great way to find talent and Golfbreaks has employed many placement students after they graduate, some of whom are now at a director level in the company. They're also an invaluable source of insight to guide the future of the company. While golf has traditionally catered to an older demographic, the rise of Topgolf and driving ranges, as well as the fact that golf courses were one of the only sports facilities open during pandemic lockdowns, has led to an influx of younger players.
"We see them as being our customers of the future," Jon said about the students in the program. "It's important to get an understanding of how they're using technology and what their expectations are of brands when we're looking to build our products."
Empower teams to think big
Finding great ideas is one part of the transformation equation. Another is having a team with the skills and creativity to bring them to life; a team that doesn't see digital as one-off projects but looks at the needs and ideas coming from all departments and is able to drive a cohesive digital strategy across the business.
"Come to us with the problem, not the solution," is what Jon and the team at the helm of the Digital Center of Excellence tell the organization. "Tell us what you are trying to achieve, and we will tell you the best way to reach those goals and that outcome."
Building a team that can perform at this level is not only about recruiting the type of people who want to problem solve, but also giving them the time and resources to do so. For instance, every two weeks the Golfbreaks digital team is given an an R&D day to work on new ideas, new projects or learn new skills.
Investing in teams leads to teams that are invested in the work they do, empowered to make decisions and able to move fast. Over the last four years, the Center of Excellence team at Golfbreaks has successfully brought all digital projects in-house, completely rebuilt the tech stack, launched a new website and handled the many changes brought on by the pandemic.
"Everyone in the team was really committed and passionate about building the right platform for Golfbreaks. It was great to see everyone just pulling in the same direction," says Jon. "That's been one of the key successes in my career so far."