Back to Blogs
How to build technology and culture to embrace change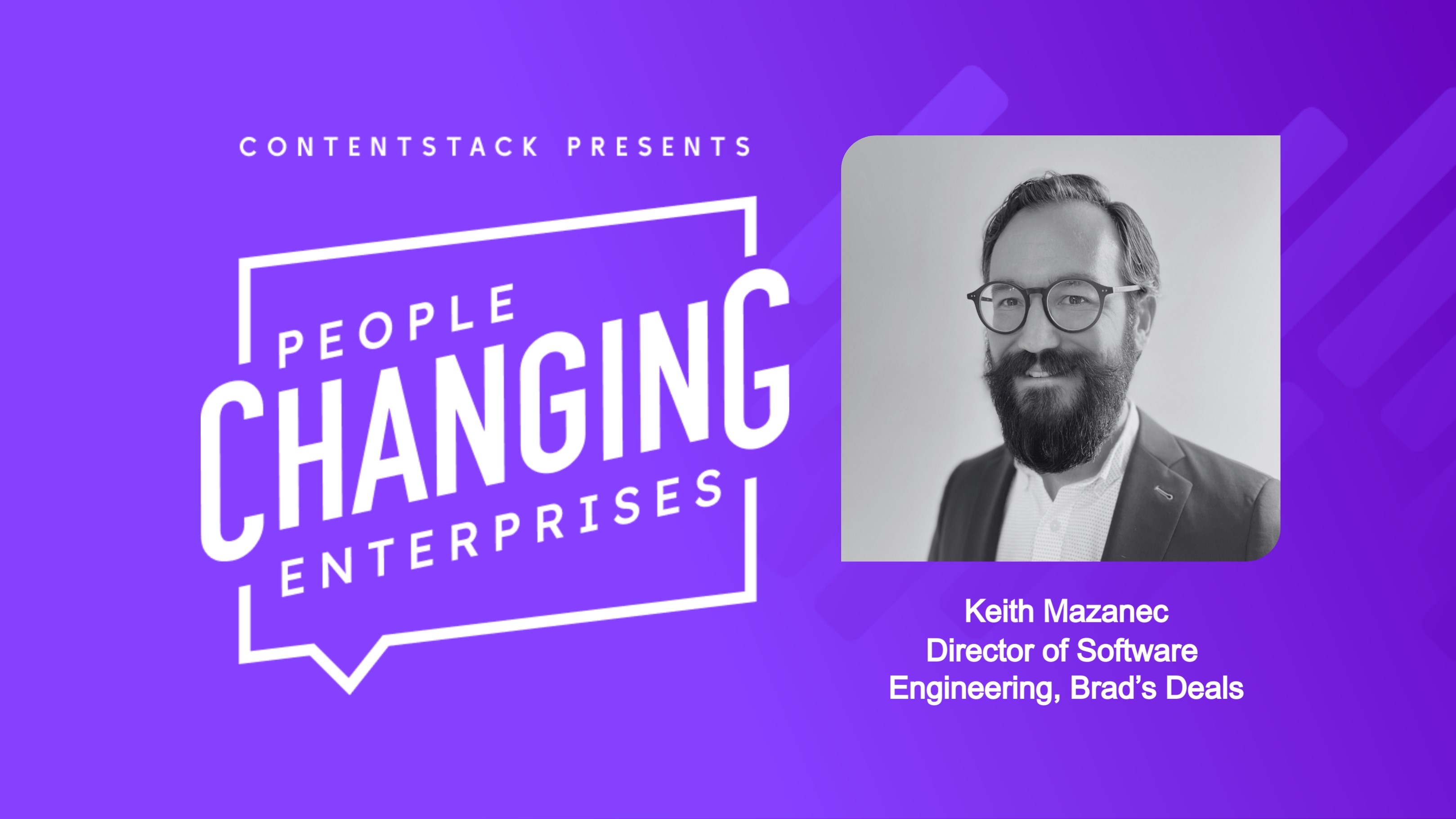 Keith Mazanec isn't afraid of a pivot. Ten years into a career in retail, he decided to take a coding boot camp and forge a new career path that aligned with his childhood fascination with computers. Now, as the director of software engineering at Brad's Deals, Mazanec is leading the company's transition to a modern content architecture.
He recently spoke with us about the retail lessons that can be applied to software development, why building trust is so important to transformation and the advice he has for other technology leaders driving enterprise change.
Expand the definition of customer service
The catalyst to Mazanec's career pivot? A spreadsheet. As a customer relationship manager at a major department store, he was tasked with filling out and sending a certain Excel sheet to corporate each month and it felt maddening that such a giant retailer was operating with such a tedious approach.
"That really drove me to look back at technology and how it actually impacts people in the workplace day in and day out," said Mazanec. "In particular, when technology is neglected and how that can have a really negative impact."
Coming from the very service-oriented retail space, Mazanec has developed a keen sense of awareness for how his work affects other people and has carried that across to his engineering career.
"It's all about service," Mazanec said. "Who is the customer in my role now? At a department store it's clear it's the person walking in the door, but it's also my fellow employees there. In a software role the customer is often other people on your team."
Fortunately, technologies that serve internal teams tend to have a knock-on effect on the end-customer experience. For example, setting up an automation system that saves the editorial team hours of rote data entry gives editors more time to curate interesting offers and write informative content for shoppers.
"Customer service transcends retail or customer experience," explained Mazanec. "It's about who you are supporting in your activities day in and day out."
Build trust
"Honestly, the technology is almost always the easy part," Mazanec said when asked about the most important factors of a successful transformation. "It's the people, and the processes, and the relationships, and the inner workings of teams that really is everything."
Mazanec attributes his interpersonal skills, which have been key to navigating the human side of business transformation, to his early career in retail.
"In many ways it was my business school," said Mazanec "It was my HR training. I learned how to manage people, I learned how to lead, how to coach and mentor, and I learned how to deal with difficult situations and have difficult conversations."
Ultimately, he learned that getting things done often came down to building relationships, whether with a customer that just walked in the door or a person you work with every day.
"Retail, and sales in general, is a lot about trust, and working on a team of developers is also a lot about trust," said Mazanec. "When there are issues that come up, or disagreements about how to solve a particular problem, if you have that trust amongst each other then you're going to be able to overcome those things."
Even when the business value and risks of transformation have been calculated, the change can still feel scary to the people affected by it. Taking the time to understand people's concerns and build up the trust that decisions are being made in good faith pays off by creating a culture that embraces change.
"That mindset of we're in this together, we're going all in, we're taking a leap of faith," Mazanec said about the team culture at Brad's Deals. "The sense that we're linking arms and we're doing this together."
Start at the end
After looking into what drew return shoppers to Brad's Deals, and what didn't, the company realized the main way to improve the customer experience was to publish long-lived content more frequently. To do this, they needed to transform their existing content process that had editors moving between different legacy systems that were hard to maintain.
Mazanec and his team wanted to make sure that the new solution was guided by the priorities of the people using it, and not by the capabilities of any particular tool. So they created a conceptual content model before even starting to look at technologies.
"We started with the end in mind," said Mazanec. "Where do we want our content model to be? Where do we want our site, apps, platform? What kind of capabilities do we want for the editorial teams that are finding and curating great deals? What kind of opportunities do we want to create for our partner teams to work with merchant partners better than we have in the past?"
This big-picture model informs all technology and architecture decisions. From what parts to build in-house, when to bring in vendors, what legacy tools to sunset and how to break up the transformation into stages and avoid a big-bang replatform. Being guided by a long-term vision also helps the engineering team create a foundation that has the flexibility to adapt to each stage, as well as future needs.
"Regardless of the conceptual model that we created, we knew that business was going to change," said Mazanec. "The world would continue to change, retail would continue to change, publishing would continue to change, and so we needed to have a system that could change too, so that the model we came up with in 2021 could be iterated on and evolve for the next decade to come."
Expect a relay race
Just as important as the flexibility of the technology, is the flexibility of the team. Transformation is often a multi-year process and, as people move in and out of the company, teams need to be able to adapt and progress.
"You need to plan for business continuity regardless of how the team is going to grow and shift and change and shrink over time," Mazanec said. "How do you keep momentum when it's ceased to be a single race and it's become a relay race?"
As new team members were being brought on that weren't around for the early decisions and beta tests, Mazanec realized that a lot of key information about the transformation happening at Brad's Deals was living inside people's heads. So the team quickly put in place processes to improve communication such as documentation, training and onboarding.
"It really comes down to having a great culture of writing, a great culture of open communication and ultimately building and rebuilding trust," Mazanec said, explaining that this culture makes the team more resilient to change and also makes it easier to incorporate the insights that new people bring.
"A silver lining of going through some of these challenges is that you wind up on the other side with fresh perspectives," Mazanec said. "We've come out the other side a stronger team overall. With better processes, better communication, and, most importantly, a better foundation to build on top of for the next decade."
Listen to the podcast
Listen to

this episode

of the

"People Changing Enterprises"

podcast to learn more about Mazanac's career leap of faith and what customer experience lessons he learned while working in retail.