Back to Blogs
CMO shares expert strategies for digital-first marketing
Apr 20, 2023 |
2 min. read |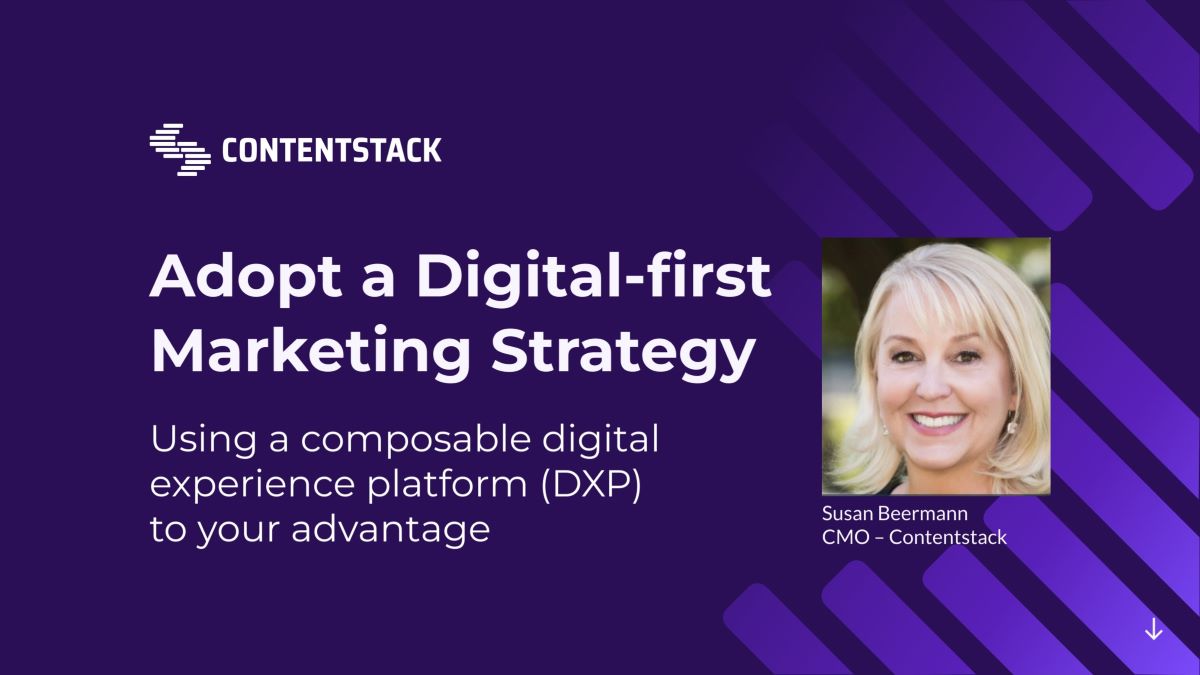 As a three-time CMO with more than 25 years in software marketing, Susan Beermann knows first-hand just how vital it is for businesses to keep up with shifting customer preferences. In a recent CMSWire webinar, "Adopt a Digital-first Marketing Strategy," Contentstack's CMO shared her expert tips for ensuring your company leads the way when it comes to capitalizing on today's (and tomorrow's) digital opportunities.
Read on for highlights, or watch the webinar to get all of the insights from Beermann and fellow guest Erica Heald, founder of Erica Heald Marketing Consulting, on these topics and more.
What is digital first?
Defining digital-first marketing, Beerman said: "It's really a digital strategy that is focused on engagement — engagement with your audience, whether your audience is your customers, your prospects, maybe it's even your employees or your partners — and how can we use digital technologies to really reach many people in a very effective and efficient manner and give a really great digital experience across whatever device they're using, whether it's their laptop, their their mobile phone, their watch, digital signage, and buildings or at events, digital billboards, the list goes on and on."
Why adopt a digital-first strategy?
Customer expectations are the driver behind the rapid transformation to digital-first marketing, Beermann said. "We all want to have a great digital experience … and our customers are demanding really great experiences, and they will vote with their feet and move to a different provider if they have a better digital experience than you're providing."
What to consider before embracing a digital strategy
When approaching a digital-first strategy, organizations need to consider both their people and the technology, Beermann said.
On the people side, that means asking whether your teams have the right mindset and the right skill sets for new technologies. If not, you will need to decide whether to hire someone who specializes in the new technology or train existing staff.
On the technology side, the first thing to consider is what you're trying to achieve and then which technologies will help you get there as easily, quickly and cost effectively as possible.
"And the great thing about the modern composable approach is you can pick components based on your unique business requirements that are easily integrated together and can operate as a whole, and just really get a tech stack that's very unique to what you're trying to achieve and not be locked into something that's very monolithic and difficult to change," Beermann said.
Choosing the right vendor is another important factor when considering technology.
"You want that vendor to or that partner I'll say to meet you where you are today, but also take you to where you want to go in the future," Beermann said. "So don't choose something that just solves today's problem, think ahead a couple of steps and ask them where are they evolving their product?"
Beermann said it's also important to consider return on investment is also an important thing to consider. "You need to really think through, how is this going to make money or save money or hopefully, both, and have a cost justification that you can give to your CFO."
Learn more
Learn how composable technology can help your marketing team keep pace with ever-changing content needs in our guide, "The ultimate marketer's guide to composable DXPs."
Schedule a free demo to see how Contentstack can help you navigate your digital transformation and achieve your digital marketing goals.