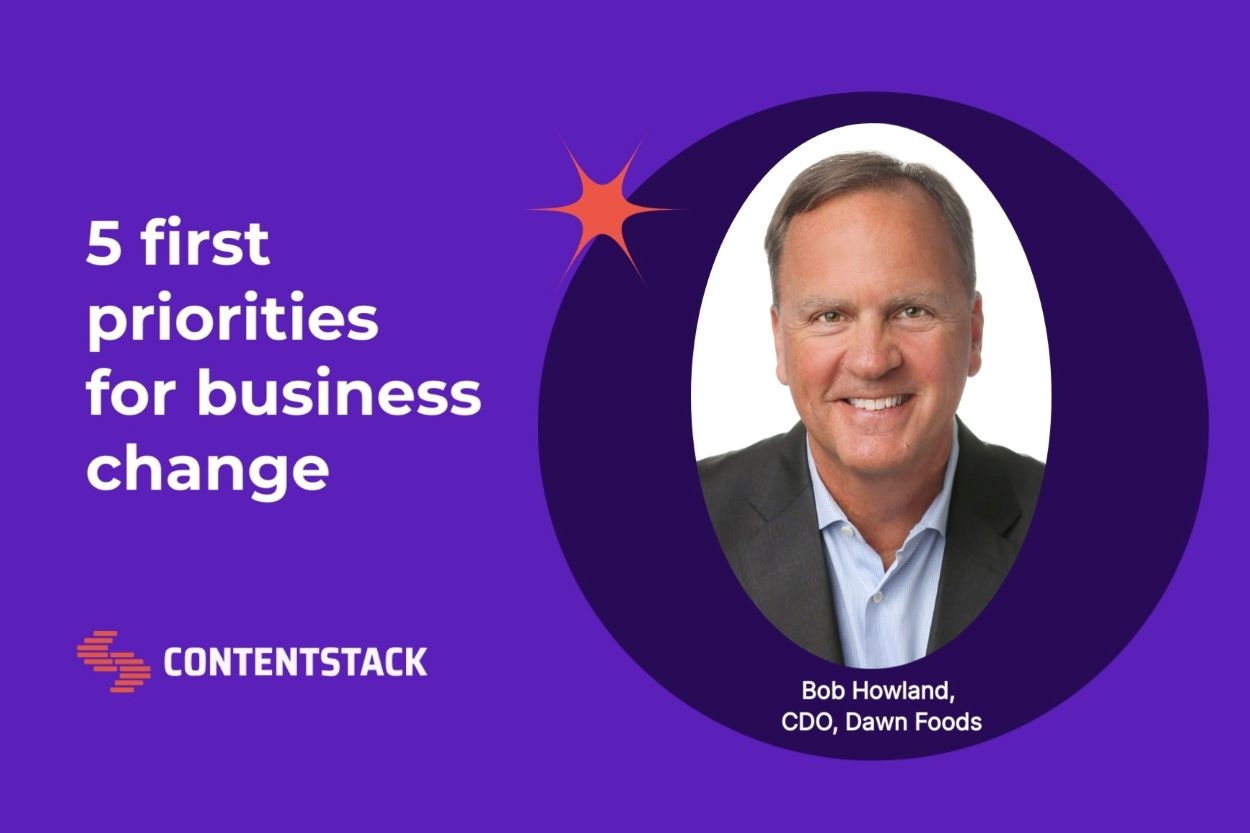 Bob Howland has helped drive business transformation in over 27 companies in industries ranging from retail to pharmaceuticals to software. In 2019 he joined Dawn Foods, the global bakery supplier, to do it again. As chief digital officer he took the 100-year-old company from a completely paper ordering process to a market ready e-commerce solution in just 22 weeks.
We spoke with Bob about how he did it, why changing mindsets is often more important than changing technology, and what advice he has for other business transformation leaders.
Turn executives into advocates
Moving a company to a new way of working is going to require high-level support and prioritization. Involve key stakeholders early in the process to close gaps in knowledge, collaborate on a plan, and ensure the executive team is confident in and excited about the changes ahead.
For Bob, an early priority at Dawn Foods was to meet directly with the chief financial officer to create a business plan. Giving the CFO full, transparent access to the expected costs and intended outcomes makes it possible to fast-track difficult conversations and align on the right metrics for the project.
The CFO can also recommend a trusted team member to act as the financial representative for e-commerce. By working with a finance partner to make estimates and approve any cost presented, you can build credibility within the organization as well as create a strong advocate in the finance department.
Bob also recommends meeting with each board member individually to introduce the plan, address questions, and gather recommendations. These conversations give everyone a comfortable amount of time to get up to speed on e-commerce and, when it's time to ask for approval, you'll be able to present a plan that the board is already familiar with and has contributed to.
Take a crash course from customers
Internal sources can get you up to speed on past and current priorities of the business, but answers about its future are found out in the field. Speaking directly with customers can help you identify internal blind spots, validate the need for change, and allow you to truly speak to the customer experience when making decisions.
Coming into Dawn Foods, Bob was well versed in e-commerce but not as knowledgeable about the bakery industry. So in his first two months he had "30 donuts in 60 days" as he visited dozens of bakeries to learn about the market, what customers valued most about the company, and what needs were going unmet.
These market visits made it clear there was an urgent demand for e-commerce among customers and gave Bob a level of credibility with internal teams that helped get everyone on board with his recommendations.
Prioritize people over pace
Once business transformation has customer validation and executive approval, you'll need to work with people across departments to figure out the work it will realistically take to make it happen. Keep in mind that while the eventual maintenance of a new way of working might easily fit into a team's responsibilities, the initial lift of the project can require a substantial shift in priorities, which can be met with resistance.
"In many cases, these are muscles that people that have never been in an e-commerce company don't have," Bob said. "So to come at it with a mentoring, a sponsorship, a teaching and training perspective is very important."
Change requires long-term objectives that will take long-term business relationships to achieve. After decades in the business, Bob said he's learned to give people the time and space to come around to new ideas on their own terms. While this might slow down progress for the first few months, it builds the trust needed to move faster in the long run.
Make an MVP ASAP
Taking e-commerce off the whiteboard and putting it in front of the business is a way to quickly highlight the work that needs to be done on data, data structure, pricing, images and other assets to enable e-commerce.
Bob and his team created the first minimum viable product (MVP) in six weeks, with the goal of showing the best possible commerce experience the company could put out without making any changes to business.
"That MVP, the beta project, was one of the most embarrassing things that I have ever put my name on," said Bob, "but it did show the company the gap between where we were today and what we needed to do quickly to enable an e-commerce business.
An MVP can also make it clear that the new way of working will affect many functions in the company. A visual, explorable product makes it easier for people to see how the change will relate to their own role and accelerates conversations about the collaboration needed from each department to bring a great experience to market.
Remember, you're just getting started
Getting the solution built is just the start. Transforming the organization and its mindset to one of continuous improvement is key to ensure you live up to customer expectations and demands.
Bob knew he wouldn't have all the right answers by launch about what e-commerce should look like at Dawn Foods because that information would come from customer feedback and user behavior. So the team first focused on speed, launching a market-ready solution in 22 weeks.
"On the quality side, however, I knew that I needed to have the team and process in place to do an amount of development work post-launch so we could quickly address all the feedback from the customer," Bob said, sharing that more developer hours were used in the six weeks post-launch than used to get to launch.
To this day, the team continues to commit to that cycle of improvement, releasing new features every two weeks and rolling them out to customers monthly.
"I built a whole army and process and protocol to get to launch, but before I launched I had already built the governance, the process, the protocol to run the business," Bob said. "I think those two things combined are why we've been so successful as a company."