Back to Blogs
4 questions for e-commerce brands considering composable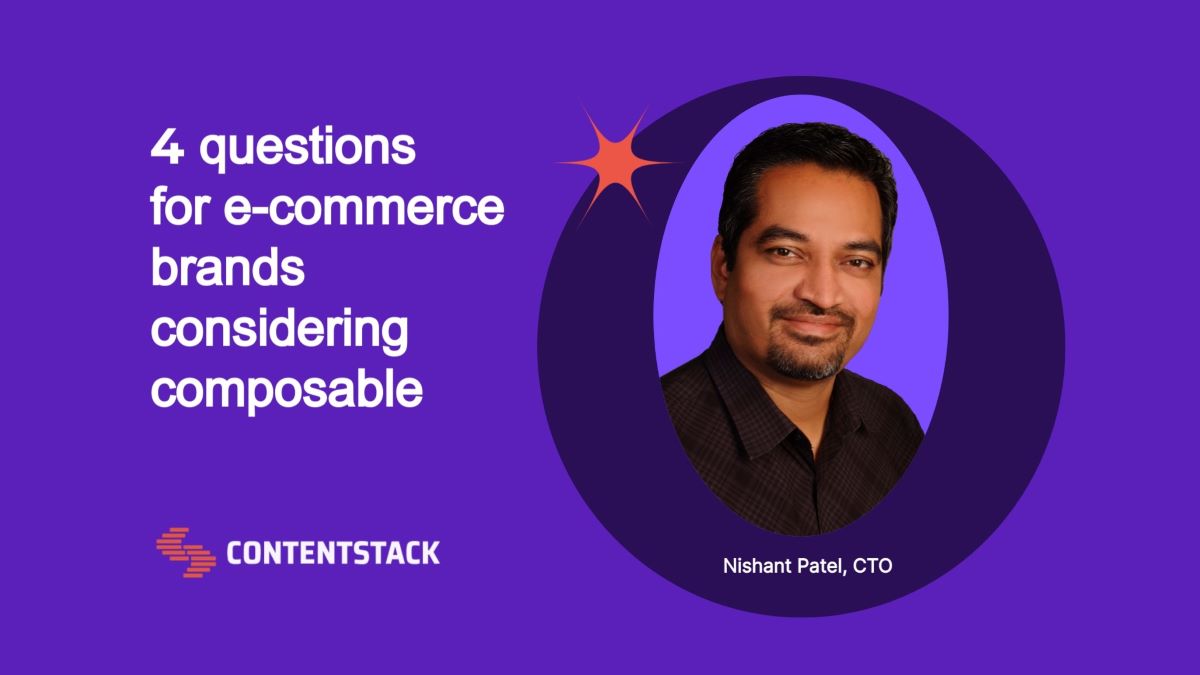 There's a lot of confusion in the market when it comes to composable architectures. A company says one thing and their competitor says something different — all the while, the people who hunger for change inside complex organizations struggle.
We see this in potential e-commerce customers all the time, knowing they need a change but not really understanding what composable can do for them. Emma Sleep, one of the fastest-growing D2C sleep brands in the world, was one of those organizations.
Andreas Westendörpf, chief technology officer of Emma Sleep, talked about why they chose composable and what it did for them on the latest "People Changing Enterprises" podcast.
Hearing him speak about the differences between traditional environments and composable inspired me to create this litmus test. Ideally, this will help provide clarity for e-commerce organizations wondering if composable is the right move for them.
Are you aiming to grow quickly?
For organizations trying to scale quickly, traditional CMS and legacy systems are far more complicated than composable architectures. They are less flexible and take more developer intervention to launch new markets, products, and content.
Composable wasn't in Andreas' original plans. But when Emma Sleep introduced their ambitious growth goals, they were operating from a highly customized legacy system. Doubling business every one or two years in vastly different markets would be difficult, frustrating and extremely error-prone with these technologies. They also wouldn't be able to support personalized content for each market — what works for European audiences doesn't work for Asia or Latin America.
If you are a scaling organization, you need composable. Other options are too rudimentary and inflexible for you. You will have to manipulate and create custom code to force things to work, which is not only a huge risk — as it will most likely break often — but inefficient when efficiency is required.
Are you outsourcing the problem to the vendor?
Andreas made a good point in the podcast. E-commerce was one of the first ways to make money on the internet, which is why many platforms still follow the architectural design principles of the '90s and early 2000s when they were founded.
While that's changing, it's happening slowly. In the meantime, e-commerce organizations are struggling with monolithic technology.
The common solution is outsourcing your development to the same vendor you're struggling with — a tricky catch-22. The problem doesn't change. Instead, it comes with long consulting timelines and following industry "best practices" that actually aren't best, like planning out your project five years in advance (more on that to come).
Composable solves two problems at once: providing a more flexible, agile technology stack and by bringing control back in-house.
Do you need to make room for innovation?
I recently read a great piece that nails down what innovation really is: riding a wave. Mary Kay Ash didn't invent cosmetics; she rode the direct-sales wave. Henry Ford didn't invent the automobile; he rode the assembly line wave. Steve Jobs didn't invent computers; he rode the digital wave. So on and so forth.
Here's what I'm trying to get at: Are you equipped to ride the wave?
E-commerce brands must ride the wave more than most. They ride the waves of public opinion, of social media, of what customers need when they need it. But the thing about waves is they disappear quickly. If you don't catch it, you sink.
E-commerce organizations don't have the luxury of submitting a developer ticket or a feature request and waiting around for six months until the request becomes a reality; the wave could be gone by then. Yet that's often what happens with legacy technology — so many missed opportunities.
In the podcast, Andreas expresses his desire to experiment quickly and figure out what works versus what doesn't. In a composable architecture, their team can integrate up-and-coming tools like ChatGPT for use pretty quickly. Emma Sleep also tests new platforms for new markets beforehand and implements them when ready. That was not possible for them in their previous environment.
Do you need to transform quickly?
"The five-year plan is dead."
That might be my favorite quote from a "People Changing Enterprises" podcast so far, and Andreas is absolutely right. Why stretch your timelines out that long, especially when you can reap value much earlier?
Andreas added: "Don't plan for a five-year project. If you are trying to implement within a five-year timeframe, things change too much. So plan for two years. Two years is a good time horizon. If two years becomes two and a half, fair enough. But you need to somehow have the most critical work done at the end of two years, like 90%."
Enterprises choose to make the transition from monolith to composable in different ways, but one thing all successful transformations have in common is that they don't push it too far down the road.
The litmus test is done. If you answered "yes" to most — or all — of these questions, then it's time to talk with us about moving from monolith to composable.
Here's the good news: When you choose to make the transition to composable, you're future-proofing your organization. According to Andreas, "it's the last replatform you're going to need."