Back to Blogs
3 ways tech and business teams can help each other through a transformation
May 24, 2023 |
3 min. read |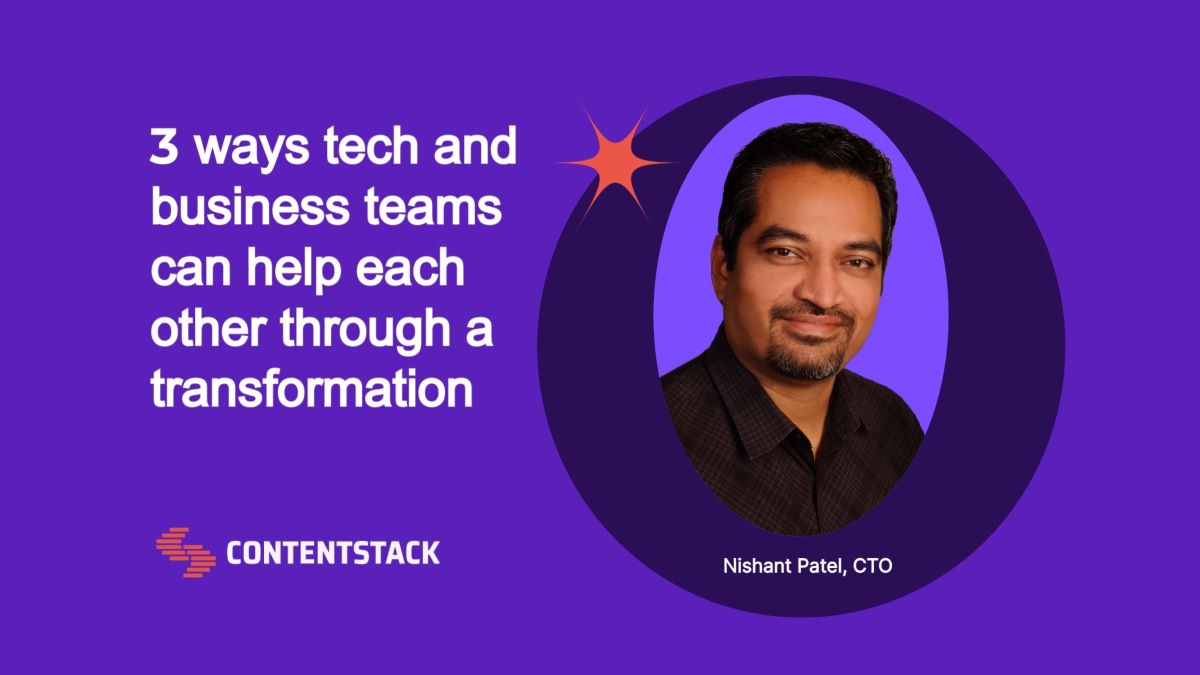 Not all great tech transformations are brought to the table by a developer, engineer, CTO or other technical person.
We see great projects kick off because someone in marketing, sales or customer success raises the flag for change. Sometimes business people can see opportunities that aren't as plain to the tech teams.
That's what happened when Booking.com decided to transition off its old systems to a headless CMS. Juliette Olah, senior manager of Editorial, realized that her teams had produced thousands of pieces of content over the years — but the capabilities of their current technology significantly limited the value that content produced in their local markets and possibilities for the future.
Listening to her "People Changing Enterprises" episodes, I admired the way Juliette united Booking.com's product and editorial teams from the beginning to pull off their transformation. Business and tech can either be each other's biggest advocates or frustrating roadblocks.
To avoid the latter, these are three examples of how tech and business teams can support each other throughout a transformation.
Thoroughly debrief at the onset
At the beginning of every project, we encourage organizations to sit down with their cross-functional teams and level set. Business and tech have their own KPIs and goals to achieve. In a project that bridges the two, there should be a frank discussion, ending in clear, written requirements of process and goals for both sides.
Once Juliette realized a tech transformation was the answer to the editorial team's needs, she became the living bridge between the editorial and product teams. Sitting down with tech stakeholders, they talked through what Juliette called a "comprehensive 360 view of the benefits to the technical side of the platform":
The editorial team's strategy and the justification behind the new technology

Real-life examples of what execution would look like

The business value of a central headless CMS would bring to each local market

Opportunities they were currently missing out on because of their current tool
Because she had clearly done her homework and demonstrated the need on both sides, the product team was eager to get started.
Partner up to find and test new tools
Finding and testing new tools is an easy way for business and tech teams to partner effectively. When the new CMS was in place, the teams at Booking.com partnered to try out the new tool to make sure it worked for both sides.
At Contentstack, once a new solution is initially developed, we pull in our business partners for User Acceptance Testing. They can test, catch bugs, or point out which workflows function trickier than anticipated — versus the tech teams doing it all themselves.
Additionally, when you're on the hunt for new tools, tag a business partner in for their opinion. From a different mindset, they might be able to raise questions or point out benefits you didn't consider.
Work together to phase out what isn't needed
A transition to composable is the perfect time to evaluate what tools you're bringing into the new environment — and which ones you should retire. This is another area that tech and business teams should work together.
A few years ago, we bought an analytics tool for the organization to use on their reports. It was low-cost and met some of our needs upfront, so we decided to take a chance on it. Six months down the road, we were spending a huge amount of time trying to force the tool to work.
When a business person came to me and admitted the tool wasn't helping their team meet their objectives, we decided to look into something else.
On a composable project, it's not always clear on the back end if a tool is working for teams as they need. That's where our business partners come in. It's a partnership.
Babe Ruth once said, "The way a team plays as a whole determines its success. You may have the greatest bunch of individual stars in the world, but if they don't play together, the club won't be worth a dime."
It's easy for business and tech teams to work in silos, but working together produces more value. Especially in a tech transformation, the two teams are different sides of one coin.
Find ways to bridge the gap and you'll see much more value in your resulting tech stack.