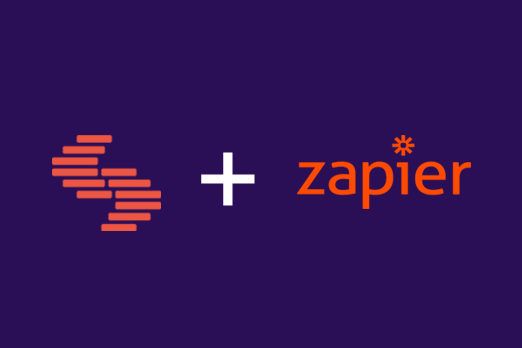 The support for Zapier and Contentstack is now in public beta.
The addition of Zapier support allows you to connect your Contentstack account to over 3,000 apps, automate tasks and get more out of Contentstack without writing code. Check our complete Zapier support documentation.
In this blog post, we will dive into how Contentstack's support for Zapier can do wonders for you.
What is Zapier?
Zapier is a powerful tool that lets you connect apps you commonly use and create automated workflows known as "Zaps."
A Zap follows an "if-this-happens-do-that" workflow, which can have one "trigger" and one or more "actions." Once you set up a Zap, whenever the trigger event happens in app A, the defined actions will be performed automatically in app B. Here's an example of a Zap: After creating a new entry in Contentstack, send a notification to a Slack channel. And it all happens automatically, so it is an excellent timesaver for your team members!
You can set up simple Zaps connecting just two apps, or you can create sophisticated Zaps with multiple actions, automating complex tasks.
Zapier has integrations with over 3,000 applications, including Google Suite, Dropbox, Slack, Trello, Salesforce, Facebook, Twitter, Stripe and now Contentstack. You can connect any of these apps to create your custom Zaps.
What Zapier Support Means for Contentstack Users
Our support for Zapier includes several Contentstack triggers and actions that you can use to connect Contentstack with thousands of other apps to create custom Zaps.

Contentstack Triggers for Zapier
New Entry: Triggers the Zap after creating a new entry in the specified content type of the stack you connected with Zapier.
Update Entry: Triggers the Zap when updating an entry in the specified content type of the stack you connected with Zapier.
Publish Entry: Triggers the Zap when publishing an entry in the specified content type of the stack you connected with Zapier.
Update Workflow stage: Triggers when updating a particular workflow stage of an entry in the specified content type of the stack.
New Asset: Triggers after creating and uploading a new asset in the stack you connected with Zapier.
Contentstack Actions for Zapier
Create Entry: The Create Entry action creates a new entry in the specified stack.
Update Entry: The Update Entry action updates the entry of a stack in Contentstack. To do this, users must choose the fields that need to be updated.
Publish Entry: The Publish Entry action allows you to publish an entry to one or more environments.
You can use these triggers and actions to create your own Zaps. Contentstack actions for Zapier opens up a lot of possibilities and gives you endless ways to automate tasks. Here are a few examples to help get you started creating your own Zaps:
When publishing a new asset (trigger), save a copy in Dropbox (action) to create backups.
After updating data in Google Sheets (trigger), update the entry in Contentstack (action).
Share a link on all your social media handles (action) when publishing a new entry (trigger).
Nearly everything that you do before or after creating or publishing content in Contentstack can now be automated, and we have a doc with Recommended Zap Templates help you get started.
The Contentstack support for Zapier helps you get more done in less time without needing a developer. Try our Zapier support now.
Next Steps