Mar 21, 2023 |
3 min. read |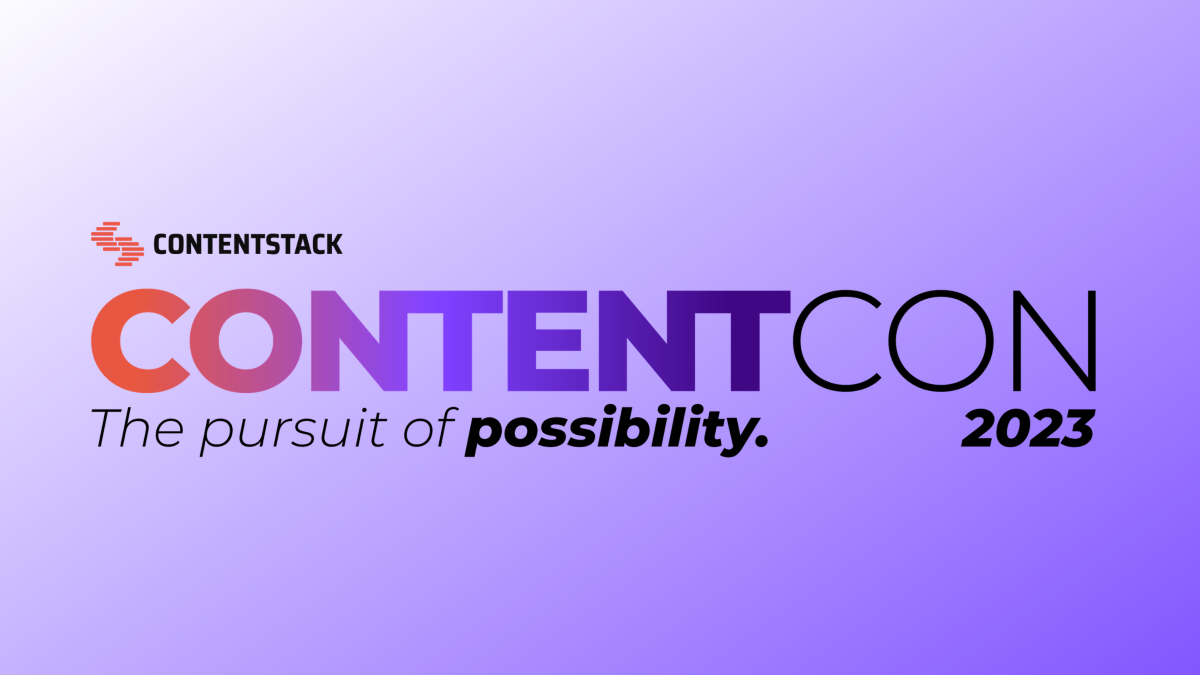 It's time to mark your calendar — Contentstack's annual customer conference, ContentCon, is back on May 8-10, 2023! This year, we're going bigger and better than ever, offering a hybrid event experience that you can join virtually or in-person at the charming Hotel Van Zandt in Austin, Texas. With an exciting lineup of speakers, workshops and networking opportunities, ContentCon 2023 promises to empower you to make the most of your composable tech stack and skyrocket your enterprise to success. Don't miss out on this must-attend event for business leaders, marketers, developers and anyone looking to elevate their digital experience game.
Inspirational keynotes from top brands
Get ready for a full day of amazing keynote presentations from some of the biggest and most-loved brands in the industry. These experts will share their insights, experience, and strategic advice on how to leverage Contentstack and other cutting-edge technologies to drive business growth and success. If you're looking for inspiration, practical tips, and a glimpse into the future of content management, these keynotes are not to be missed!
Keynote speakers include:
Best-selling author and executive coach Laura Gassner Otting share strategies for pushing past the doubt and indecision that keep great ideas in limbo. In-person attendees will receive a copy of Otting's new book, "Wonderhell: Why Success Doesn't Feel Like It Should … and What to Do About It."
Mindy Montgomery, senior technical product manager and leader of the ecosystem platform that supports a connected customer experience for ASICS, will give tips on "How to Survive Procurement."
Juliette Olah, senior manager of editorial for Booking.com, spearheads the editorial strategy for Booking.com. Olah's presentation will cover the "The Art and Science of a Customer-Obsessed Content Strategy."
Expert-led workshops to elevate your skills
At ContentCon 2023, you'll have the opportunity to participate in all-new, exclusive workshops that will help elevate your expertise in composable leadership, technology and mindset. Whether you're new to Contentstack or a seasoned pro looking to sharpen your skills, our workshops are designed to provide valuable, hands-on learning experiences for all experience levels.
The Contentstack Help Bar: your one-stop-shop for expert advice
Bring your burning questions about Contentstack and the composable enterprise to our in-house experts at the Contentstack Help Bar. Available throughout the conference, our team will be ready and eager to provide personalized advice, troubleshooting guidance and insider tips to help you make the most of your content management platform.
Co-creating the Composable Manifesto
Join us in co-creating the Composable Manifesto — a set of actionable tenets that will inspire, guide, and accelerate your teams toward a future-proof, agile, and innovative business environment. This unique, collaborative activity will bring together ContentCon attendees to collectively define the guiding principles for a composable enterprise. Be a part of shaping the future of content management and the wider tech landscape by contributing your ideas and wisdom to this groundbreaking initiative.
Networking opportunities galore
What better way to level up your professional network than by connecting with your peers, industry leaders and the Contentstack team at ContentCon 2023? With both in-person and virtual networking opportunities throughout the event, you'll have plenty of chances to forge new connections, share ideas and learn from others in the field. Don't miss the chance to grow your network while absorbing a wealth of valuable content management knowledge.
Register now
Don't miss out on the chance to power up your tech stack and leave a lasting impact on your enterprise. Register now to join us in beautiful Austin or virtually from anywhere in the world. Mark your calendars for May 8-10, 2023, and get ready to elevate your digital experience game at ContentCon!