Back to Blogs
How your business can save money with a composable DXP
Are you feeling the crunch of tight budgets and limited resources? It can be difficult for enterprises to find ways to cut costs while still remaining competitive. One way to do this is by investing in a composable digital experience platform (DXP). A composable DXP allows businesses to quickly create personalized user experiences without the need for extensive development time or costly technology infrastructure. By taking advantage of its flexibility and scalability, companies can save money while improving customer engagement. In this blog post, we'll discuss how a composable DXP could help your business improve its efficiency and profitability.
What is a composable DXP?
Gartner defines a DXP as "an integrated set of core technologies that support the composition, management, delivery and optimization of contextualized digital experiences."
A DXP is not necessarily a single solution but a variety of solutions that work cohesively from a central hub. A composable DXP uses MACH technologies (microservices-based, API-first, cloud-native and headless) to deliver services to various devices and channels.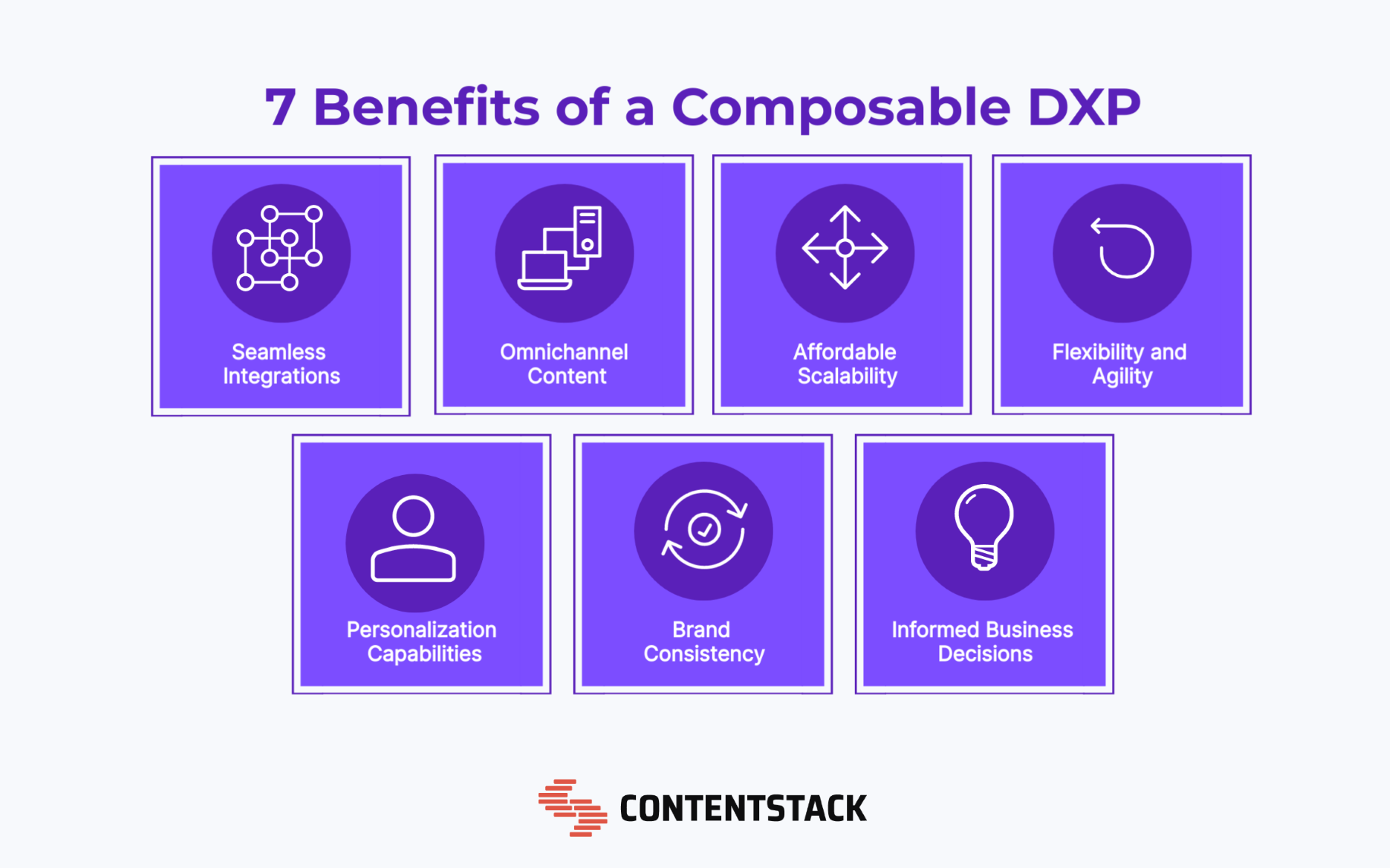 How a composable DXP saves money
Scalability
A composable architecture allows you to scale according to your business needs. If you're just beginning to implement composable technology, you may choose to keep elements of your existing technology while adding composable applications where they are most needed to improve efficiency.
If you choose to invest in a new digital experience platform, a composable architecture enables you to choose the best tools available for your needs, and only the tools you need.
Reliability
A composable DXP can help your business avoid costly downtime because its microservices-based architecture means a failure in one service won't affect the entire system.
Speed
A composable platform based on a headless CMS will enable you to quickly launch new digital experiences, update and adapt as needed without the need for developers to create new solutions each time, so you enjoy faster time to market while saving costly development time.
Efficiency
In a platform with a composable architecture based on a headless CMS, the front end and back ends are decoupled, so marketing teams IT teams can work simultaneously to create and update digital experiences and content faster.
A composable platform also enables automation of routine tasks so you avoid costly human errors and your team spends more time on higher priority tasks.
How to save money when implementing a composable DXP
One way to save money while transitioning to composable technology is to leverage your existing technology wherever possible and add composable technology where your legacy system doesn't function as needed.
To do this successfully, start by:
Defining your business goals

Identifying what you use, don't use and what's missing in your current system

Mapping out your ideal system

Defining a roadmap for implementation
When implementing a composable DXP, the key to saving money is understanding what services you need for success. Consider your business needs and goals and then research composable DXP providers that best match those needs. Whether parting with a smaller sum of money up front or investing in more expensive but comprehensive packages, make sure that you aren't overspending on features and services you won't actually use. Look out for special bundle deals or discounts, as these can be great ways to save while still getting top-notch services. Remember that investing in composable DXP is an investment in the future of your company; save smart in order to get the most ROI from your composable DXP implementation.
Conclusion
Businesses are looking to save money while transitioning to more modern technology to meet current customer needs. A composable DXP will help achieve this, allowing you to implement gradually while increasing speed and efficiency and reducing development costs.
Learn more
Learn more about going composable in our blog post, "De-risking your transition to composable."
Schedule a free demo to see how Contentstack can help you save money and increase ROI with the only fully composable digital experience platform.