Back to Blogs
Announcing Contentstack Launch: Composable is now even easier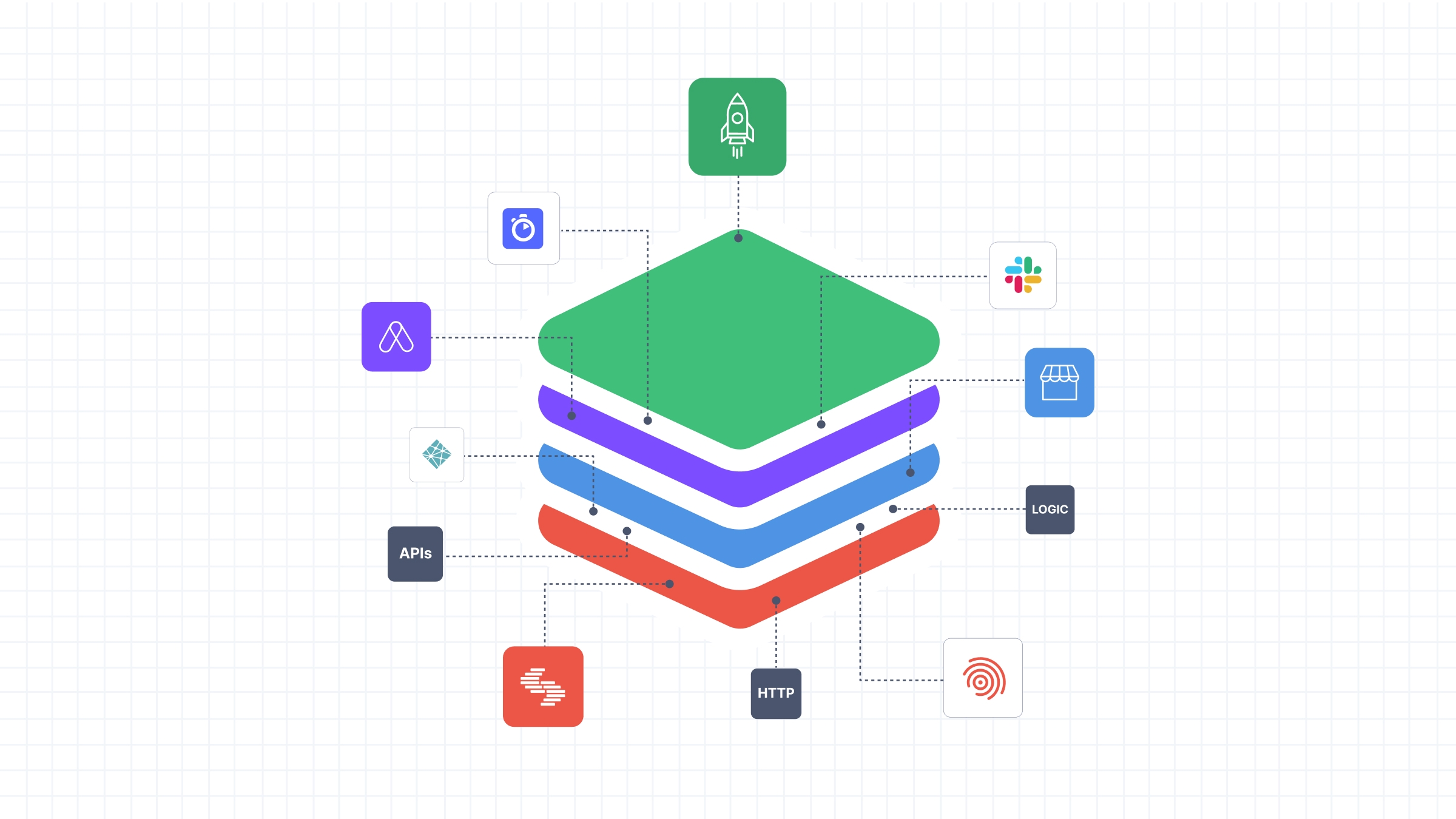 Meeting your business goals with an intuitive, end-to-end digital experience platform that your tech team can launch fast is now a reality. Announcing Contentstack Launch, a site-hosting solution that seamlessly integrates with our headless CMS, Automation Hub and Marketplace for a complete out-of-the-box DXP that works with clicks, not code.
Contentstack Launch eliminates the need for a separate vendor for domain hosting of our headless CMS, so you can avoid the friction and issues that can arise when trying to make two disparate systems work together. With Contentstack Launch, the communication between the CMS and front end is seamless because both are built with the same Contentstack DNA.
Unlike legacy DXP providers that offer "hard-wired" proprietary front ends or rely on third-party providers, Contentstack is now the only fully automated, composable DXP solution with 100% open MACH architecture.
If you're wondering how Contentstack Launch can work for your enterprise, read on to learn:
Why we've added Contentstack Launch to our innovative family of products

Why a 100% open MACH architecture is important

Benefits for marketing teams

Benefits for technical teams
Contentstack Launch completes our end-to-end solution
Contentstack Launch complements our existing headless CMS and middle-layer tools like Automation Hub and Marketplace to provide a fully composable, fully automated DXP solution. Here's a little more information on why a front-end solution is a critical and necessary element.
But before we dive in, let's briefly cover the definition of "front end." The front end is what the person visiting a website, shopping in an online store or using a mobile app sees when they look at their device screen.
In a legacy CMS setup, developers have to write code on the back end of a site, which creates what we see on the front end. But with a headless CMS, a site's back end is decoupled from the front end. The combination of headless CMS and composable architecture enables users to fully customize with any combination of software tools and microservices set up as APIs. Think of APIs as plug-and-play modules that are easy to add, update and remove without affecting the entire site or channel.
A digital experience platform set up in this way has many advantages for users, such as the ability to push content to multiple channels quickly, make changes with little to no coding skills, or update specific modules or blocks incrementally over time as business needs evolve.
Since the Contentstack CMS is headless, content is served up to websites and apps when the front end calls up code. The challenge is that the CMS still relies on a hosting platform to bridge the gap between the front end and back end of the DXP.
Our front-end hosting solution integrates seamlessly with our headless CMS, as well as our Automation Hub and Marketplace tools. It not only bridges the headless gap, connecting all the components your tech and marketing teams need to get the most from your DXP, but it does so without any friction.
Many of our competitors offer headless CMSes that lack full stack functionality and require manual assembly. Contentstack is the only truly composable, fully automated, end-to-end solution that's 100% MACH-compliant and ready to use out of the box without coding.
The value of an open-MACH architecture
The MACH Alliance's certification process was developed to help identify software vendors and integrators who embrace MACH philosophies and principles and offer services that are:
Microservices-based: When a larger application is divided into separate independent components that work together but are autonomous.
API-first: Application programming interface or the API is at the foundation of the framework, meaning each API or module is designed first, then these work together to deliver an end solution.
Cloud-native Saas: Software as a service (SaaS) enables users to access and interact with cloud-based apps over the internet.
Headless: When front-end user interfaces are decoupled from the back-end coding.
What's most significant to understand about MACH-compliant tools and services is that they are designed to help organizations to flex and scale over time with little to no interruption to the customer experience.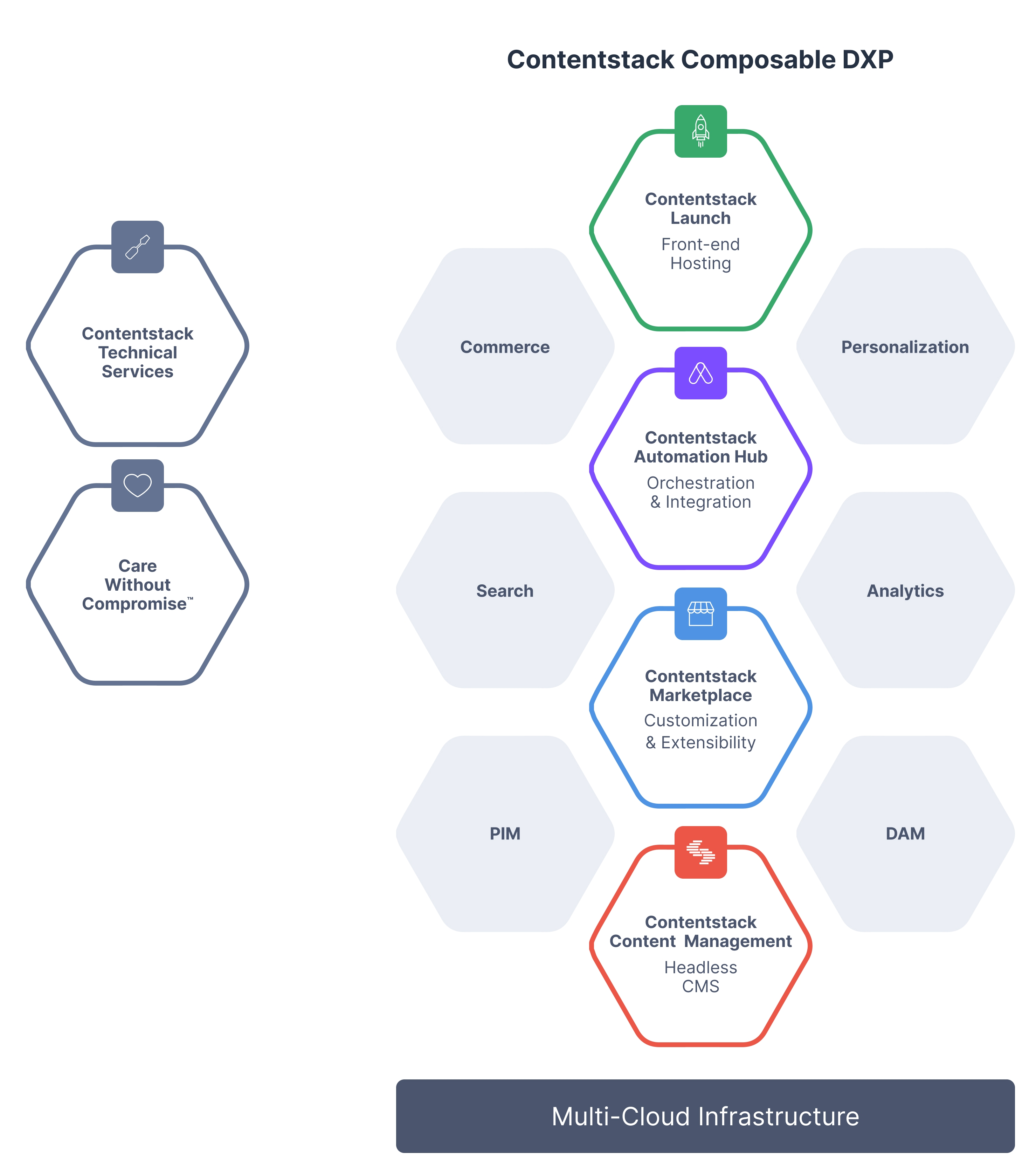 Benefits for marketing teams
When you leverage our complete all-in-one-solution that includes Contentstack Launch, your business can make traction quickly by providing truly exceptional experiences for your customers.
Speed
Whether your enterprise needs to launch a new website fast, add an e-commerce channel to your existing site or revamp outdated content, the addition of Contentstack Launch enhances the speed already attainable with our headless CMS, making development even faster. And since time is money, the faster you can get your store up and running or put your marketing campaigns to work, the faster your business can turn a profit.
Scalability
Contentstack is designed to enable your digital experience platform to evolve as your business grows and its needs change. Rather than have to throw out a website and build a new one, for instance, Contentstack supports limitless upgrades and integration of the best-in-breed tools available at any given time, even those that haven't been developed yet.
Flexibility
Contentstack makes it simple to roll out changes without disruption to the customer experience.This means you have the freedom and flexibility to quickly update and scale to adapt to market conditions.
Benefits for technical teams
With Contentstack Launch, you'll have all the right tools at your fingertips — from back end to front end — all in one platform, so you have less hassle, less friction and get more done, faster.
Contentstack Launch empowers developers by:
Enabling the fast build of websites and apps with fewer clicks and very little technical configuration

Eliminating the need for stitching together disparate systems and building and maintaining custom integrations between the CMS and front end

Being easy to automate and integrate with maintenance workflows

Saving time spent on development and maintenance

Allowing multiple sites and channels to be managed from one central hub

Supporting common SSG rendering methods, auto-populating environment variables and a variety of Javascript frameworks

Living in a secure cloud environment
Benefits across teams
Contentstack Launch not only bridges the gap between Contentstack CMS and the front-end user interface, it creates synergy between siloed teams. Typically, content managers and marketing teams work in a CMS, while developers and engineers work in code and front-end hosting platforms. Because they work in separate digital environments, it takes extra effort to collaborate and deliver consistently great digital experiences.
With Contentstack's fully automated, end-to-end solution, your marketing and tech teams will both work seamlessly from one central hub.
Learn more
Learn more about how you can create digital experiences at the speed of your imagination with Contentstack Launch.
About Contentstack
The Contentstack team comprises highly skilled professionals specializing in product marketing, customer acquisition and retention, and digital marketing strategy. With extensive experience holding senior positions in notable technology companies across various sectors, they bring diverse backgrounds and deep industry knowledge to deliver impactful solutions.
Contentstack stands out in the headless composable DXP market with an impressive track record of 87 G2 user awards, six analyst recognitions, and three industry accolades, showcasing its robust market presence and user satisfaction.
Check out our case studies to see why industry-leading companies trust Contentstack.
Experience the power of Contentstack's award-winning platform by scheduling a demo, starting a free trial, or joining a small group demo today.
Follow Contentstack on Linkedin