At Contentstack, we strive to build and deliver a world-class, modern Content Management System (CMS) and Digital Experience Platform (DXP), but more importantly, we pride ourselves in placing our customers at the heart of our business. In doing so, our customers have responded in kind. Contentstack's CMS has been recognized as a 2019 Gartner Peer Insights Customers' Choice for Web CMS with a 4.8 out of 5-star rating as of May 7, 2019 based on 58 ratings!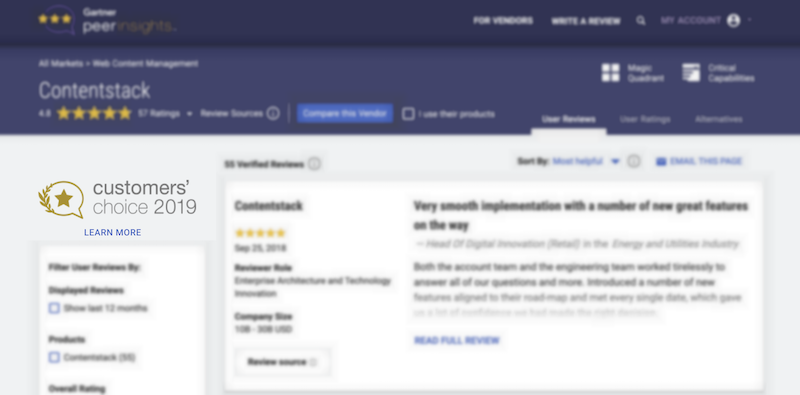 Contentstack's headless CMS solution was conceived to address the challenges and opportunities that enterprises face as a result of the dramatic evolution of digital content – its very nature, its distribution and its consumption – over the last 20 years. As a team, Contentstack has implemented, configured, and operated dozens of traditional CMS systems. Via a consultative approach and close collaboration with countless enterprise organizations, Contentstack was able to design a new, more customer-centric platform to manage content – across web, mobile, and new and emerging digital channels. This customer-centric focus extends well beyond just our product. Every quarter, we meet with our customers to review the state of their business, plan for future initiatives, and collect their feedback. Additionally, we offer 24/7 in-app support with rapid response time (within minutes) where customers can ask for help, make suggestions, and interact with a qualified human, not just a bot. Ensuring that our customers are successful is so ingrained in our DNA that we literally can't sleep until we know they are taken care of.
"We created Contentstack to solve the problem of how to build a high-performance system for delivering content that's platform-agnostic and best prepares customers for the future of digital experiences. We're proud of being acknowledged as a Customers' Choice for WCM and are thankful to our customers for their trust and honest feedback. Their support motivates us to do even better," says Neha Sampat, CEO of Contentstack.
Why Customers Prefer Contentstack
In today's digital environment, consumers expect quick, personalized experiences when and where they choose to engage with a company. If they aren't getting the kind of engagement or experience they want, they'll readily click or tap their way to a competitor. Enterprise organizations are tasked with delivering personalized content and creating modern digital experiences while coping with scalability, growth, and limited resources. Here are the top three reasons why we believe customers prefer Contentstack:
Idea-to-deployment in record time
Our headless CMS helps accelerate and simplify the creation and delivery of digital content initiatives, and bring new experiences to life in days, not weeks or months.
Improve 'Return on Experience'
Businesses reap greater returns on investments – both past and future – in digital content and digital experiences with Contentstack's flexible, integrated, and scalable infrastructure.
Easily create, collaborate, and control
Our rich features and robust tools bring business and technology teams into harmony and unleash the full potential of marketers, editors, designers, and developers.
About Gartner Peer Insights Customers' Choice
Gartner Peer Insights Customers' Choice in Web Content Management semi-annually recognizes vendors that are the most highly rated by their customers in Web CMS. In order to be named a 'Customers' Choice,' vendors must have a product that is aligned to the market, have their overall rating (out of 5 stars) equal or higher than the mean rating for that market, and have a Product Adoption Review Coverage (PARC) or PARC of 3.0 or the median PARC score of the market (whichever is higher) in the same market.
Hear It from Our Customers
Based on professional peer reviews approved by Gartner Peer Insights, Contentstack's headless CMS is chosen by marketers and developers to deliver personalized, digital experiences and boasts a rating of 4.8 out of 5 stars. With more than 50 total reviews, here are some examples of what customers are saying about Contentstack:
"A great feature-rich product that is easy to implement. Our integration with Contentstack was seamless and trouble-free. It's a brilliant example of what a headless CMS should be and a brilliant example of how easy it is to integrate with Saas providers. Their support during the initial implementation was second to none."

– Principal Software Engineer, Energy and Utilities Industry
"Best content management system around. As someone who has worked with a countless number of content management systems, Contentstack is by far the easiest to use and the quickest to learn. I'm extremely satisfied with my experience with Contentstack and would recommend it to anyone looking for a new management system."

– Mobile Coordinator, Media Industry
"We've tried a lot of CMSs and this has been by far the easiest to integrate with our product. It was a no-brainer for switching to Contentstack for an internal website. Having many editors review/make changes to content was a lot harder on other CMSs we used before, and everyone on our team quickly fell in love with Contentstack when we switched earlier this year. Would HIGHLY recommend!"

– Full Stack Software Engineer, Finance Industry
"The technology used by Contentstack is cutting edge. We can update sections of our webpage from the comfort of our phones. It's instantaneous in nature. It also provides flexible content types so that you can create your own content types according to your liking which can be deployed on your website. The technology, on the whole, is very flexible and can be adapted by newcomers fairly easily. It also provides powerful administration so that access control can be implemented easily."

– Software Engineer, Manufacturing Industry
"We are currently implementing Contentstack to power the content on our e-commerce sites and are very pleased with the attention and support their team is giving us as a client! We always get our questions promptly answered and feature requests are actually considered instead of just thrown into a 'someday' pile. They are also constantly rolling out new features to improve their product, so it will only get better!"

– Director of Web Services, Retail Industry
Ready For What's Next
The Web Content Management industry is undergoing profound and rapid change. Contentstack and its customers are prepared for the future of digital experiences and whatever new technologies may emerge.
"As with all technologies, new challenges and opportunities will arise as businesses and industries adopt and adapt to digital change," says Sampat. "We aim to stay one step ahead of the game and ensure business and IT are equipped not just with a best-in-class CMS for the web, but a powerful Digital Experience Platform that prepares them for the future of digital content and digital experiences across all digital touchpoints."
You can learn more about different content management systems and specifically, how the headless CMS is transforming the customer experience in this "Ultimate Guide to CMS" ebook.

The Gartner Peer Insights Customers' Choice badge is a trademark and service mark of Gartner, Inc., and/or its affiliates, and is used herein with permission. All rights reserved. Gartner Peer Insights Customers' Choice constitute the subjective opinions of individual end-user reviews, ratings, and data applied against a documented methodology; they neither represent the views of, nor constitute an endorsement by, Gartner or its affiliates.