Back to Blogs
Comparably Recognizes Contentstack for Leadership, Diversity, and Professional Development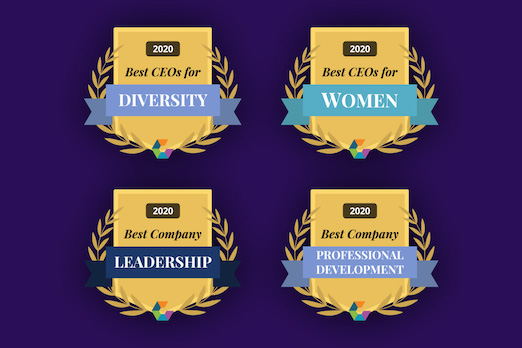 Out of tens of thousands of companies, Contentstack was chosen for four different awards by Comparably, an organizational culture and compensation evaluation platform. Contentstack's CEO and co-founder Neha Sampat was recognized as one of the best CEOs for women and for diversity, while the leadership team as a whole also made the Best Leadership Teams list, alongside companies such as Microsoft, Zoom, and Drift.
Separating companies into two categories, large and small/medium, Comparably's awards were based on employee ratings over the past year, including recent months as companies have faced the challenges of the pandemic.
Best Leadership Teams
In the smaller firms category (companies with fewer than 500 employees), Contentstack was 10th on the list of Best Leadership Teams. Although Comparably listed the top 50 for each category, the awards included ratings of 60,000 U.S. organizations.
Best CEOs for Diversity
With more and more firms recognizing the importance of a diverse and inclusive workforce, Comparably reviewed the ratings by employees who are people of color to identify CEOs who create an inclusive work culture. Contentstack's Neha Sampat was honored as one of the top 25 CEOs of small and mid-size companies, one of only two female CEOs on the list.
Best CEOs for Women
Neha Sampat was also recognized as one of the Best CEOs for Women, based on the ratings of female employees. At number three, she was the highest-rated female CEO on the list. Noting the continued gender pay gap and scarcity of female CEOs, Comparably stated, "It's more important than ever to know who women deem as the best leaders to work for that also inspire a positive workplace culture for all."

Best Companies for Professional Development
Last but not least, Contentstack was chosen as one of the Best Companies for Professional Development. One employee said, "We are able to pursue the projects that we find personally interesting or important, and have our managers' support to experiment and freedom to fail." Whether promoting from within or developing interns into full-time employees, we strive to empower the people that make us who we are.
From our executive leadership to our people team to the 180+ employees bringing their best every day, Contentstack is proud to be a leader in our industry and beyond. Our company has grown massively in the last couple of years, and awards like these tell us that our passion and positive culture have only grown with us.