On St. Patrick's Day, typically there are gatherings at local pubs with green beer, parades, and green glittery garb floating around town. Just for one day, everyone is Irish, and everyone is a friend. We are all connected.
However, today was different. Today, out of concern for our employees, our customers, and our communities, and following the guidance of our state and local leaders, we weren't able to be together physically.
Around the world, streets are empty, most pubs have been shut down, and like many other companies and employees around the world, we spent our day on video calls exploring new ways to connect with customers, partners, and colleagues. Social distancing may be keeping us apart, but at Contentstack, we went out of our way to remain close. We are distributed, yet connected. It's in our DNA, we've even written it into our Values.
Eager to find creative ways to celebrate St. Patrick's Day and stay close, we declared today #SPDWFH (St. Patrick's Day Work From Home) and did a few things to honor the spirit of St. Patrick's Day - a spirit of hope!
Some of us dressed up our Zoom backgrounds for the occasion.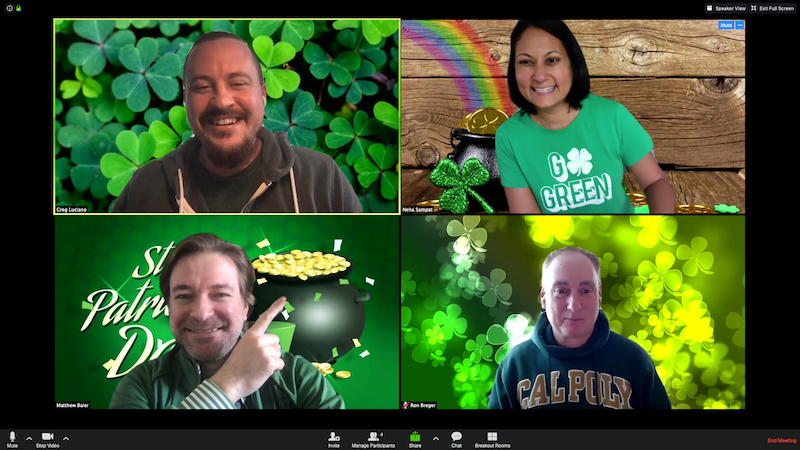 The team shared selfies showing off their green attire throughout the day by posting a photo on Slack (yes, we even involved our pets).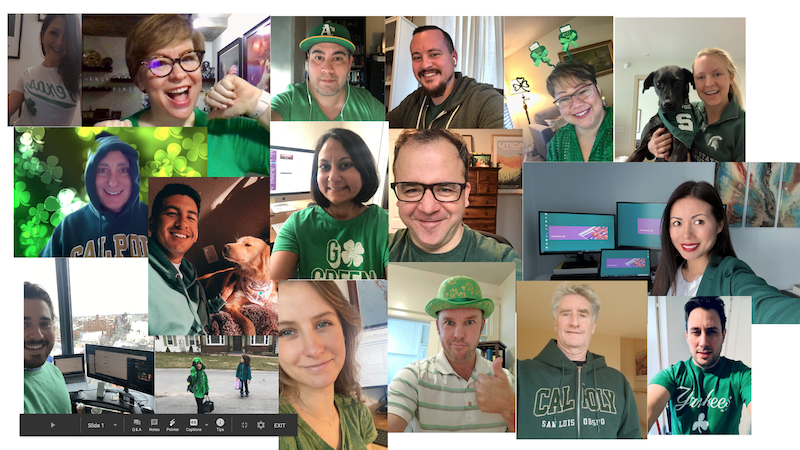 Some of us learned how to pronounce Irish names via this unique YouTube video
We had a little exposure to Irish music via this clever Spotify playlist.
Since many of us have never been to Ireland, we checked it out (virtually, of course!) through this stunning aerial footage.
We tested our knowledge of St. Patrick's Day Trivia.
And finally, one of our team members Dan Radin has moved his live cellist & storyteller performance from an Austin stage to a virtual stage. You can check him out at 6 pm CT today on Facebook live!
From all of us at Contentstack, Happy St. Patrick's Day and stay safe out there!