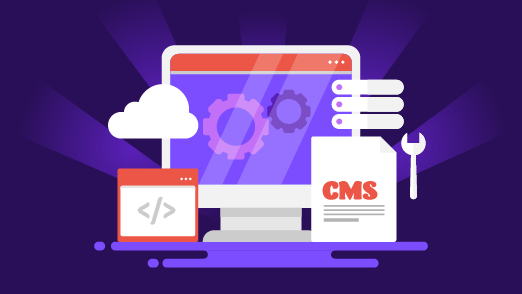 Managing your digital experience used to be a lot easier. You would meet your consumers where every business did: your website. But today, new content channels are popping up continually, and your customers are looking for you on all of them.
A recent report by Salesforce said that 67 percent of customers use multiple channels to complete one transaction. In addition, 40 percent of those surveyed said they wouldn't do business with a company where they couldn't use the channels they were comfortable with.
Numbers like that have caused businesses to enter the world of omnichannel marketing, but many have found a speed bump on their road to a seamless content experience: Their current content management system can't cut it anymore.
If you've decided that you want to move on to a new CMS, or add a second one, the first question you might ask is, "Which CMS is the best?"
The answer is that the best CMS is the one that meets your unique business needs.
Traditional monolithic content management systems are implemented as a finished product with applications the vendor chooses. The content you create is informed by the abilities of the system instead of the other way around. Want to create that ad campaign across six channels? Copy and paste is your friend as you recreate the ad time after time.
What if there was a way to create vibrant and timely content faster and easier and deliver it across all your desired channels at the same time? And what if you could build that content on applications and integrations you choose for yourself?
The best CMS? It's the one you craft for yourself using a modern, agile, MACH headless CMS.
Why Headless?
For businesses trying to get a foothold in the world of e-commerce, a MACH headless CMS is the best tool for the job.
MACH stands for microservices-based, API-connected, cloud-native and headless, the principles at the heart of an agile CMS.
As the emphasis on the omnichannel experience continues, a headless CMS delivers content from a cloud-first content hub, allowing you to push your content quickly across all customer touchpoints, from your mobile app and kiosk to your social media channels and email campaigns. And you can do it all from the same back end.
And since the front end and back end of the headless platform are decoupled, things are simpler for your teams as well. Content editors focus on what they do best while avoiding mundane, repetitive tasks like recreating pieces of content for different channels. Developers can innovate, experiment and make updates without risking a content disaster. Best of all, both teams can work simultaneously without interfering with one another.
The benefits can be felt in the office as well. A Storyblok survey recently found that 83 percent of companies that switched to a headless CMS reported efficiencies in time and productivity coupled with increasing KPIs and significant growth in revenue.
Going Enterprise MACH
No matter where you are in your business journey, choosing the right CMS is an important decision. For some, an enterprise CMS, equipped with capabilities that allow your marketing departments to engage customers and drive revenue, is the way to go.
Using MACH principles, a headless enterprise CMS is composable, using APIs that make it simple for your system to integrate with the services you depend on to manage your business from a CRM to your e-commerce platform. It's that same composability that allows you to shape your platform to your unique needs, growing with you as tech changes, effectively future-proofing your CMS.
Here are a few other benefits to going enterprise headless:
Freedom to Innovate
Natively built with modern development tools and frameworks, MACH solutions are incredibly adaptable to whatever you need them to be.
Channel Agnostic
When you decouple the back-end logic from the front-end presentation, you allow your platform to serve any channel you own.
Modem Architecture
MACH tech leverages the latest in cloud and API design so you can create a seamless customer experience at whatever scale you prefer.
Content is King with a Content Experience Platform
Aragon research defines the content experience platform as a "next-generation offering to address the age-old enterprise need to create and deliver dynamic experiences to users on any device."
While an Enterprise CMS focuses on the tools needed to help you succeed in e-commerce, a CXP treats content as the centerpiece of your strategy, putting its role in the customer journey at the forefront.
Moving to a CXP allows your organization to focus on content delivery, integrating tools designed to reach larger audiences and incorporate a variety of digital channels with highly detailed analytics so you can be sure your efforts are working.
With a CXP, you have a control center to manage not only content creation but management, deployment and the tools you use to refine your content development.
Rooted in MACH, a CXP architecture is also composable and can help you to innovate through content instead of being weighed down by the issues of a monolithic legacy CMS.
For a CXP to be effective, there are several checkboxes it needs to hit.
Be Omnichannel by Nature
We've discussed how important omnichannel marketing is in today's global commerce market. For a CXP to be successful it must be built to explore new channels quickly and easily so you can adapt to the changing landscape of the digital experience.
Be Composable
Your platform should integrate with any tool or technology that your business needs to scale and extend its digital reach, such as analytics platforms, personalization technologies or localization services.
Empower Your Experts
The CXP should exist with content creators and end users in mind to allow your content experts the bandwidth to unleash their full potential at a maximum speed with minimal friction.
Organizations can use a CXP to streamline processes, accelerating time to market for unprecedented returns on their content marketing strategies.
Using a CXP to Boost Your Business
Every organization has its own set of wants and needs, but there are four things a content experience platform offers that will help any digital experience strategy.
Headless CMS
A headless architecture is a recurring theme among content management solutions and a CXP is no different.
Using a MACH-based agile CMS provides the best foundation for creating and distributing your omnichannel content. Its modular architecture allows marketing teams to reuse content across channels using APIs that can manage everything from social media to your CRM database.
Data Management Software
Sure, you're still going to rely on the old standards of web analytics and A/B testing, but a CXP can help you take it to the next level.
A headless-based CXP can be integrated with your CRM database to collect data from all customer touchpoints. Using that data, you can use automation to find trends and patterns you may not have noticed to personalize your customer journeys in ways beyond your imagination.
Personalization Tools
Your customers expect their experiences to feel seamless and tailored directly to them. A study by Accenture found that 91 percent of consumers are more likely to shop with brands who remember their preferences and carry them across channels.
Along with the data management software we just talked about, APIs integrated into your CXP can further support personalization by automating everything from sentiment analysis to keyword extraction, helping you deliver a message made just for your customers.
Augmented and Predictive Analytics Platforms
Anyone who has ever had to do a deep dive into analytics can tell you that the data collected to generate top-notch business intelligence can be overwhelming.
Using augmented analytics, you can rely on machine learning to build analytical models that help shape your content strategy. Want to know what your customers think about your new campaign? Augmented analytics can help you measure that.
But why stop there? With predictive analytics, you can take those same models to help determine what your customers might want next, putting you a step ahead of the competition.
Take the Next Step Today
No matter whether you're looking for a content management system, an enterprise CMS or a content experience platform, a headless CMS is the foundation to build on.
If you're ready to elevate your omnichannel marketing strategy, you can enjoy a free, two-week trial to learn why Contentstack's headless platform is the best CMS for your business.