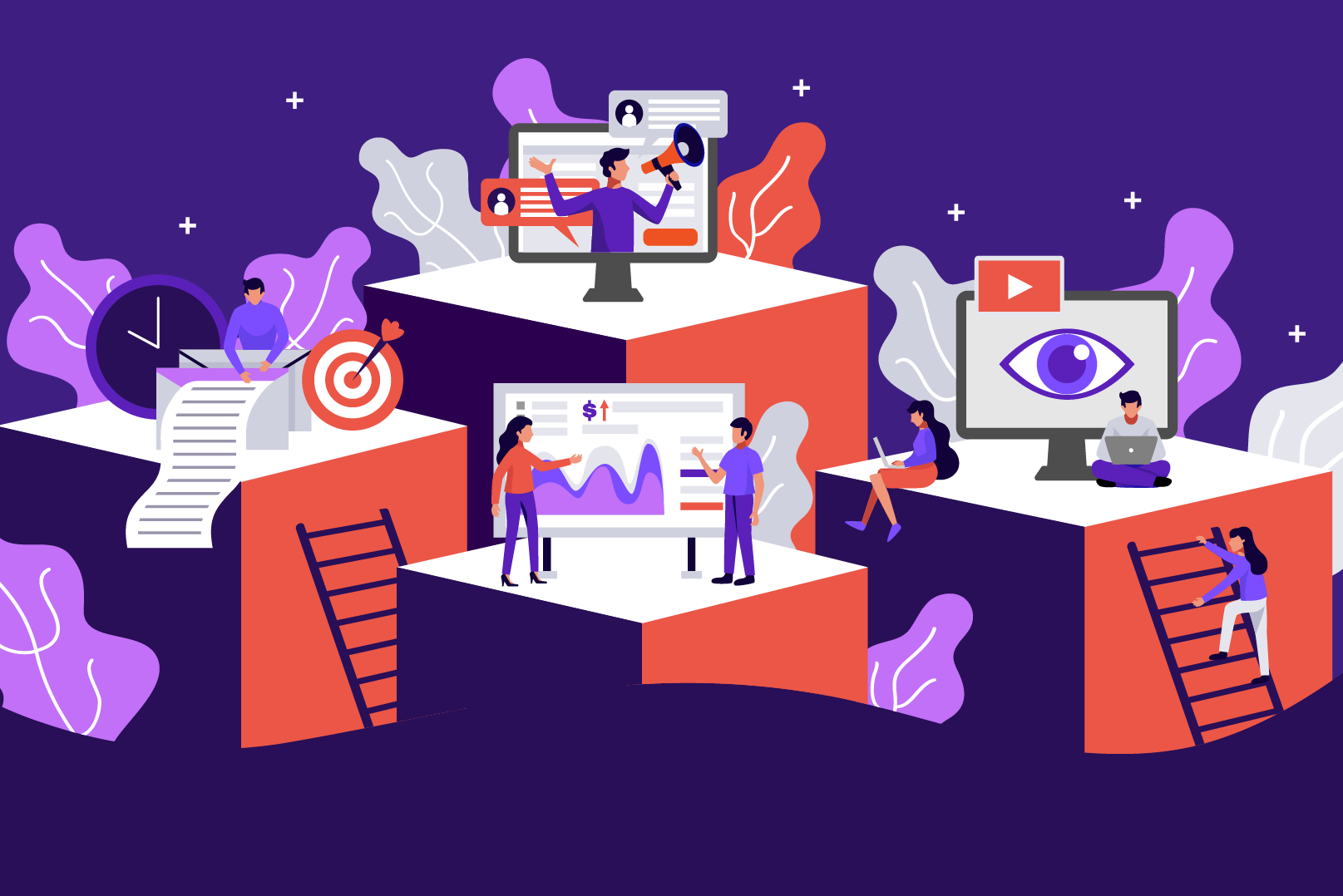 Does your organization clamor to keep up with requests to create more relevant online content? Does your marketing team work tirelessly spinning content for different personas and managing content for multiple channels?
Because the enormous demand for digital content continues to grow, these problems are very real for marketing teams at organizations of every size. According to Pew Research, in 2021 one in every three U.S. adults reported being "almost constantly" online.
This heavy online presence produces a plethora of data, from geolocation tracking to Google Analytics to consumer reviews and much more. Yet much of this data is overlooked or not fully utilized when making marketing decisions, especially with the traditional waterfall marketing approach. Yet many organizations still handle their marketing this way — the same way it's been done for decades.
This is not all that surprising given the lightning speed at which technology creates new ways to communicate with customers. Trying to outpace or even just keep up with the constant flux of change is challenging at best for most organizations.
An increasing number of organizations, however, are realizing there's a better way to manage their marketing with an Agile approach based on the abundance of real-time data and consumer insights that are available virtually 24/7. We'll tell you more about this shortly. But first let's look at some of the main issues organizations experience with traditional marketing.
Why traditional marketing doesn't work in our data-driven world
For most organizations, decisions about the type of campaigns to run and when to run them have traditionally been made months or even a year in advance. While these decisions may be made thoughtfully based on available insights at the time, there are clear disadvantages to marketing this way.
Lack of flexibility: Firstly, there's little room for flexibility when trends like customer expectations and sales change between the time decisions are made and when marketing campaigns launch. There's no process in place to let marketing teams change their prioritized content or goals based on data or even current events.
Difficulty producing content for multiple channels: Another key disadvantage of traditional marketing is it doesn't provide an intuitive, easy process for repurposing content for multiple channels including websites, social media channels or e-commerce platforms.
Lack of personalization: Savvy customers today expect content that relates to their lifestyles and needs. With traditional marketing, there's no easy way to personalize content for specific customer segments with user stories of other tools. Instead, personalizing content becomes a laborious process that burdens staff with repurposing content and then making sure it gets to the right channels.
Overburdened, frustrated staff: All the above issues affect the marketing team. From writers to project managers, team members may feel stressed, overburdened and sometimes disheartened because, despite all their efforts, the results they're seeing are not optimal.
What Is Agile content marketing?
The Agile methodology was first used by software developers who wanted to reduce the time it took to create new products and updates while retaining flexibility. Agile was designed to break projects into manageable chunks, and at every step of the process, provide a process to implement necessary changes as they arose. Because of this built-in ability to pivot when needed, finished software products could be more up-to-date and relevant when released.
Agile has since been heavily adopted to manage projects in the corporate world and government agencies. The methodology is used in a wide range of industries including financial services, healthcare, pharmaceuticals, engineering, aerospace and others.
Desiring the same speed and flexibility, the Agile methodology has more recently been leveraged widely for content marketing. This is especially true in forward-thinking organizations looking for better strategies and technologies to help them accomplish their goals.
To understand why the Agile approach is a perfect fit for content marketing, let's briefly think about the onset of the pandemic. Whether B2C or B2B, every organization had to move fast to reach their audiences with content ranging from text messages and social media posts to website alerts and relevant articles and blogs. The world was changing rapidly and content needed to keep pace with the changes that were occurring from one day to the next.
In an Agile content marketing workflow, cross-functional teams of writers, editors, designers, and other content experts collaborate on manageable tasks over a period of time called a "sprint." Other cross-functional teams may work in parallel on separate but equally important tasks that may be part of the same larger project.
Each team's tasks are assigned based on priority by analyzing data, consumer feedback, recent trends, current events and other inputs. At the end of each sprint, content is sent to another sprint for improvement or launched with a specific goal in mind. Then both the work and the process are reviewed for possible improvements.
In real life, an Agile marketing process might look like this:
A marketing lead gathers data and customer requirements

The data and user stories are prioritized by the marketing team and then broken down into actionable tasks

The team organizes tasks into one or more sprints based on content type

A cross-functional team works in tandem to execute their work during the sprint

At the end of each sprint, the work and the sprint planning process are both reviewed for possible improvements

The next sprint to implement improvements and new tasks are assigned
Agile content marketing: a game changer for your business
One significant feature of Agile content marketing is that it involves a consistent cycle of producing content, then testing it to figure out what works and what doesn't. Then simply do more of what works or what your audience wants and less of what doesn't work. The benefit is more relevant content engaging audiences in meaningful ways.
For instance, let's say a marketing team created a blog post for one of its buyer personas. The post doesn't drive a wide audience to the organization's website. However, the social media post on Facebook to promote the blog got hundreds of responses and likes. Based on some of the comments, the marketing team gained some valuable insights into the products that potential customers wanted to learn more about. With Agile content marketing, it's easy for the marketing team to prioritize more of the desired content in the next sprint, while deprioritizing content on a different topic that didn't garner as much interest. Pushing successful content to other channels would be another available option with Agile marketing.
Social media comments and shares, website page views and conversion rates, and video views are some of the many types of data that can be leveraged to influence Agile marketing strategy.
Creating high-quality content not only engages audiences and helps to convert new customers, it provides a steady stream of new ideas for the marketing team so they know which strategies or topics to focus on next.
5 benefits of Agile content marketing
Agile content marketing has many benefits. Here are the five that we believe are the most important.
Greater success: Several research studies have proven that Agile marketing content is more successful than content created using the traditional waterfall approach. This includes the Standish Group Chaos Report 2020, which determined that Agile projects were three times more likely to succeed.
Speed: The Agile approach enables marketers to launch content faster, especially when sprint lengths are tailored specifically to different content types.
Efficiency: Agile marketing teams are able to do more with less because they can focus their full attention on the content that's prioritized at any given time. The content creation process also becomes more efficient over time because it's evaluated after every sprint for ongoing improvement.
Greater flexibility: With Agile marketing, there's a built-in process for changing content strategy or the content itself based on data, consumer behavior, current events and other insights.
Happier marketing teams: Not only do Agile marketing teams report greater productivity, they're also happier. Research has shown that they have improved morale.
Learn more
Learn more about Agile marketing in our guide, "How to get started with Agile marketing."
Schedule a free demo to see how Contentstack's composable content experience platform can help jump start your agile content marketing strategy.