Back to Blogs
Taking Advantage of the Omnichannel Opportunity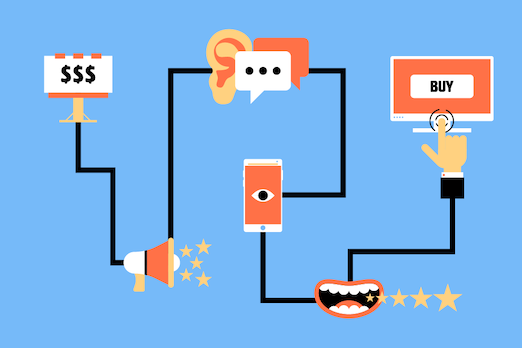 The purchase journey is no longer as linear as it once was. These days, consumers often switch between many different channels and touchpoints before making a purchase. Then they continue to use various channels to engage with the brand in the after-sales process.
Let's look at an example of how this might unfold. Christine hears about a great new laptop from a friend (offline) and does some research on her phone. In the process, she engages with a chatbot to receive detailed product specs. Next, she talks to a customer service representative on the phone to check local availability before going to view the laptop in-store.
In the store, customer service is ready for her and has set up the laptop for her to try out. She plays around with it and decides that she likes it, but she's not sure if this is the best price she can get, so she goes back online using her home computer. She compares prices and reads some reviews. Satisfied that it's the best deal, she begins the checkout process before getting distracted and stepping away for a phone call mid-purchase.
She goes about her evening and forgets all about her purchase for the moment. Two days later, as she's commuting to work, she receives an email notification on her smartwatch reminding her that she has an item in her cart and offering her a 10% discount. She pulls out her tablet and completes the order using the retailer's app. She immediately receives an email telling her when to expect delivery. On the day of delivery, she gets a text reminding her to be available to receive the package.
Soon after, she receives an email inviting her to rate her experience. Upon touching the link, the app opens to the ratings section, where she leaves a very positive review of her purchase experience. She receives bonus loyalty points for leaving a review and notices that the app is now showing her recommendations, such as a laptop sleeve and Bluetooth mouse – in her favorite color!
Now that's an effective omnichannel strategy. If you want to delight customers with a journey like this, read on. The following explains how to create an equally seamless consumer experience to grow customer retention, outpace your competitors, and boost your bottom line. It includes the ins and outs of an omnichannel strategy, why it's a strategy worth pursuing, the best technology and tips for implementing it effectively, and more.
What is Omnichannel, and How Is it Different from Multichannel?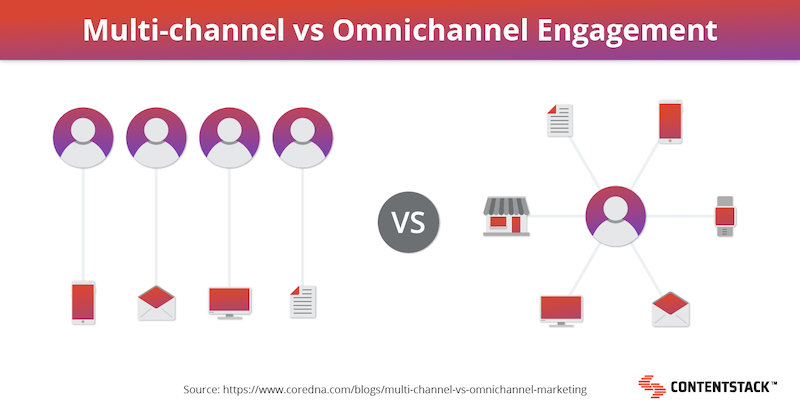 In short, a multichannel approach means that your consumer engagement uses more than one channel. This can be as simple as having a brick-and-mortar store as well as an online presence or having a website and a mobile app.
Omnichannel, on the other hand, is about ensuring that your customers' experience of your brand is consistent across all of your channels and that they can move seamlessly between different channels. An omnichannel approach attempts to meet customers wherever they are, adapting the engagement strategy to suit the brand's customer profiles.
Why is an Omnichannel Strategy a Good Investment?
Omnichannel engagement is about exceeding the expectations of your customers throughout the purchase cycle to deliver a brand experience that fosters customer loyalty. Brands with an omnichannel engagement strategy enjoy an average customer retention rate of 89%. Compare that to the 33% retention rate for organizations that lack an omnichannel strategy.
As a result, companies with robust omnichannel engagement see an average of 9.5% year-on-year (YoY) revenue growth. This approach dramatically exceeds the 3.5% YoY growth for companies without omnichannel engagement.
Omnichannel customers reportedly spend 208% more on holiday shopping than consumers who shop in-store only. So, it's not surprising that implementing an omnichannel engagement strategy is a top priority for 85% of retailers.
Omnichannel engagement is not just seamlessly switching between websites, tablets, and mobile channels anymore. It increasingly encompasses wearables, chatbots, voice assistants (like Siri, Google Assistant, and Alexa), augmented reality, and a growing list of IoT devices as well. These technologies, once at the cutting edge of innovation, are becoming increasingly mainstream.
It's also important to remember that we're likely to continue seeing advances in communications technologies and devices. Businesses need a futureproof omnichannel strategy to address whatever channels and devices come next.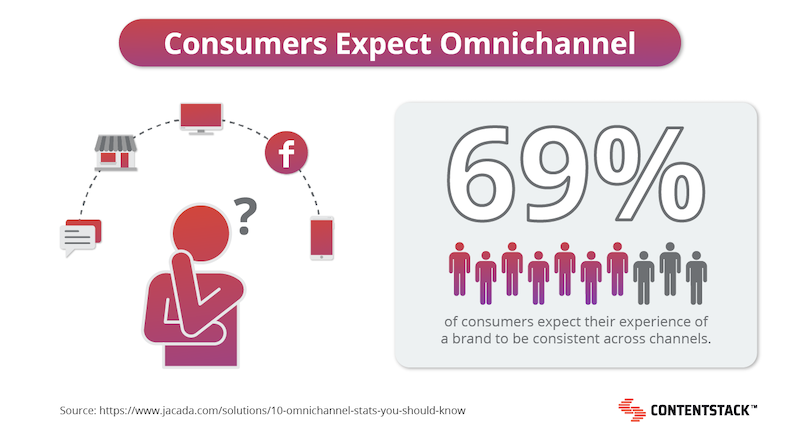 Brands should ensure that they deliver a consistent and seamless brand experience throughout the customer's entire purchase journey. Brands also need to make sure that they're available on every channel where their customers expect to find them and that, as much as possible, they're able to pick up conversations where they left off in previous channels.
Another core aspect of a successful omnichannel strategy is delivering quality, relevant, and engaging content experiences as your customers move through the purchase cycle. These content experiences need to be dynamic and meaningful, as customers don't want to see the same thing over and over and will get bored and leave.
Omnichannel engagement is about more than merely being present on multiple channels – it's about creating a seamless and consistent customer experience that spans multiple channels. But more than that, it's about delivering a productive and enjoyable customer experience through content that truly speaks to your customers.

Content Management and Your Omnichannel Customer Experience
Content management is not just about creating and storing content assets and publishing to your website anymore, as it was in the past. These days, your content management system (CMS) needs to be able to drive an omnichannel engagement strategy. You need an omnichannel CMS.
An omnichannel CMS allows you to deliver the same content to multiple different channels simultaneously, rather than requiring additional resources to create unique content for each channel and device. With an omnichannel CMS, you can create your content assets once in a central location and optimize the presentation for each channel.
Using integrated tools and APIs, an omnichannel CMS can automate many of the manual processes involved in content management, track customers' engagement with your content, and allow you to learn from past campaigns to keep improving the experiences you offer your customers. With the right integrations, you can deliver highly personalized customer experiences, make recommendations, and provide tailored promotions based on their past behavior.

Omnichannel Requires a New Kind of CMS
The current CMS model is rapidly becoming outdated. When CMSs came about, they were revolutionary because they allowed content creators to easily create and manage multimedia content without needing to worry about coding. These CMSs were "what-you-see-is-what-you-get" (WYSIWYG), so content creators could simply input their content and configure it to suit their needs, and it would present as they arranged it.
However, the same thing that made these CMSs so easy to use severely limited their usefulness, as the content was only for one channel of presentation, the web. When mobile browsing started to blow up, CMS companies had to scramble to overhaul their products to allow them to facilitate mobile responsiveness.
These days, most decent CMSs automatically cater to mobile devices, although this is still typically limited to smartphones and tablets, and most of them are not yet as smart and dynamic as one would wish. For instance, it's still necessary to make any number of manual adjustments to display settings such as padding (the space between items) to ensure that a website displays as attractively on mobile and tablet as it does on a desktop browser.
The major drawback of traditional CMSs is that they are limited in the number of channels they can serve. A WYSIWYG CMS doesn't cater to the massive variety of digital devices and communication channels now available. In most cases, this means that for each new channel you add to your engagement strategy, you need to add another CMS into the mix, resulting in another server and database. With this cobbled-together approach, you're likely to experience information silos, with data being difficult to access or at least very difficult to consolidate.
For ecommerce businesses, each channel they use should be able to sync with their product information (and availability) database and customer account information. However, with a cobbled-together approach, you end up doubling those integrations for each channel – in addition to duplicating all the content creation and management tasks by having to manage each channel separately, which is extremely inefficient!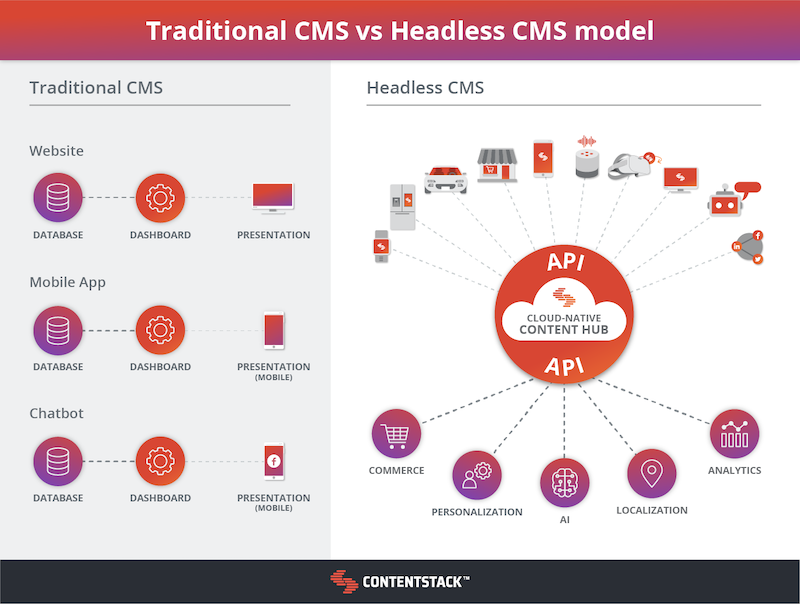 You end up with a different user interface, database, and schema for each channel when you could easily manage them all from a single location with a headless CMS. If all your business needs is a website that also displays well on mobile devices, an old school WYSIWYG CMS may serve your purposes.
However, as we saw in the first section of this post, the way customers shop and engage with brands is changing. The average North American now uses 4.3 devices, with some 70% using smartphones. Fifteen years ago, consumers used an average of two touchpoints when making a purchase, and a mere 7% regularly used more than four. Today's shoppers use almost six touchpoints on average, with about 50% regularly using more than four.
This multi-touchpoint world is the new normal, and businesses that fail to cater to consumer expectations in this new purchase ecosystem will suffer losses.
How Do I Choose the Right CMS?
The most important consideration is choosing a headless CMS that allows you to separate the backend (content, databases, and servers) from the frontend (the presentation layer). This enables you to create and store your content in the modular way required for a seamless omnichannel strategy.
A headless CMS delivers content to various channels using APIs. This delivery method means you can pull content to any channel and present it according to the rules of that individual channel. Your content exists in a unified hub (the headless CMS), and APIs control how your content appears in each context according to the rules created by your front-end developers.
A good headless CMS allows you to manage all of your content channels from a single location, as well as track and measure customer engagement across your various channels. For this, you need an omnichannel CMS that offers outstanding integrations capabilities, so that you can unite all of your business tools in a single suite.
You'll also want to make sure you select a CMS that allows you to run updates and adapt campaigns in real-time without downtime. This feature is one of the advantages of a headless CMS. Because the content is separate from the code dictating its presentation, you don't need to recode the content every time you want to make a change – you simply change the content and deploy it using your pre-existing API.
Another essential factor to consider when choosing your CMS is selecting one that allows you to preview and test content in a staging environment. One of the main disadvantages of some headless CMSs is that they don't allow content editors and managers to preview how the content is going to appear within the various contexts they're intended to be displayed. However, a system like Contentstack's headless CMS allows you to test and preview your content with ease.

Six Tips for a Highly Effective Content Strategy
Building an omnichannel strategy is a challenge for any organization, but with the right technology partner, it's considerably more manageable.
Here are a few tips to help you build an effective omnichannel content strategy:
Take the time to identify your business goals and priorities, as these will directly influence the kind of content on which you should focus.
Develop a comprehensive content model that aligns your business goals with what your omnichannel strategy can do. Outline what kinds of content you'll use for which platforms, and how they'll relate to one another.
Plan your content in terms of overarching campaigns and interactive experiences that span multiple channels and encourage consumers to engage with your brand across platforms.
Pick an API-first, headless CMS for a truly omnichannel CMS that can do the heavy lifting when it comes to execution.
Create reusable content. The more modular your content is, the easier it will be to mix and match with other content fragments to create new content experiences. Reusable content has the added benefit of allowing you to ramp up personalization by displaying a different curated layout for each different consumer profile.
Continuously iterate and improve. Test different strategies and use tools like A/B testing and data analytics to understand which content your customers respond to the best and adapt your strategy accordingly.

Deploy an Effective Omnichannel Strategy with an Industry-Leading Headless CMS
Is your business ready for the omnichannel future in which consumers use devices we haven't even imagined yet to engage with and purchase your product or service? Does your current omnichannel strategy consist of a ramshackle collection of loosely connected different CMSs and interfaces? Are you wasting time and money creating separate content for each channel? Sign up for a free trial of Contentstack headless CMS and see how painless rolling out an omnichannel strategy can be. Or, read our Ultimate Guide to Headless CMS to discover real headless CMS use cases.