Back to Blogs
How to Democratize Enterprise Content and Break the Marketing Bottleneck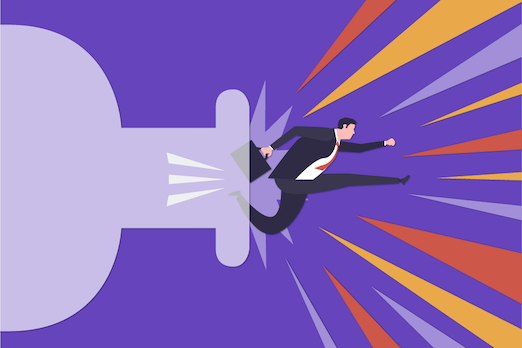 Thanks to a 16% compound annual growth rate (CAGR), the content marketing industry is expected to rocket to a value of $413 billion by 2021. There is no escaping the fact that enterprise content marketing, and the way it's managed, is only going to grow in importance over the next several years.
The following explains why democratizing content is so important and how to implement it to break marketing bottlenecks and get to market — and profit — faster.
What is Content Democratization?
When it comes to enterprise content, democratization is the process of granting more extensive access to, and ownership of, content creation and management. The goal is to eliminate gatekeepers so that anyone with the right permission has the resources they need to use content and achieve business objectives autonomously.
Democratization is a crucial step in breaking down the marketing bottlenecks that have an increasingly negative impact on organizations.

A Perfect Storm: Why It's Time to Care About Democratizing Enterprise Content and Breaking the Marketing Bottleneck
When it comes to content marketing, the cause of bottlenecks is two-fold. Bottlenecks result from poor processes that don't value collaboration or autonomy as well as being tied to traditional, monolithic content management systems (CMSs) with rigid structures that aren't able to track with modern workflows and demands.
For enterprise organizations striving to knock down knowledge silos and democratize content across the organization, this legacy CMS infrastructure poses the biggest threat to their success.
With a traditional, monolithic CMS platform, even the smallest content update can require multiple departments to work together in a waterfall formation. This means that progress can only flow in one direction as each team waits for the team before it to complete its piece of the puzzle.
In practice, this all starts with someone on the marketing team submitting a request to do something like change the formatting of some text on a website page. From this point, the development team usually has to fix that issue in staging first before updating the "live" production site. Once that's done, QA personnel have to check the website to ensure that the update didn't break anything else — because a traditional CMS binds much of the content, functionality, and design together so one change can affect the others.
Now imagine if the change were something more significant than changing the format of some text, such as optimizing and re-launching a valuable content marketing campaign on a new digital platform.

It's easy to see how each handoff slows speed to market, eats up productivity, and introduces the opportunity for a bottleneck to form.
More than 70% of companies have plans to increase their content marketing efforts, yet nearly half of all businesses are still subsisting with small or single-person marketing teams. At the same time, a whopping 90% of multi-device users are consuming that content marketing across at least three different devices per transaction.
It's a perfect storm of growing content production and consumption. Marketing departments — and enterprise organizations as a whole, for that matter — do not have time to waste on content gatekeeping and bottlenecks.
It's time to increase your agility with democratized content.
Four Tactics for Democratizing Content and Breaking the Bottleneck
These tactics are sure to help your organization improve access, ownership, and consistency when it comes to content marketing — breaking bottlenecks along the way.
Give Your Marketing Team Permission to Act with Autonomy
Democratizing content and breaking through marketing bottlenecks isn't just a technological issue; it's also a cultural one. After years of working within monolithic CMS structures, many content creators think that the problematic waterfall workflow and all the bottlenecks that come with it are just the way things work.
It's up to whoever is leading the effort of content democratization to recognize and reset this mindset. Leadership needs to build a culture where marketers are empowered with transparent access and the ability to make decisions when it comes to managing, optimizing, and distributing content that serves the business.
Don't Overlook the Importance of Roles, Permissions, and Governance
We're not suggesting that you change your CMS password to "1234" and open the floodgates to any employee who has a slight desire to meddle with company content. Governance is still relevant — perhaps even more critical — once content democratization efforts have begun.

Governance is the key to consistent quality in content marketing. And consistent quality is the key to differentiation in a world of competitors. As more contributors gain access to content, ensuring consistent quality manually is likely to cause a bottleneck that blocks revenue-generating work.
To bust this bottleneck, we recommend working with a content management platform that comes equipped with robust user roles, permissions settings, and governance features like access controls, digital asset management (DAM), versioning and rollbacks, workflow approval processes, content previews, and more.
Create an Authoring Experience That Doesn't Suck
All the empowerment and permission in the world won't matter if marketers literally can't manage the content. Usability is essential, especially during the delicate process of getting individual team members to take on roles and responsibilities they aren't used to having. You don't want to spend a ton of time training everyone who needs to pop in and out of your CMS. You also don't want everyone to siphon tasks to that one CMS "guru" on your team and block productivity.
So with that in mind, make sure your content marketing management workflow is intuitive and usable for team members that don't have time to brush up on their engineering skills.
Create Content Modularly to Reduce Redundancy
To expand on the above point, you also want to make sure the entire content creation and management experience is intuitive and enjoyable — and that's not just for the marketing department's benefit. Giving content marketing professionals the confidence and authority to manipulate and publish content takes a huge load off the development team's shoulders.
This efficiency is made possible by doing something called "decoupling." It's just what it sounds like — severing the bond between content creation and the publishing process at the database level. Decoupling allows you to store content in modules where it can be accessed by anyone with the right permissions for editing and reuse — thus eliminating redundancy. With modules, content can be changed and redistributed without interrupting other modules or the entire system.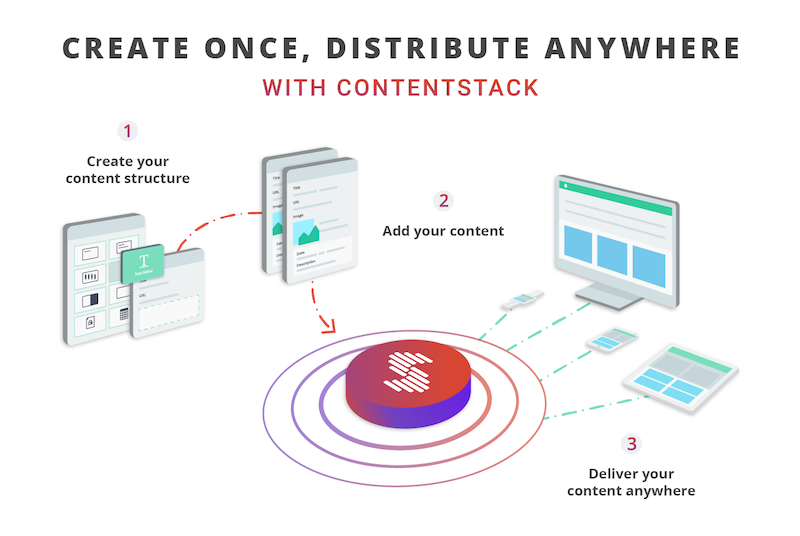 This setup also allows developers, designers, and marketers to work on the same website (or app) sections at the same time — significantly increasing speed and eliminating any bottlenecks caused by old waterfall workflows.
Are You Ready to Adopt the Single Best Piece of Software for Democratizing Enterprise Content?
If you're wondering how you're going to find the time to keep your growing content consistent, improve the authoring workflow, decouple content to free your developers time, and tackle all these other democratization tactics on top of your overflowing to-do list — it sounds like you've got a bottleneck brewing.
Thankfully, all it takes is a single shift to put your business on the path to more democratized content and fewer marketing bottlenecks. Shifting from traditional CMS to headless CMS can make all the difference. A headless CMS removes the reader-facing display — aka "the head" — of the content from its creation and storage — aka "the body."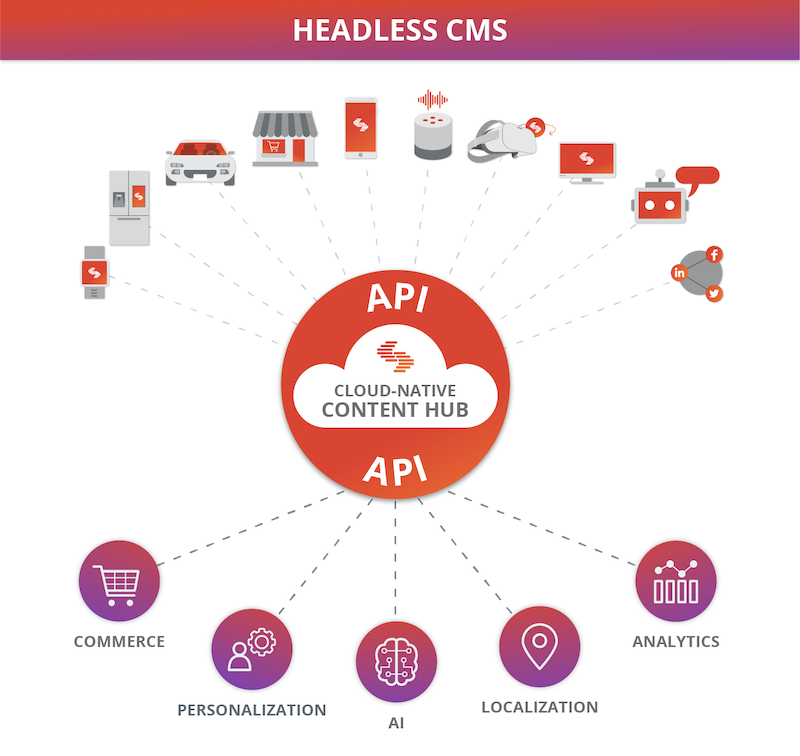 Instead of being bound with the front-end display, content lives in a repository from which the engineering team can call it via an application programming interface (API). APIs allow developers and designers to create the best end display for every single device and channel. At the same time, the marketing team can write, optimize, and even publish content without any outside help.
It's this modular infrastructure that ensures headless content is future-proof and ready to scale or move between presentation models (say from a smartwatch to smart billboard) at any time.
If you're ready to find the best headless CMS to help your business break apart your content marketing bottlenecks, check out our free three-part guide to all things CMS:

Vol. 1: Comparing the Architectures and Differences Between Headless CMS vs. Decoupled CMS vs. Traditional CMS
Vol. 2: Content Management Systems Pros and Cons