From $170 billion to $561 billion in roughly 3 years, that's the expected growth for the Internet of Things (IoT) market. With the average person expected to own and use at least 15 connected devices by 2030, it's clear that businesses need to be taking the IoT revolution seriously.
From digital assistants and in-home electric car chargers to "hearables" (in-ear-devices) and smart appliances—IoT is a tantalizingly attractive market for businesses looking to make their mark. The research backs up that point: KPMG surveyed 750 tech leaders who said that IoT is driving the most significant business transformation in the next three years.
With worldwide spending on IoT expected to reach $1.2 trillion in 2022, both business investment and consumer-driven spending on IoT are growing in parallel.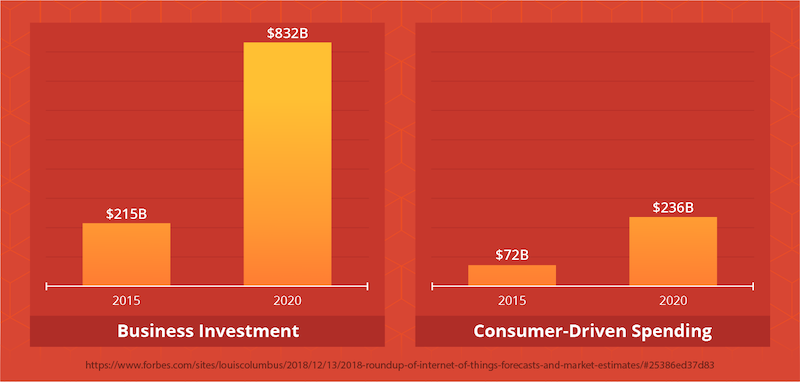 The way organizations do business with each other is radically transforming through the expanded use of B2B IoT devices. Sparklabs has predicted an increase from 2.5 billion connections in 2017 to 5.4 billion connected devices in 2020. Wearables, in particular, are set for rapid growth.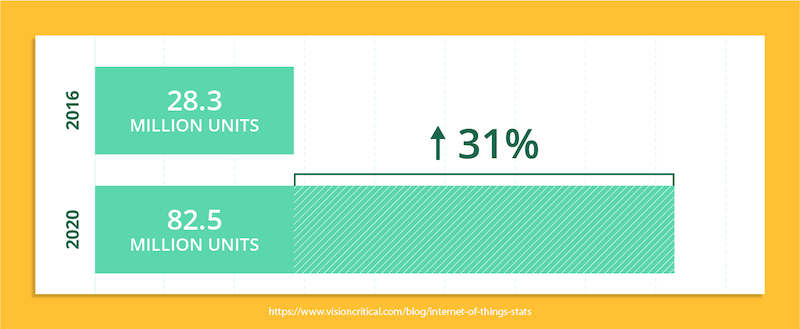 The opportunities are out there. You'll want your business to be a part of that.
Here's a bit more on how IoT is changing the game in marketing and how your business can proactively prepare for the next phase of the IoT takeover.
How the IoT Will Revolutionize Marketing
A Gamechanger For Content
One of the most significant shifts involves content.
The role that content plays in business success is growing much larger.
Companies are going to move away from "containerized" content for specific platforms. Headless, API-first content management systems are fast becoming critical for empowering marketing across an array of devices, platforms, channels, and even forms of technology that have yet to be invented.
The IoT allows for content presentation in new and exciting ways. From AI-powered chatbots to voice-activated devices used as essential search tools, the ways of delivering content is becoming much more varied and diffuse. Content is going to be able to serve various functions across multiple situations, which means that marketers are going to need to revise how they target searches.
More companies are going to move away from bulky, traditional content management systems and move towards headless CMS solutions that allow them to create content once and publish it anywhere. In the era of the IoT, content managers need the ability to quickly adjust content and deliver consistent experiences from apps and connected devices to websites and voice assistants.
As content evolves on connected devices, contextual targeting will be key. Content marketers and business users often struggle with delivering relevant content to customers at the precise right time. Over time, customers develop an even lower level of acceptance for irrelevant content. This means that marketers have to leverage data and all other tools at their disposal to place the perfect piece of content in front of customers moving forward.
Big Data Bleeds into Products, Marketing, and More
To stay competitive, companies are compelled to use their data to understand their customers better while developing and marketing products to serve them. Inside a company's marketing operations, data can empower CMOs to understand and automate internal systems to optimize efficiency and output.
With data as the currency of the market, businesses are sure to look for ways to cash in.
All content marketers need to learn how to process, analyze, and interpret data to apply it to their content. Expertise in data and analytics may be a required skill for content marketers in the future. Marketers should also make sure they have the necessary analytic tools to interpret data. While marketers upskill and expand their capabilities, we'll likely see more data scientists join marketing teams to harness the IoT's potential.
Success is going to follow third-party providers that can effectively analyze, manage, and protect data in the market while supporting companies looking for that special edge with data-driven insights. These high-tech platforms need to receive, interpret, and act on massive amounts of data at scale while producing insights in real-time. AI-driven marketing tools accelerate the trend here in a big way.
The drive for more personalized devices that are smarter (through the deft use of data) is going to be a major guidepost for companies in the IoT age.
Leveraging Predictive Customer Support
Companies need to find ways to engage customers directly and reduce costly support backlogs.
In other words, if businesses can enhance the customer buying experience (and perhaps increase sales revenue) by proactively assisting customers, they're going to do it.
Take a customer that cannot decide between two products. A virtual assistant swoops in to help them decide based on personalized data about their previous purchases and social media profiles. Perhaps the assistant even suggests another product to pair with the item.
That's the future we're heading towards when it comes to customer support.
Businesses need the resources to scale their support infrastructure by establishing AI-enabled customer support that can predict what a customer needs before they know themselves. This creates a fascinating nexus between customer support and marketing.
Both marketing and support are now working together, armed with more insights than ever about how products are performing after connecting to customers' homes and other devices. Companies can take the initiative to start a support interaction based on what they see and even suggest complementary products to support customers further.
The big change for marketers is that they need to be able to offer personalized and timely messages to consumers that sync with their particular needs at any given moment. With heightened capabilities like this, companies need to keep in mind greater scrutiny over privacy and security that comes along with how this data and connectivity are utilized.
How to Ensure Your CMO Is Using the IoT Effectively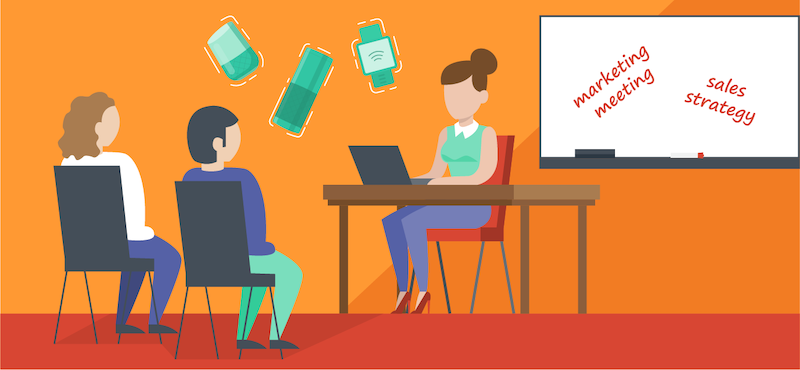 If your marketing operations aren't prepared to harness the power of the IoT, it is going to be a struggle to stay effective.
The conversation around the IoT tends to focus on things like stoplights, cargo ships, and heart monitors. At the same time, the artificial intelligence used in those applications can also track abandoned shopping carts, unopened emails, page views, customer purchases, and much more.
The big question for CMOs looking to embrace the IoT is simple: How do we leverage that data in the most effective ways? To answer that question, CMOs must do a few things to stay at the forefront of the IoT revolution.
First, they must be data proficient by identifying which information is critical to their marketing operations and how they'll gain insights from it regularly. Second, CMOs should be able to curate content in an omnichannel world. Third, CMOs must leverage data and content to keep up with transformation and stay ahead of the market.
A headless CMS like Contentstack is a great tool to accomplish these goals for any CMO or company looking to keep pace with the growing Internet of Things. Future-proof your marketing by creating structured, omnichannel content and give Contentstack a try for free today.