Have you been wondering what that phrase "experience-driven commerce" that is appearing everywhere really means?
How about why your sales-based business should care about experiences?
And, how your business can implement experiential commerce without busting your sanity, your technology stack, and your budget?
The following article covers everything you need to know about experience-driven commerce, the significant developments in consumer habits and technology that are fueling this shift, and the one platform to implement in 2020 to deliver competitive and relevant experiences.
What is Experience-Driven Commerce?
Experience-driven commerce brings together data, insights, and content to provide consumers with a contextualized, personalized, and omnichannel experience during every brand interaction.
Its power lies in its ability to engage shoppers where they are—whether it's in-store, on a smartwatch app, or driving past your smart billboard—and in the unique context of their lives, instead of asking them to change their habits to meet your capabilities.
And, most importantly, your customers crave it—and your competition is pursuing it.
Consumers who enjoy personalized experiences are 44 percent more likely to become repeat customers, and 40 percent tell their friends and family about it. Brands that are creating personalized experiences are finding they're able to grow their revenue by 10 percent up to 3x faster than their non-personalizing peers.
It's no surprise that the 2017 Digital Intelligence Briefing from Econsultancy and Adobe found that retailers are investing in experience-driven commerce.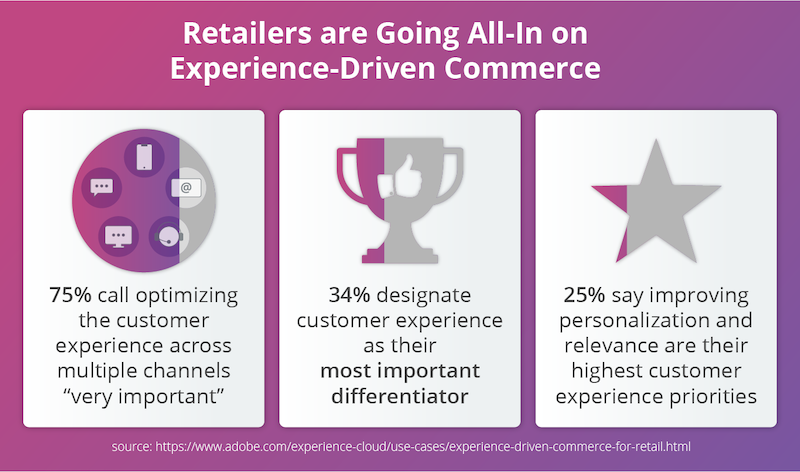 The 3 Major Shifts That Are Fueling Experience-Driven Commerce
Between constant connectivity, the rise of extremely tech-savvy consumers, and the major players that are making personalization a part of our everyday lives, it's not surprising that experience-driven commerce is the future of successful sales-based businesses in 2020 and beyond.
Let's explore each of those major trends in more detail, so you have all the insight you need to beef up your experience-driven commerce efforts.
Consistent Connectivity Puts Omnichannel Consumption on the Map for Good
The average smartphone owner reaches for their phone every six minutes.
There are nearly 7 billion mobile phones in use around the world right now—and some sources estimate that the average person will own and use at least 15 connected devices (think smart household devices, voice-activated speakers, wearables, and more) by the year 2030!
At any time, a consumer could use one of these devices to do research on a product or service that their friend just told them about, make a quick online purchase to pick up on their way home, or Tweet about an unfortunate customer service experience to thousands of followers.
They could be doing any of the above while shopping at one of your physical locations.
Over 80 percent of consumers reported using a digital device for shopping-related activities before or during their most recent shopping trip, according to the retail digital transformation experts at I.B.I.S., Inc.
Connectivity is ubiquitous, and consumers expect to be able to get what they want, when they want it, within the context of their unique expectations.
Welcome to what Forrester Research calls the Age of the Customer.
To stay competitive in this age, commerce companies must have a strategy for delivering unique experiences across established, new, and emerging IoT devices and platforms.
Millennials and Gen Z Consumers Have Huge Spending Power—And Demands
Millennials are currently the largest consumer group, but the even more tech-savvy Generation Z (aka the iPhone generation) isn't far from taking that title.
The majority of your current or soon-to-be consumers grew up using social media, talking to smart appliances, and walking around with some of the smartest computers in the world in their pockets. They don't know a world where digital conveniences didn't exist, and if you think they're going to work with a brand that doesn't provide them—think again.
When the most powerful consumer group on the planet demands around-the-clock accessibility and personalization, you work to give it to them, or you fall by the wayside.
On this point, we have to agree with Boston Consulting Group's sentiment: "This generation is ushering in the end of consumer marketing as companies have long known it."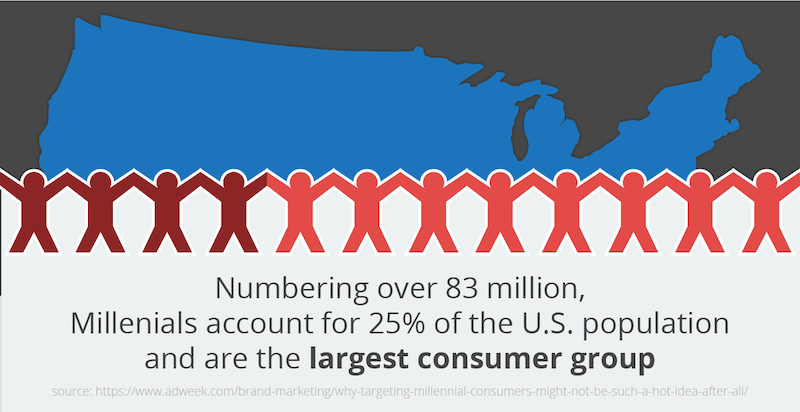 Wide-Spread Personalization is the New Norm
Over 35 percent of Amazon sales are the result of recommendations created from shoppers' personal data.
Netflix's personalized video recommendations save the company $1 billion every year by retaining subscribers.
If some of the best-known businesses in the U.S. can improve the consumer experience using personalization, why can't yours?
We know it's not that simple, but your consumers don't.
Commerce consumers want to give you their info, which the majority are fine with, and receive customized experiences in return. They're willing to pay you in the form of personal data if it means they get a personalized experience out of the deal.
And, as we've explored before, personalization is powerful and profitable in many ways.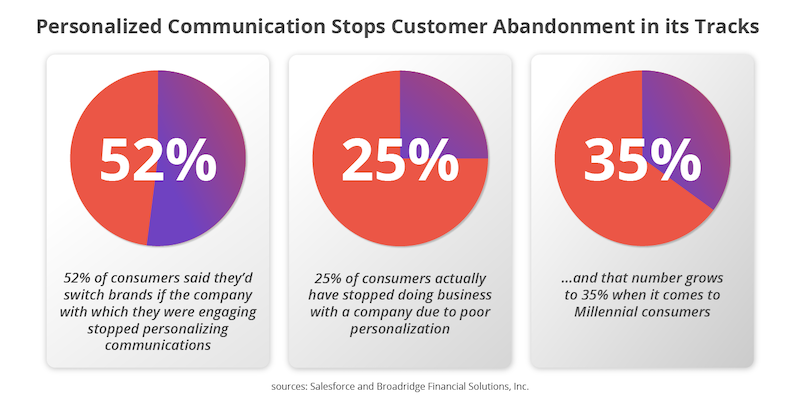 (To learn how to make personalization work for you, check out our Guide to One-to-One Marketing for the Forward-Thinking Enterprise.)
So how can you gather and use all that data to provide personalization and deliver on all these other new consumer demands? That's up next.
Delivering on Demands: How to Take advantage of Experience-Driven Commerce in 2020 and Beyond
To deliver experience-driven commerce, several departments of your business need to come together, including IT, marketing, sales, design, and beyond.
When these teams collaborate effectively, you'll be able to develop and deliver always-relevant messaging, product information, and services whether you're providing customer support on social media, serving a sales email campaign, or supplying important details to seal the deal on your commerce platform.
With a digital experience platform (DXP), you can unite these teams as well as the strategies, processes, and technologies you need to create, deliver, and optimize consistent commerce experiences.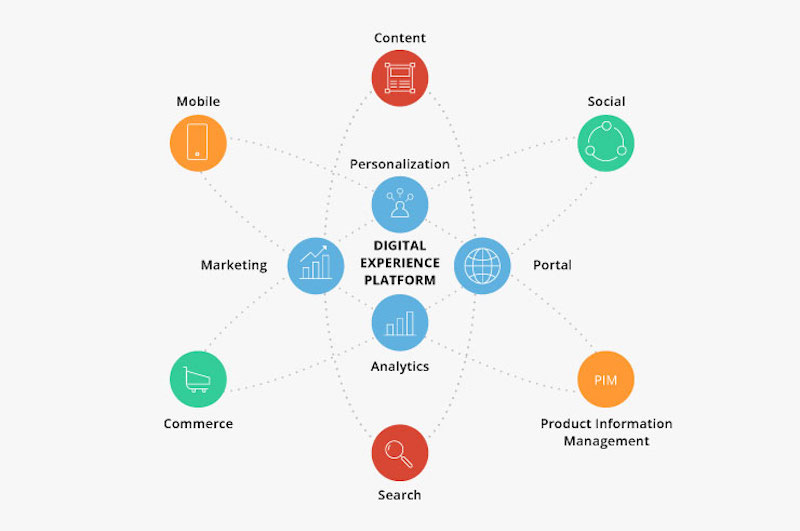 And DXP implementation all begins with a headless CMS that empowers hyper-personalized experiences through API-first architecture that integrates with CRM, AI, analytics, AR/VR, mobile apps, and any other tools that your IT, sales, marketing, design, and other teams need to do their jobs.
It's time to meet consumer demands and build the tech stack that will deliver experience-driven commerce in 2020 and beyond because, as the famed writer Maya Angelou said, "At the end of the day people won't remember what you said or did, they will remember how you made them feel."