The phrase "back to the drawing board" exists for a reason.
Sometimes in business, we've got to rethink things. Often, the problems we face are problems with learning. We need to figure out better ways to collaborate and iterate using existing resources.
So when marketers are facing challenges in their work, it only makes sense that they look to their colleagues to get unstuck. When developers and coders were running into issues and having trouble collaborating with system administrators and IT technicians—DevOps was created. There was a need to combine these critical, yet necessarily different, parts of a software project team.
Developers are the ones pushing innovation, constantly enhancing software, adding new features, making updates. They are the ones who shake up existing systems. The Operations team works to stabilize and maintain. They deal with the bugs that arise and test software changes before deploying the software to users.
It only made sense that these two very distinct teams became one.
Now, organizations are using DevOps methodologies to improve products at a faster pace than competitors employing traditional software development and management processes. Big players like Amazon, Netflix, Target, and WalMart, are making significant strides using DevOps as part of their broader operational strategy.
At the highest level, marketers can learn a lot from how DevOps teams have learned to work together. From automation and constant communication and considering the impact on the whole system to rapid feedback cycles, there's a great deal of value in how these teams collaborate.
Pair that approach with a data-driven outlook and you've got the potential to take your marketing team (and your business) to new heights. Let's dig into exactly how to get that done.
How DevOps Strategies Can Influence the Marketing Mindset
It's important to remember that marketing and DevOps want the same things.
Both teams want the company to succeed. They want to reach new customers. They want to improve the product. The team members who focus on promoting the product or service are just as important as the developers building and deploying the code.
Without paying customers and engagement with the product, there's no product to develop. If there's no constant improvement of the product, it gets challenging to attract and retain customers.
There is an important interdependence here.
At the highest level, there are a few key ways that DevOps methodologies can have a positive impact on marketing teams.
Communicate Constantly and Fluidly

With DevOps, continuous feedback is a given.
The details of how changes impact the overall business goal are critical. With a better understanding of these changes, marketers can improve how they describe a product or provide service to customers.
If you've got customers with a deep focus on quality, your marketing content should highlight how the company ensures quality in its development process. That's a strong appeal in a deeply technical campaign aimed at that subset of your market.
Keep the Message Consistent

Harnessing that developer's urge for constant improvement.
Businesses that focus on innovation are better positioned to demonstrate how their product or service places them above the competition. Armed with an understanding of precisely how the product or service is superior, marketers can hammer it home in marketing content.
From ads and white papers to blogs and remarketing, a marketing team that gets the product and its ongoing development are better equipped to deliver a marketing message that resonates with customers.
Determine the Right Marketing-Related Analytics

Each piece of marketing content should have a clear objective.
Once determined, some form of analytics should back that objective. Any focused marketing communication can and should link back to metrics, solution tags, and specific objectives that are shared during development.
Think about the predictive analytics provided by products like Amazon, Alexa, and Google Home. There's a great deal that marketers can use in the way of incremental improvements in that wealth of data. Marketing teams that learn to work with development teams to better understand the ideas that influence the metrics will ultimately "out-market" the competition.
Key Strategies Marketers Can Implement from DevOps Methodology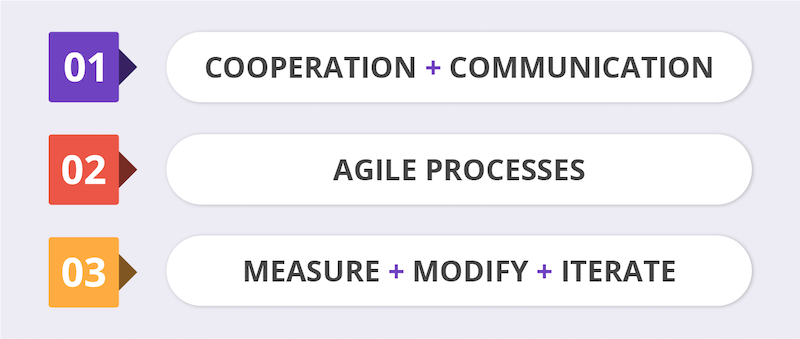 Yes, there are specific DevOps strategies that your marketing team can and should put in place ASAP.
Here are a few approaches that stand out among the crowd as promising strategies to increase profitability and productivity in your company:
Use Cooperation and Communication to Your Benefit
The average cost of poor communication for large companies was $62.4 million per year.
In other words, if your marketing and sales teams aren't talking constantly, you're losing money.
Armed with the information the sales team secures from interactions with customers, the marketing team can improve the content of their campaigns and even enrich the follow-ups completed by the sales team.
Just like development teams collaborate with operations to deliver the necessary tools as needed, marketing teams can learn to deliver the right content at the right moment to the sales team. This kind of collaboration, speed, and innovation helps your business speed past the competition.
Your marketing team will often have many qualified leads. Those leads must make it into the sales pipeline. What this does is free up the time your salespeople spend finding and nurturing less qualified leads. Setting specific metrics around this—such as specific percentages for delivery of leads or time constraints on follow-ups—can increase the value of these leads.
Working together, the sales and marketing teams can engage in targeted marketing that increases buzz among customers about field events and other engagement points with customers. Again, setting specific goals—such as asking the sales team to achieve precise attendance numbers for a marketing event—helps increase the value of marketing events.
Increase Productivity with Agile Processes
The marketer's job has become even more complicated in our modern, ecosystem economy.
They're tasked with reaching their target audience with a message that converts, at the right time, through the best possible channel.
It's not a simple task. It takes a lot of thoughtful planning and strategy.
This is why companies are choosing to automate many aspects of their marketing to reduce the time spent on trivial tasks. As is the case with DevOps, it's all about continuous delivery and speed. Marketing automation can ensure that campaigns run efficiently and smoothly by integrating ongoing feedback and adapting insights into continuous changes in marketing campaigns.
Chatbots empower marketers to automate website chat funnels and guide visitors towards conversion. This reduces the amount of time marketing teams need to directly interact with customers while still allowing them the opportunity to jump into conversations as needed. One study showed that by 2022, chatbots are expected to reduce business costs by over $8 billion.
While DevOps teams continuously seek ways to automate software delivery into production, marketing teams can rely on tools like email automation to deliver personalized marketing content to customers based on data insights. Similarly, ad retargeting automation tools (integrated with ecommerce, email, and reporting platforms) allows marketers to serve up personalized and timely ads to customers that drive conversions.
Just as DevOps teams are employing automation to reduce human error and better leverage data-driven insights into production processes, marketing teams can do much the same with their marketing operations.
Measure, Modify and Iterate
Data-driven marketing is all the rage these days.
The idea is that marketers need to be continually learning from customer data to improve how they market. This means that marketing teams are increasingly expected to deliver targeted campaigns that prove their ROI, increasing lead quality and conversion rates, and measurable increases in customer satisfaction.
Just like DevOps teams are measuring their progress and impact regularly, the same is being asked of modern marketing teams. In the realm of marketing, the omnichannel approach is now dominant while at the same time, we're asking marketers to stream content creation and increase output.
As this happens, it becomes ever more critical that marketers are conducting regular relevance checks to understand how marketing content is performing and to make adjustments accordingly. The need for flexible architecture (such as a headless CMS) that allows for marketing automation and integration of vast amounts of data becomes more pressing for marketing teams looking to stay competitive in the market.
Putting the DevOps Mentality to Work in Your Marketing Strategy
So much of sound business strategy is borrowing and repurposing proven approaches.
That's what we're advocating here. It's about nudging your marketing teams to get up from their desks, step out of their silos, and learn strategies from their peers in DevOps.
From improving communication methods, embracing agile processes, and building in measurement and iteration workflows, there's a great deal that marketing teams can employ from the DevOps side of the house to meet their unique team goals and drive company profitability.
To move quickly and iterate like the DevOps team, you need technology that allows you to quickly deploy, test, measure, and re-deploy content across every marketing channel. Such movements require re-tooling of your architecture from traditional CMS and siloed systems to something that more flexible and interconnected.
Try Contentstack's headless CMS, obligation-free, to see how your marketing team can truly put those DevOps methodologies and principles into practice today.