According to renowned marketing author Seth Godin, content marketing is "the only marketing left."
Yet despite that fact—and the 16 percent compound annual growth rate that's expected to grow the content marketing industry to a value of almost $413 billion by 2021—nearly half of all businesses are still subsisting with small and even one-person marketing teams.
Whether it's lead-nurturing emails or customer-converting website pages, that's a lot of content funneling through just a few key people.
And that's all well and good until enough small, manual tasks—think updating button copy—add up to become their full-time jobs, creating a huge bottleneck that slows and may even stop revenue-generating content marketing from being produced and published.
If these facts are hitting a little too close to home right now, you're in the right place. Keep reading to learn how to recognize if you have or are going to have a content marketing bottleneck, and four ways cutting-edge headless content management software (don't worry, it's less complicated and pricey than it sounds!) democratizes content across the enterprise to keep productivity and revenue flowing.
The Value of Democratizing Content to Break the Bottleneck

In business, bottlenecks are the result of legacy systems and poor processes that can't keep up with modern workflows and demands.
When it comes to content marketing specifically, bottlenecks are often caused by a traditional, monolithic content management system (CMS) whose rigid structure introduces all kinds of limitations.
With a traditional CMS platform, changes that seem small—let's go back to that button example—require several teams to come together.
After a marketing person generates a formal request to change the wording on the button, the development team must then go in to make the change on staging, push it to production, then finally pass it on to the quality assurance (QA) team. Each handoff creates a bottleneck that siphons productivity and salary dollars. This whole process is a bottleneck that makes valuable content and other digital assets exceedingly challenging to scale and reuse.
In this agile day and age where over 70 percent of companies are growing their content marketing efforts, and the vast majority of multiple-device owners are consuming that content marketing across at least three different devices per transaction—jumping through all these hoops in no longer going to cut it.
Agile times call for much more agile measures.
It's time to democratize content.

Content democratization allows everybody that needs access to content to get access to that content. Furthermore, this access is accompanied by the resources, tools, and permissions they need to be productive with the content. This process ensures that there are no gatekeepers that lead to future content bottlenecks.
In the marketing world, content democratization and bottleneck-busting all begins with replacing your stiff, monolithic CMS platform with agile and modern headless CMS.
4 Ways Headless CMS Democratizes Content and Blasts Through Bottlenecks
Before we dive right into the high points, let's take a second to explore what a headless CMS is.
A headless CMS is an agile, modern take on the traditional CMS that removes the reader-facing display (the "head") of the content from the process of creating and storing it (the "body").
Instead of being embedded into the front-end design, content essentially lives in a repository from which developers can call it via application programming interfaces (APIs) to make it available on any device and channel—in any configuration.
This setup empowers IT to build out the best-fitting front-end design and capabilities to make content appear flawlessly, all while marketing is creating, optimizing, and publishing content to various channels and devices. Yes—at the same time.
As a bonus, this modular content is future-proof and can scale at any moment.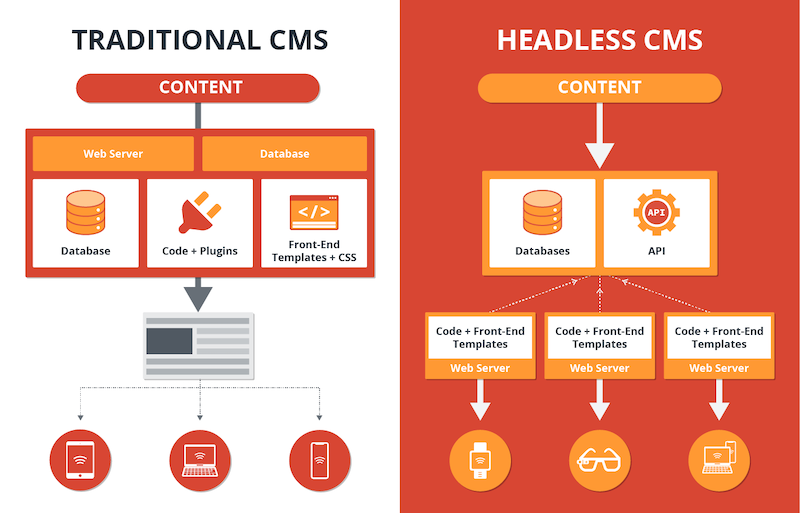 If headless sounds like the perfect solution to democratizing content, so the right people have the right level of access at the right time—that's because it is.
Here are four ways a headless CMS like Contentstack (Did we mention we were voted customers' choice in Gartner's 2019 Peer Insights poll?) blows through bottlenecks and enables marketers to create and distribute content that blows past the competition.
1. Content Workflows That Empower Every Department
Don't get us wrong, we love developers around here—but we also recognize it's best for the whole team if they don't have to get dragged into every single content update.
With a traditional CMS, content is inextricably intertwined with front-end design, which means an engineer has to get involved just to fix a typo—maybe even needing to update the entire website or app in the process.
Headless CMS stores content in independent modules so that anyone with the appropriate permissions can add, change, optimize, and even distribute content across channels without developer involvement.
And speaking of appropriate permissions, that's up next!
2. Customizable Governance Settings Automate Consistency
Keeping content marketing consistent and accurate manually can quickly become a bottleneck—and just straight up a lot of non-revenue-generating work—when handled manually.
By using a headless CMS with built-in marketing controls including digital asset management (DAM), content previews, roles, permission settings, versioning, approval workflows, and more, organizations can save a ton of time and effort.
Plus, building in governance at the platform level ensures consistency and quality no matter who comes in and out of the content marketing process.
3. Headless Infrastructure Encourages Omnichannel Publishing
By 2030, each person is expected to use as many as 15 different internet-enabled devices regularly—interacting with a myriad of kiosks, chat boxes, social media channels, and other touchpoints along the way.
Just like a single website is no longer enough to meet consumer demands—a single version of content that's locked into a static format isn't, either.
This is where headless CMS shines. Thanks again to the modular headless infrastructure, content can be created once at a single point before being optimized and distributed across various channels, thus reducing redundancy while simultaneously increasing channel diversity.
Furthermore, common headless features like labels, tags, and other metadata help users quickly find and repurpose content in various applications. And the ability to incorporate supplemental design elements via API helps reduce reliance on design and development resources.
In the end, a headless CMS like Contentstack could potentially give multiple departments back several hours a week that they can spend on revenue-generating tasks.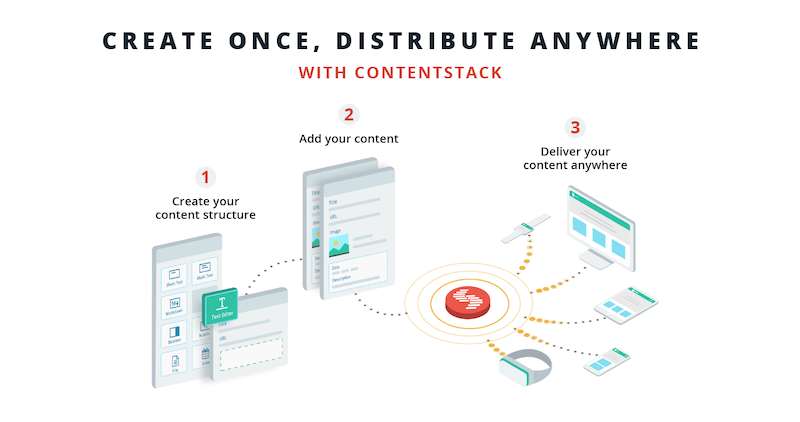 4. Uncoupled Content Leads to Speed
Handoffs and task switching are two of the seven primary time wasters when it comes to software development, according to the book Lean Software Development: An Agile Toolkit.
Unfortunately, both are required when working with a traditional CMS that forces content creation and changes to go through a series of hands, including design and development, before it's complete.
By uncoupling content from the platform's design and development, headless CMS allows teams to work in parallel—breaking the bottleneck to at least doubling their speed when it comes to publishing content marketing.
Are You Ready to Adopt Contentstack Headless CMS to Break the Bottleneck Once and for All?
With advanced content marketing features and enterprise-level IT capabilities, Contentstack provides an intuitive infrastructure where entire organizations can collaborate to create, optimize, present, and even distribute consistent and high-quality content.
If you're ready to democratize content marketing to smash bottlenecks, revenue records, and the competition—go ahead and build out your (free!) proof of concept today.