Welcome to Contentstack's three-part series on CMS debt, where we'll unpack the different ways that choosing—and continuing to use—the wrong CMS can have costly and detrimental consequences for businesses.
In this first installment, we're going to explore the upfront and incidental costs associated with choosing the wrong CMS only to have to re-platform later as well as five steps to avoid that mistake in the first place.
The High Cost of Replacing Your CMS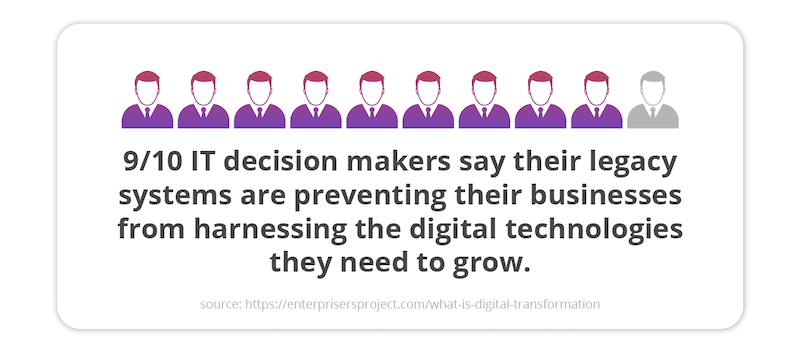 The cost of choosing—and eventually having to replace—the wrong business technology is high.
When it comes to a content management system (CMS), the expense is even higher as digital transformation makes omnichannel, personalized content practically a requirement for growth.
Here are both the upfront as well as the incidental costs you can expect to experience if you find yourself needing to replace a CMS that never fit neither your current nor your changing business needs.
(And if you're looking for a little hope, keep reading to learn how to avoid getting yourself into this costly situation in the first place.)
Irrevocably Damaging Your SEO Ranking
Search engine optimization (SEO) is an organic and often affordable way for brands to engage consumers who are looking for information related to their products or services.
And it all revolves around content.
With a CMS that isn't well equipped to create or optimize content, it'll be hard to establish strong SEO in the first place. However, changing established URLs, removing meta tags, and deleting and rearranging content when it comes time to switch your CMS can kill your SEO traffic and overall ranking.
Plus, the longer your content lives on both the new and old platforms, the more likely you are to get dinged by search engines for "duplicate content."
If a critical element of your marketing program is search engine optimization, you could be in for a shocking blow to your SEO ranking when you move to a new platform.
Losing Valuable Content During Migration
As the center of the omnichannel experience, content is vital for most marketing programs. That's why it's no wonder that so many marketing teams—and businesses as a whole—put off adopting the best technology in fear of losing any of that content during migration.
Content loss is a valid concern, especially for brands with tons of content and those who choose to migrate their content manually. Unfortunately, giving in to this fear by putting off migration costs companies when it comes to their competitive edge.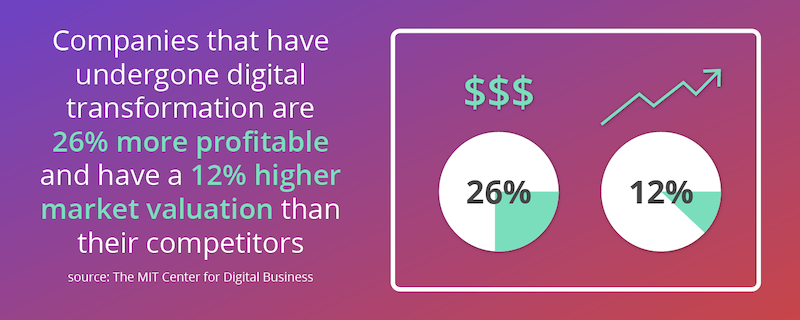 Stunted Growth Due to Unplanned, Exorbitant Downtime
Most companies underestimate the cost of switching to a new CMS. There are dozens of factors to consider upfront and hundreds of incidental decisions to make on the fly along the way. These factors add up to cause unplanned downtime in many cases.
When even white-glove migration projects can take as long as three weeks to complete, it's scary to think about how much extra downtime is practically inevitable.
For media, eCommerce, and other enterprise businesses where content is their largest asset on which they've spent millions to develop; any unplanned downtime can have a significant negative impact on ROI, omnichannel traffic, sales, and overall revenue.
Wasted Money on Salary Dollars and Actual Costs
Almost no CMS re-platforming project works out the way you thought it would—especially without some manual input on behalf of your awesome team.
No matter how well you think your data is organized now, that doesn't mean it's going to integrate flawlessly into a new system. A white-glove migration service starts around $4,500—and that's before the manual adjustments that will very likely need to be made throughout the project.
Depending on the size of the project and how delicately you need or want to treat your content, spending on employee salaries and the actual CMS costs associated with re-platforming can add up.
5 Steps to Stay out of Technical Debt by Selecting the Right CMS
As we've established, most of the expense of switching CMSes comes from choosing a system that can't scale with you in the first place and the cost of correcting that decision.
Here's how to stay out of technical debt—which is the cost of additional work generated from choosing a quick solution instead of taking the time to choose the better but longer approach—by selecting the right CMS from the start.
1. Develop User Scenarios
Yes, features are important. We'll get to those next. However, even more important is fully understanding what key users need from your CMS.
Developing user scenarios to determine what users need is immensely helpful.
A user scenario is a short, plain-language story that describes a specific user group's interaction with the technology to achieve a business objective. Creating these stories is an effective way to uncover feature requirements in context.
An effective user scenario should:
Be written from the perspective of specific users
Address a critical yet common task
Reference the content that needs managing
Not being specific about the technology itself
Primarily focus on capturing the different ways that "power users" in marketing, sales, and IT will use the CMS.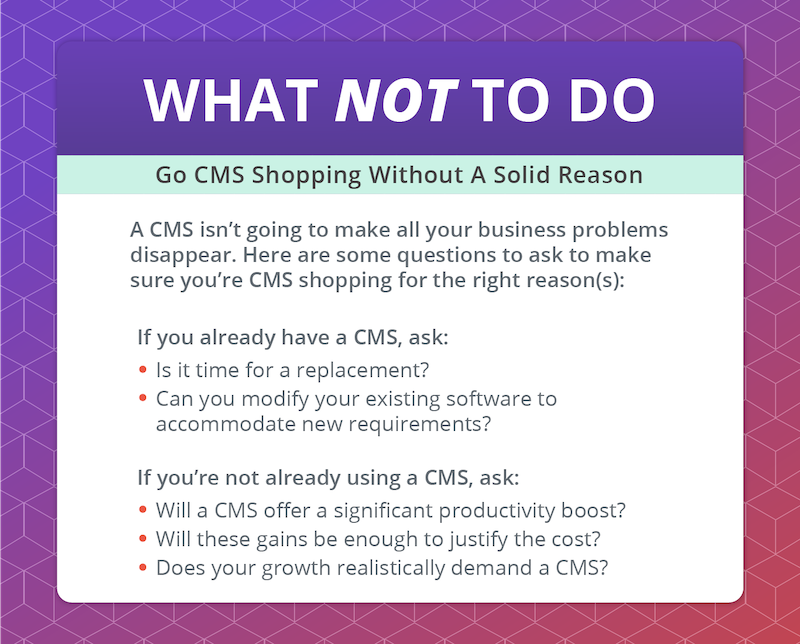 2. Create a Features Matrix
A "features matrix" is typically a spreadsheet that compares different enterprise software solutions using a list of required features.
The features are typically listed down the first, left-most column while the technologies being compared stretch across the top. From there, you score each solution on how well it delivers on your required features.
To get you started, here are some features you may want to include in your CMS features matrix:
Separation of content and presentation
Flexible content types and modular blocks
Intuitive UI/UX
Digital asset management
Technology and customer support
Versioning and rollback capabilities
Omnichannel authoring and approval
Integration with your key technologies
Enterprise-ready tooling, security, performance, etc.
Choice of languages, frameworks, and IDE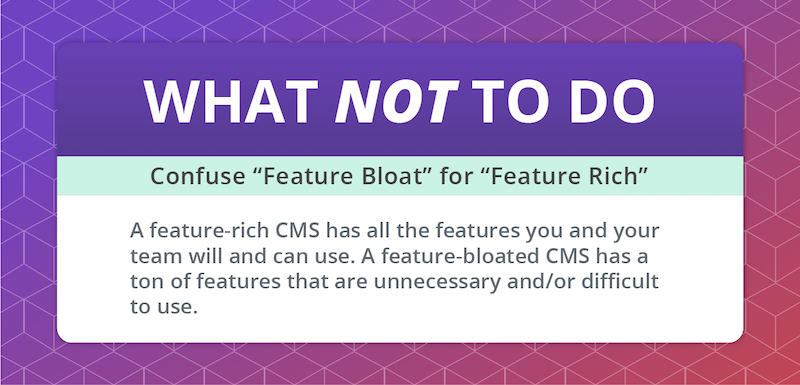 3. Seek Out Lightweight, Future-Proof Architecture
If you want a CMS that can scale as your business grows and changes, it's crucial that you choose one with a flexible, headless architecture that's made up of microservices that are brought together via API as needed to support specific actions.
A CMS with traditional, monolithic architecture isn't built to integrate with modern optimization tools, nor is it capable of distributing content to various channels. Adding bandaids to accomplish these actions creates a slow-moving system that's hard to maintain and even harder to fix when it inevitably crumbles under its own weight.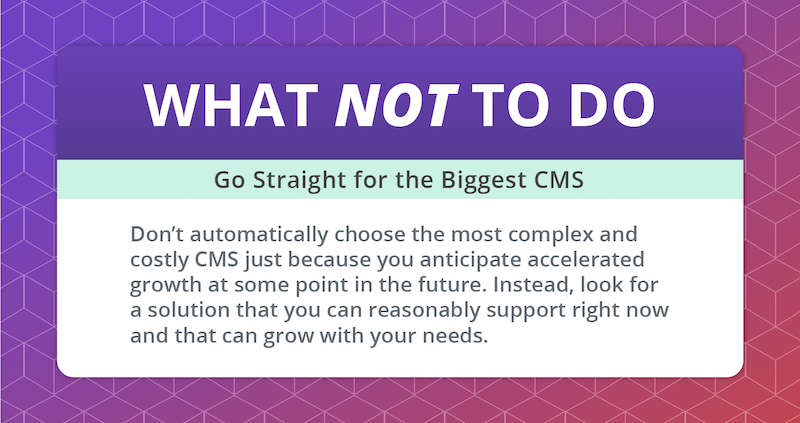 4. Get to Know the Provider, Not Just the Platform
A CMS is just a technology platform, and various platforms can achieve similar results. It's the ideals and support behind a platform that makes it unique and determines whether it's a good fit for your specific business needs.
Look for a provider that prioritizes both customer service and growth. This means they are more likely to act on individual feedback, and you'll get the features and improvements you need.
If you already know you want a white-glove, enterprise-ready CMS implementation, be sure to seek out businesses that promise that in plain writing.
And, don't make any assumptions on a CMS provider's development chops or their grasp of modern marketing needs—you want to be sure the system upon which you're building your entire content program is "by developers, for developers" while still being user-friendly for business users.
Aside from checking out a CMS company's social media and website, how does one go about getting familiar and making sure they align with their culture and employees? Reach out to set up a trial.
5. And Above All—Take It for a Test Drive
Trialing or "test driving" a CMS platform may very well help you make an informed and correct decision instead of regretfully falling for dishonest sales tactics.
If a provider can't promise you a test drive at all, you can immediately cut them from your shortlist. Chances are they're hiding something that you don't want to risk finding out once the success of your business is dependent upon them.
For those platforms that welcome you to trial their product, rely on your user scenarios and features matrix and take your time to make sure it's going to meets all your needs now and in the future.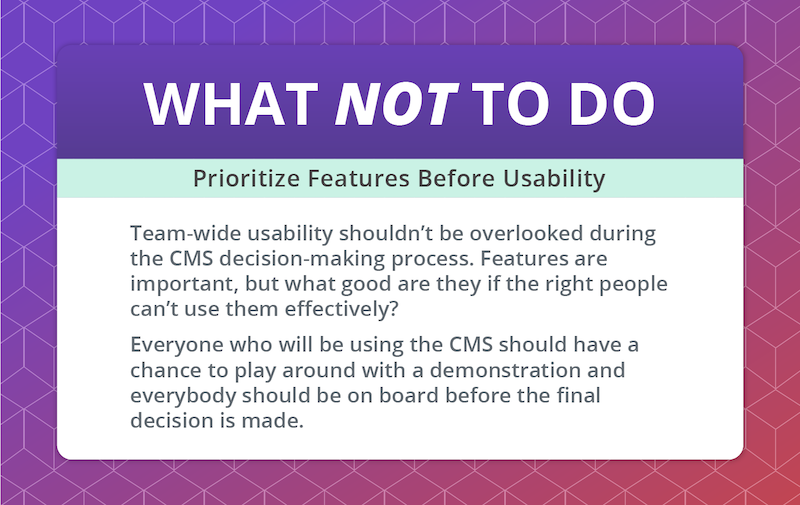 Switch Your CMS Without Fear Today
If you're struggling with or scared of stunted growth, missed opportunities, wasted salary dollars, and other expenses that come with switching your CMS—you don't have to be.
As a headless CMS with enterprise-ready IT features, user-friendly design, and a friendly support team; Contentstack is uniquely well-positioned to make your transition smooth and your ongoing content program competitive and future-proof.
We invite you to try out our ROI calculator to prove how much you can save annually by switching to Contentstack, contact us to take our technology for a test drive and build your very own proof of concept, or download our free ebook where you can learn everything you need to know about why headless CMS is the future content marketing.