Back to Blogs
Contentstack demonstrated 295% ROI in Forrester study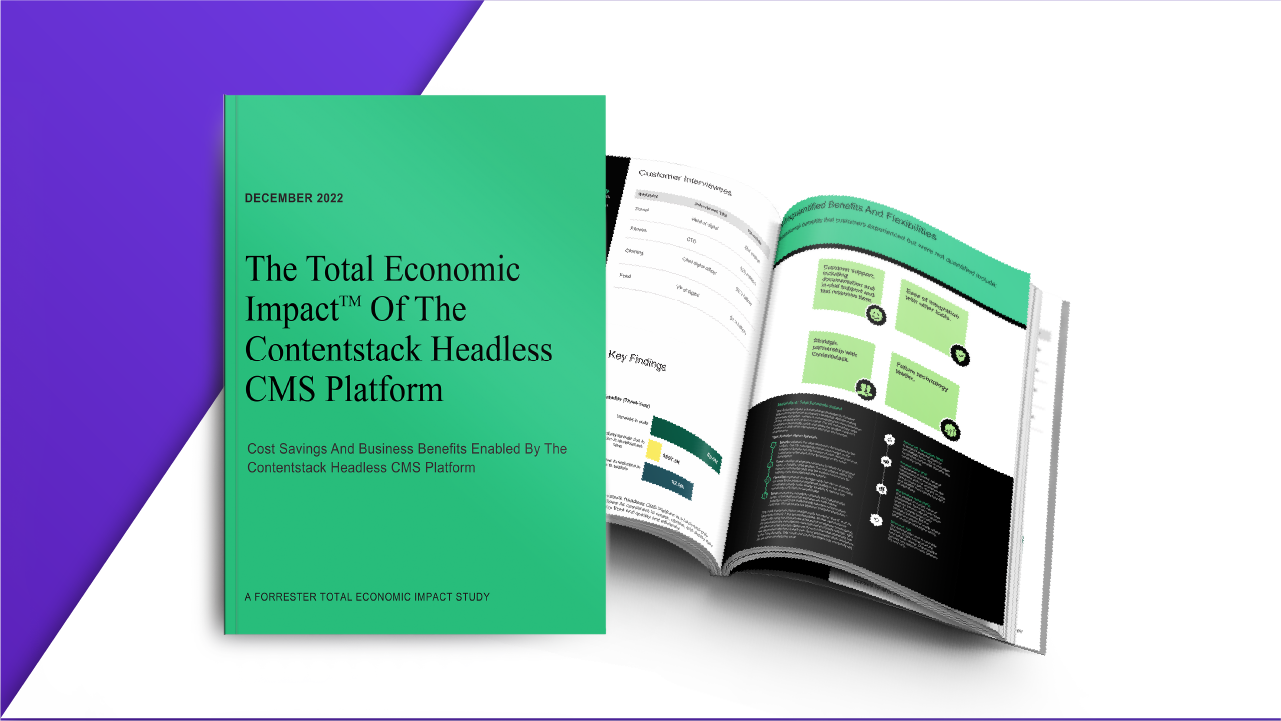 Today's consumer expects a seamless and personalized digital experience when interacting with brands. As we've
discussed before
, a monolithic (or "legacy") CMS lacks the flexibility enterprises need to keep up with changing consumer demands.
"A lot of the technologies that were initially driving digital experiences [were designed with] one single experience in mind," said Jeff Baher, head of Global Product Marketing and Growth at Contentstack. However, Baher said, with the rise of mobile internet, social media and smart devices, "there's just an entirely different set of requirements for being able to reach customers and create digital experiences."
The digital experience has expanded, and the customer journey can now unfold across multiple channels. Increasingly, enterprises are adopting composable architecture to build digital experiences for their customers, and a headless CMS is the beating heart of it all. But can the benefits of implementing a headless CMS be measured? We recently commissioned Forrester Consulting to conduct a study measuring the Total Economic Impact™ (TEI) of the Contentstack headless CMS platform, and the results speak for themselves.
Methodology
The Total Economic Impact™ (TEI) methodology was developed by Forrester to help companies quantify the value of IT initiatives, such as moving to a headless CMS. TEI gives leaders more concrete data they can use to make the right decisions for their organization.
In order to effectively measure the benefits of the Contentstack headless CMS, researchers at Forrester identified four organizations currently using the Contentstack headless CMS. To ensure accuracy, the organizations were selected from different industries (food and beverage, travel, fitness and apparel), with revenues ranging from $25 million to $2.1 billion.
Researchers interviewed decision-makers at each organization to obtain data on benefits, costs, flexibility and potential risks, then used this information to build a composite organization. Then, they applied TEI to build a financial model and quantify the business benefits of moving to a headless CMS.
How Contentstack's CMS platform benefits enterprises
The Contentstack headless CMS platform offers significant financial benefits for enterprises. The study found that the composite organization's ROI was 295%, thanks to a combination of cost savings and increased revenues.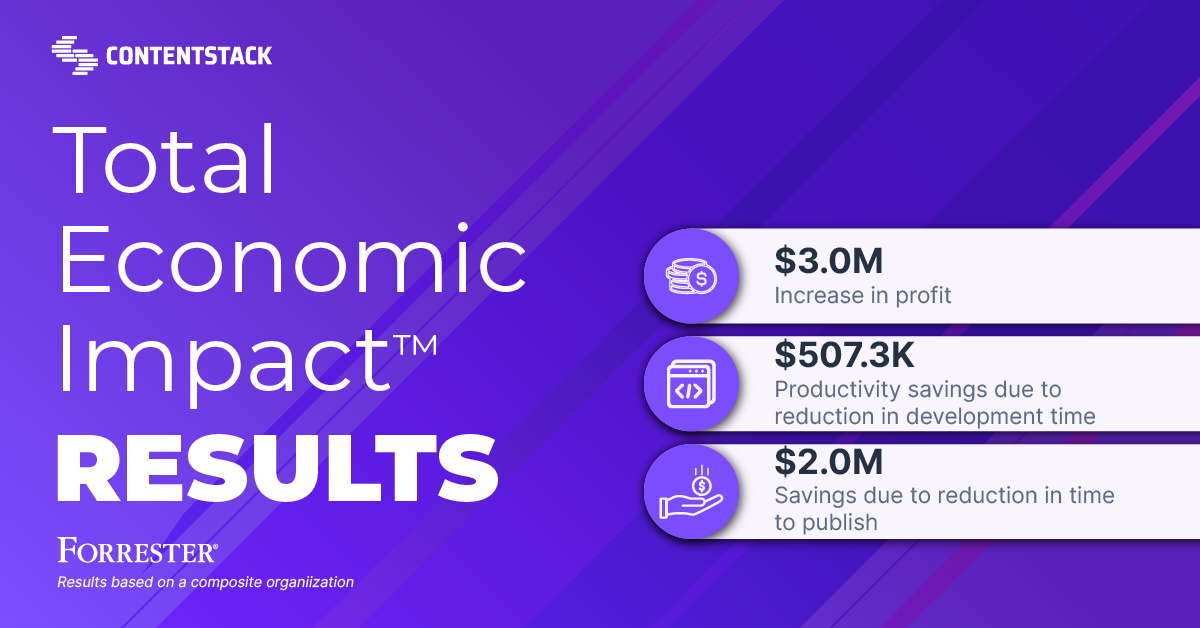 Cost savings
One of the challenges of legacy infrastructure is what Baher calls a "push-and-pull" between an organization's IT and business sides. Since the legacy CMS is so code-heavy, even minor tweaks to the digital experience can require significant updates to back-end code.
"You have to put in an IT ticket for really basic things, and then the IT queue [is full of] tasks like 'fix five typos,' and that's maddening," Baher said.
The Contentstack headless CMS platform makes it easier for the business side to make tweaks to the digital experience without a lot of IT assistance. This reduces the amount of time IT and developers spend on minor tasks — and that time adds up. One interview subject noted that with Contentstack's CMS, "we can stand things up as quick as our control processes will allow."
The study found that using Contentstack's headless CMS saved the composite organization $507,000 in productivity costs over three years. In addition, the headless CMS reduced content-related development time for the composite organization by 80%.
The headless CMS also minimizes the number of manual and repetitive tasks business users normally have to perform to publish content in a legacy CMS. Simplifying the content publishing process helped reduce overhead and improve time to market for the composite organization. Overall, the organization's time to publish was reduced by 90%, leading to savings of $2 million over three years.
Increased revenues
The study found that the Contentstack headless CMS was key to an estimated 4% revenue increase for the composite organization, worth $3 million in profit over three years.
A few factors could explain this estimated increase. Cutting back on development time for minor tasks allows the composite organization to dedicate more IT resources to specialized projects. Reducing time to publish also means the composite organization can publish more content to enhance the digital experience. More frequent content updates means a higher SEO ranking, which drives more traffic to the site. And when potential customers arrive, the improved digital experience can positively impact purchasing decisions: Studies have shown that 42% of customers are willing to pay more for a better experience.
The big picture
Delivering a high-quality customer experience has always been crucial for brands, but it is more important today than ever before. It is easier than ever for consumers to do business with a brand — and it is also easier than ever for consumers to take their business elsewhere when a brand fails to deliver the experience they expect.
In order to meet the demands of today's consumer, organizations must deliver a digital experience that is fast and seamlessly unfolds across multiple devices and channels. The customer journey needs to be personalized and perpetual: Brands must maintain a post-sale presence in order to encourage repeat business.
Today's consumer expects a more mobile, cloud-based digital experience. Most monolithic content management systems provide a preset suite of functions that can, in theory, meet those demands. But sometimes those built-in functions don't quite work the way business users need them to — and sometimes they don't exist at all. In those cases, organizations have to find third-party solutions, which can be hard to integrate into legacy systems. And, as Baher notes, maintaining those workarounds can be time-consuming and difficult.
"Connecting is done through web hooks, which are these manual stitching points between parts of your stack or your suite. They're manual, they take time, they're error-prone, they're security issues because you're connecting third-party software to parts of your stack," Baher said. Managing all these factors usually falls on a single member of the IT team — and teams often struggle to keep things running smoothly if that key member leaves the organization.
The Contentstack headless CMS platform allows business users to be more hands-on when it comes to content. Contentstack Marketplace — an extensive ecosystem of features, services, apps, integrations, and accelerators — lets teams take a modular approach to digital experience composition by picking and choosing the right building blocks for their needs. These components can then be integrated quickly and easily via the Contentstack Automation Hub, which Baher describes as a "no-code, low-code environment that simplifies the complex and automates the routine."
"You can very quickly create triggers and actions across the composable stack, which saves time and removes the opportunity for a lot of errors," Baher said.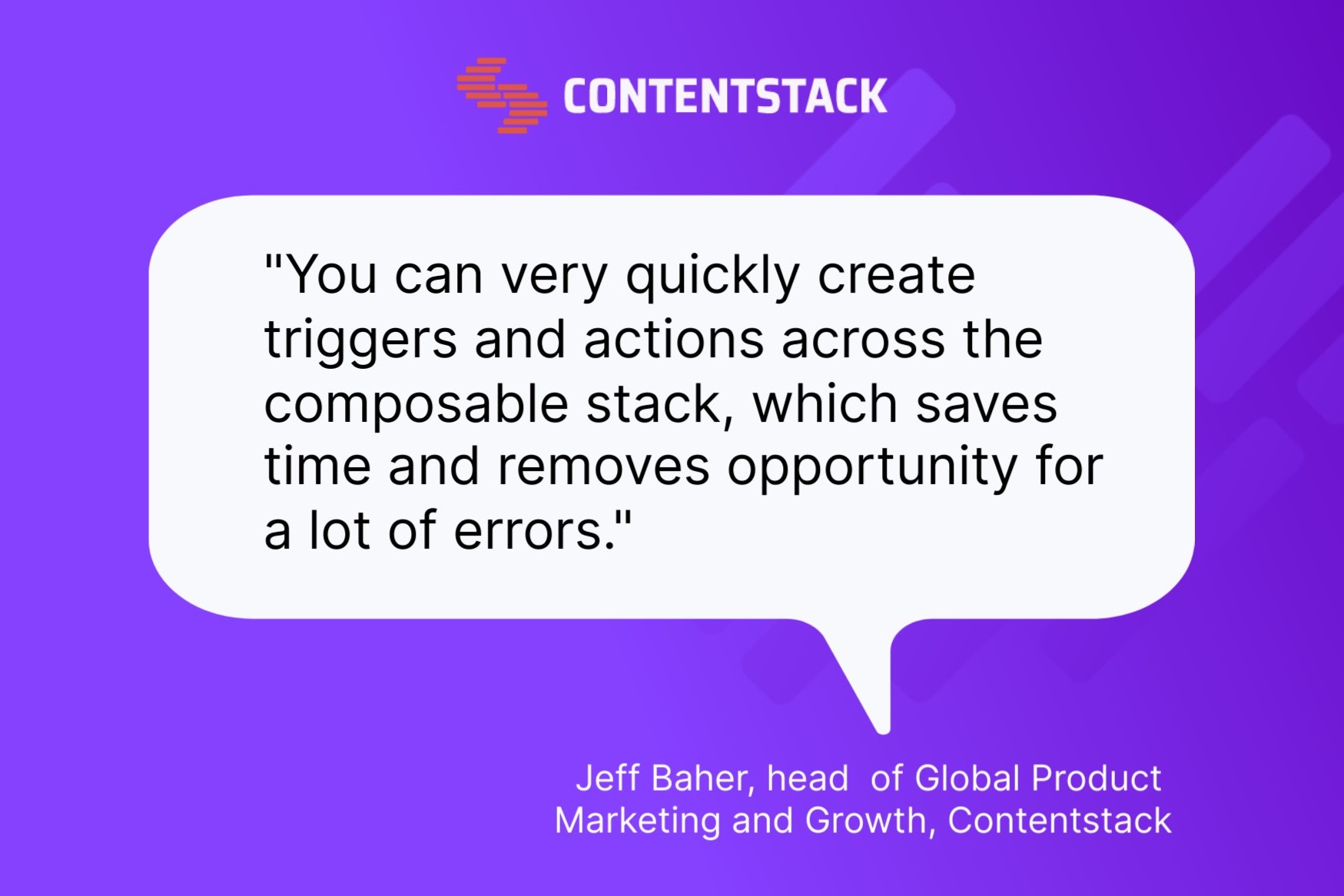 A headless CMS is the first step toward creating a fully composable digital experience platform (DXP), and Contentstack is the perfect foundation for robust and adaptable digital experience composition. The headless CMS, Marketplace, and Automation Hub combine to deliver fast, seamless integration so business users can publish content or make tweaks to the digital experience without significant involvement from the IT side.
TEI is an important measure of the overall economic benefit of moving to composable architecture, as well as the unique and specific benefits of using the Contentstack Headless CMS Platform to do it. But going composable is about more than just dollars and cents — it's also about future-proofing your business so that no matter how customer needs and demands evolve in the future, your organization can evolve along with them.
Learn more
Schedule a free demo to see how Contentstack can help your organization deliver a customer experience that leads to higher revenues, lower overhead and has the agility today's brands need.