Back to Blogs
The Ultimate Guide to Content Approval Workflows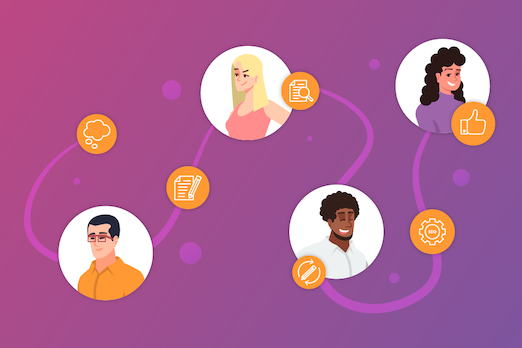 Most people in creative fields know that the right constraints lead to a more creative outcome. And nowhere is this fact more true than in enterprise businesses that thrive on vast amounts of content that need to be fresh, relevant, and valuable every time.
To implement quality assurance for better consistency and remove bottlenecks for better efficiency, here's everything you need to know about building a content approval workflow that empowers your content creators to reach their true potential.

What Is a Content Approval Workflow?
A content approval workflow is a map of the review process that content goes through between conceptualization and publication. It maps the distinct stages in the content creation, review, and publication process, as well as specifying the person responsible for each step in the process.
A typical approval workflow for content featuring design elements might look like this:
Content conceptualization
Research (keyword/topic)
Brief
Draft/Version 1
Review
Revisions
SEO optimization
Final approval
Publication
Promotion
Of course, these stages will differ from one organization to another as each company's needs and standards are unique. For instance, in one business, the design phase might occupy the same stage as the writing of the first draft whereas in another, it might occur after making revisions.
Likewise, one company's promotions team might spend days or weeks pitching the content to various publications and PR firms before publishing. At the same time, another might publish immediately and do promotions after the fact. In some organizations, there might be only one approval layer, while others may involve multiple sign-offs before publication.
Whatever your organization's approval workflow looks like, if you've been creating or managing content for a while, you know that for creativity and productivity to coincide, you need structure and processes to keep things on track and running smoothly.
A content approval workflow is part quality control, part goal alignment, and part optimization. It allows you to
catch and correct errors before publishing
optimize your content so it performs as well as it can
ensure that your content is in keeping with your overarching strategy
This approval process is where it becomes convenient to have a CMS that has built-in workflow management tools, to ensure that each stage in the content creation process flows smoothly into the next without skipping any steps.
Common Content Approval Workflow Issues
While content approval workflows are vital to successful and efficient content strategy execution, poorly implemented review workflows can make things worse. Let's take a look at a few common issues:
Too many approvers can slow your publication process and cause unnecessary back-and-forth reviews of content
Too few approvers can cause bottlenecks (e.g., if one person is responsible for multiple approvals and they're out of office)
Unclear deadlines can result in content slipping between the cracks
Lack of clarity regarding who's responsible for each stage can can lead to abandoned content
A poorly planned approval workflow can result in unnecessary task repetition
Overly rigid workflows don't allow sufficient time for iterations and revisions
Insufficient communication between management and the content team can result in content that doesn't align with company goals
Handovers and notifications that are not automated can cause delays in approvals
Team members not abiding by the approval workflow can result in shoddy content and delays
Workflows that don't facilitate feedback prevent your content team from learning
Given what a vital role content approval workflows play in quality assurance, it's somewhat surprising that the Content Marketing Institute (CMI) reports that 58% of businesses don't have a formal content workflow. At the same time, 64% of marketers want to learn how to build a better content strategy and 32% of businesses reported that their content workflows were fair to poor.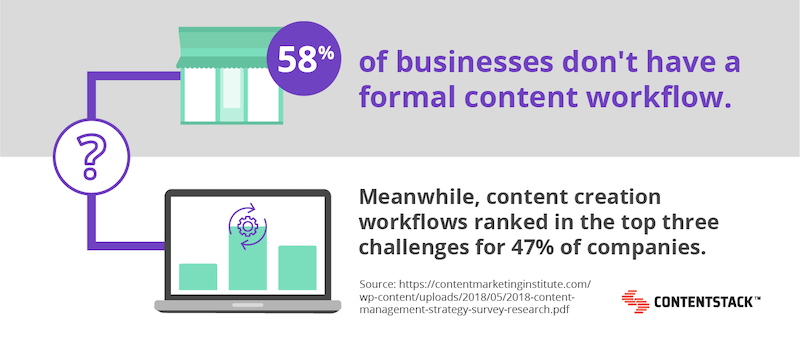 How to Build an Effective Content Approval Workflow
To build an effective content approval workflow, you need to involve all the stakeholders in the process, including writers, designers, SEO specialists, promotions specialists, videographers, video editors, editors, content managers, and anyone else who is involved in content creation and publication.
Together, map out your content workflow, and remember to cover every type of content you create. The stages may look slightly different for a video than for a social media post.
Ask yourselves the following questions:
Which types of content do we create?
Which stages are involved in creating each type of content?
Who is responsible for each stage?
How long does each stage typically take?
What needs to happen in each stage before the project can move to the next level?
What happens once a stage is complete? How is this communicated to the rest of the team?
What happens under exceptional circumstances when a content project needs to be fast-tracked?
Creating a visual workflow using a flow diagram can be very useful in helping to understand your content approval workflow. The goal is to build a repeatable system to ensure that the process runs as smoothly as possible going forward.
Having robust content creation resources such as style guides in place can significantly streamline your content approval workflow by reducing much of the need for feedback. For this to work, you need to maintain a sense of accountability and follow up on deviations from the workflow as they occur. Having frequent discussions with your team should enable you to identify and address pain points and improve buy-in.

Using Contentstack CMS to Build a Perfect Content Approval Workflow

Content approval workflows are useful for any business with a content marketing strategy, no matter how small. Even a sole proprietor managing their blog can benefit from having a formal structure in place to make sure that they follow all the steps for optimal content performance.
While even a small business can benefit from content approval workflows, for enterprises experiencing growth, they're an absolute necessity. Given the rate at which content needs are changing to cater to the plethora of devices and channels used by today's consumers, businesses need their content workflows to be agile and dependable.
To this end, a headless content management system (CMS) like Contentstack not only enables you to deliver truly omnichannel content experiences and personalization at scale but also significantly streamlines your content approval workflows.
A lot of API-first content management solutions on the market today are more geared towards developers than marketers and other business users. With features like Workflow Stages and Publish Rules, Contentstack puts the reins in the hands of content teams and reduces the burden on their technical counterparts.
Workflow Stages allows you to define the various steps in your content creation workflow and makes it easy to implement – and enforce – the approval stages you need content to pass through prior to publication. These approval stage gates ensure that the content gets to the right people at the right stage of the process.
Contentstack's Workflow Stages contains two default stages ("Draft" and "Complete"), and content editors can insert additional stages to build a custom approval workflow according to their organization's review process.
The Publish Rules feature allows you to establish the rules that determine who can do what. You can use this feature to create roles such as "approvers" for various types of content and to control who can execute which stages, such as a content manager approving a publishing request submitted by a content creator.
These content approval features reduce the number of tools and review cycles typically involved in publishing content and helps to assure that the content you publish is of a consistently high standard.
Do you have a content approval workflow in place? Is it as seamless as it could be? Why not try Contentstack out for a month – absolutely free of charge. For a real-world example of Contentstack in action, read how Berlitz used Contentstack to increase lead conversions by 126% and empowered their regional teams to easily manage and update content without sacrificing brand consistency.