Back to Blogs
Burberry is driving global scale and speed with Contentstack headless CMS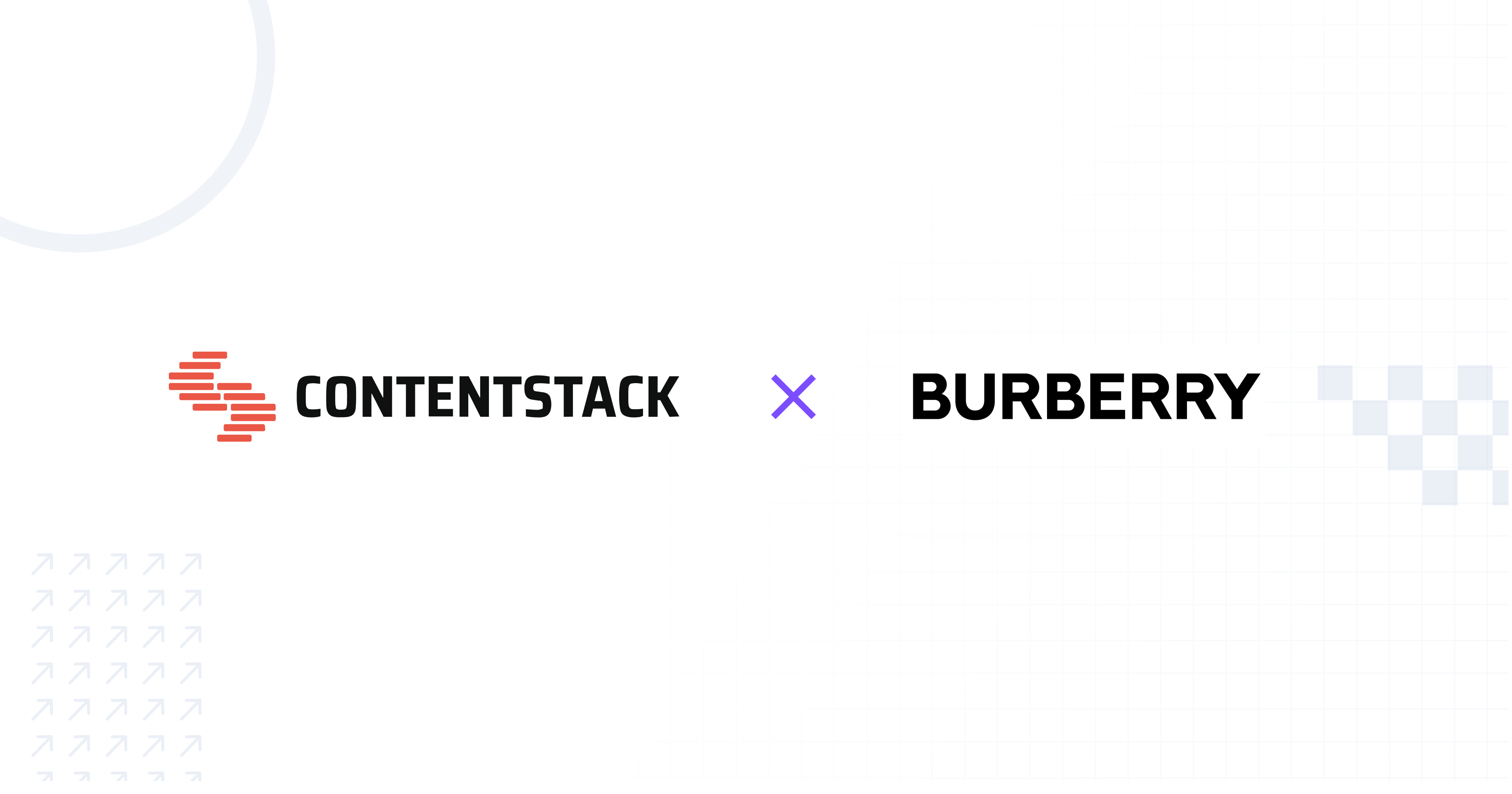 Burberry employs more than 9,000 people worldwide. It is ranked 97th in the current "Interbrand's Best Global Brands" report. It has stores in 59 countries and a brand value of over $5 billion. It is known for a distinctly British attitude and continual innovation.
Burberry leverages technology throughout international markets to deliver premium digital experiences. The brand has pioneered multichannel commerce in the fashion space, selling products through both directly operated and franchised stores, as well as via wholesale partners and online.
To inspire and excite existing and prospective customers, the Burberry marketing and communications teams create distinctive, meaningful content and luxury experiences that span websites in 11 languages. For the past three years, the Contentstack headless content management system (CMS) has been at the heart of these experiences.
The challenge
In the fast-paced fashion and luxury goods world, Burberry has undergone extensive digital transformation across various platforms. Faced with the demands of multiple collections, extensive translation requirements, and a need to deliver high-performing experiences to discerning customers, the limitations of Burberry's legacy, monolithic content management, and e-commerce platform became apparent.
This was seen most clearly in the slow time to market and a failure to reflect the brand values of creativity and innovation. This led to an inability to deliver the quality of experience befitting the Burberry brand, at pace and scale, throughout web, mobile, and other channels and across multiple locales and languages.
As a strategic response to this issue, Burberry chose a MACH (microservices, API, cloud-native, and headless)-based strategy to guide e-commerce and personalization technology investment. A composable approach enables speed and agility in responding to new market opportunities. Following a thorough market review, Contentstack was selected as the CMS component of this digital transformation.
Contentstack was picked based on its ease of language management, integrations, and the advantages of a genuinely headless architecture.
As a MACH-certified solution, Contentstack integrates seamlessly with Smartling to enable comprehensive translation alongside commerce tools, the e-commerce platform Burberry chose.
Contentstack offers intuitive use for editors, reducing the time necessary to train and be effective in their role from days to minutes. Contentstack improves the productivity of these teams by allowing them to curate, update, preview, and publish content rapidly. This is achieved with robust workflow processes augmented by rigorous roles and permissions capabilities.
Contentstack was also chosen based on the unique live preview feature. This enables Burberry to preview content across multiple channels before saving or publishing it live. The ability to edit entries and preview these changes in real time not only ensures consistency and quality
but also frees the Burberry content creation team from developer delays when updating material.
Contentstack was implemented by system integrator and partner EPAM and is now used throughout Burberry.
The impact
Contentstack CMS has accelerated content creation for international markets across multiple languages. Burberry can now create global desktop and mobile sites for each country, and bulk publish in up to 50 languages.
This speed has gone hand-in-hand with improved service to the content creation staff. Calls to the development team have reduced drastically from more than 40 user tickets weekly to fewer than one.
The evolution of the translation capabilities has been a critical element of this reduced burden on the helpdesk and the consequent improvements in agility and speed. Translation work is now 80% quicker compared to the previous CMS.
Regarding the impact on productivity and output, the Contentstack system has enabled Burberry to deliver relevant content to story-telling and landing pages faster and more accurately across global websites in 11 languages.
"Contentstack helps our engineers to move fast and concentrate on business requirements by reducing proprietary platform inconveniences," said Sonia Latoracca, digital commerce content manager at Burberry. "Adding new consumers has never been such an easy and pleasant journey for everyone."
The conclusion
"Creating content is quicker and easier with Contentstack," Latoracca said. "It's a user-friendly tool making training and onboarding simpler. Integrating our translation and media systems means content can be created and published quickly. The flexible, reusable components allow us to complete new design briefs without constant development."
Contentstack has enabled Burberry to create and publish content faster and more accurately through its integration functionality with other tools in Burberry's ecosystem. With this technology, Burberry has the agility to stay at the forefront of changing trends and seize growth opportunities.
The results
Forty developer tickets a week were reduced to one

An 80% increase in publishing speed and enhanced landing page design and style flexibility.
About Contentstack & AWS
Contentstack deployed on Amazon Web Services (AWS) allows customers to harness the full power of cloud through industry leading AWS security and scalability paired with pre-built AWS integrations and extensions - making it easier than ever to implement and manage composable digital experiences at scale. Our recent addition of Amazon Bedrock enables Contentstack users to supercharge their digital experiences by leveraging advanced AI models from Amazon, Anthropic, and AI21 Labs, along with unlocking a host of new generative AI capabilities within Contentstack.
About Burberry
Burberry is a world-renowned British luxury fashion house headquartered in London, England. Established in 1856, its first shop opened in 1891. It designs and distributes ready-to-wear clothing and accessories, including leather goods, footwear, eyewear, fragrances, cosmetics, and its iconic trench coats.