Back to Blogs
Podcast: Architecting MACH-Based Personalization (Microservices, API-first, Cloud-native & Headless)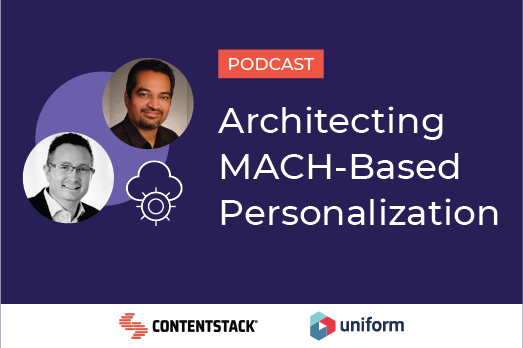 In this podcast, Contentstack founder and CTO Nishant Patel talks to Uniform co-founder Lars Petersen about how even the largest organizations can adopt a modern approach to personalization and free themselves from the burden of third-party plugins and the complicated, expensive processes that come with monolithic suites.
They discuss how, despite the fact that the concept of personalization has existed in the business world for upward of 10 years, it's just now gotten to the point where developers and content professionals can create personalization campaigns that consumers actually want to experience.
Why did it take so long to get here?
As Nishant and Lars explain, modern personalization is the result of cutting-edge MACH (Microservices, API-first, Cloud-native & Headless) architecture that empowers brands to kill the rules engine and instead act on individual behaviors to create truly unique experiences.
More About Our Guest, Lars
Lars Petersen is the co-founder of Uniform, which is a member of the MACH Alliance and a Jamstack-based technology platform. It makes personalization agile for even the largest organizations, without ever sacrificing site performance.
Connect with Lars, the self-proclaimed "Dane in San Francisco," on LinkedIn and Twitter. You can also check out his writing in Connect: How to Use Data and Experience Marketing to Create Lifetime Customers.
Top Takeaways from Today's Episode
While we certainly recommend catching the full episode, here are some of the highlights of Nishant and Lars' discussion, from the driving force behind personalized experiences to why the rules engine must die.
Slow Suite Systems vs. Modern MACH Stacks
Lars: "We see [that] third-party client-side personalization has been more in the lead for the last couple of years. That is definitely changing now that performance is becoming critical, because if you add in anything that is third-party that adds a load to your site, that will impact the Core Web Vitals.
"MACH is all focused on, as in its name, microservices, API, cloud, headless. It means that it's multiple headless technologies that are connecting together in a MACH architecture. So that means that the load from the suite approach is gone because you're working with smaller, best-of-breed technologies that [are] really, really good at the specific capabilities—like Contentstack for content management."
Why It's Time to Kill the Rules Engine
Lars: "We wanted to kill the rule engine so badly because the rules engine, where someone is setting up 'If you mix this and not that and this … and then show this content,' that is way too complex for many organizations because the dynamics change all the time.
"You get new content, you do new a marketing campaign — it's always changing. If you have to update your rules and you have to update them on all the different pages where you have rules, then you basically end up using all your time on creating rules and updating rules. That's not a fun experience going to work every day. … We wanted to kill that."
Content is the Core of the Personalization "Love Story"
Lars: "What really makes personalization great is content. Content is the backbone of personalization. Personalization is just about delivering the right content based on different intents. If you really think about it, content is what makes your customers fall in love with your brand. We make that love story happen."
So How Do You Build It?
Listen to the episode to hear Lars cover the architectural considerations for implementing a MACH-based personalization engine within a headless ecosystem, why the new personalization technologies are crucial for Core Web Vitals, and how removing roadblocks for both marketers and developers with new personalization tooling is the way to actually get personalization live.
Build a Brand Love Story with Contentstack + Uniform
As a new member of Contentstack's Catalysts program, Uniform will enable Contentstack users to layer the MACH-first personalization platform on top of their content efforts to create more agile, more scalable, and more unique consumer experiences—all without the pain of re-platforming.
Learn more about our exciting partnership here and learn more about how we set up a live personalization project in less than 12 weeks: Introducing Project CUE.