If you're involved in the gaming industry, chances are you've felt the pressure of what seems like nearly constant releases competing for players' time, attention, and money. Considering there are over 900,000 mobile games on the market right now, you'd be right to feel that way. If you're struggling to build a loyal and engaged audience, keep reading to learn four powerful tactics for winning over players' eyes, hearts, and wallets.
The Rise of the Hyper-Competitive Gaming Age
Between 2018 and 2019, the average time spent playing video games grew by over 19%. In 2019, the average gamer spent about 7 hours of gaming each week, 34% of gamers played for more than 7 hours, and almost 20% played for more than 12 hours per week.
The game research organization Newzoo predicts that games will account for 72% of all app revenues in 2020. Broadcast eSports—the name given to competitive gaming—are expected to reach 300 million viewers (rivaling the NFL) by 2022 and may even be included in the 2024 Summer Olympics!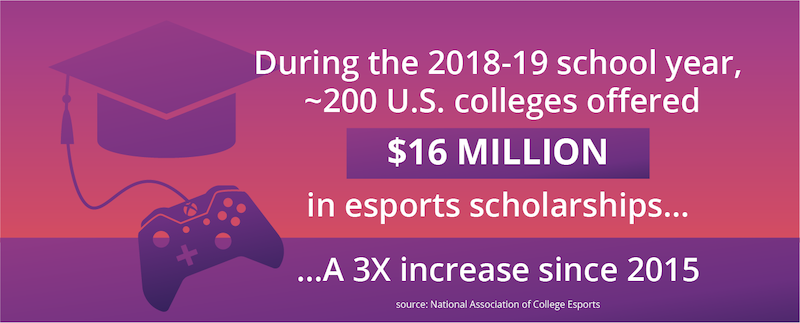 As gaming popularity proliferates, it's no longer going to be enough to make great games. Companies are also going to have to find ways to keep players engaged continuously. Because the longer players stay engaged, the more opportunities you'll have to generate income (After all, of the $2.4 billion Fortnite grossed in 2018, a billion was generated from in-game sales!).
Tactics to Keep Gamers Engaged in Your Video Games
From adopting the right content management system to engaging in online communities to revamping your in-game advertising—these four tactics will keep gamers engaged.
Understand and Tailor Your Messaging to Your Core Audience
Doing the work to find, define, and understand your core audience—then tailoring your messaging to reach them—can fall by the wayside when you're already doing everything you can to keep up with a rapidly-growing market.
However, it's essential to stand by this Marketing 101 trick, no matter how popular you think your game can be: You need to understand and tailor your messaging to your core audience. Doing so is crucial because it enables you to predict what kind of games and content they expect from you in the future, so that you always hit the mark. Remember, once you gain traction with a dedicated fanbase, you can always expand to new audiences.
Keep Content Fresh and Relevant with The Right Content Management System
Once you've identified and connected with a few key audiences, you have to find a way to keep them engaged with relevant, regular content through every exciting new development and release.
The typical system is to spin up a small new website, commonly referred to as a microsite, for each new game. Any time you want to highlight a new feature, switch out some screenshots, add a new video of gameplay, or change out some marketing copy, a developer has to get involved writing, testing, and launching the updated code. As the games and the audiences add up (good for your bottom line!), so do the menial, manual development tasks (bad for your development team!). This traditional way of doing things can't scale at the same rate at which you need to grow.
Enter headless content management.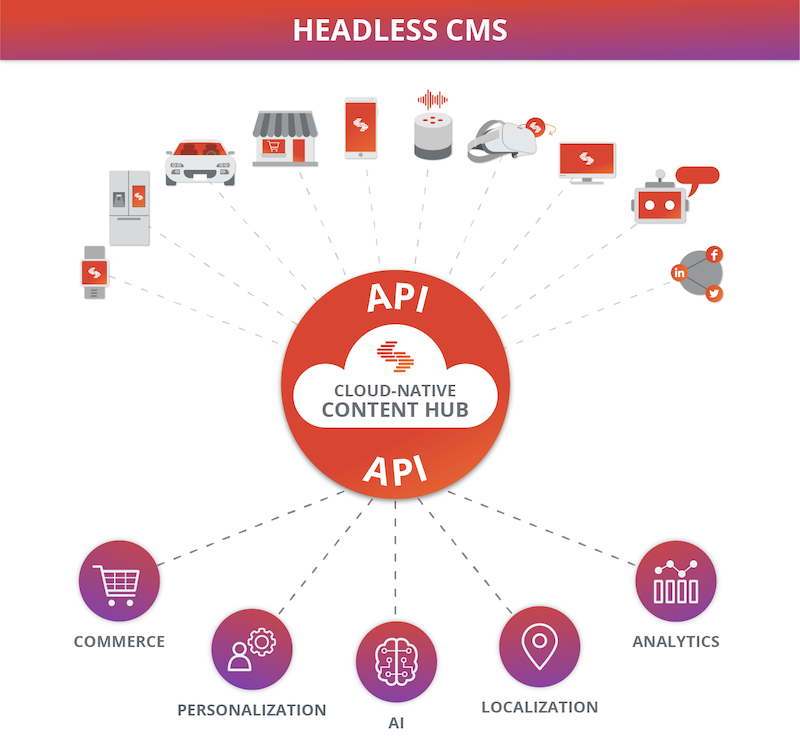 A headless content management system (CMS) separates the content layer from its presentation layer. This separation allows content managers to create, publish, and make content changes at any time. Simultaneously, designers and developers can be working on the frontend to ensure flawless delivery no matter the platform or device. All are empowered to do their jobs the way they want when they need to do them.
The modular, API-driven structure of a headless CMS also means content can connect through various integrations that help personalize it, optimize it for different audiences, and even localize it so that it feels customized for every market.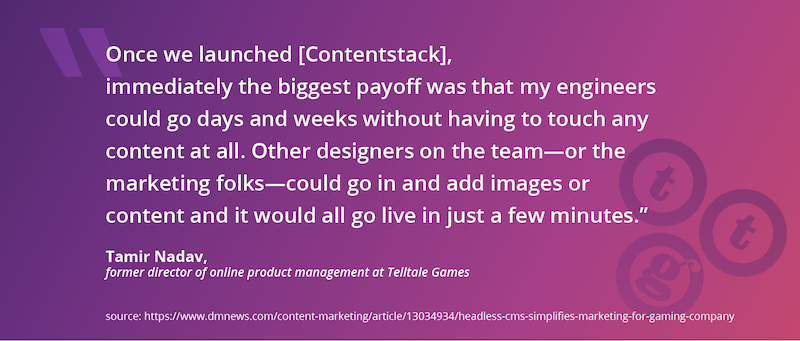 To learn more about how headless CMS empowers the marketing and engineering teams at Telltale Games, the producers of Minecraft: Story Mode and The Walking Dead Series, read Headless CMS Simplifies Marketing for Gaming Company.
Participate In or Build Your Own Gaming Communities
The stereotype of the lonely, basement-bound gamer is about as outdated as the landline telephone—especially since the development of technology that allows people to connect for gaming no matter where they are in the world. Today, more than 60% of gamers play with others, both in-person and online. Of the 23 most-followed YouTube channels, about 40% are gaming-focused.
Becoming active in or even creating your own community where gamers can come together to discuss your product and others they love is a great way to reach a broad and diverse audience. Communities keep them engaged with your brand, and pique their interest the next time you release a new game.
YouTube, Twitch, Mixer, Facebook Gaming, HitBox, Beam, Bigo Live, and Caffeine.tv are all great places to interact with audiences who love to watch video games live. And of course, you can also join or create your own Facebook group or other digital forums to get the conversation started. With an established community at your fingertips, marketing and driving engagement in your current and future products is a whole lot easier.
Keep Ads Non-Intrusive
Researchers at the global business analysis firm IHS Technology found that over 63% of mobile display ads will be native by the end of 2020. We can see why, considering that consumers engage with native ads up to 60% more often than with static ads. And surprisingly, intrusive ads have been found to trigger the brain's "fight or flight" response!
To advertise in a way that engages gamers while gaming, the rule is mercifully simple: If you're going to show ads, make sure they feel native. Take, for example, the advertisements in FIFA's video game on the right, below. They make perfect sense in the modern arena setting. The Mountain Dew shirt in the left image, however, seems jarring in Metal Gear Solid: Peace Walker—a game set in the jungles of Costa Rica in 1974.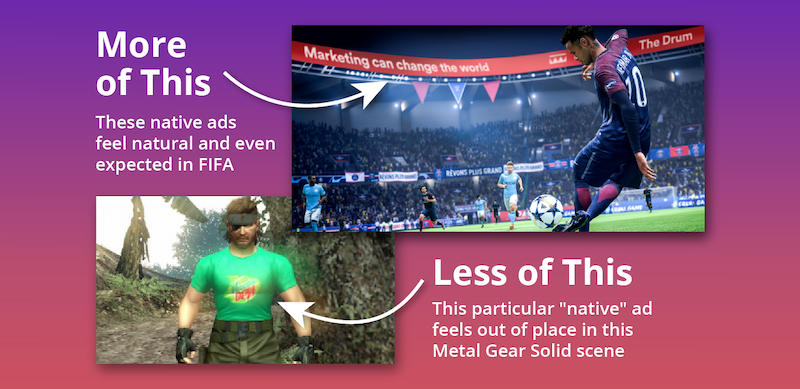 How Will You Keep Gamers Engaged in the Competitive Gaming Age?
Believe it or not, gamers want to stay engaged in your games—it's just that there are so many good options on the market vying for their attention that it's hard to stay immersed in any one thing for too long! If you understand and speak directly to your ideal audience, keep content fresh across various channels and platforms, participate in gaming communities, and don't alienate players with alarming ads—you'll be able to keep gamers engaged.