A recent survey established that digital transformation (DT) is the number one concern for CEOs and other senior executives in 2019.
However, 70 percent of DT initiatives still don't reach their goals—which equates to over $900 billion down the drain each year.
It would seem that the quickly-growing popularity of digital transformation has unfortunately led to underprepared organizations losing profit, productivity, and efficiency on ineffective technology investments.
Let's explore why the majority of DT projects fall apart—and one piece of technology you can adopt to keep yours in tip-top shape.
4 Common Reasons Digital Transformation Projects Go Off the Rails
In late 2018, a survey of over 2,000 European business leaders found that 11 percent still had no plans to create a digital transformation strategy. And only 33 percent considered their strategies to be "well-defined."
Additionally, a third of decision-makers who had pursued digital transformation projects (great!) reported having to cancel them—at significant cost (not so great).

From focusing on the wrong objectives to overcomplicating your efforts with restrictive tech—here are four of the most common reasons digital transformation projects fail.
Short-Sighted Transformation Investments
When considering digital transformation, it's easy to get caught up in fancy new technology and lose sight of the whole reason for your time and monetary investment: Your customers.
But when 70 percent of consumers change suppliers to receive better service, it's pretty clear that your goal should be to improve the customer experience and deliver value above all.
Use detailed analytics, collect consumer feedback, and invest in technology to track the customer journey to figure out which digital transformations will deliver on consumer needs, help make the buying journey more delightful and, in the end, boost your profit and retention.
Tech That's More Restrictive Than Transformational
We can't blame anyone for being attracted to big, hyped software that promises to solve all their problems with a single tool.
However, it's often these kinds of all-in-one solutions that end up being the most restrictive in an environment where organizations are transforming to keep up with the flexible and fast-paced workflows in which consumers thrive.
For example, look at a traditional CMS (think WordPress) that contains a database where content is stored, a backend where business users create content, and a frontend that displays content consumers. All of these functions are coupled into an "all-in-one" solution.
While this was once a ground-breaking concept for brands that needed to publish static content; the coupled approach makes it challenging to isolate repairs and improvements, is slow and pricey to scale, and pretty much impossible to integrate with modern marketing and content distribution methods.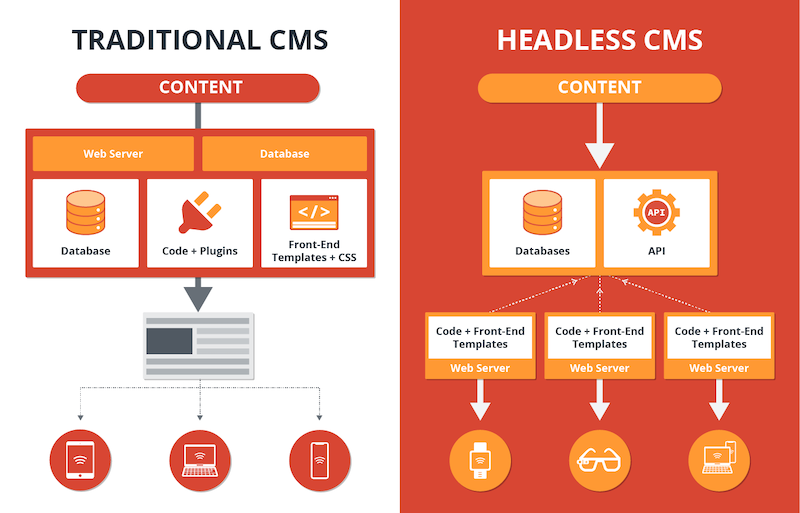 Instead, brands that are interested in truly transforming the consumer's digital experience should look into a new, decoupled CMS solution.
With a decoupled, or "headless," CMS; the content storage, creation, and display layers all function separately from each other. This way, skilled front-end developers can implement the best tech for any distribution scenario, marketers can build pages and create content without IT support, and the whole thing works together flawlessly with the help of application programming interfaces (APIs). It's a secure, agile, and stable approach to distributing content experiences anywhere consumers interact with your brand—whether that's from a smartwatch, an in-store kiosk, or their at-home voice assistant.
Failure to Plan for Real-Life Requirements
Failing to plan is planning to...well, you know how the old (and true!) adage goes.
Unfortunately, no matter how often we hear it, it can still be hard to heed that advice when excitedly pursuing a new digital transformation project.
So, allow us to remind you one more time: Take your time to think through all the requirements your transformative technology must meet before diving head-first into a major investment.
We added in that "take your time" part because, while some requirements like "must meet security demands" are obvious, some—such as "needs to integrate with our custom payroll solution"—may only become obvious over a few workweeks.
Planning for as many requirements as possible helps you avoid expensive and time-consuming changes, slowdowns, and even complete breakdowns throughout a digital implementation project.
A Siloed Culture That Goes All the Way to the Top
Innovation and strategy professor Michael Wade found that 95 percent of digital transformation efforts fail due to inflexible company structure and culture. Rigid silos and the un-collaborative culture they breed are the single biggest barrier to innovation.
When it comes to a siloed culture that isn't prepared for innovation, the change must start at the top. Organizations, where digital transformation begins at the executive level, tend to perform better than those where it doesn't.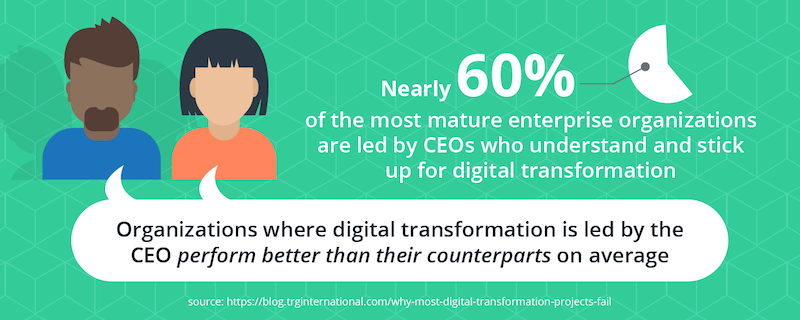 Developing executive-level understanding and support is critical for successfully knocking down silos, introducing a transformative mindset, and building a collaborative culture that works from the top—down.
Get Your Digital Transformation Back on Track
Hopefully, this article has helped you identify if you're suffering from any of the most common causes of DT breakdowns and get your project back on track.
If you're still getting familiar with what digital transformation means and what it takes to succeed, check out our guide to everything you need to know about the era of digital experience.
Ready to dive right in and unite IT and marketing to digitally transform your business? A headless CMS is the best way to distribute, personalize, and optimize experiences consumers crave.