Create Great Customer Experiences Faster, Or Your Competition Will
Deliver Seamless, Personalized Omnichannel Experiences
Your future customers are swimming in options for where to spend their money. Marketers have to act accurately, creatively and quickly. Forrester says the key to delivering the right customer experience is to become customer obsessed — with seamless personalized experiences across the entire customer lifecycle. And that's nearly impossible with a monolith CMS.
In the recent Forrester report, Experience Architecture: Build Your Business On A System Built For Performance, Senior Analyst Nick Barber explains how to rethink the typical rigid approach to customer experience and strategies to overcome the challenges of omnichannel engagement — and do it fast.
"Omnichannel customer engagement presents a challenge for executives and poses a threat to the business without platforms, practices and a partner network to enable it."
Download the report to learn how to become a customer-obsessed brand by reducing friction in the customer lifecycle with the right content architecture.
Inside the report you'll discover:
Why a future-fit framework powers new business models
How to improve your customer experience and journey
What 99% of customer-obsessed businesses have in common
Hear what Forrester analyst Nick Barber has to say.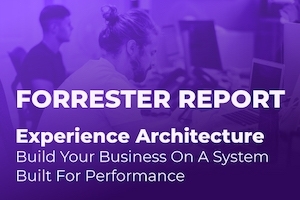 Download analyst report: