Back to all Resources
IDC MarketScape Recognizes Contentstack as a CMS Leader
After a thorough evaluation of Contentstack's strategy and capabilities, IDC has positioned the company in the Leaders category within this 2021 IDC MarketScape Worldwide Content Management Systems for Persuasive Digital Experiences.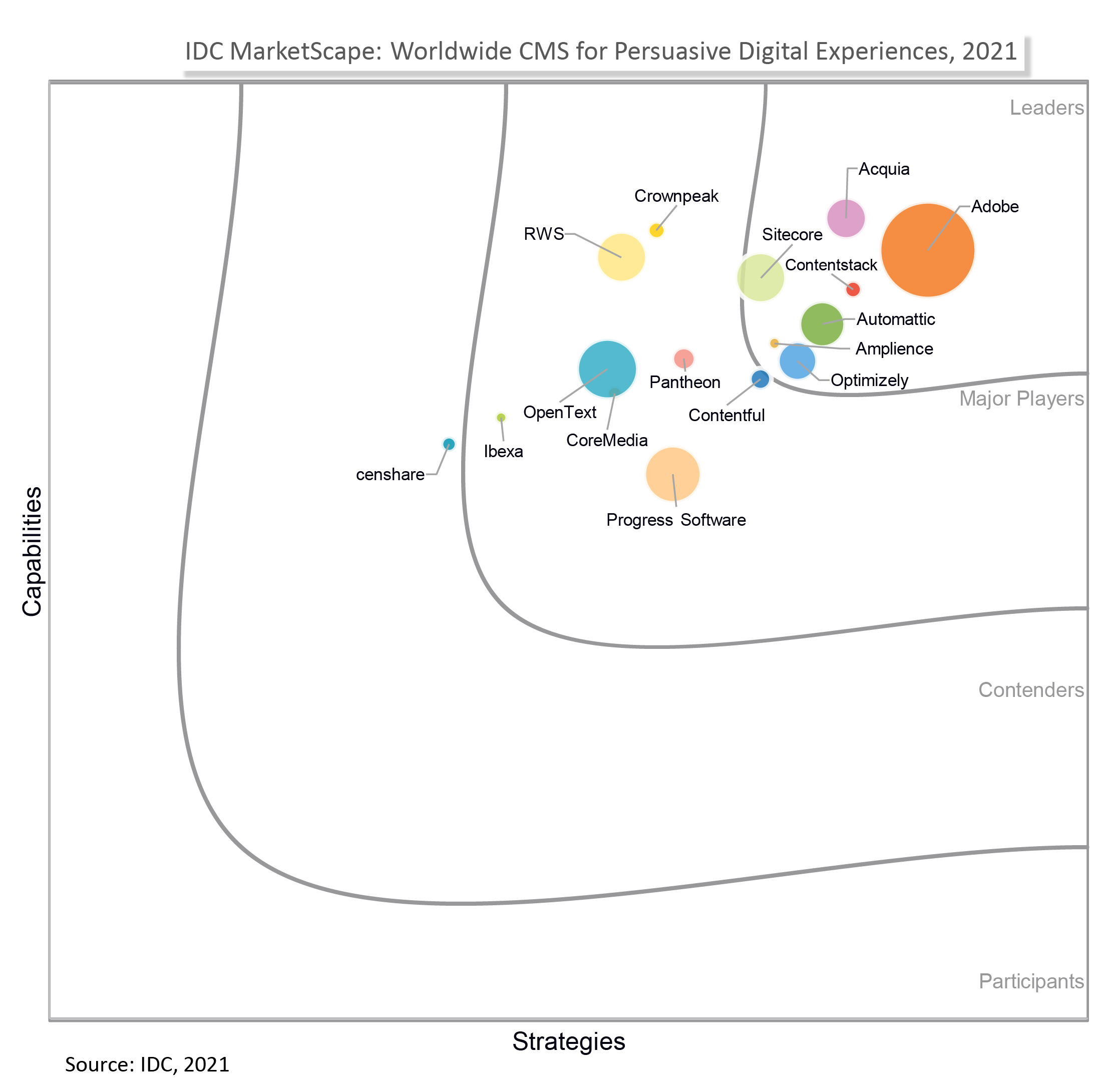 IDC MarketScape vendor analysis model is designed to provide an overview of the competitive fitness of ICT suppliers in a given market. The research methodology utilizes a rigorous scoring methodology based on both qualitative and quantitative criteria that results in a single graphical illustration of each vendor's position within a given market. The Capabilities score measures vendor product, go-to-market and business execution in the short-term. The Strategy score measures alignment of vendor strategies with customer requirements in a 3-5-year timeframe. Vendor market share is represented by the size of the icons.
Criteria
The assessment evaluated 16 CMS vendors using a methodology that examined product and service offerings, capabilities and strategies, and each vendor's current and future market success factors.
"Customers and partners interviewed for this evaluation rated Contentstack highly in customer service for both the responsiveness to technical/operations issues or in addressing requests for feature development."
——IDC MarketScape: Worldwide CMS for Persuasive Digital Experiences 2021
Vendor assessment;Doc #US47412921, September 2021
Additionally, it noted, "Contentstack provides a dedicated Customer Success team to proactively reach out to customers even before issues may arise and pioneered Care Without Compromise™ as a multi-vendor program to harmonize the support experience across a vendor ecosystem for enterprise customers."
IDC MarketScape author Marci Maddox, research director for IDC's Digital Experience Management Software program, noted, "
Contentstack offers sophisticated CDN coverage, omnichannel capabilities and high API rate limits
."
Read the IDC excerpt to get the full story.