Back to Blogs
Why composable architecture is the future of digital experience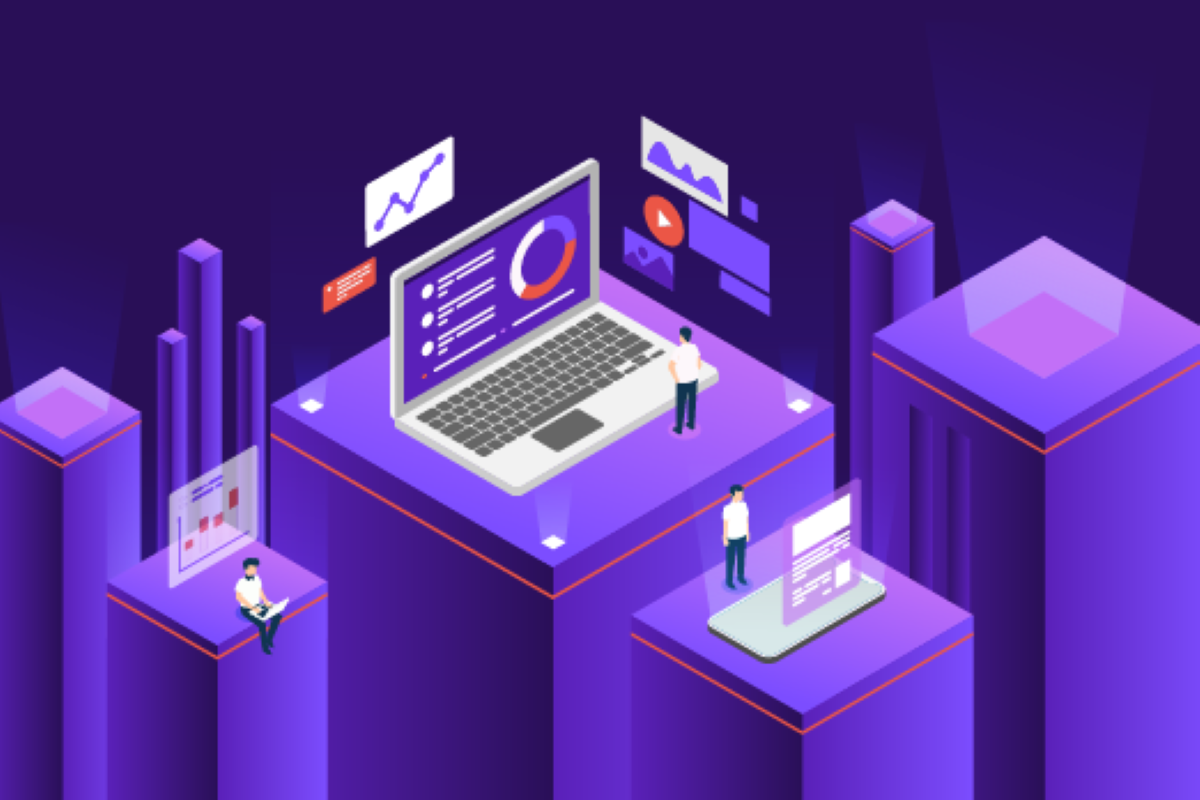 Digital experiences are rapidly evolving, causing more and more enterprises to consider the move to a composable digital experience platform. Should your business be one of them?
If you haven't started your journey to a composable architecture, read on to learn:
Why experts say composable is the way of the future

Potential benefits of a composable DXP

How to get started and why being "fully composable" matters
What is a composable DXP?
The composable digital experience platform (DXP) is the most recent concept to emerge in the evolution of the digital experience from its beginnings, when enterprise content was limited to a static website viewed on a desktop where customers could find information about a brick-and-mortar business.
With no need to frequently update or publish to multiple channels, a monolithic architecture was the answer to publishing enterprise content. Businesses would purchase a predetermined set of tools designed by one vendor.
Then came the smartphone, which led to today's e-commerce landscape where consumers are not only shopping online but doing so on a plethora of devices and channels. Monolithic platforms, which require developers to code any changes to content, are unable to keep up.
The composable DXP is the latest solution for businesses aiming to meet and serve their customers across multiple channels and devices. A composable DXP uses a headless CMS as the foundation for a content hub where microservices are delivered via independent APIs, allowing content to be quickly and easily deployed across channels.
Why a composable DXP is the way of the future
As digital commerce evolves, customers not only expect to be able to interact with your website; they expect a seamless, personalized experience. Monolithic systems, which require IT teams to code every change and update, don't have the ability to rapidly respond to customer preferences and publish fresh content across multiple channels.
According to Gartner Research, businesses can no longer meet their objectives with monolithic platforms. In its 2020 report "Adopt a Composable DXP Strategy to Future-Proof Your Tech Stack," Gartner predicted that by 2023, organizations that adopt a composable approach will outpace competition by 80% in implementing new features.
Potential benefits of a composable DXP
A composable DXP offers many benefits for enterprise marketing and IT teams, which can positively impact the success of the overall business. These include:
Flexibility, scalability and faster development
Composable architecture provides organizations the flexibility to choose and combine a unique mix of best-in-breed tools and microservices and to easily change this mix as business needs evolve. The modularity of composable architecture supports the seamless integration of these independent best-in-breed solutions. This means they can be added, removed and recombined quickly without downtime. The ability to deploy services independently to multiple websites and channels from one central hub enables enterprises to scale faster and more easily as needed.
Speed and agility
Because the tools and microservices in composable architecture are modular – meaning they work as independent components or APIs – each can be updated incrementally as needed without impacting other tools, services or channels. Organizations become more agile as marketing and IT teams are empowered to act faster to keep pace with changing customer expectations by providing richer, more up-to-date content experiences.
Ease of use
Without coding or technical expertise, marketing teams can modify user interfaces and content experiences without having to open tickets and wait on developers to fulfill requests. Workflow governance for multiple sites and channels is managed from one central hub with customizable user controls ensuring the right persons have approved content prior to rollout.
Rapid innovation
Monolithic platforms are complex and require hundreds of hours of development time and resources to upgrade and maintain with heavy reliance on tech teams. A composable platform is easier for IT to upgrade as technology evolves because new apps and functionality can be launched independently. Major website overhauls become a thing of the past. Freed from mundane marketing requests and maintenance, IT can focus on innovation and delivering better customer experiences.
Increased ROI
A composable DXP reduces both development time and time to publish, resulting in reduced costs and an increased profit.
Real-time feedback
Website analytics, social media, customer relationship management and other sources of data collected via the tools and microservices in the DXP can provide a more complete picture of your customers in real-time. This enables the personalization and up-to-date, relevant content experiences that customers expect.
Omnichannel content deployment
In a composable DXP built with a headless CMS, creation of content and the channels where it's published are mutually independent. This allows marketers to maintain a responsive presence across multiple channels and devices from one central hub by seamlessly and rapidly optimizing and pushing out marketing campaigns to reach customers where they are.
Getting started on the journey to a composable architecture
If your current digital experience solution is holding you back from experiencing the benefits above, it may be time to think about switching to a composable DXP. But where do you begin?
Start by listing everything that isn't working in your current platform. Consider the parts of your current system that are working well to meet the needs of your business, and whether those needs are likely to change in the near future. This will help clarify which apps and microservices you should include in your future solution as well as how to approach implementing it.
Transitioning to composable doesn't necessarily mean throwing out your entire current system and starting with something completely new. Based on your assessment of what's currently working and not working, you may want to adopt a gradual approach by first implementing composable applications in crucial areas where it could make the most impact and where your monolithic platform is slowing you down.
Finding the right composable DXP
Once you've decided on the best approach, it's time to research solutions. If you decide on a gradual approach, make sure the vendor you choose has the ability to take you all the way to your goal of going fully composable.
Many vendors currently market their platforms as being "composable" even though they aren't fully composable. Instead they are selling platforms built on monolithic architecture that offer some composable functionality such as the ability to plug in some APIs or integrate with certain microservices.
A fully composable DXP, on the other hand, is built on a composable architecture rather than on monolithic. At its foundation is a headless CMS that separates the back-end coding from the end points such as your website interface. Instead of being one centrally controlled system, it's a variety of solutions that are independently controlled but work cohesively from one central hub.
Does being 'fully composable' really matter?
If you're wondering if it really makes a difference whether a DXP is fully composable or not, it actually matters a great deal. A DXP built on monolithic architecture will not deliver all the great benefits of a fully composable platform that we've covered in this blog. In fact, it will have many limitations that a fully composable platform won't have.
One of the most notable differences is with monolithic architecture, the vendor controls the type of technology that you can and cannot use. This means your organization will not always have the flexibility to choose and leverage the best available apps and microservices for success as your business grows. This is especially important moving into the future as technology continues to evolve and new options become available.
A fully composable DXP provides the flexibility to choose the best solutions now and later so your organization can always leverage the most up-to-date technology tools it requires for success. Fully composable puts you in control of creating a unique DXP, one that will evolve over time to continuously align with business needs, without being limited by a vendor.
Learn more
For a more detailed look at how you can get started on your journey to a composable architecture, see our guide, "How to switch from a monolithic to a composable architecture in 7 steps."
Schedule a free demo to see how Contentstack's composable digital experience platform can help future-proof your enterprise.